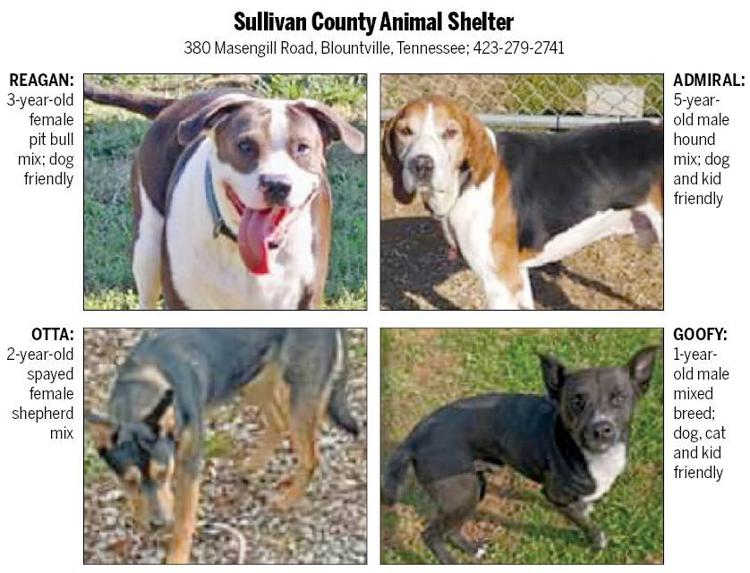 VETERINARY ASSISTANCE
MARGARET B. MITCHEL SPAY/NEUTER CLINIC: Bristol, Va., 16222 Lee Hwy. Monday through Friday, 8 a.m. - 4 p.m. Spay/Neuter: all dogs: $70; female cats: $65; Male cats: $50. Ask about grants. Vaccinations: $10 each. Testing: heartworm, $20. Microchipping, $20; Flea/Tick treatment, $15. 276-591-5790 for an appointment.
THE PAWS OF HOPE ANIMAL WELLNESS CENTER: Bluff City, 231 Highway 19E (next to Dollar General). Open Tuesday through Friday. The clinic is a full-service veterinary animal hospital. Professional fees based on income. 423-391-0224. http://pawsvethospital.com.
ORGANIZATIONS
ANIMAL DEFENSE LEAGUE OF WASHINGTON COUNTY INC.: Meets the second Tuesday of each month at 6:30 p.m. in the Meeting Room of the Washington County Library, Abingdon, Virginia. Spay/neuter assistance is available for cats and dogs, call 877-301-2290. Visit Facebook page for upcoming events and pictures of adoptable cats or dogs. All monetary donations to ADL are tax deductible and support our spay/neuter assistance programs email www.adlwashcova.org.
APPALACHIAN FELINE FRIENDS: Big Stone Gap. Join in saving cats and kittens, from area kill shelters helping to end overpopulation and strays through educating others the importance of spaying and neutering. To request cat help or to foster or donors, email appalachianfelinefriends@gmail.com.
BLACKJACK ANIMAL RESCUE INC: Bristol. Nonprofit all-breed animal rescue serving Northeast Tennessee. Adoptable pets at www.blackjackrescue.org. Donate at website. Volunteers and foster homes needed desperately, Call 423-430-5339.
FOR PETE'S SAKE RESCUE GROUP: Bristol, Tenn. We are in need of foster homes. All food, veterinary costs paid for by rescue nonprofit, tax deductible organization. Ada, 276-494-6718 http://forpetessakerescue.com/
HAPPY TAILS ANIMAL RESCUE OF WASHINGTON CO., VA: Bristol, Va., Activist group preventing cruelty and euthanasia of animals. Donations may be sent to P.O. Box 95, Abingdon, VA 24212. www.htar.org; happytailsofwashcova@yahoo.com.
HOLLY HELP: Bristol, Tenn., 14 Sixth St., Holly Help provides spay/neuter assistance, pet food pantry, adoption assistance, lost, found pets. Accepting aluminum cans and items, used cell phones, empty laser/ink-jet cartridges, Purina weight circles; tax deductible; funded entirely by public donations. Track Record: Holly Help Spay-Neuter Fund has assisted with over 35,000 spay-neuter surgeries; 276-466-5375 or www.hollyhelp.org.
NETFEA: Northeast TN Ferret Education and Adoption, Request free educational information packets or inquiries about adopting at https://www.petfinder.com/member/us/tn/bristol/northeast-tennessee-ferret-education-adoption-netfea-tn395.
PET HAVEN RESCUE CENTER: Tazewell County, Va. No-kill facility, obtains pets from kill shelters. Volunteers needed. All pets are spayed / neutered and vaccinated. Adoption fee for dogs $45. No fee for cats / kittens. 276-326-3483. debby_pethaven@verizon.net
SULLIVAN COUNTY ANIMAL SHELTER: Blountville, Tenn., 380 Masengill Road, 423-279-2741 Hours: Monday-Saturday, 12:30-5:30 p.m. Closed Thursday and Sunday. Fees: Dog, $80; Dogs, age 7 and above, $50; spayed/neutered, $50. Cats: $65; Cats over age 7, $50; spayed/neutered, $50. Also, vaccinations, microchipping. 10 percent discount to veterans with ID card.
SMYTH COUNTY HUMANE SOCIETY: Marion, Va. Royal Oak Presbyterian Church, 139 West Main St. Meets second Monday of each month, 6 p.m. info@smythhumane.org
WASHINGTON COUNTY VIRGINIA C. C. PORTER ANIMAL SHELTER: Abingdon, Va. 27252 Porter Lane: Adoption, adopting a friend fees $15 for cats, $25 for dogs, a $ 50 refundable fee is required for unsterilized animals fees refunded with 45 days of receipt of sterilization by veterinarian. Do not adopt out of state of Virginia, call 276-676-6210.
REHAB CENTER
WYNNWOOD WILDLIFE REHAB CENTER: Elizabethton, Tenn. Provides licensed medical care, shelter and support for injured and orphaned wildlife in Northeast Tennessee and Southwest Virginia. Urgent need for volunteer drivers to transport animals, donations of medical equipment and supplies, pet food, canned vegetables, cages, heating pads, cleaning supplies, paper towels, etc. Fundraiser: Wild Thing Collection, Art by the animals on note cards, bookmarks, prints. 423-474-6220 or Facebook or wynnwood@hughes.net.