It's that time of year — deer mating season, which means movement of the animals has increased across the country, and drivers need to be extra careful.
Most collisions with deer occur in October, November and December, with November typically being the worst month for drivers. Data from Virginia's Traffic Records Electronic Data System shows that per year more than half of all deer-involved collisions occur during those three months. Data from the Tennessee Department of Safety and Homeland Security reveals similar rates of collisions involving deer during those months.
According to State Farm in Virginia, the chances of a driver hitting a deer are one in 99, the 12th highest in the country. Drivers in Tennessee are at a somewhat lower risk, a one in 173 chance.
So far this year, Virginia's Traffic Records Electronic Data System shows there have been seven deer-involved crashes in Bristol, Virginia, and 51 in Washington County. In 2017, there were 23 crashes involving deer in Bristol, with nine occurring in November, while there were 90 overall in Washington County, with 24 in November. Three of those resulted in injuries.
Across the state in 2017, there were four fatalities resulting from crashes with deer, while there has been one fatality so far in 2018.
Similar data requested by the Bristol Herald Courier from the Tennessee Department of Safety and Homeland Security was not received.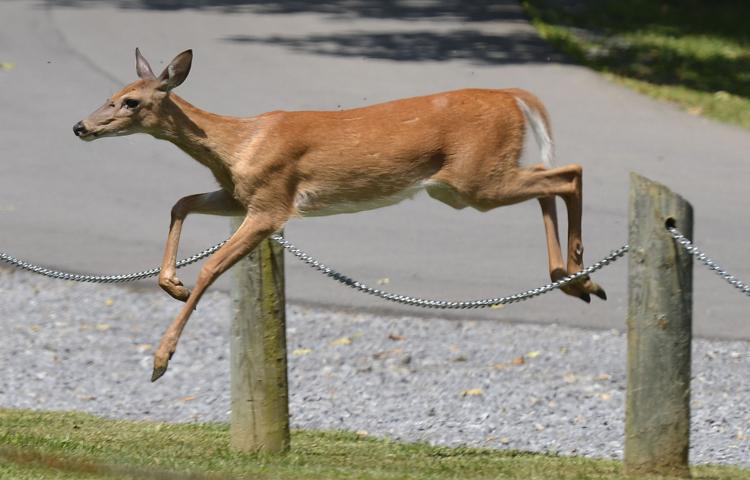 Per year, deer collisions result in $1 billion in vehicle damage, according to the Virginia State Corporation Commission. The average insurance claim is $4,000, and deer collisions are typically covered under comprehensive or other-than-collision portions of car insurance plans.
Depending on the collision, drivers with insurance that doesn't cover damage from deer collisions may have to fork over a decent chunk of change. Kevin Barb, the body shop manager at Bill Gatton Collision Repair Center in Bristol, Virginia, said repairs for deer collisions can range from $200 to $5,000 or more.
"It all depends what happens when it gets hit," Barb said. "Sometimes, they get hit and just glide off the bumper or hood; other times they might break sensors behind the bumper and then there are costs involved with diagnostics, labor and replacement."
However, overall, it appears that the number of deer-involved collisions has slightly decreased nationally, despite more licensed drivers on the road. According to State Farm, it's estimated that deer, elk, moose, and caribou collisions dropped to 1.33 million in the U.S. between July 1, 2017, and June 30, 2018, which is down from 1.34 million in 2017.
Of note for anyone who doesn't mind road vittles: In Virginia, according to the state code, anyone who hits and kills a deer or bear can keep the animal as long as he or she gets it inspected by a conservation police officer or other law-enforcement officer.
In Tennessee, anyone who hits a deer can keep it only if they contact the Tennessee Wildlife Resources Agency or a law enforcement official within 48 hours and give their name and address.