LEBANON, Va. — Eighteen-year-old Kayla Martin had been struggling for years since the amputation of her right leg — until a three-legged dog unexpectedly came into her life.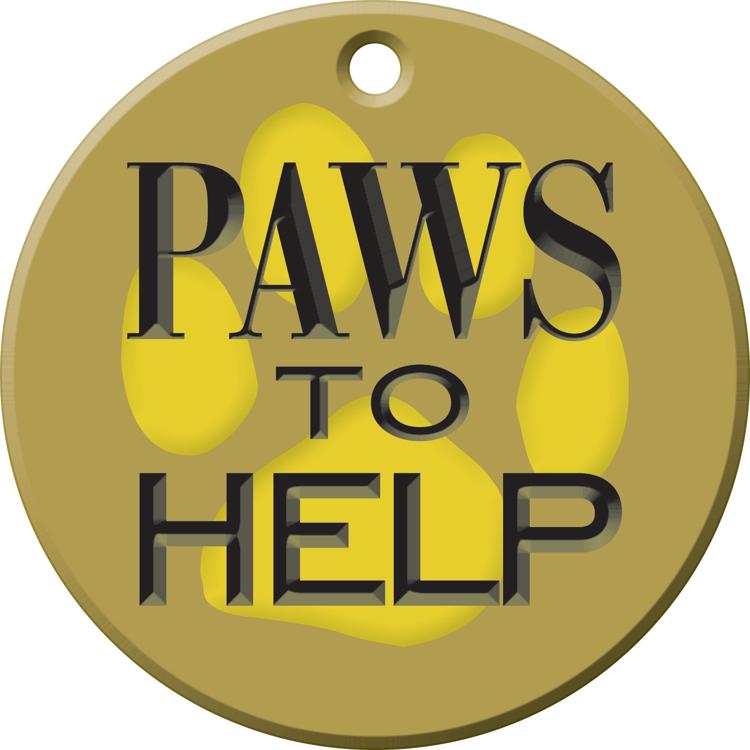 Earlier this month, she adopted Coal, a lively 18-month-old Labrador retriever mix whose leg was removed to save his life after he was hit by a train in January.
"I used to have a hard time dealing with my amputation," Kayla said last week as she watched Coal bathe each staff member at Southwest Virginia Veterinary Services with kisses. "I would let it [the amputation] get in the way of me doing things. I probably shouldn't have let it, but I did. When I look at Coal, I realized that he doesn't have an extra leg — he just has three — and it doesn't stop him. He's happy, plays and jumps on furniture. Watching him, I've learned that nothing stops him, and now nothing is going to stop me."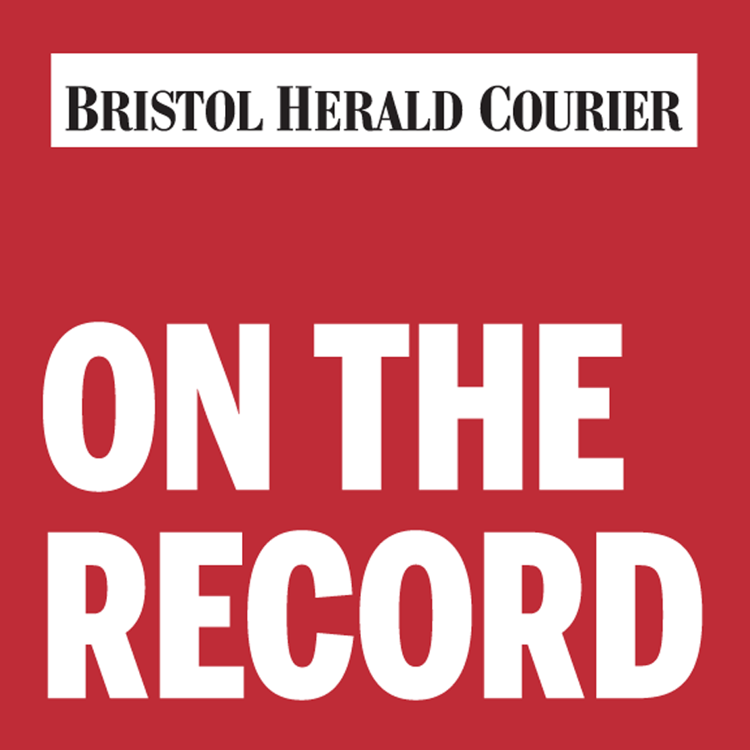 Kayla, who was born three months prematurely, had her leg removed when she was 12.
Her father, Stacy Martin, said she developed an eye infection when she was in the sixth grade that eventually resulted in the loss of fingers, toes and her right leg.
"My wife noticed that Kayla's eye was unusually red," Stacy Martin said. "It turns out that she had a pseudomonas infection that attacked her bloodstream — and she got sepsis."
At that point, things went from bad to worse.
"Her body started shutting down circulation to her extremities, and her fingers and toes auto-amputated," he said. "I didn't know there was such a thing. It looked like she had a bad case of frostbite, and they just started breaking off."
Pseudomonas infection is caused by strains of bacteria in the environment; the most common that causes human infection is Pseudomonas aeruginosa, according to the Centers for Disease Control. Serious infections usually occur in patients in the hospital and/or with weakened immune systems and can lead to severe illness and death. Sepsis is the body's extreme response to an infection. Without timely treatment, it can rapidly cause tissue damage, organ failure and death.
Auto-amputation is the spontaneous separation of non-viable tissue from viable tissue.
Kayla's right shin was damaged to the point that it was about the size of a "preschooler's pencil," and without a number of surgeries throughout her life, she would never have been able to bear weight on it.
Doctors told her parents they had to decide whether to subject her to years of painful surgeries or to amputate her leg to alleviate the pain she was experiencing.
"By the time she was 12, she already had several surgeries and was in pain most of the time," her father said. "So we chose the amputation."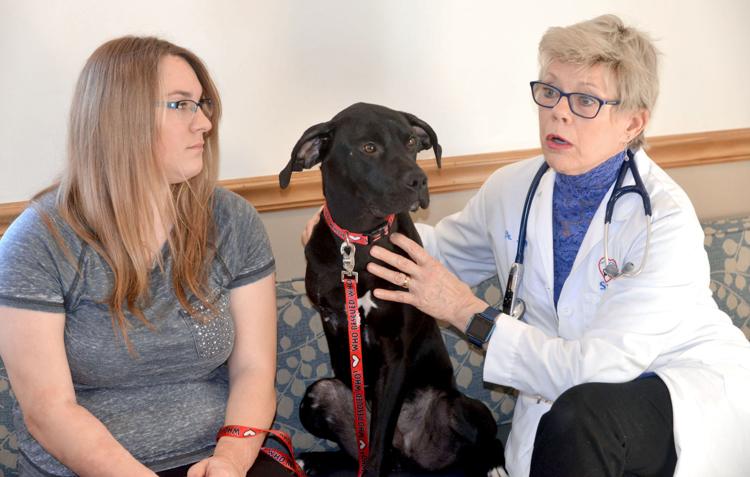 On a cold Saturday in January, Southwest Virginia Veterinary Services owner Dr. Peggy Rucker had a similar choice to make when a badly injured dog was brought to her office.
"Russell County Sheriff's Deputy Gaby Figueroa showed up with a dog that had been hit by a coal train," Rucker said. "I knew the dog had to be in bad shape for a deputy to bring him in. But I didn't know how bad he was until we got him in the office. He was in shock, and along with his leg being mangled, he had a lot of cuts and bruises."
It was then she decided to try to save the animal's life.
"I've been in practice for 44 years, and my first inclination was to euthanize the dog — but I just couldn't do it," she said, fighting back tears. "He just kept looking at me with those eyes — and I just couldn't do it."
Figueroa said he was shocked when Rucker decided not to euthanize the stray.
"All I could say was, 'Oh, wow,'" he said. "I didn't think he could be saved, but Dr. Rucker said she wasn't going to put him down."
Around 4:30 p.m. that day, Figueroa was on patrol in Honaker, Virginia, when he got a call from dispatch saying that a dog had been hit by a train in Coeburn and was still alive.
"It was a really cold evening, so I turned on my lights and siren and made the 45-minute-drive to Coeburn as fast as I could," Figueroa said. When I got to where the call came from, I drove down the back roads toward the railroad tracks. I turned down a dirt road and saw something dark moving around in the ditch."
At that point, the deputy said he opened the door of his patrol car, and a dog jumped out of the ditch and into the driver's side of his vehicle.
"He was about 20 feet from the tracks, and I didn't know how badly the dog was hurt," he said. "But when I looked at him, I saw that his leg was hanging on by his skin."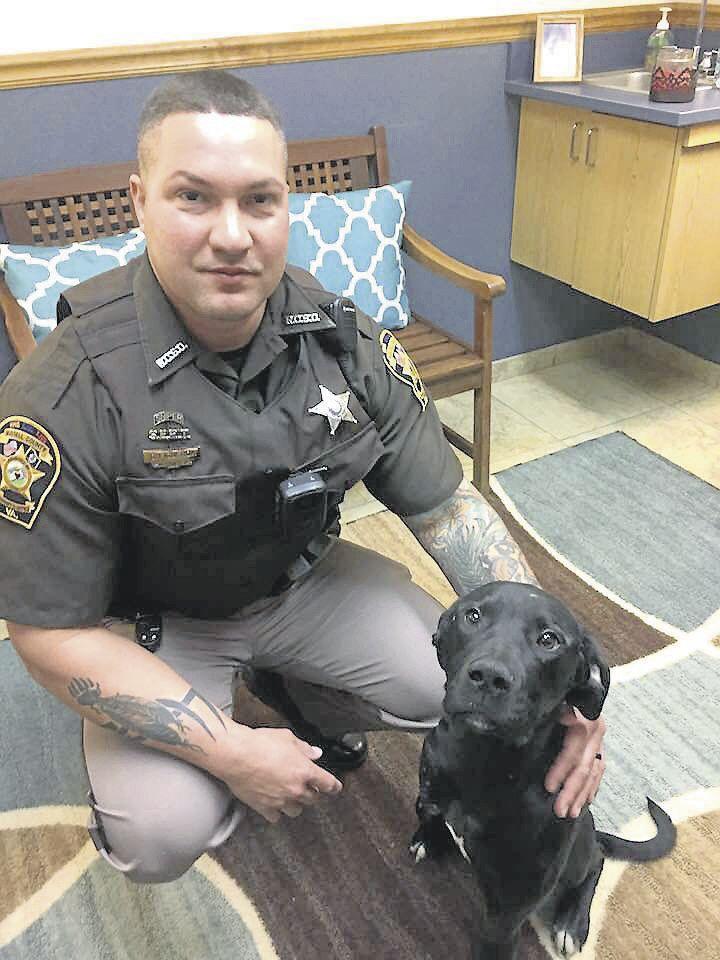 It was then he decided to get the animal to the vet as quickly as he could.
"It was cold, and I knew if I didn't do something he was going to die in the cold," Figueroa said. "And I wasn't going to let that happen. So I put him on a blanket on the passenger side floorboard, turned on my sirens and lights and drove to the vet's office."
When Figueroa arrived, Rucker met him in the parking lot with a stretcher, and the pair made their way into the office.
When Client Service Specialist Ruth Johnson heard that Rucker was going to operate, she helped bathe and dress the wounds.
Johnson said Coal was covered with so much oil and dirt it took four baths before they could do anything.
"We named him Coal Train because he was covered in coal dust and oil," Johnson said. "He was also found near the tracks — and as black as he is, the name fit."
She took photos to document the dog's arrival, procedures and surgery so she could post the information on Facebook in hopes of raising money to help pay for the surgery through the office's Milo, Morrison, Ethi, Opie Memorial Fund.
The fund, which covers the costs of procedures performed on stray animals, was set up in memory of Southwest Virginia Veterinary Services' office pets, who all died around the same time.
Kayla said she first saw Coal on Johnson's Facebook posts, and she immediately wanted him.
"We're [Kayla and her mother, Doro] pretty close friends with the people here," she said. "My mom told me his leg had to be amputated, and I asked my mom if I could have him."
She said she got a text from her daughter that read: "Mom, you saw this post. He needs to live with me — right?"
Her mother knew she'd never be able to tell her daughter no, so she didn't respond.
So Kayla sent a text to her dad that said, "Dad, can I have him? He's just like me."
Before he made a decision, Stacy Martin said he wanted to meet the dog. And unbeknownst to each other, Kayla's parents each separately visited Coal on the day of his surgery.
"I came in right after his leg was amputated on Tuesday," Doro Martin said through tears. "Anytime I talk about any amputation, I get emotional. I had to sign the papers for my daughter's amputation, and it still affects me. It's hard."
And although Coal had undergone surgery just hours before and was in pain, he was the sweetest dog she'd ever met, she said.
"It was amazing. He was up wagging his tail," Doro said. "He was as open and bubbly as he is now. There's not a mean bone in him."
She walked out to the front desk and announced that she wanted to adopt him for Kayla, but she was told that a man had come in half an hour earlier and claimed the dog.
"I called my husband and told him. I then found out it was him," she said.
A few days later, Kayla met Coal.
"And it was like they chose each other," she said. "We all just knew he belonged to her."
Kayla describes the first time she saw Coal as magical.
"I was really excited when I saw him," she said. "He was really energetic and friendly, and I knew he was mine. I also knew that if I was going to take care of him, I had to do better at taking care of myself."
She admits that since her surgery years ago, she'd done little more than go to school and sit in her room. But the day she took her new friend home, things changed, Kayla said.
"I do a lot more around the house, I am staying active and spending a lot of time outside," she said with a wide grin. "Having him has changed my perspective about my amputation."
Stacy Martin said it makes him happy to see his daughter smiling and spending time outside in the sunshine because she had been depressed on and off since her amputation.
"Coal has pulled Kayla's personality back out of her," he said.
Figueroa, the deputy who rescued Coal, said he knew the Martins adopted the dog, but he didn't realize the dramatic impact it had on Kayla.
"I'm so glad for her," he said. "It's amazing how the decisions we make can affect other people's lives."