BLOUNTVILLE, Tenn. — Overcrowding not only causes space and safety issues inside the Sullivan County jail, it leaves little room to offer rehabilitative programs that might prevent inmates from returning to a criminal lifestyle once they're released.
Nevertheless, some programs are offered by community volunteers, including a former inmate. Sullivan County Criminal Court Judge Jim Goodwin and mental health and substance abuse treatment professionals also offer alternative sentencing programs in lieu of jail sentences.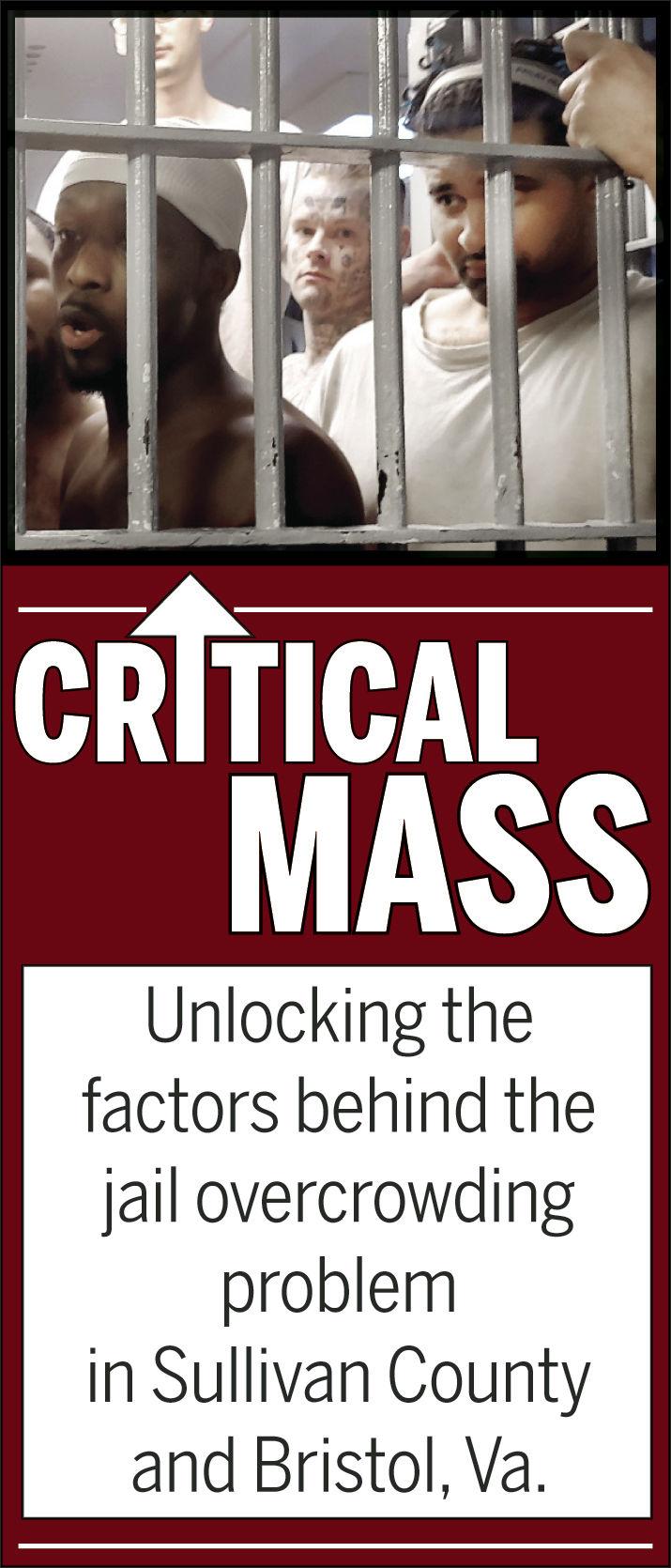 The newest program offered to inmates while they're incarcerated is David Stanley's Moral Reconation Therapy program. The cognitive-behavioral treatment program was first implemented at the Shelby County Corrections Center in Memphis, Tennessee, in 1987.
Stanley's MRT program is offered in three phases. The first is a 12-step class to work through moral and behavioral issues. During the second phase, inmates receive specialized vocational training.
The third phase begins near their time of release. They're paired with a mentor who helps them reenter society and stays in contact with them. Stanley's working with a local pastor to put a team of mentors together.
It's values-based and has had "startling results in lowering recidivism" across the U.S., but it requires a "heart change," meaning the inmates have to live with the consequences of their choices and want to change when they're released, Stanley said.
Participants wear a GPS tracking device after their release, much like ankle monitors that are already used, that track where they are and monitor alcohol and drug use. Ankle monitors are available, but some inmates can't afford them, and eligibility is strict, so they're not used as much, said Sheriff Jeff Cassidy and Chief Jail Administrator Lee Carswell.
Stanley's program is in its infancy, so participants haven't made it to the second or third phases. For now, the program is free.
Stanley received his certification to teach MRT classes in 2010. He was an inmate in Sullivan County's jail from 2001-02 on fraud charges. He pleaded guilty and paid restitution, he said.
Under the terms of his probation, Stanley was required to go through MRT.
"It gave me such a foundation and attraction for knowing what to say and how to show other inmates that it isn't enough just to say, 'I'm responsible, your honor,'" Stanley said. "You've got to live with the consequences of your choices, and part of the consequences that we teach in MRT are if you can make something right, you must. … It was transformative to me …"
He wanted to bring an MRT program to Sullivan County's jail for years, but when he toured it in July and saw it was "massively, urgently overcrowded," he knew it was time. His visit was the first time he had been there since his release.
"The population and census have increased so much it just tore my heart apart going in there," Stanley said.
Currently, incarcerated women can also take a parenting and personal responsibility class with Linda Brittenham, who has volunteered in the jail for around a decade.
Alternative sentencing programs
There are two state programs offered in place of jail sentences for inmates who qualify, as determined by prosecutors, Goodwin and Frontier Health professionals.
The Sullivan County Felony Recovery Court program, also known as drug court, began in 2015, and the Tennessee Recovery Oriented Compliance Strategy, or TN ROCS, program began last October. Goodwin, prosecutors, attorneys, Frontier Health professionals and probation officers determine which inmates qualify after they're convicted and supervise them while they're on probation.
The difference between the programs is offenders' risk of recidivism as well as their need for rehabilitation. Recovery Court allows people with non-violent criminal convictions who have a need for substance abuse treatment to receive inpatient and/or outpatient treatment instead of jail.
TN ROCS is for inmates convicted of violent crimes, excluding murder and sex offenses, who have a low need for rehabilitation.
The most common way people end up in TN ROCS is from probation violations, according to Goodwin and Heather Proffit, Frontier Health's Community Justice Program coordinator.
TN ROCS stems from the success of a program created by a judge that led to the creation of the state-funded TN ROCS program model.
Recovery Court and TN ROCS take 18 months to two years to complete, but the time it takes depends on each individual. Goodwin and the treatment professionals determine when participants progress to the next phase based on whether they're ready. Nearly 10 have graduated from Recovery Court so far.
Recovery Court participants undergo regular drug tests, serve hours of community service and attend Narcotics Anonymous meetings, intensive outpatient therapy sessions, MRT classes and court hearings every week. How much of each depends on the level of the program they've reached, and the amount goes down as they progress toward graduation.
For every hour of community service that isn't done when it's supposed to be, Goodwin sends participants back to jail. And if they don't do everything they're supposed to, they can also be sent back to jail.
"It's [TN ROCS] similar to drug court in that if they do well, the incentive is basically that they don't go to jail," Goodwin said. "If they don't do well, there are sanctions, which can be any number of things, including jail."
Life-changing consequences
During a Recovery Court hearing in August, participants chatted in the Criminal Court courtroom, often joking, while they waited for Goodwin. Five of the six participants had become friends.
Latasha Arnold, 31, of Kingsport, spent nine months in jail on drug charges before entering the program, she said. Her most recent charge was violation of probation in June. She spent three days in jail then went to Willow Ridge for treatment.
Arnold told the Bristol Herald Courier she smoked marijuana and abused prescription pain pills, but when her three children were taken from her, she began to use more heavily, she said. She hasn't seen them in three years.
"I started doing s--- [drugs] to get them off of my mind, as cruel as that sounds, but it helped a little bit until I was coming down, so I stayed up [high]," Arnold said.
In August, just days before she was due in court, she relapsed. She was visibly nervous thinking about going back to jail.
Ashley Ramey, a fellow Recovery Court participant, told Arnold it's OK to relapse because it's a learning experience, she said.
Ramey graduated last year but had to continue because of a relapse earlier this year, which violated the terms of her probation. She spent three weeks in rehab and around three weeks in jail. Despite her three years in the program, it's changed her life, she said.
"You can tell by the way he [Goodwin] talks to us [that] he cares about us because some of us have been doing it three or four years," Ramey said.
Goodwin told Arnold he was proud of her for being honest about her relapse even though she knew she could get in trouble. He didn't send her to jail.
Arnold is hopeful she can make it through the program and regain custody of her children.
Rebecca White, 40, of Kingsport, also said the program has improved her life. She began May 31 and relapsed once.
"It's actually gave me a chance to figure out who I am and become a better person," White said.
She was in jail from Dec. 28 through May 3 for violating the terms of her probation and was originally convicted on theft charges, she said. As part of the Recovery Court program, she spent 6 1/2 weeks at Willow Ridge.
It was "by the grace of God" that she made it into the program because of its high demand, she said.
"Somebody believed in me," White said.
Dustin Collier, 34, of Kingsport, started the program on Halloween 2016, completed it in December 2018 and graduated in March, he said. He finished serving five years in a state prison before he was transferred to the Sullivan County jail, he said.
Collier spent more than 15 months in the county jail beginning in 2015 on a total of 104 theft and other charges.
"I was very hard-headed when I first got out," Collier said. "I came straight out of prison, so I still had that prison mentality. … It's [Recovery Court] the only reason I'm not strung out or dead or back in prison. … It falls on the individual, but they give us the tools."