BLOUNTVILLE, Tenn. — Vernon Amaker — who's been in and out of jails along the East Coast for the last 25 years — said Sullivan County's lockup is the worst.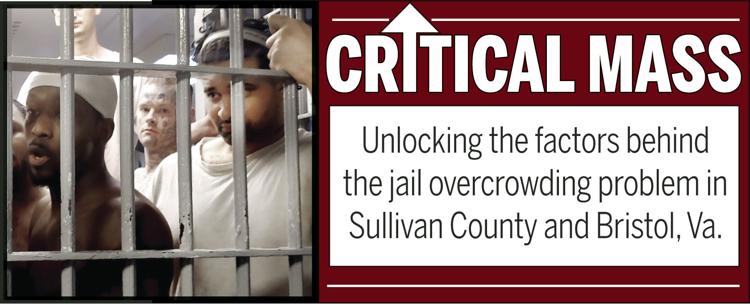 "The Sullivan County jail has a lot of problems," Amaker said. "One of the major problems that we have is staff and money — staff morale and money. The facility is not built for 2019. This facility's time has come and gone. … It's a money pit, and that's all it's going to ever be. The Jonesborough facility is a better facility, although it has different problems. The Abingdon regional facility is a better facility, but it has its own problems. Everywhere you go, you're going to have your own problems. It all depends about the staff, and it all depends about the leadership. It also depends about how much money you have to spend."
The 50-year-old was incarcerated without bail for about seven weeks earlier this year on theft, forgery and criminal simulation charges. He has since transferred to a Virginia Department of Corrections facility.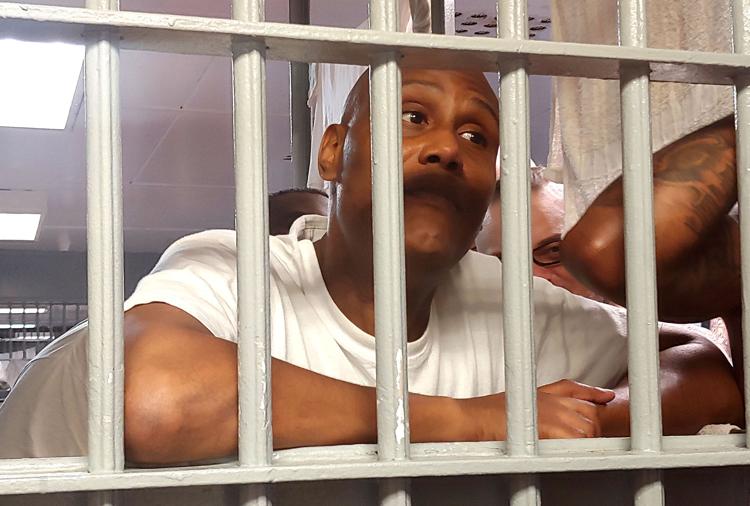 On a July night, Amaker was living with 31 men in a 16-bed cell at the Sullivan County jail. The temperature inside didn't feel much different than the muggy air outside.
Cell after cell was packed with inmates. Some cells were not much bigger than a walk-in closet. Many inmates stared through the bars or the small windows of the tanks like caged animals.
A standard of the Tennessee Corrections Institute, which inspects and certifies jails in Tennessee, states that each inmate must have 35 square feet of space. Sullivan County Jail Operations Capt. Brian Dillard said that's impossible in both jail facilities due to overcrowding. The main jail is rated by the TCI to hold 379 inmates, and the extension, which is a separate building, is rated to hold 240 inmates. 
What do you think is the answer to local jail overcrowding?
One of Amaker's cellmates, Cedric Hardy, 27, of Atlanta, Georgia, was jailed on $110,000 bail for 13 drug and weapons charges. He had many complaints about life in the Sullivan jail, including having the same lunch of a cheese sandwich every day and only having three phones in the cell. Some inmates steal trays from others to get extra food, he added.
Along with video phones in the cells, inmates have a small TV. To sleep, inmates have to fit like puzzle pieces on mats on the floor next to toilets and showers. Some cells only have one toilet and one shower, which leads to fights.
Hardy agrees with Amaker's assessment of Sullivan's jail.
"There's only 16 bunks in here, and we got people sleeping on the floor — on the mats on the floor," Hardy said. "We got mold on our shower walls up there. This is the worst facility I've been incarcerated in. … There's people in here without a blanket, just a sheet — a ripped-up sheet or a dirty sheet."
There is also a TCI standard that each inmate must have one hour of recreation time, or time outside their cells, every day, but it doesn't happen here.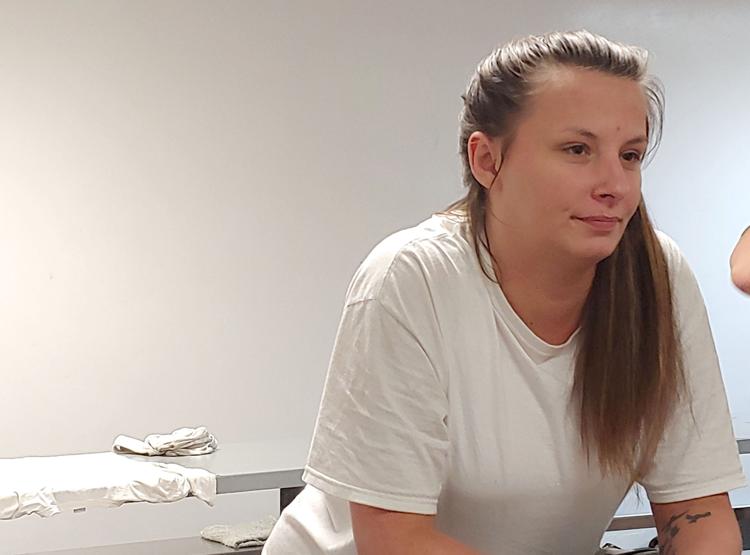 "In a given day, it is virtually impossible to get every single inmate out the way it's designed in one yard, and the same problem is at the main facility as well," Dillard said.
There is one fenced-in recreation area, or "yard," outside the extension and two fenced-in yards outside the main jail. At the extension, there are "day rooms" in the front of the cells.
At the main jail, both yards are less than half the size of a basketball court. The stench from the nearby dumpsters wafts through the yard for female inmates, located behind the first floor of the main jail. The yard for men is outside the second floor.
"We got a little bitty rec [recreation] area that we barely go out [to], and then when we do go out, it's 6 [or] 7 o'clock in the morning," Hardy said. "Everybody's asleep when they do call for rec time, then the yard is like this cell. The yard is no bigger than the cell that we in, so we never catching no breaks in this jail."
Jamee McCray, 32, of Toledo, Ohio, who was incarcerated on $200,000 bail on attempted first-degree murder and firearm charges, said inmates fight over food, the TV and using the shower, toilets and phones every day.
"There's not even enough living space," he said. "We've got people laying in the middle of our bunks and everything. We don't even get out for a break. That's why they be so many fights, you know what I'm saying? Because don't nobody get out to release they energy, and we're all cluttered, and there's no space to move in here — can't even watch TV."
Landon Ferguson, 30, of Kingsport, who was incarcerated without bail on kidnapping, robbery, carjacking and violation of probation charges, said inmates have to sleep on the floor — some without a mat or even a blanket.
"They barely have enough food here to feed us all," said Vincent Tester. "We don't get nothing to drink besides water."
The 38-year-old from Bristol, Tennessee was behind bars on drug and weapons charges. When he finishes his sentence, he'll be transferred to U.S. Marshals Service custody on federal charges.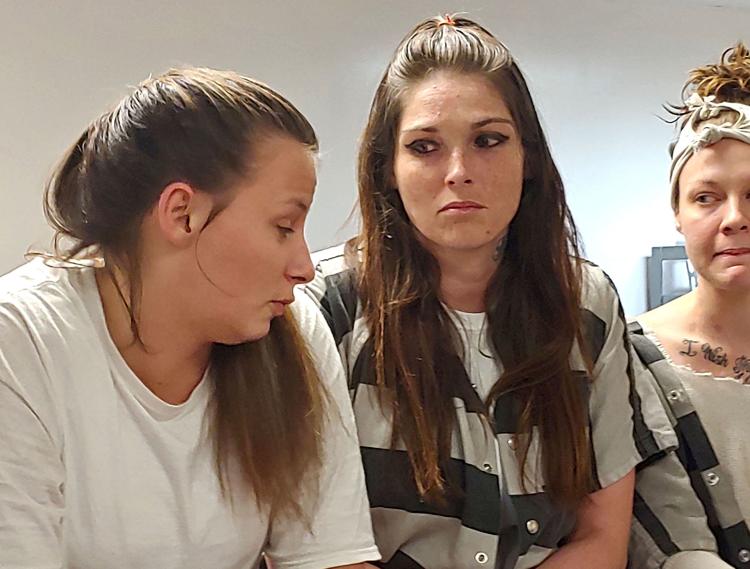 Inside a crowded cell for female inmates, Shelby Hall, 25, also spoke to the Herald Courier about her thoughts on the living conditions. She was jailed on trespassing, forgery, theft and failure to appear charges and has since been released. It was the second time she had been in the jail.
Hall said she was stunned by how overcrowded it is now compared to her first stint there in 2013. She described the jail as being "nice" back then, when all the women had a bed, she said.
As she spoke, she sat atop a table next to cellmate Natasha Newberry, 35, of Rogersville.
"We're very overcrowded," Hall said of jail conditions. "I mean, it's horrible sleeping on the floor."
They were living in an 18-bunk cell with 34 women. Pair that with the difficulty of so many different personalities, and it's not good, Hall said.
"Sullivan County is at its finest right now," she said with a chuckle.
Other women in the cell laughed with her.
Newberry was jailed on several drug, identity theft, theft and failure to appear in court charges. Newberry's time in the Sullivan County jail was one of several because of her methamphetamine addiction, she said. She also faces charges in Greene County.
"Drugs is been the reason for me to come back every time," said the mother of three, ages 4, 9 and 12. "Just being away from my kids, my family, the overcrowding that's in here — it's horrible. If we got help, maybe it could stop us from coming back. … I think I'm really done this time."