BLOUNTVILLE, Tenn. — One Sullivan County jail official recently described the overcrowded jail facilities as a "lethal cocktail."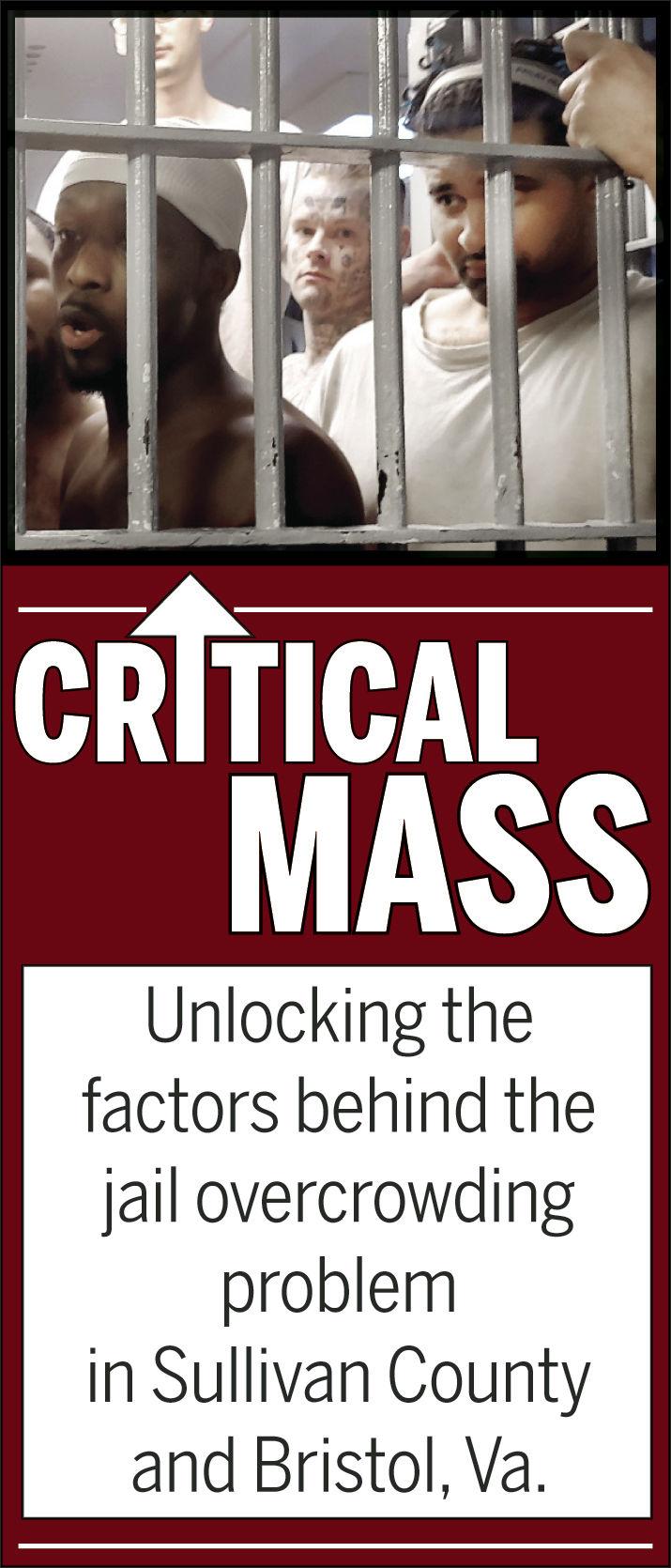 The population continues to rise, with cells holding triple their capacity and its linear design causes serious safety issues for inmates and corrections officers. Many inmates develop a "mob mentality" that only increases the danger, said Jail Operations Capt. Brian Dillard.
The main jail has been overcrowded almost since it opened in 1987. In 1999, 150 beds were added, and a separate building, called the "extension," opened in 2006 to house 240 inmates. The combined capacity of both facilities is 619, which is regularly exceeded by nearly 400 inmates.
The average combined inmate population is now more than 1,000.
Since 2014, the jail has faced the possibility of decertification due to overcrowding, and county Sheriff Jeff Cassidy recently warned the County Commission that the living conditions are violating the constitutional rights of inmates.
"This is the worst lethal cocktail we could possibly imagine," Dillard said. "I've worked in Los Angeles, and I've seen a lot of facilities across the country, and I'll be honest with you — I've not seen anything this decrepit. …"
He complimented the staff, saying corrections officers hold the jail together.
"I have no idea how they wake up in the morning, make the decision to come in here and take the abuse they have to for the money they make and complete that job," he added.
A look inside
Cells vary in size and shape. Some are large rooms behind one door with a small window. Officers can open the door, but there's no way to get a good look inside, and the window can easily be blocked by inmates. The others look like traditional cells — steel bars that inmates can stick their limbs through.
Most cells are designed to hold 16-28 inmates, though it's common for 30-40, and sometimes 50, to be housed in one. If an officer has to go into the cell, they can be ambushed by all of the inmates because there's no way to separate them in small groups behind more than one door.
Because there aren't enough bunks, many inmates sleep on mats on the floor or on plastic, makeshift beds with thin mattresses known as "boats." Their heads rest next to toilets. Some inmates said during a visit to the main jail in July that they don't even get a mat to sleep on.
"You're not just double-bunking — you're triple-bunking in some circumstances," Dillard said.
In the heat of summer, the HVAC units continually break down. Large fans are used to try to keep inmates somewhat cool. Mold can be seen growing in cells.
Safety issues from the beginning
The linear design of the main jail and the extension causes supervision and safety problems. When the main jail was built, the linear design was already decreasing in favor of pod systems, which allow more inmate control.
Typically, two inmates are housed in each cell rather than dozens in large dormitory-style cells, according to Chief Jail Administrator Lee Carswell.
The current design results in blind spots and mazelike hallways. There are cameras in each cell, though inmates can cover them, and in the halls, but only a few officers monitor the cameras — one at the main jail and two at the extension.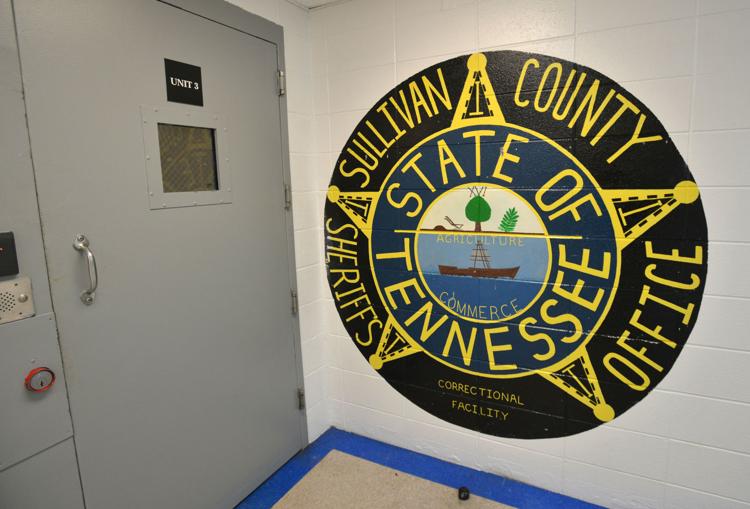 With a new jail or expansion, inmates would no longer be able to cover the cameras.
"Once you've kind of been given a facility, you're stuck with it unless you have new construction," Carswell said. "… The only way you can fix this problem is to design a building that's like a podular-type system. And we need some areas [for programs]. It's almost like we've got to fix that first before we can really go full-blown into these reentry style programs because, right now, we lack the space."
To monitor inmates, spot contraband or stop fights, officers have to walk the halls, but there aren't enough on each shift to regularly or safely do that. Even when an officer witnesses a fight, they have to wait for backup before entering the cells, or risk getting hurt. There's still a risk when other officers are there because the inmates, according to Jail Administrative Capt. Melissa Copas, have become more violent overall.
"They're younger. They really just don't care," Copas said. "They'd slap their mama quicker than they would slap me. They just have no respect. So, it's a whole different environment and the drugs are different, too, especially from when I started."
Inmate psychology 101 is to have a "mob mentality," Dillard said.
There are around 30 inmate-on-inmate assaults each month, according to Carswell. On some nights and weekends, several occur. In July, Dillard said there were nine assaults in one night.
The number of corrections officers assaulted by inmates varies. Sometimes, there are none, and sometimes there are a couple in a week, Cassidy said.
Copas and Dillard said the extension is more violent because of the piecemeal way it's built, but also because younger inmates, who are charged with less serious crimes, are housed there, and they aren't used to living behind bars.
At the extension, there is no outdoor security perimeter — no razor wire fencing to keep inmates in if they get out, or to keep them there during an evacuation. If there is a fire or any emergency that warrants an evacuation, officers would have to free inmates and try to arrest them later, according to Dillard. One exit out of the extension overlooks the Sullivan County Animal Shelter, the woods and a nearby neighborhood.
"We've requested security fence," Copas said. "… The [inmates'] family — they can walk right up here. They have access right close to our inmates. They have windows. At night, our officers (are) having to do security checks out here. It's dangerous. … We've had them dig out before."
In the event of an evacuation, there is steel fencing and some razor wire outside the main jail's two enclosed yards, but if 1,000 inmates had to be let out all at once, they could push the fencing down, Cassidy said.
Possible decertification
The jail facilities have faced decertification by the Tennessee Corrections Institute since 2014 due to inmate overcrowding. The group is tasked with holding jail facilities accountable to hundreds of standards it sets. TCI Deputy Director William Wall said razor wire fencing isn't required at Tennessee jails.
"Facilities are commonly built with internal security perimeters," he said.
The extension was built to be a "workhouse," meaning it was supposed to house sentenced, minimum-security inmates, but due to overcrowding, that isn't always the case.
Jail officials say there is no way to classify inmates — to separate "predator from prey," as Dillard put it, and that's been the case for years.
"We've got everything that any prison would have, too, as far as a violent act," Carswell said. "The inability to separate like we should is becoming a big challenge for me. We had 116 assaults from October to December in our county jail, and that's broke bones, that's head injuries … and mainly it's because of the current design of the jail. … It's a long, linear design that you don't see a lot of jails designed the way ours is."
From January 2018 through June of this year, inmate population steadily climbed, with the exception of one month, from less than 600 male inmates to hover around 700. In April, that number reached a high of 753, according to Tennessee Department of Correction data. Ten months out of the same 15-month period, the female population nearly reached or exceeded 226 and twice climbed to more than 270.
As of July, there were 250 women out of 967 inmates in Sullivan County jail, according to data gathered by Michael Brady Inc., or MBI, and TreanorHL. The firms are designing a master plan to renovate and/or expand the facilities or build a new jail. Based on those numbers, women make up 25.9% of the jail's population.
"It's a whole entity for you," he said.
More than a jail
The main jail also serves as a mental health institute and nursing home, of sorts, but without the usual accommodations of either. One unit had to be converted into what Carswell likened to a nursing home because inmates with walkers, wheelchairs, prosthetics and oxygen are incarcerated there. There are people with serious mental illnesses, cancer, dementia and Alzheimer's disease behind bars.
Smaller segregation cells, known as "tanks," are meant for three uses: to discipline inmates by keeping them out of the general population; to keep those who come in drunk or high separate until they're sober; or to serve as suicide watch cells — where those who may take their lives are kept nearly naked for their own safety.
But there aren't enough tanks. Carswell said there should be 150-170 segregation cells to adequately serve the needs of the average jail population, but there are only about 20 between the two facilities.
As of July, 66% of the population was pretrial inmates, meaning they hadn't been convicted of a crime.
"Our inmate population is violent — most of them," Cassidy said.
What do you think is the answer to local jail overcrowding?
Staffing
Carswell, Cassidy, Dillard and Copas all say there aren't enough corrections officers and medical staff to handle the number of inmates. On average, 19 officers work each shift, and they've worked thousands of overtime hours this year alone.
Transports of inmates to and from other states, to court in Bristol and Kingsport and to doctors' appointments means transport officers are always on the move, and there aren't enough of them.
There are two registered nurses — one is the jail's health administrator, and one spends all her time performing state-mandated physicals on inmates — 10 licensed practical nurses, a mental health coordinator and a medical clerk. The LPNs, two on each shift, give medication to 300 inmates per shift along with dealing with emergencies and injuries.
In July, the County Commission funded an additional 10 positions after months of debate that centered on cost, need and negotiations. The original request from Carswell and Cassidy was for 32 positions.
One LPN, one transport officer and eight corrections officer positions have since been hired, according to Cassidy.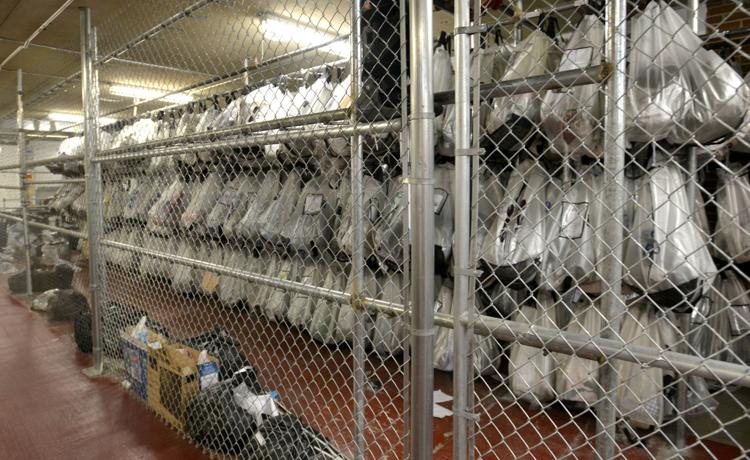 Eva Jessee, a county resident and mother of two corrections officers who work in the jail, pleaded with the commission twice earlier this year for more officers. Her son-in-law also works in the jail.
"The jail is an incredibly dangerous environment," she said. "I worry when my kids walk out the door every single day whether they're going to come home safely or not. I've been called in the middle of the night for a child that's been in the emergency room. I've had a child that got hurt in the middle of the night and refused to leave until the next morning because he couldn't leave his shift short-staffed."
Former Corrections Officer Hunter White, who worked at the jail for about a year, described his job as "rough" some of the time.
"You've got a lot of them that will just ask you questions and try to cause problems, and most of the time they know they're here, what they're on and so on — they know how much time they've got, and they don't want to screw that up," he said. "And then you've got the ones that like to start trouble. It makes your shift extra long."
A lot of paperwork and consistently checking on inmates who have threatened to kill themselves every 15-30 minutes also adds to the stress, White said. Typically, he works with one other officer on each 12-hour shift, and they're responsible for hundreds of inmates.
"It's a struggle because of where there's so many," he said. "We have two cells that have 41 people. So, we have a total of about 317 people up here for just two officers."
The design of the jail proves challenging for him and his fellow officers.
"If something happens all the way at the very end in Alpha cell [at the end of the hall], by the time we get there, it's already done, so we don't know what happened," White said. "The only thing we know is if we see it on camera. We can't hear what's going on all the way down there unless we're walking by. If we're going that way [and] we hear something, then maybe we can catch it, but if not, then it's already done and over with."