BLOUNTVILLE, Tenn. — The chairman of a committee that spent three years studying how best to alleviate overcrowding at the Sullivan County jail said in his final report that solutions proved to be as "elusive as they are expensive."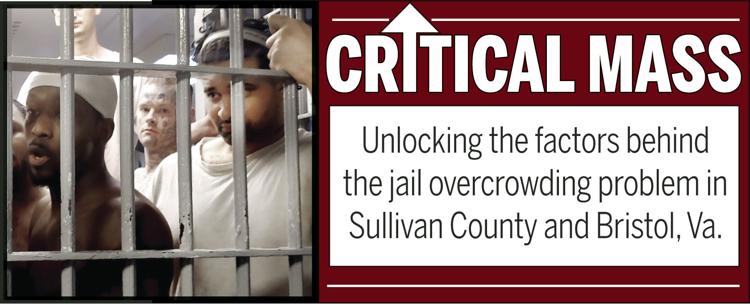 Wally Boyd, chairman of the Sheriff/Jail Ad Hoc Committee, wrote in December 2017 that members spent "hundreds of hours in a painstaking examination of the current jail."
In the end, the committee recommended an immediate expansion of the current jail, although work on the possible solutions didn't begin until this year.
It also recommended that the County Commission hire an outside firm to develop a master plan to address overcrowding and for the jail's future.
Facing decertification
To avoid decertification of the jail facilities, the committee was formed in 2014 by county officials as part of a plan submitted to the Tennessee Corrections Institute. Its task: Find a solution to overcrowding.
The jail facilities have been overcrowded since they opened — the main jail more than 30 years ago and the "extension" more than a decade ago. Over the years, there have been expansions to make room for a growing inmate population, but they were all nearly immediately overcrowded.
Every month, Sullivan County Sheriff's Office officials send progress reports to TCI, and the jail has to be recertified every year. Last year, the facilities failed to meet "applicable minimum standards" set by the TCI and were again facing decertification.
When the committee's final report was issued nearly two years ago, there was a combined daily inmate population, on average, of 730 inmates with "surges" on the weekend that brought the total close to 900.
"This number of inmates has never been higher in our history and represents the highest rate of incarceration in our history as well," Boyd wrote in the report.
Currently, the average daily population has topped 1,000.
In his report, Boyd went on to state that Sullivan County District Attorney General Barry Staubus, who was also a committee member, said overcrowding had reached "crisis" proportions.
"Echoing those comments, Sullivan County Criminal Court Judge James Goodwin warned that a host of factors — overcrowding chief among them — had achieved 'critical mass' and urgently needed to be addressed," Boyd wrote. "The health and safety of prisoners and guards alike, both men emphasized, were being endangered on a daily basis. D.A. Staubus also spoke of the ongoing liability issues inherent in such chronic overcrowding (as well as the considerable costs to Sullivan County taxpayers should legal action result)."
Outside firm hired
The County Commission followed the committee's recommendation to bring in an "outside expert" by hiring MBI — a Knoxville design firm — to design the plan, which will also include a needs assessment. TreanorHL, another design firm, has partnered with MBI to work on the design.
In August, the firms presented two expansion options to jail and county officials and discussed a third that would build a new jail and centralize the county's courts in Blountville. The final master plan is slated to be presented to the County Commission by November.
The committee also recommended using the current facilities but adding infrastructure to support the expansion, including a new kitchen, laundry area, medical facilities and booking area to support larger populations.

Prior to the committee's work in June 2016, Jim Hart, a jail management consultant with the University of Tennessee's County Technical Assistance Service, released a 41-page needs assessment on Sullivan County's jail facilities.
Hart determined, among several other concerns, that the jail routinely exceeds capacity and is understaffed, that "inmate classification is jeopardized by crowding conditions that has the potential to lead to a failure of officials to protect liability issues" and that the linear design is "dated and manpower intensive."
He also took issue with no one keeping track of how many inmates have substance abuse problems and/or serious mental illnesses, trends in probation and parole violations and recidivism rates.
Hart recommended additional bed space for inmates to support an inmate classification system and areas for special-needs housing. He also suggested that data regarding lengths of stay in custody, lengths of stay at time of sentencing, time to move through the grand jury, and the number of special-needs inmates be tracked to identify population trends.
In addition, he wrote that any jail expansion or design should include podular housing for "more control and enhanced lines of sight" and a request for qualifications (RFQ) developed to hire an architectural firm to assess space needs for expansion or new construction.
The commission approved development of an RFQ in January 2017, and it took more than a year to finalize the document. Firms began sending in submissions in February 2018.
Master plan process
Earlier this year, Jay Henderlight, an architect with MBI, asked that three committees be formed — one made up of law enforcement officials, a second made up of judges and the district attorney's office and a third to include members of the other two committees. He recommended that commissioners, jail personnel and mental health and drug addiction treatment professionals also serve on the committees.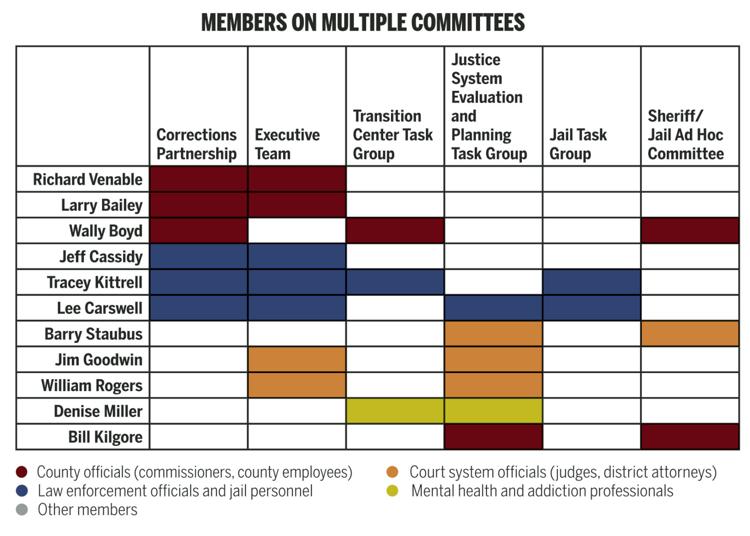 Sullivan County Mayor Richard Venable appointed five committees to work with MBI on developing the master plan.
Venable, taking into consideration suggestions of Sheriff's Office administrators, formed and appointed members to the Transition Center Task Group, Justice System Evaluation and Planning Task Group, Jail Task Group, Executive Team and Corrections Partnership. All the committees will work with MBI.
The task groups will do the brunt of the work then make their recommendations to the Corrections Partnership and the Executive Team.