BRISTOL, Tenn. — "Imagine you are the only person here," DeeDee Cooper told a crowded auditorium of students at Tennessee High School Thursday morning.
She asked the students to close their eyes and the room was silent.
"Think about the people in your life you love more than anything," Cooper continued.
In the next few days, she challenged students to go to the people who came to mind — like their parents and close friends — and tell them how much they are loved.
With their eyes still closed, Cooper asked the students who would commit to doing this to raise their hands.
Nearly every hand in the auditorium went up in the air.
This was part of an hourlong presentation that called on students to start a "chain reaction" of kindness at their school and in the wider community.
Cooper, a presenter for the nonprofit group Rachel's Challenge, shared the story of Rachel Joy Scott, who was one of the 13 people killed in the Columbine High School shooting in Littleton, Colorado, in 1999.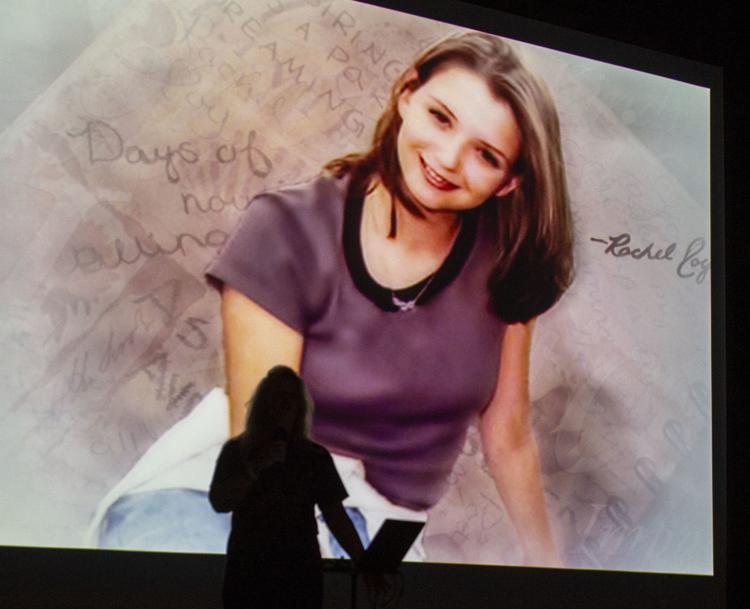 After the shooting, classmates came forward with stories of how Rachel impacted them through simple acts of kindness and compassion. Scott, who was 17 at the time of her death, also left behind diaries and writings where she talked about reaching out to other groups of students and looking for the best in others.
Building on Rachel's legacy, the Scott family founded Rachel's Challenge, a nonprofit that works to build more positive school climates and reduce violence and bullying. The program now reaches more than 1,200 schools and businesses each year, according to the organization's website.
During Thursday's assembly, Cooper shared a number of videos about Scott's life and challenged the students to look for the best in others, dream big, choose positive influences, speak with kindness and start their own "chain reactions."
"You have a choice every single day about what kind of influence you are going to be on the people around you," she told the students.
Principal Kim Kirk said she saw a Rachel's Challenge presentation at a conference in Nashville, and she wanted to bring it to Tennessee High. The school has a positive culture, but the program can help it continue to improve, she said.
"It's a very powerful presentation," Kirk said.
The presentation appeared to move many of the students — several wiped tears as they got up from their seats at the end of the program, and some exchanged hugs.
"I about started crying when we closed our eyes," said Sophie Arnold, a sophomore. She said she was thinking about her parents when Cooper asked them to think about people they love.
Sophomore Steven Johnson said he also thought about his parents.
"I don't think teenagers give their parents enough love because they do everything for us," he said.
Some students said they were thinking about how they interact on social media and how they need to push back on cyberbullying. Others also said they want to be more inclusive of classmates who may be new to their school.
"You've just got to love everybody no matter what," said Wade Witcher, a freshman.
Moving forward, Kirk said the school plans to form a club coming out of the presentations that will work on improving school climate. Some Rachel's Challenge training sessions were also held with students Thursday afternoon.
A few students talked with Cooper as the school went to second period classes after the program. "I need a hug," one said.
"The most important thing they can take away is realizing that each of them individually has the power to do exactly what Rachel Scott did," Cooper said. "Intentional acts of kindness and the way that we treat each other actually does matter, and the words we use with people — it matters."