BRISTOL, Tenn. — The State Street Farmers Market will return Saturday, but for now it will not be held along the street for which it's named.
The market, which was delayed by a month due to the COVID-19 pandemic, will be open from 8 a.m. to noon in the municipal parking lot in front of Bristol Tennessee City Hall. And it will remain there, instead of its normal location in the Downtown Center, for the foreseeable future to ensure proper social distancing for vendors and shoppers.
Mike Musick, recreation superintendent for the city's Department of Parks and Recreation, said there were times during the annual Rhythm & Roots Reunion when the market was held in the parking lot of the Slater Center. However, since it opened in 1999, this is the first year it will be held somewhere other than Downtown Center.
Musick said it's early in the season, so shoppers who come out Saturday can expect to find roughly 15 vendors offering in-season produce like green vegetables, lettuce, onions and sugar snap peas, as well as others who will sell meat or potted plants. During peak harvest season, the market will likely feature 25 or more vendors on most Saturdays.
Shoppers who turn out Saturday can also expect to follow some new social distancing guidelines, including maintaining at least 6 feet of distance from others. Only two shoppers will be allowed at a stand at one time. Additionally, while shoppers will be allowed to pick out what they want, they won't be allowed to touch produce until after they buy it. Reusable bags will not be allowed.
Musick added that he and other city employees will be at the market to make sure people follow the guidelines and don't linger.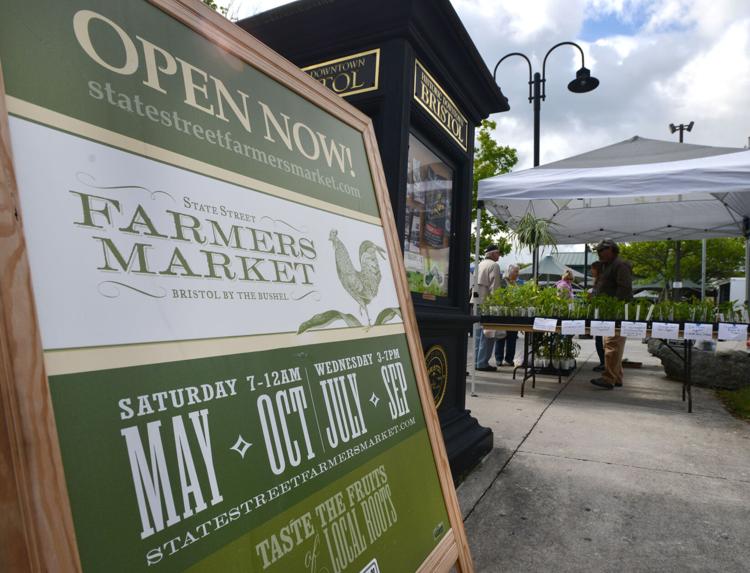 "We're going to try and make it a quick shopping trip," Music said. "We're going to try and encourage people not to gather."
The city also requests that people leave their pets at home, that only one member per family turns out and shoppers should take $1, $5 and $10 bills rather than larger bills. Although masks are not required for shoppers or vendors, they are recommended.
Musick said he isn't sure yet whether the Wednesday farmers market, which is usually held from July to September, will return in 2020. If it does, the market may be held at the Downtown Center because there are usually fewer vendors, and the municipal parking lot is needed for city business during the week.
The State Street Farmers Market isn't the only one in the region to reopen this week. The Blountville Farmers Market opens Thursday at 11 a.m.
In Virginia, the Abingdon Farmers Market has been open every Saturday since early April. However, shoppers have only been able to preorder and pick up items. David McLeish, manager of the Abingdon market, said if Virginia Gov. Ralph Northam moves the state into reopening Phase 2 Friday, the first physical market will be held June 13. Northam announced Tuesday that most of the state will move to the second phase starting Friday.
The Glade Spring Farmers Market opened May 23. Unlike Abingdon, Glade Spring has held its market at a physical location. But since it reopened, it has enforced social distancing rules.