A military veteran from Clintwood, Virginia, died May 30, but he had no family to make funeral arrangements, prompting one local funeral home and the community to act.
Hamilton M. Edwards, 74, was not homeless. The Trinity Memorial Centers Funeral Home of Kingsport, Tennessee, said he simply had no family to handle the funeral — an occurrence that seems to be increasing in the Mountain Empire.
"We are calling upon everyone in the public who is able to attend to join us in our distinct honor to provide a full military burial for this unaccompanied United States Army Veteran," the funeral home said in an obituary.
Weston Leonard, who owns Trinity Memorial Centers, told the Bristol Herald Courier that when a veteran is unclaimed, the funeral home submits an obituary to see if any family might be in the area.
Trinity then schedules a burial with the Mountain Home National Cemetery in Johnson City and contacts the American Legion Hammond Post 3 Gate City 265, a military rites provider.
"We treat them as we would if there was a family," Leonard said. "We roll out our special black Veteran Honor Coach and go in procession with lights to the cemetery."
The funeral home invites the public to attend the service.
"So far, the response from the public and other veteran groups has been overwhelming," Leonard said. "Hamilton's service was one of the largest attended services at the cemetery with hardly any parking left."
Trinity is just one of several regional funeral homes that provides services for indigent or unclaimed deaths, which occasionally includes veterans.
In Tennessee and Virginia, local governments are responsible for the disposition of unclaimed bodies, an issue that has recently stretched the budgets of several counties, including Sullivan County.
In a majority of the states, it's the city's or county's responsibility to properly dispose of unclaimed bodies. Elsewhere, including West Virginia, it's the state's responsibility.
Leonard notes that 58 percent of Americans have less than $1,000 in savings.
"In our area, a lot of folks simply don't buy life insurance or think they won't need it or can't afford it," Leonard said.
Trinity conducts more than 350 funerals a year, and there are many families who face a financial burden when a loved one dies.
"A lot are shocked they didn't have life insurance," Leonard said. "It's a much unnecessary stress."
Trinity works with Shades of Grace United Methodist Church in Kingsport to provide funerals for the area's homeless. Through the partnership, Leonard said they are able to hold a service a few times a year and bury the ashes in the Immanuel Lutheran Cemetery in Blountville.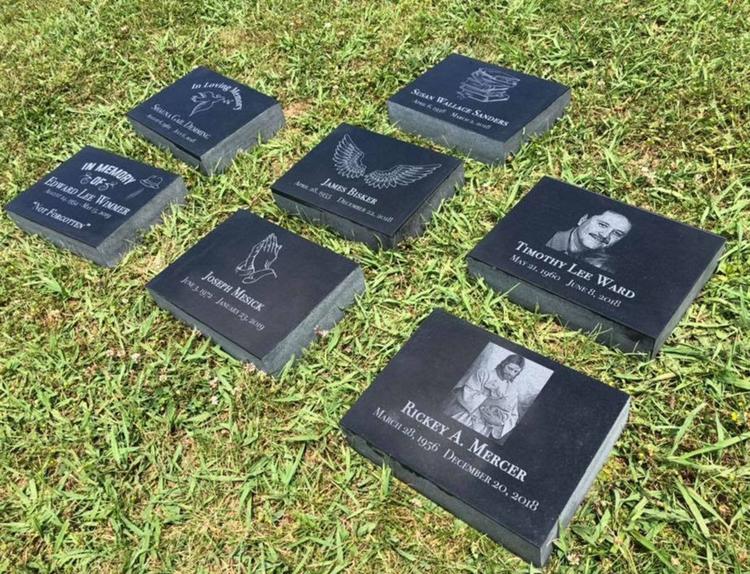 Leonard said 35-40 people often show up for indigent services. Trinity also makes a black granite headstone for each indigent.
Trinity serves the Tri-Cities region, and Leonard said it handles about 25 indigents a year from Bristol.
Indigent and unclaimed bodies aren't always the result of having no family.
"In fact, a lot of the time we speak with the family, but they just don't want to take on the financial burden since their loved one wasn't responsible enough to pre-plan or get life insurance," Leonard said. "It's a hard choice sometimes, especially when it's a parent who passes, and their kids just can't financially handle the burden."
Currently, Trinity has three indigents in Sullivan County, but the county recently ran out of money for cremations, Leonard said. It would be four to five weeks before additional funds are allocated, he added.
"There is definitely a rising number of people being unclaimed," Leonard said.
Typically, Sullivan County receives about 25-30 requests per year regarding unclaimed bodies, which includes pauper or indigent deaths, according to Angela Taylor, who works in the county mayor's office.
"During the past two weeks, we have received at least seven requests and several more telephone inquiries," Taylor said. "Interesting, about one half of those we provide cremations for are between 55-65 years old. We always run out of money in this fund prior to year-end."
Mayor Richard Venable noted that the county no longer conducts burials. Previously, indigent individuals were interred in the county cemetery along County Home Road, but it's full.
Sullivan County now pays $750 per cremation, which is common across the region.
Upon receiving a request for assistance, counties and cities conduct an investigation to determine whether a person is actually indigent.
"We usually check the property records or the automobile registration, anything you would normally do to identify somebody," Venable said. "If there are family members, you obviously check with them to determine if they are also indigent. They may not be able to bury their family member."
Officials typically contact local organizations that can accept donated bodies. In Tennessee, the University of Tennessee in Knoxville and Restore Life of Johnson City accept donations. In Virginia, County Attorney Karen Mullins of Wise County said staff often contacts the Virginia State Anatomical Program.
If donation programs can't accept bodies, the county contacts funeral homes for cremation services.
Last fiscal year, Sullivan County, which has an annual pauper budget of $14,000, had 20 pauper deaths.
So far, Wise County, which must obtain a court order for cremations, has had four unclaimed deaths, Mullins said. Wise County has a pauper budget of $2,000 but has gone over the budget every year. The county spent $3,000 last fiscal year and $4,200 the year before.
The city of Norton, Virginia, doesn't have an indigent budget but is responsible for the deaths.
"I am only aware of one case that has occurred over the last seven years," City Manager Fred Ramey said. "Any cases involving pauper or indigent burials would be funded through the city's general fund."
Like Wise County, Norton reaches out to local funeral homes regarding cremations.
Scott County also doesn't have a pauper budget.
"We didn't have any of these cases in 2018, and from what I was able to find our last one was in 2016 at a cost of $650," said Scott County Administrator Freda Starnes.
Tazewell County's last indigent death was also in 2016, according to County Administrator C. Eric Young.
"Unfortunately, we had three that year alone," he said. "We do not have a budget. We pay it from the sheriff's budget, as under the code it is his responsibility."
To date in 2019, Lee County has had two unclaimed deaths, County Administrator Dane Poe said.
Lee County has a budgeted line item for such deaths. The expense is charged to the Board of Supervisors' miscellaneous expense line item.
In calendar year 2018, Lee County had two bodies unclaimed for which the county paid a total of $1,500 for their cremation.
In Washington County, the Social Services Department handles unclaimed bodies, according to County Administrator Jason Berry. The county has budgeted $10,000 for each of the past three years for unclaimed deaths. So far this year, it's spent $4,185. Last year, the county spent $7,200 and $8,400 in 2017.
The city of Bristol, Virginia, pays about $750 for cremations with the assistance of Blevins Funeral Home. City Manager Randy Eads said there were three unclaimed deaths in 2017-18 and one in 2018-19.
Local governments often also work closely with the U.S. Department of Veterans Affairs to serve deceased veterans, such as Edwards.