BRISTOL, Va. — A group of Chihuahua mixes seized last month from a city residence were adopted Saturday at the animal shelter.
On May 17, the Bristol Virginia Police Department seized 32 dogs from a home on Dunlap Street where Officer Josh Slagle said the animals were living in "deplorable conditions." The dogs were infested with fleas and living in a home where feces had coated the floors, Slagle said.
Of the dogs, most were healthy enough to adopt on Saturday, a day set aside for local residents to adopt the animals at the new shelter on Shakesville Road.
Elmer Cardwell, of Saltville, Virginia, and his family arrived around 9:30 a.m. They were the first in line for the event, which began at noon.
"I retired March 7, and the day before I retired our little Chihuahua got ran over and killed," Cardwell said. "It got away from my wife. We waited several weeks to decide if we wanted to have another one."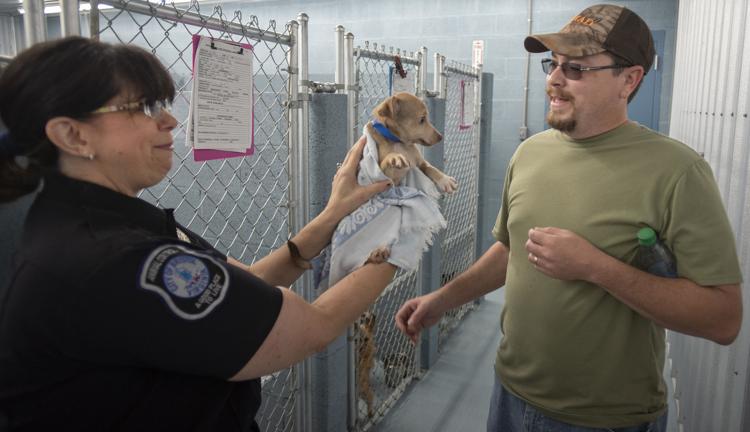 Cardwell and his wife saw the news about the seized dogs and decided it was time to get a rescue.
The previous dog, named Cocoa, was 10 years old, and the family had her for about 8 years.
"We just like females," Cardwell said after choosing one from the shelter. "She's the smallest one in there. Our other dog was just a little bigger than that one."
Each resident seeking a dog on Saturday was given a number when they arrived. Slagle said 28 of the 32 dogs were available for adoption, and each person could pick one dog. He explained that the other dogs are too young to be adopted and are still being cared for at the shelter.
The shelter's gravel parking lot was full of cars when the event began; cars also lined the street as people waited to adopt.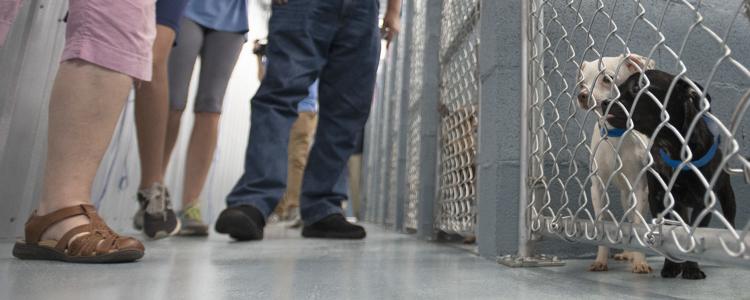 The Cardwells haven't yet picked a name for their new canine. He and his wife said they'd have to spend time with the dog to pick a name that fits.
Brad Williams, of Kingsport, Tennessee, was the fourth person in line Saturday. He picked a young male Chihuahua mix.
"I better get one like that so they get used to you," Williams said. "Getting them fixed, it's a lot easier on a male than a female."
Williams named the dog Rocket, from the Marvel Comics brand.
Rocket is Williams' fourth rescue dog.
"In the beginning, the first couple that we got, we bought from breeders," Williams said. "We paid out the wazoo for them."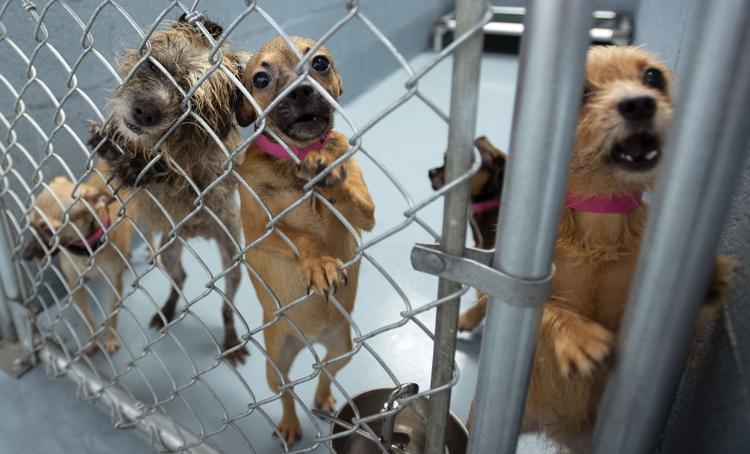 He eventually found his first rescue dog at a property in Scott County, Virginia.
"You could count every rib she had," he said. "She was out running loose. We paid these kids to catch her, and we've had her ever since. I told my wife, 'There's too many dogs out there that need a home.'"
Instead of paying several hundred dollars for a dog from a breeder, Williams has since found rescue dogs.
By Saturday's conclusion, Animal Shelter Manager Deena Bouton said 18 of the seized dogs were adopted. One other animal was also adopted during the event. An additional 10 seized dogs and three others remain at the shelter.
Before Saturday's event, in the couple months that the facility has been open, the shelter had adopted out eight dogs and two cats, Bouton said.