A state-by-state report card on human trafficking ranks Tennessee among the best when it comes to handling human trafficking cases, while Virginia is among the worst.
Shared Hope International, a nonprofit organization whose mission is to end human trafficking, annually looks at the progress made by each state in the U.S.
The organization issues a report card for each state. According to Shared Hope, Tennessee ranks among the best in the country when it comes to fighting human trafficking. On a scale of 0-100, Tennessee received a 93.3 in 2015 and a 98 in 2016. Only Louisiana, with a 99.5, had a better score.
"Tennessee imposes substantial penalties for sex trafficking and provides tools for law enforcement to investigate effectively, but victims may be deterred from pursuing justice due to lack of trial protections and potential bars to victims' compensation," Shared Hope said in a report card. "Minors exploited in prostitution do not face prosecution, but the lack of specific protective responses may leave them vulnerable."
By contrast, Virginia ranks among the worst in the country when it comes to human trafficking, according to Shared Hope. It received a score of 71, but some progress was made. Its score was 66 in 2015.
The state apparently received a better score in 2016 due to recent legislation. In 2014, Virginia was one of only two states that did not criminalize sex trafficking, the Shared Hope report states. In April 2015, a bill specifically criminalizing sex trafficking was passed and signed into law by Gov. Terry McAuliffe. By September 2015, two people in Richmond were the first to be convicted under the new law.
"Virginia criminalizes child sex trafficking without requiring proof of force, fraud or coercion but the sex trafficking law does not reach buyers of sex with minors," Shared Hope states in a report card. "While defendants convicted of sex trafficking face sex offender registration and asset forfeiture, minor victims still face delinquency and detention for prostitution charges."
The report also states that victims of domestic minor sex trafficking in Virginia continue to be vulnerable due to gaps in the laws.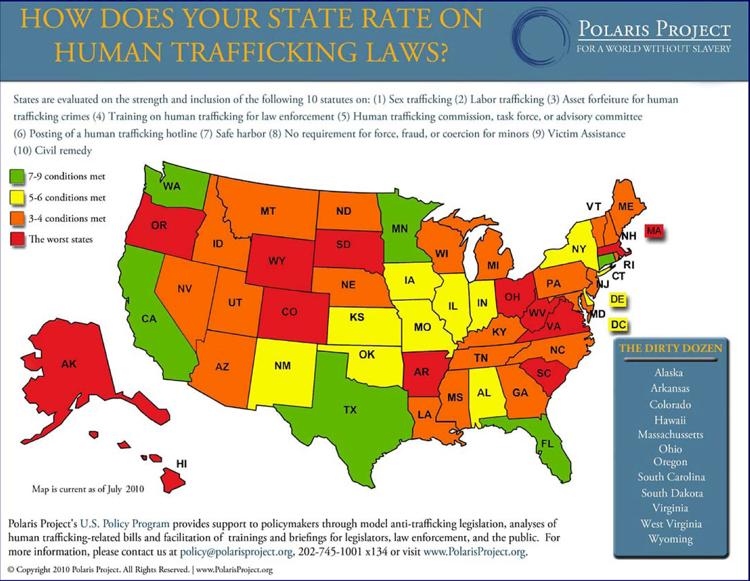 Virginia fared better than California, Maine, New Mexico, New York, Rhode Island, South Dakota and West Virginia, according to Shared Hope. Maine had the nation's worst score at 61.
In Virginia, the state's attorney general's office is the primary agency that tracks and fights human trafficking.
"An issue of human trafficking would be handled by local law enforcement, state police, or the FBI like any criminal matter would be," said Michael Kelly, director of communications for Virginia Attorney General Mark Herring. "In the past, our office and the U.S. attorney for the Western District of Virginia have handled the prosecution of these cases, as well as local prosecutors."
Kelly said he wasn't aware of the Shared Hope report card.
"But we would certainly be interested in knowing about anything the commonwealth can do to identify and support victims and to combat human trafficking within our borders," Kelly said.
The Tennessee Bureau of Investigation primarily handles cases in the Volunteer State.
Margie Quin, a special agent with the TBI, said there is concern at the national level that states with stronger human trafficking laws have created destination states.
"By strengthening the laws so much in some states, like Tennessee and Louisiana, have we inadvertently created destination states?" Quin asked. "If I'm living in Bristol, Virginia, and I want to buy a 14-year-old girl, am I going to do it in Bristol, Tennessee, or am I going to do it in Bristol, Virginia, where the penalties are not very stiff? I'm going to go to Bristol, Virginia."
The National Human Trafficking Resource Center Hotline provides statistics for each state.
In 2016, the organization said Virginia was tied for 13th in the nation in the number of reported human trafficking cases. There were 116 cases in Virginia in 2016. In 2015, it was eighth. In 2014, it was fifth.
"The numbers are trending in the right direction," Kelly said.
Last year, with 80 cases, Tennessee ranked 19th in the nation in the number of human trafficking cases. The state was 21st in 2015.
Last year, the national hotline reported a total of 20,424 cases in the United States. California, with 1,012 cases, had the most, followed by Texas, Florida, Ohio, New York, Georgia and Michigan.