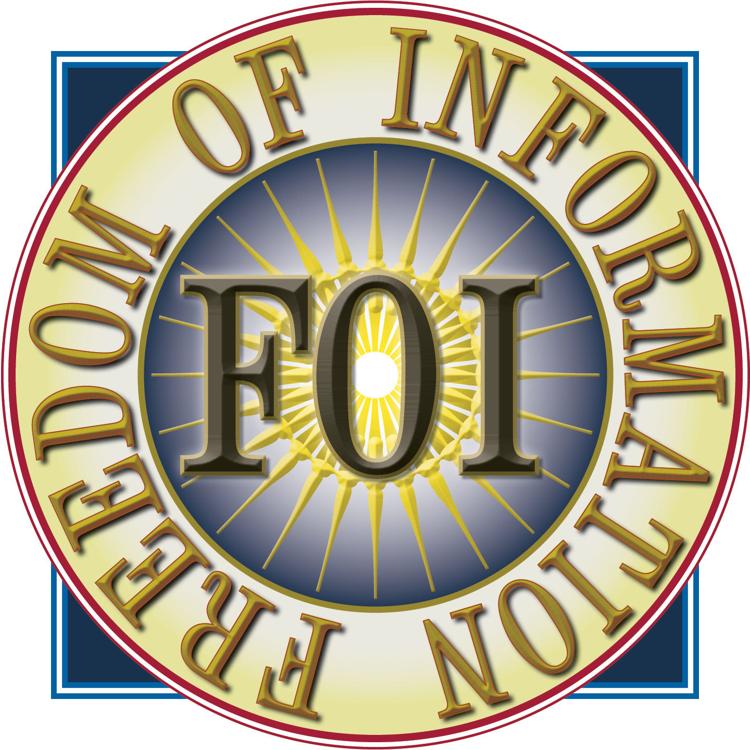 Record rainfall in 2018 and early 2019 not only caused flooding and property damage in Southwest Virginia and Northeast Tennessee, it resulted in more potholes for local drivers to dodge this spring.
Tim Beavers, director of developmental services for Bristol, Tennessee, said all potholes are caused by water entering cracks in the pavement and creating a cavity either by filling the crack with too much water or freezing and expanding. Constant traffic loosens the pavement around the expanded crack and causes it to collapse into a hole in the road, which creates more potholes, he said.
The process that creates potholes generally occurs in winter, but early spring is typically called pothole season because when ice and snow thaws, more potholes start appearing. Spring is also generally the time of year when government bodies can start making more permanent patches. In winter, asphalt manufacturers stop producing hot asphalt mixes, which are used for long term patch jobs. When road crews make repairs in the winter they use something called a cold mix, which doesn't last nearly as long and is prone to crumble back into a pothole, Beavers said.
Since March 15, the Tennessee Department of Transportation has fixed seven potholes along the section of Interstate 81 in Sullivan County, according to daily work reports obtained through the Freedom of Information Act from TDOT. From March 15 to May 15 in 2018, TDOT did three patch jobs on I-81 in Sullivan County and Washington County, Tennessee.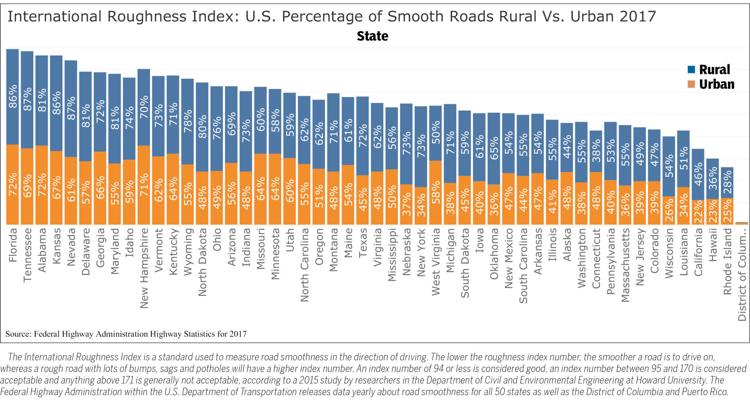 In Virginia, since March 15, the Virginia Department of Transportation has repaired 50 potholes on I-81 in Washington, Smyth and Wythe counties, said Michelle Earl, VDOT's communications manager for the Bristol region. Calls for potholes and most other types of roadwork on the interstate also increased in 2019 from the same period in 2018, she said.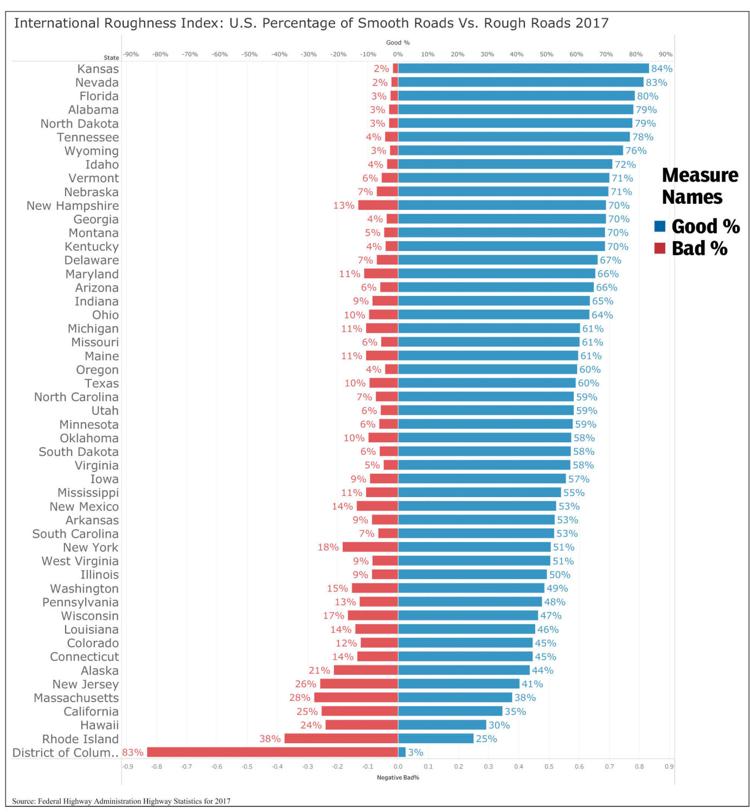 Potholes can occur in any street when there is cracking in the pavement, but roadways with high levels of traffic tend to develop the most. However, the cracks that form potholes are created more quickly on roads with lower traffic, Beavers said.
"Think of it like a rubber band. If you use a rubber band, you know, it stays flexible and pliable," Beavers said. "But if you set one out, and you don't ever use it and pick it up, it's real brittle."
Additionally, bridges and ramps that are treated with chemicals that melt snow are typically also more prone to potholes as are areas that are well shaded and damp.
Hitting potholes can cause serious problems for drivers besides just an uncomfortable bump, either through readily apparent issues like popped or deflated tires, but also hidden damage such as wheel misalignment, a damaged steering column or suspension.
Josh Heffinger, service manager at Appalachian Tire Products in Bristol, Tennessee, said pothole season generally mean an increase in business.
"Things pick up right after winter when the roads start to get all beat up," Heffinger said.
But whether a vehicle is damaged by potholes really depends on a driver's route, he added. Within Bristol, many of the roads are well maintained, while they are not as well taken care of outside the city, he said. Portions of I-81, especially near Exit 26 in Washington County, are particularly bad right now, Heffinger said.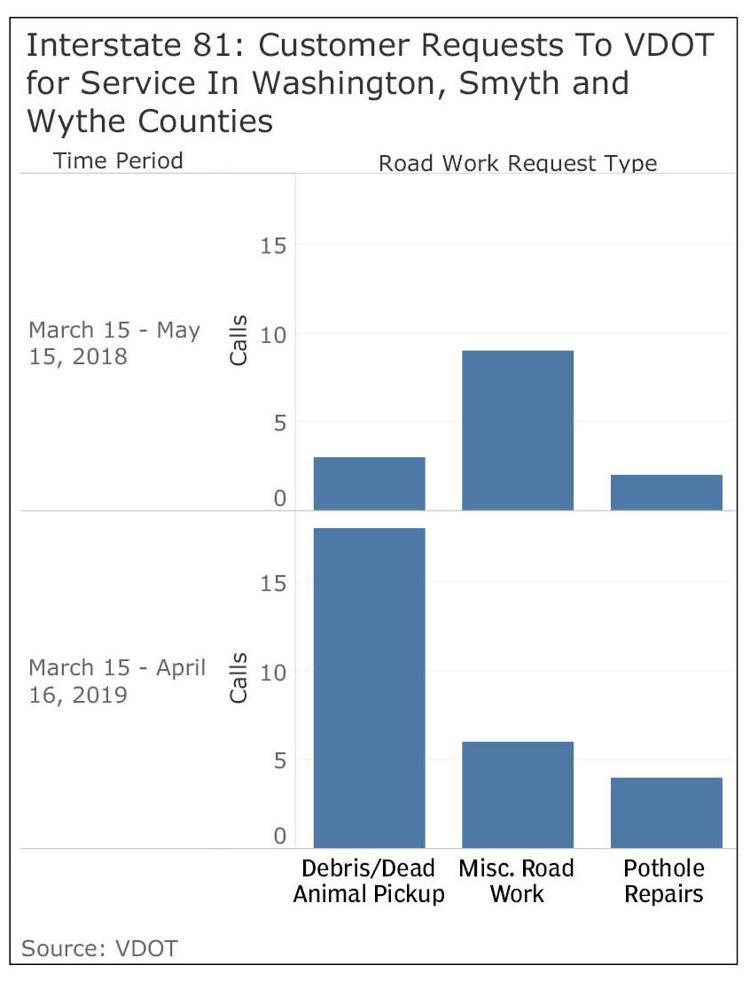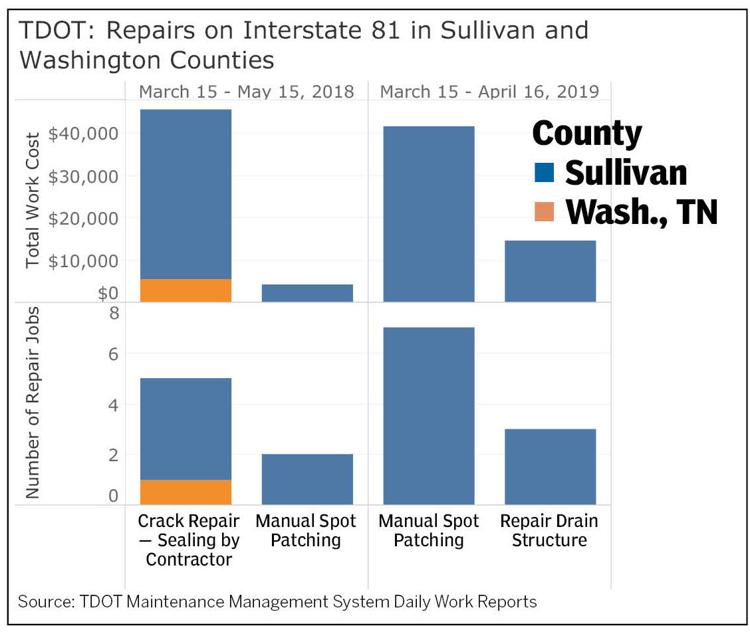 And potholes not only result in expensive repairs to vehicles, it costs government bodies a large chunk of change as well.
From March 15 through April 16, TDOT spent $46,474 to fix potholes along the section of I-81 in Sullivan County, with the median amount spent on those patch jobs at $5,390.50, between the cost for labor, equipment and materials.
Wallace McCulloch, director of public works for Bristol, Virginia, said this fiscal year the city has already spent $400,000, primarily in state maintenance funding, to fix potholes and resurface roads and he expects to spend an additional $250,000 by the end of the fiscal year.
The city handles minor patching, McCulloch said, but it hires contractors for bigger jobs.