BLOUNTVILLE, Tenn. — Work to replace water pipes that have been in the ground since the late 1930s along a 7-mile stretch of U.S. Highway 126 in Bristol, Tennessee and Blountville is slated to wrap up by the end of October.
The purpose of the $3.5 million project is to replace pipes in front of the Sullivan County Courthouse up to the area near Steele Creek Park in Bristol and on County Hill Road in Blountville.
The pipes will have the capacity to handle pumping 800 gallons of water per minute to its 5,300 customers. The old pipes pump 500 gallons per minute. The new infrastructure will also put an end to water wasted through leaking pipes.
The work began last year and was originally scheduled for completion by June 18, but Blountville Utility District General Manager Louie Stevens said this year's record rainfall and having to excavate more rock than anticipated put the project behind schedule. So far, there have been a total of more than 70 days that construction has been affected by inclement weather, most of it rain, he said.
The plan, weather permitting, is to have all the pipes installed and in use by the end of September, then landscaping and paving will be done in October.
Construction is being done by Classic City Mechanical, or CCM. The company got the job because by law Blountville Utility District had to hire the lowest bidder because it is being funded with $2.7 million in loans and $800,000 in grants from the U.S. Department of Agriculture Rural Development. Any additional money to finish the project will be paid by CCM.
Monthly water rates were increased 25 percent in 2017 to help fund the project, which was the first increase since 2004, according to Stevens.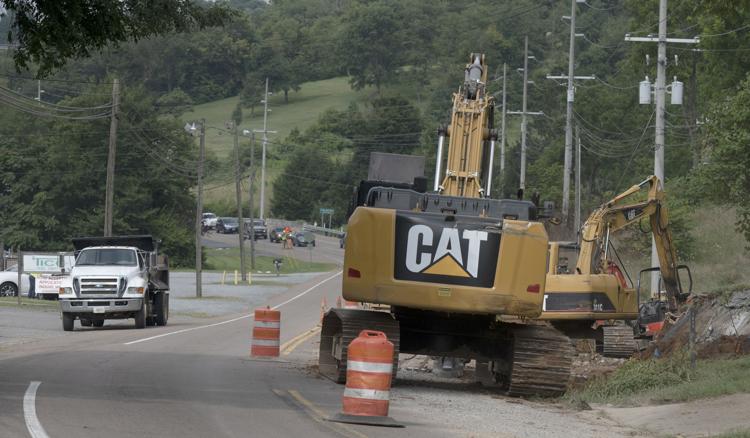 Work from the utility district's office to the intersection of state Route 394 in front of the courthouse is complete. Paving is being completed on County Hill Road. Customers in those areas are already using water from the new pipes.
Pipe installation is ongoing in the areas of Maple View Mobile Home Park and Bethel View Baptist Church as well as near the Barry Myers Memorial Bridge, Dollar General and Highway 126 Self Storage.
"We appreciate the public being patient with it," Stevens said. "We knew this was a major water line installation, and we've had little to no [water service] interruptions as what was anticipated. We thought we would have more accidents on breaking the old main line."
The few breaks that have happened were minor but did cause outages that lasted several hours while repairs were made, he said.
"There's a lot of stuff that's unknown," Stevens said, in reference to the old water pipes. "People didn't keep blueprints back then, and so this outfit's done very good at being able to dig with care and come through the town and not have any major water line breaks."
Rates went up 2%, effective July 1, to pay for standard operations, not for the project, Stevens said. Currently, customers are paying 35 cents more than last year, or $17.75, for the first 1,000 gallons of water used per month and 12 cents more, or $6.06 per 1,000 additional gallons used. There was no increase in 2018.
Before the two increases, the rates were $13.92 for the first 1,000 gallons per month and $4.75 per 1,000 additional gallons.