ABINGDON, Va. — The wolves are back in town.
A total of 25 locally painted wolf statues — 10 adults and 15 pups — were installed at businesses and other locations throughout Abingdon on Saturday as part of the fourth installment of the Abingdon Wolf Project.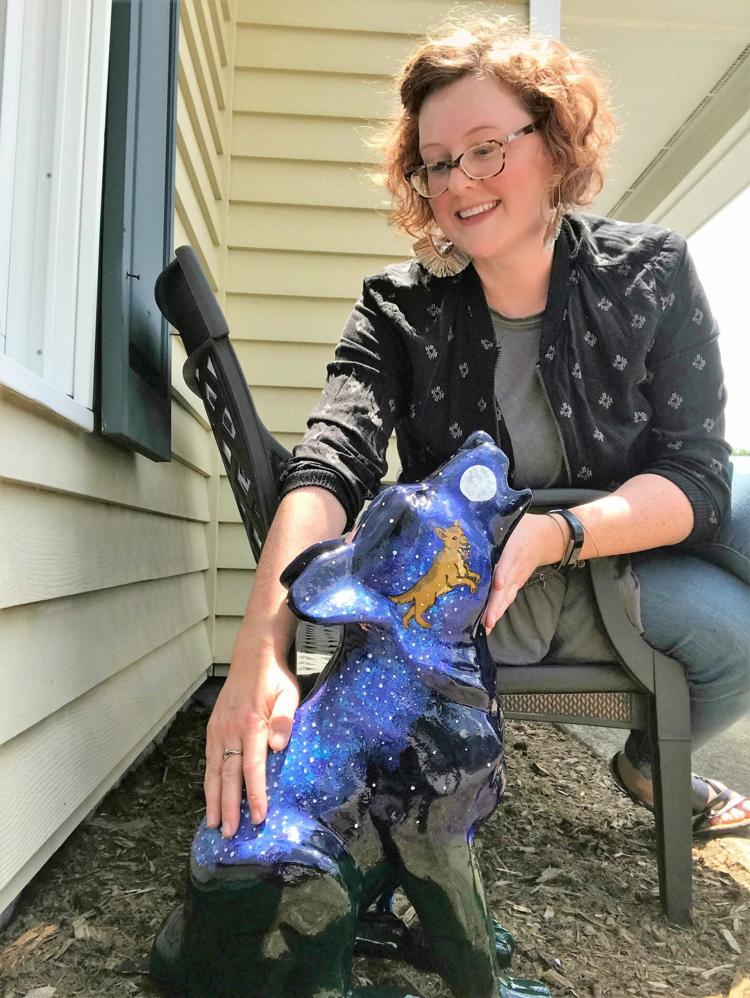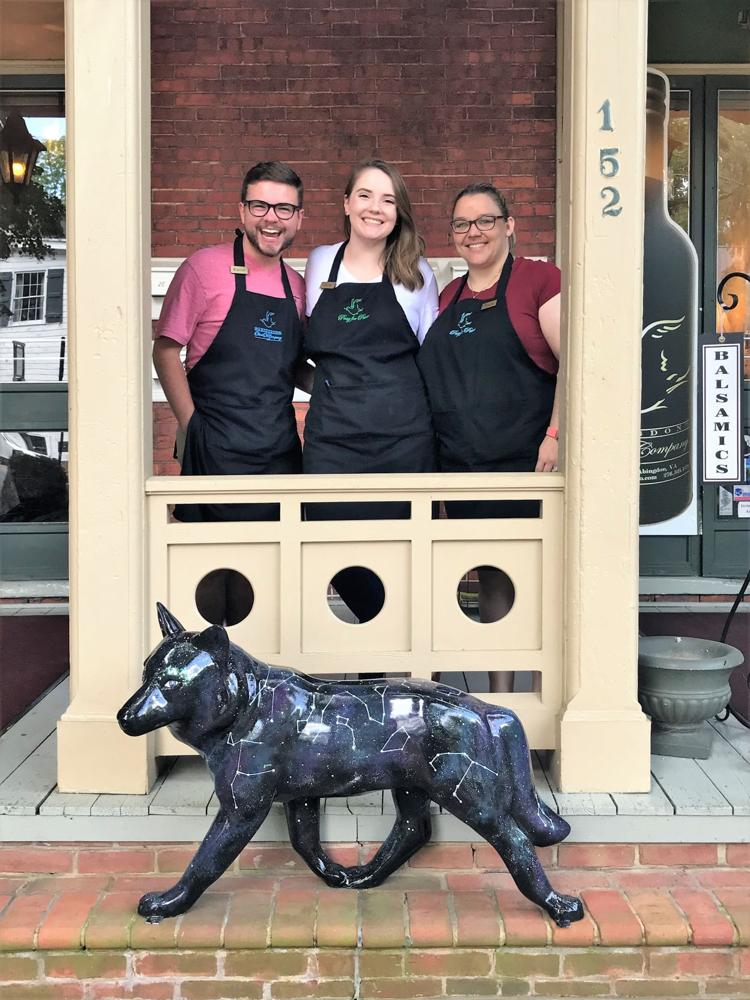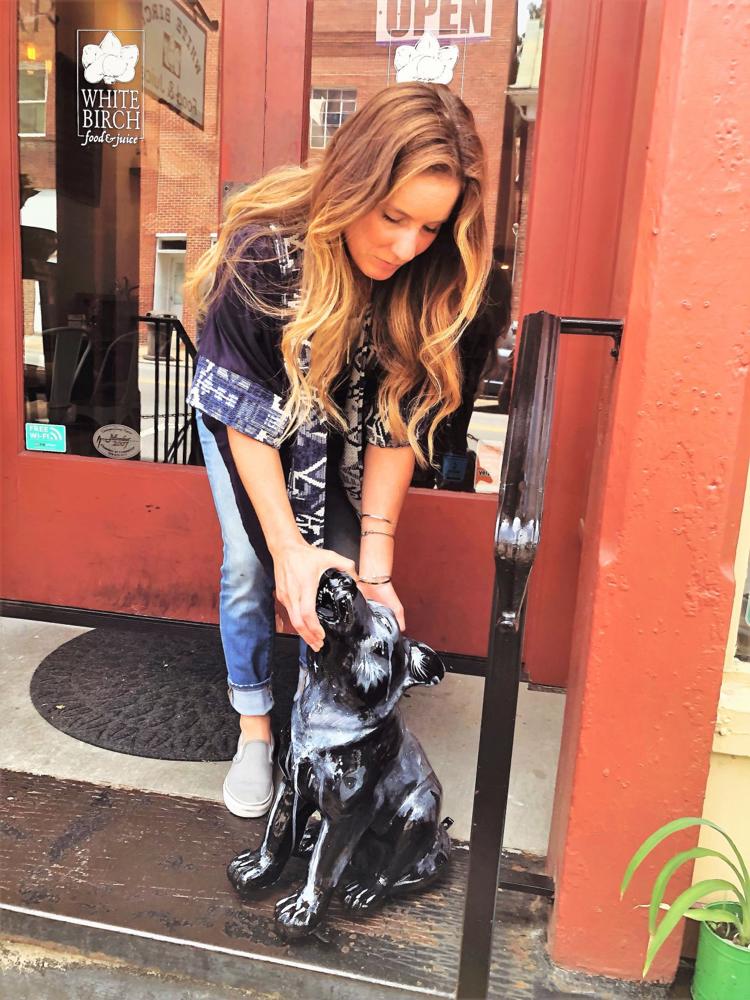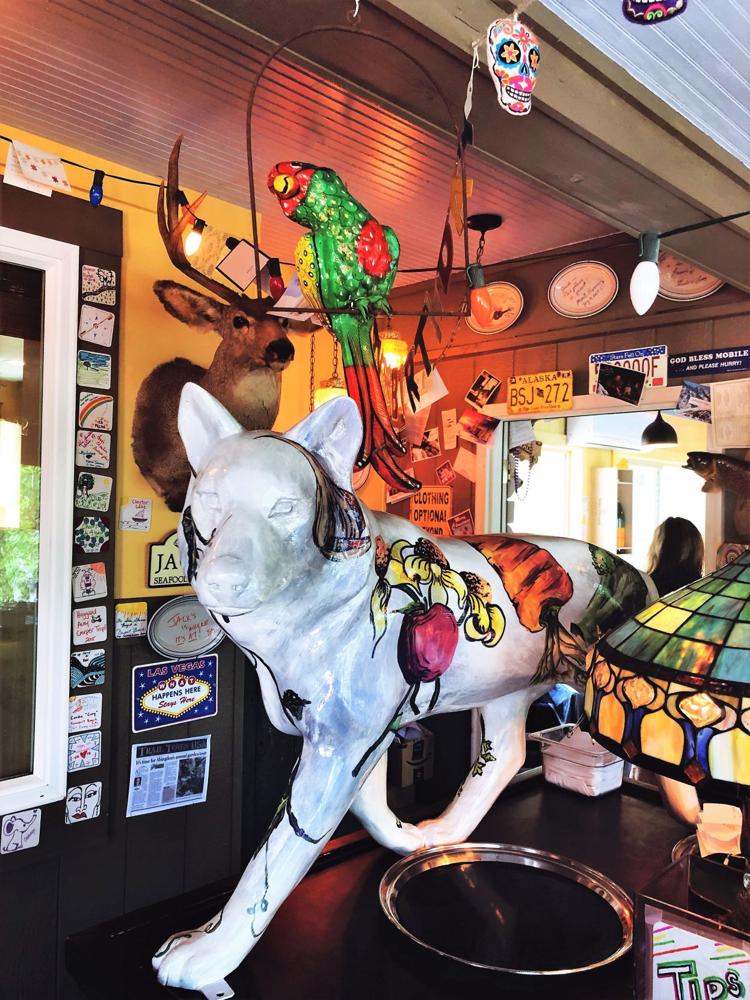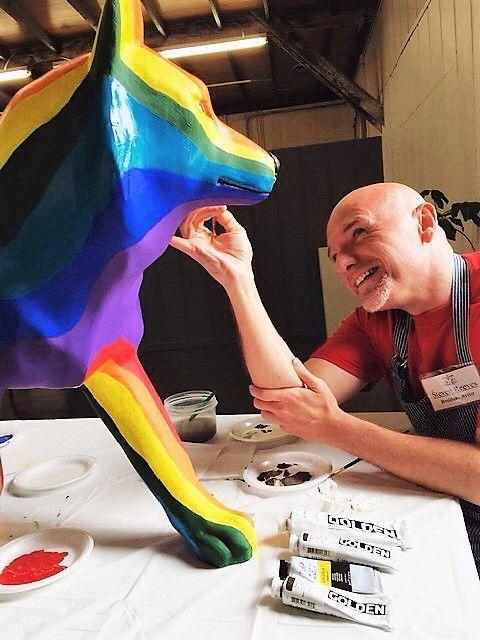 The fundraising project is an initiative of Abingdon Main Street, a nonprofit organization devoted to making Abingdon a welcoming place while promoting the small business community as well as contributing to the town's historic and artistic assets.
The art project showcases local artist talent on the backdrop of wolf and pup sculptures, a fitting campaign since legend has it the area was named "Wolf Hills" by Daniel Boone in 1760 after his dogs were attacked by a pack of wolves.
The wolf sculptures have decorated lawns and downtown businesses since the project was first created in 2008 by Gary Kimbrell as a way to promote Abingdon. The last campaign when the wolves were painted, named, and installed in town was in 2014.
Volunteers gathered on Saturday to load their vehicles with the charming and whimsical artwork that was delivered throughout town.
Nicole Dyer received the wolf pup, "Little Glimmer" she sponsored for her business, White Birch Food and Juice on East Main Street. "They brought him by today, and he's adorable," said Dyer, who described the wolf pup painted by artist Brian Serway as having a night scene with moon and stars.
"We're excited to be part of the exploration of Abingdon. It's a great way to invite people to visit places they haven't been before," said Dyer, who placed the pup at the stoop of her restaurant's front door.
Lisa May, administrative assistant at The Arts Depot, said their "Welcome Wolf" displayed in front of the arts center brings a rainbow of color to the project. Resident artists at The Arts Depot contributed their talents and artistic skills to complete a rainbow design for the adult wolf, which also features words from Grammy award-winning Richard Leigh, a former Abingdon resident.
"This wolf really demonstrates the heart of the collaborative nature of this project," said Carrie Baxter, director of Abingdon Main Street. "Each artist added a design that represents his or her own style."
Wolf designs range from cartoon characters and abstract designs to farm-to-table motifs.
"We had different takes on the farm-to-table idea, and they all came out completely different and they're all beautiful," said Baxter.
Melinda Fritts-Payne of Bristol, Virginia, has participated in the wolf project for three years, painting a pup the first year followed by two adult wolves.
She named this year's hand-painted wolf "Blue," inspired by her favorite Blue Willow china. Her painted wolf is displayed at Rain Restaurant.
Other new sculptures
» "Pup of Constant Sorrow" was painted by Sharon Williams and sponsored by Virginia Highlands Festival. The sculpture is located at the Lois Humphreys Park in town.
» "Winter Falls" a wolf sculpture painted by Huiling Wang, a rising Abingdon High School freshman, is located at the Abingdon trailhead of the Virginia Creeper Trail.
» A pair of wolves painted by mother and daughter artists Lesley James Lint and Clementine Gaal of Abingdon is exhibited at Wolf Hills Antiques.
According to Baxter, wolf sculptures from previous campaigns will accompany this year's exhibition.
"People are excited to get them back out and show them off again," she said.
Students at Russell County Career and Technology Center applied a protective clear coat to seal and protect each sculpture.
The wolf sculptures will be on display through September, at which time a finale event will feature an auction of the new wolves that have not been pre-purchased. During the auction, all of the wolves from this year's campaign will be on display for viewing.
Proceeds from the project benefit programs sponsored by Abingdon Main Street.
"Because Abingdon has such a strong tie to the arts, we're really proud of this project and we're glad to highlight some of the area's finest artists," said Nicole Childress, chairperson for the wolf committee.
"Abingdon Main Street is all about building community," added Baxter.
"Our goal is to get people out on the streets, looking at the wolves and shopping. People will see the town has more to offer than they realize."