BLOUNTVILLE, Tenn. — A pesky drizzle mingled with snowflakes filled the night sky over Northeast Tennessee as temperatures plummeted to bone-chilling.
Despite wintry conditions for April 1, 1993, auto racing fans were assembling by the thousands for a weekend of racing at what is today known as Bristol Motor Speedway. Thousands had just braved the cold waiting in line for driver autographs during that evening's Food City Race Night at Kingsport's J. Fred Johnson Stadium. They thawed out heading toward home, hotel or campsite, their expectations filled with visions of an action-packed weekend at one of NASCAR's most popular destinations.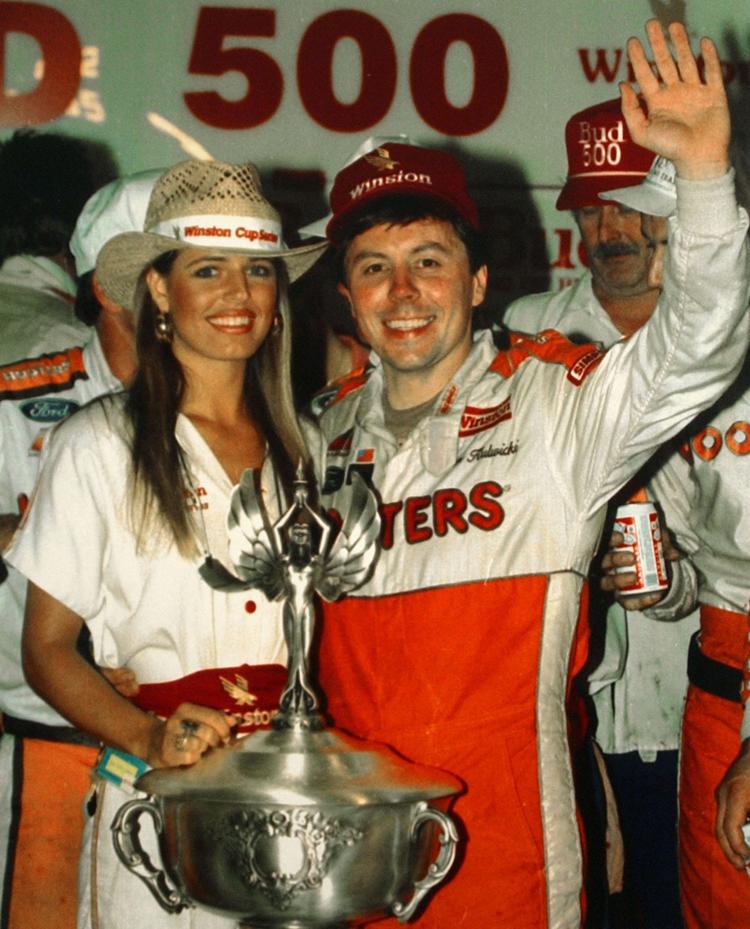 The vision was shattered shortly before 9:30 p.m.
It was then that a twin engine Fairchild SA227-TT Merlin aircraft — sporting the registration number N500AK on its tail — lost power, dropped from the sky and slammed into a Sullivan County hillside north of the 3400 block of Island Road. The site was just off Interstate 81, about six miles west of Bristol and six miles east of the airport runway.
The AK designation stood for Alan Kulwicki, the reigning NASCAR Winston Cup Series champion, a Wisconsin native with a knack for taming the high-speed competition on the demanding, high-banked Bristol track and the defending champion of that weekend's Food City 500.
The aircraft was owned by Kulwicki's primary sponsor, Hooter's Restaurants, and was on final approach to Tri-Cities Airport from Knoxville with four on board: Kulwicki, pilot Charlie Campbell of Peachtree City, Georgia; Mark Brooks of Atlanta, sports marketing manager for Hooter's America; and Dan Duncan of Taylors, South Carolina, Hooter's director of sports management.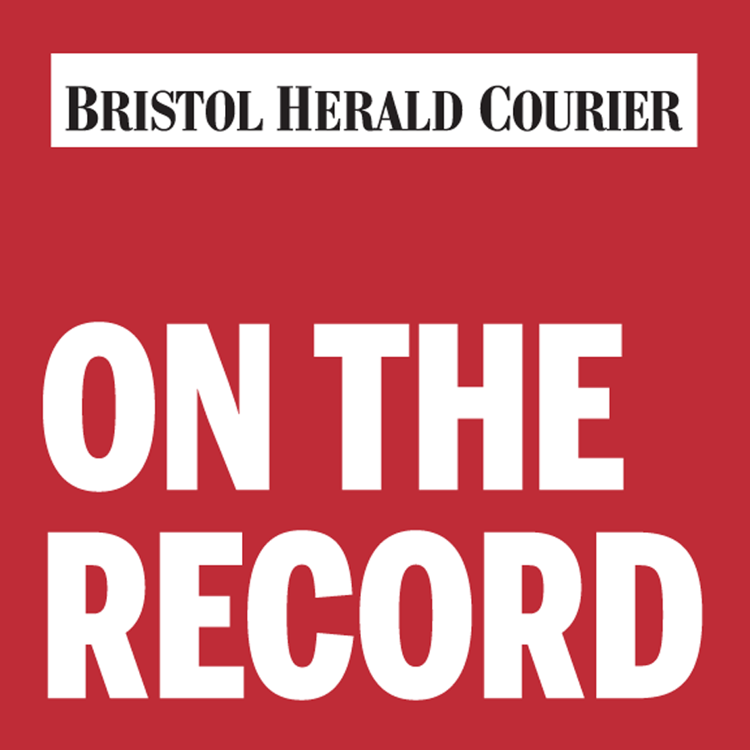 There was supposed to be a fifth — Kulwicki's public relations representative Tom Roberts — but he changed his mind and instead took a commercial flight to Tri-Cities.
"I look back on what occurred that weekend. … I was supposed to have been on the plane; was spared. You know there's a reason for that," Roberts said last week. "I think I walked around really in shock for quite some time and my wife — bless her heart — was finally able to convince me. I have an office in downtown Guntersville [Alabama], and I could get killed walking to the post office. You just don't know what is around the next corner."
Twenty-five years ago today, the events of that night still resonate — both here and across the sport.
Earlier that evening, at 6:05 p.m., Campbell landed N500AK at McGhee-Tyson Airport in Alcoa and had the plane refueled while Kulwicki made a promotional appearance at one of his sponsor's restaurants on Kingston Pike in Knoxville.
Once Kulwicki and the two company officials were back on board, N500AK took off at 8:58 p.m., for the 100-mile flight to Tri-Cities, according to the National Transportation Safety Board's final accident report issued March 16, 1994.
"Shortly after establishing contact with N500AK, [Tri-Cities] approach control informed another aircraft of light icing reported by another aircraft at 10,000 feet," according to the report. "At 9:28 p.m., N500AK was cleared to land. According to an air traffic controller, he observed N500AK on final approach until it disappeared from view."
Pilot Charlie Campbell never replied to his landing clearance.
The tower controller reported hearing an unintelligible radio transmission from a pilot and seeing the airplane lights in a "steep spiraling descent," according to the report.
The NTSB concluded that the plane encountered icing in flight before starting its final approach.
"Radar data showed that before reaching the outer marker it slowed in a manner that was consistent with a power reduction [or partial loss of power, then it entered a steep descent and crashed," according to the report. "Examination revealed engines were not operating at impact, and propellers had been feathered."
The plane slammed into the downhill side of a sloping, grassy, three-acre field, 5.5 miles northeast of Tri-City Regional Airport, according to the report.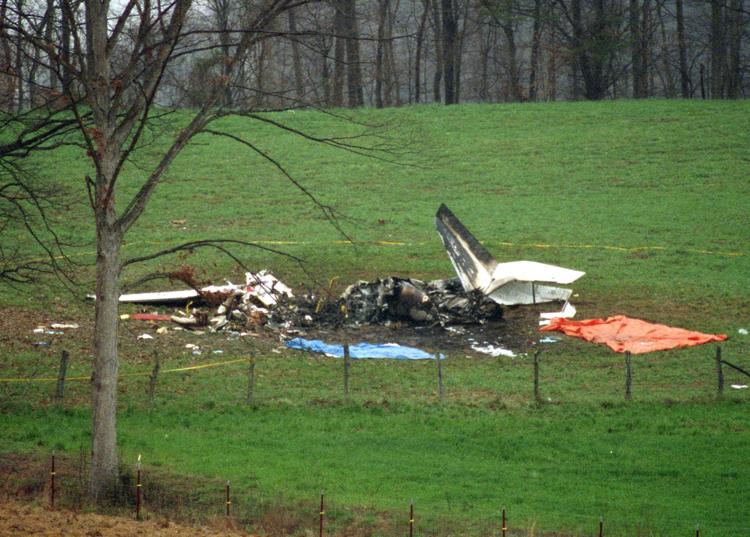 "The main wreckage consisted of the forward fuselage, cockpit, tail section, both wings from the root to just inboard of the tips, propellers and both engines," the report said.
Much of the main portion of the plane was heavily damaged by fire. And virtually the entire crash scene was contained within a tight 62-foot radius.
Three of the bodies were injured by fire, but the fourth — Kulwicki, still strapped into seat 2L — was found 21 feet from the primary wreckage, according to the report.
Initially, there was some confusion because the original manifest listed five passengers, prompting rescue workers at the scene to search for a potential fifth victim.
The probable causes of the accident were "failure of pilot to follow procedures concerning use of the engine inlet anti-ice system and/or continuous ignition while operating in icing conditions which resulted in probable icing ingestion and loss of engine power," according to the report. "And the pilot's failure to maintain sufficient air speed while coping with the engine problem which resulted in a stall."
There was no evidence of pre-impact part failure or malfunction of engines, propellers or the plane's anti-ice system, according to the report.
Medical Examiner Dr. William McCormick of East Tennessee State University performed an autopsy on Campbell on April 2, 1993, and determined there was no trace of drugs or alcohol in his system, the report shows.
Current Sullivan County Commissioner Mark Vance of Bristol worked as a shift captain with the county's Emergency Medical Services and was dispatched that night to rush to the crash scene and treat any possible survivors. The first call came from the airport control tower, which reported that an airplane disappeared off the radar screen.
Vance and others jumped into their ambulances and rushed out onto winding two-lane rural roads to reach the crash site.
"It was a very cold, dreary, rainy night," Vance recalled last week. "The dispatcher hollered back at the emergency units responding and said a caller said there was a loud explosion in the field behind their house. When we got there, the hill was just on fire — the whole hill — the fuselage of the airplane. We had to take a four-wheel drive to get up there … The plane just disintegrated into the side of the hill."
The Sullivan County Volunteer Fire Department also responded, sending its "mini-pumper" unit up the muddy, rain-slickened hillside. Some vehicles got stuck and had to be pulled by a farmer's tractor. Once firefighters reached the plane they soon extinguished the flames.
"It was a real bright blue flame from the [burning] aluminum. I think it was the most fire I'd ever seen on a plane crash. There was a lot of fuel and a lot of fire. And it was hard to get to," Vance said. "After I got up there and determined there was nothing we [EMS] can do, we just roped off the scene and stood by."
Emergency workers were especially concerned that the fuel leaking across the hillside might ignite and trap them. As firefighters sprayed foam on the unburned fuel, Vance and others began the gruesome task of locating the bodies.
"I found a seat and Alan Kulwicki was still strapped into his seat. It was laying down in the field, face down. At that point, there were no survivors. After they got the fire out, we took sheets and covered him up," Vance said, adding he didn't immediately realize who it was. But rescue workers were keenly aware that many NASCAR drivers would be arriving that night.
Dale Earnhardt's plane was just ahead of N500AK and his pilot, Mike Colyer, later said he heard Kulwicki's crash on the plane radio — the unintelligible radio transmission — as they neared the runway. Rusty Wallace was also en route at that same time and his pilot, Bill Brooks, also landed safely a few minutes later.
Local and national news accounts of the crash — and its presumptive victim — were already beginning to circulate. Vance said EMS later transported Kulwicki's body to the old Bristol Memorial Hospital for Dr. McCormick to make a positive identification and determine the cause of death.
"I remember the moisture. We had fog lights on our trucks to see. I don't know how they could fly," Vance said. "It was a bad, bad night."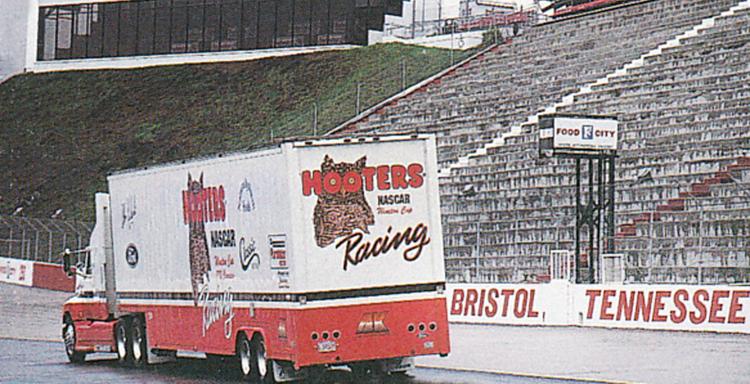 Lori Worley was a young sportswriter working in the Bristol Herald Courier newsroom when a colleague relayed word of the plane crash and the potential it was a NASCAR driver arriving for that weekend's racing action.
"They came across [radio scanner] with call letters on the plane and said 'AK' was part of it, so then I knew it was Alan Kulwicki," Worley said.
After making several phone calls, she drove to Tri-City Aviation, the local airport's fixed base operator that serviced private planes.
"It was kind of chaotic. By the time I got there, all his crew guys were coming in. Everybody sat around waiting — for hours," she said. "That whole night was such a blur. I knew Kulwicki. I had dealt with him, and he was such a good person, always so polite."
Rusty Wallace — a longtime friend and rival of Kulwicki dating back to their days racing in the American Speed Association — was among those who came through the office at Tri-City Aviation.
Miles from the crash site and still awaiting official confirmation that Kulwicki perished, Worley filed her story for Friday's edition early that morning, writing about his "apparent death" beneath the headline "Racing world mourns death of Kulwicki."
Official confirmation came much later.
"It seems like we sat there for hours before [then-Sheriff] Keith Carr came and told us. It seems like it was 4:30 or 5 in the morning. He took some people [Kulwicki's team] into this glass-enclosed conference room and told them and then came out and told us," she said. "I can remember [Kulwicki crew chief] Paul Andrews sitting on the couch just bawling — tears just streaming down his face."
Tom Roberts was one of those ushered into Tri-City Aviation's conference room who heard Carr describe in detail the crash scene that claimed his friends.
At that time, Roberts traveled the NASCAR circuit working as the public relations representative for Miller Brewing and driver Rusty Wallace and Roberts' close friend Kulwicki as well as his sponsor. Save for a last minute change in plans, Roberts would have been the fifth person aboard N500AK.
"Hooter's wrote my paycheck, but I was still such great personal friends with Alan that I'd become the sounding board for both sides," Roberts explained in an interview last week. "Alan wanted the plane more than they were allowing him to use the plane. He also had questions relative to souvenir items. There were several different things I felt he needed to talk to Dan Duncan and Mark Brooks one on one."
Roberts was originally scheduled to take a commercial flight to Knoxville, catch a cab and meet up with Kulwicki's group at the restaurant and then fly with them to Tri-Cities for race weekend. But the last thing he wanted was to be forced to "take sides" between his client and friend.
"Monday or Tuesday, I had talked to Mark and Dan Duncan, and they were hoping they could have some quality time, away from the race track, to discuss issues," Roberts said. "That line of thinking is why I called Delta, had my flight changed and just went to Tri-Cities. I felt that would be the perfect scenario to offer them a quality environment to discuss issues that needed to be discussed."
Roberts was relaxing in the lounge at Johnson City's former Sheraton Inn — anticipating his friends' imminent arrival — when Wallace and pilot Bill Brooks walked in.
"Rusty called me over and said, 'I think Alan's plane went down,'" Roberts recalled.
Shaken, Roberts asked Brooks what to do, and he urged Roberts and others from the racing industry to go to Tri-City Aviation, where they were joined by members of Kulwicki's team, local and national news media.
Roberts was also uncertain what time Sheriff Carr arrived — perhaps 2:30 or 3 a.m. — with official word.
"The sheriff calls us in to the manager's office at the FBO and tells us vividly a description of the crash scene, where bodies were, the fact fire was involved, Alan's body was still buckled to the seat. Some stuff [pauses]… anyhow it was a vivid description. … To all of us, it was the bad information we knew was forthcoming. So what do you do from there?"
Both Worley and Roberts recalled getting little or no sleep before heading to the race track where NASCAR officials wasted no time Friday announcing that all racing activities would occur as scheduled.
A 9 a.m. news conference in the speedway's press box included glowing tributes of Kulwicki from then-track owner Larry Carrier, NASCAR President Bill France Jr., and others. Sheriff Carr also spoke, telling a packed house of journalists that Dr. McCormick determined all four men died instantly of blunt force trauma upon impact.
Roberts said he spent the entire day holed up in a track office speaking with media, family and friends and had "no clue what had gone on during the course of that day."
That morning, Kulwicki's team truck driver, Peter Jellen, guided the transporter around the rain-soaked race track as somber crewmen from all the other teams paid their respects by lining up along both pit walls. A clump of fans braved the brutally cold, gray morning and stood beneath the flagstand at the start-finish line. Following a three minute, forty-five-second lap, Jellen drove beneath a waving checkered flag. He then circled the track again and turned out the turn three gate — headed back to the team's Charlotte, North Carolina, shop and an uncertain future — since Kulwicki was also the team's owner.
"I still, to this day, see that hauler coming down the front stretch with the wreath on the front," Worley said. "It was just a nasty day. It was just awful."
Roberts said it was a long time before he saw video of Jellen driving the transporter.
"It's the saddest thing I've ever seen. Kyle Petty said it was the saddest thing he'd ever seen at a race track," Roberts said.
There was little debate among drivers that racing was the right thing to do.
"We've got to race. It's what he would want. It's what I would want," Earnhardt told Worley for a story.
Worley scarcely remembers anything that happened on track that weekend, other than an emotional Wallace winning and then performing a "Polish victory lap" — Kulwicki's signature celebration — by circling the track in a clockwise direction while waving to the fans.
"That victory of Rusty winning the race, knowing how tight those guys were, it will always stand out in my mind as being the most important, most dramatic and most emotional victory that I was ever associated with," Roberts recalled.
Roberts operated in a state of shock that entire weekend, but that emotional fog was replaced by unbridled grief a few days later when Kulwicki was laid to rest.
"It wasn't until the service in Milwaukee when we're all up there serving as pallbearers," Roberts said.
The fiercely independent Kulwicki had defied all odds in establishing and operating his own small team — building it to be a title contender and ultimately winning a championship against teams with much deeper pockets. Singer Frank Sinatra's version of "My Way" became an anthem for the underdog driver and was played during the funeral.
"We're at the service and they're playing 'My Way,' and all of us Kulwickiites — all us guys —are holding hands and crying with that song playing. I think that is when I started to wake up. The shock factor started to wear off and reality started to sink in," Roberts said.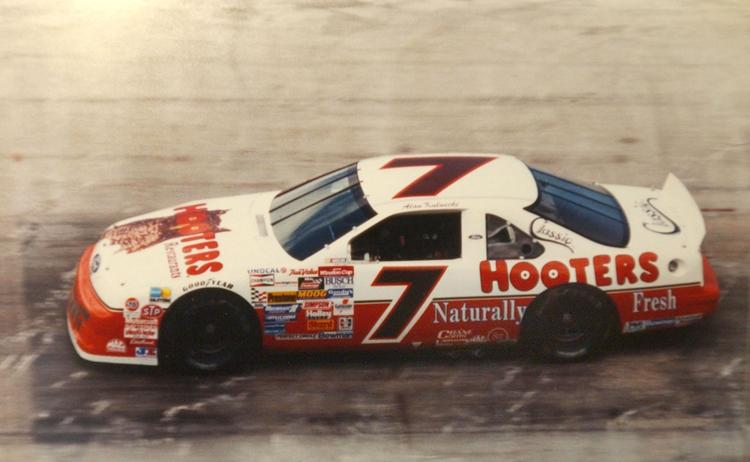 Wisconsin native Kulwicki was fond of quoting former Green Bay Packers Coach Vince Lombardi. One such quote became his mantra: "Gentlemen, we are going to relentlessly chase perfection, knowing full well we will not catch it, because nothing is perfect. But we are going to relentlessly chase it, because in the process we will catch excellence. I am not remotely interested in just being good."
Kulwicki, 38, rose quickly through the NASCAR ranks after moving south. He was named Winston Cup Series' rookie of the year in 1986 while racing with a single car and two engines. He captured his first win in 1988, and the 1992 championship in dramatic fashion, taking the title by a scant 10 points at that season's last race, prevailing over stars Bill Elliott and Davey Allison and two much larger, more heavily funded teams.
He became a favorite among Bristol fans after taking back-to-back victories in the 1991 August night race and the 1992 Food City 500, as well as establishing a new qualifying speed record.
After Kulwicki's death, driver Geoff Bodine purchased AK Racing in 1993, but had to find other sponsors. After seven moderately successful seasons with four victories but no top-10 points finishes, Bodine sold his interest, and the assets passed through at least two other sets of owners — none of whom went to victory lane.
"He was always ahead of his time, with his education. He got his degree in engineering in case his racing didn't pan out," Roberts said.
But it did pan out and now Kulwicki is among 20 nominees for the NASCAR Hall of Fame's class of 2019. Roberts is working to convince voters that Kulwicki is worthy and looks forward to a day he and the other Kulwickiites can reunite for the ceremony.
"People said it was impossible or that what he did was impossible," Roberts said. "It wasn't impossible. He did it. He succeeded against all the odds. What he did will never be duplicated."