It was the last week in September, and the sun was rising high above the mountains in rural Washington County, Virginia.
Kevin Sutherland carried two yellow baskets filled with tools to his truck, climbed in and drove down a winding road onto a gravel one. At first lined with trees and houses, the scenery on the side of the road opened up to reveal thousands of grape vines spread out in rows on the side of a mountain. The vines cover 10 acres and are grown for one specific purpose: to make wine.
These vines belong to Abingdon Vineyards — where it's harvest time.
Sutherland has been the vineyard manager and cellar master since 2005. He and a volunteer jumped into a Gator utility vehicle, and the pair drove to the top of the mountain while a third person, also a volunteer, walked to the top.
Sutherland briefly walked through the process of removing clusters of grapes from a vine. First, some rot on the grapes is OK as long as it's contained in the middle and affects only a few grapes, making them raisins. Some are unusable because they have been ravaged by birds or other animals.
Other clusters are not ripe enough. When white grapes are ready, they turn a golden color. Coming across clusters that are green means the grapes are not ripe and would produce a bitter wine. Sutherland instructed the volunteers to discard those green clusters on the ground.
Volunteers are given a grape razor fork, a small handheld tool with two small blades on the inside of a fork shape. It easily cuts the stem holding the grapes to the vine.
"As you work down through there, fill your picking lug up as much as you can," he said. "When you get to the bottom, walk back through your row and look for anything you missed. It's hard to believe, but it can be right in front of you, and you just don't see it."
Grapes are picked in stages. Usually, the red grapes are picked first followed by the whites. On this particular day, Sutherland and his volunteers harvested the Chardonel grape, a late ripening white wine grape that can produce high quality wine.
Sutherland is soon joined by Abingdon Vineyard owners Loren and Elizabeth Gardner and a horde of volunteers. They begin working their way down rows of vines, some more than two decades old. Sutherland, who has been growing grapes for 20 years, said the best time for quality control is at the vine.
"It's the easiest place to do it," he said. "If you bring people in, and you're paying them to pick by the pound, they are picking everything. So what you have to do is go through and re-sort, which takes time. It's easier if we can get our crew and some volunteers because you can explain to them what you're looking for and what you are not. And it doesn't matter if they throw stuff on the ground."
Volunteers are treated to a free lunch and some wine. Many have been helping pick grapes for years.
Loren Gardner grew up in the Napa Valley and learned the art of wine making at the University of California-Berkley. He bought the winery earlier this year and moved his family from California to Virginia in August. Since March, he has been in contact with Sutherland to coordinate efforts.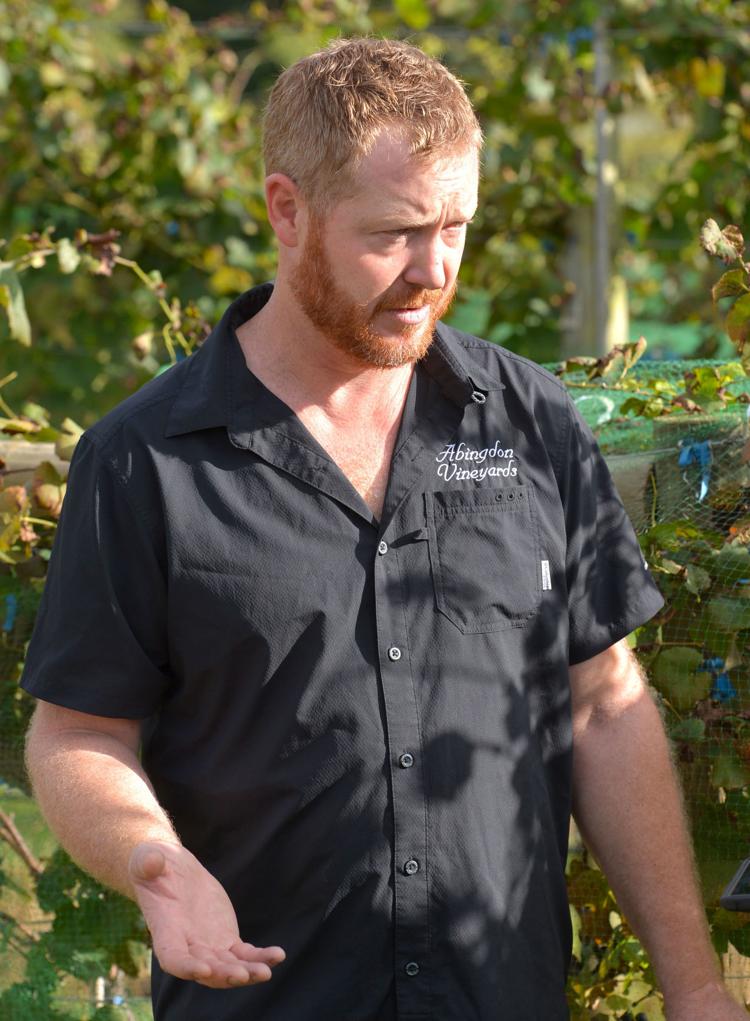 After building wineries and vineyards for many years, he understands the risk.
"The terrifying part about this business is you are completely integrated into one crop that comes one time per year," he said. "If anything happens during that to eliminate the crop, you have nothing to produce or sell. So it's a dangerous business really."
There is an art to growing grapes just as there is to making wine.
It starts with taking a clipping from a variety of grape the winery likes and pairing it with roots that will thrive in the Southwest Virginia soil. When it is planted, the rows have to be arranged in a certain way to get the needed amount of sunlight.
Some varieties will not grow well in the regional climate. Others thrive in the weather or are built to protect themselves in any climate.
Once the vine grows and starts producing fruit, a process that can take three years, vineyard owners have to worry about a number of other factors — mold, mildew and rot — before the grapes are harvested. If any of these issues is spotted, they must be aware of the steps to take.
For grapes, it can be particularly difficult.
"There's so much sugar in a grape that everything wants to eat it," Loren Gardner said. "All bacteria, molds, mildew, birds, deer, everything. Trying to keep all those things off while the grape is growing is one factor in the chemistry involved."
Once the grape fully matures and is picked, the vines are pruned in the winter. The grapes are taken down to the winery and weighed. The approximately 6,500 vines at Abingdon Vineyards produce about 20-30 tons of grapes.