BLOUNTVILLE, Tenn. — Branch House Family Center has been under new leadership for two months, and the future is bright, according to its new director, Otis Thornton.
The collaborative community advocacy center's purpose is to serve as one location where victims of child abuse, elder abuse, sexual assault and exploitation can go for counseling, legal services, orders of protection and more. It's one of several across Tennessee. The nonprofit organization primarily serves people who live in Sullivan County, but services are offered to anyone who needs it regardless of where they live.
Thornton was hired by Branch House's Board of Directors and started July 22.
"What has impressed me is that there is real commitment and buy-in among the people who need to be at the table, and those folks are passionate about doing the right thing," Thornton said.
Branch House opened in May 2018. The staff works with 26 partners and there are offices on site in Blountville where employees can help victims. Since it opened, 371 clients have been served.
"I think of our work as being safety, compassion and justice," Thornton said. "That's why I get up in the morning."
Doing that means ensuring the center is secure for victims to come to without any worries, he said. It's also important to make sure the partners structure services in a compassionate way and are "trauma informed," or knowledgeable about the correct way to talk to and treat victims, to be "very thoughtful and as gentle as possible with folks," Thornton said.
He complimented Branch House's Site Coordinator Karen Boyd, who retired in May, for establishing the center because her "dynamic" work facilitated an easy start for him.
The board's immediate interest, he said, is for him to make sure Branch House is managing its relationships with its partners well and to get the word out about the center.
There is a gap between the number of people who come in for services and the number of victims who aren't reporting their abuse. The hope is that when more people find out about Branch House, more victims will be helped, Thornton said.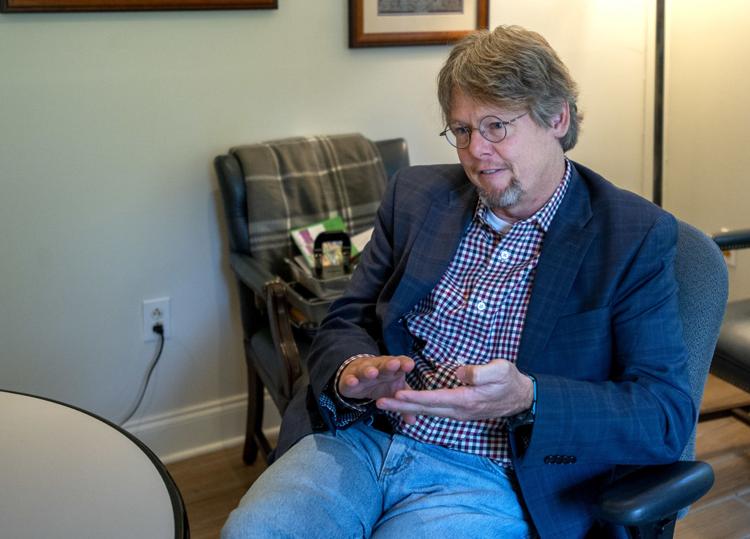 "We hope that people never need us, but we absolutely don't want people to have to hesitate and wonder who to call if they do need us," he said.
Thornton has spent 28 years working in social services and health care with the most recent, from 2005 to 2017, working with the homeless in Fort Worth, Texas. He previously lived and worked in the Tri-Cities and Southwest Virginia.
The director said the issues of homelessness, domestic violence and abuse are "tightly overlapped" so he believes he's well-equipped for his new job and understands the importance of the center.
"When people are in crisis, we don't want to compound the crisis by creating a maze of services that they have to get through or a confusing set of barriers that they have to navigate to get the help that they need to get on with their journey," Thornton said. "I think that's really, to me, the nugget of what we're aiming to do."
Right now, he and the Branch House staff are working to improve the relationship with the Bristol Crisis Center in Bristol, Virginia, so that referrals across state lines are as seamless and efficient as possible, he said. In the future, other partners may be considered as well.
He also hopes to work more closely with emergency department employees and sexual assault nurse examiners at local hospitals to get protocols aligned for the benefit of victims.
State and federal grant funding has been received for the current fiscal year and the Sullivan County Commission approved $50,000 for this year's budget, but Thornton and Branch House board Chairman Andrew Wampler said the nonprofit is always looking for donations to help with services.
"I think that the County Commission and boards of mayor and aldermen are recognizing that this is about crime and it's about recidivism, and whenever we can address those issues, ultimately, we're saving taxpayers' money," he said. "We're also in this business because we're doing the right thing, and I think that there is a sensibility that is frequently informed by our faith in this area that insists that we protect and take care of each other. I think that is evidenced by the support that we've received from our public-sector partners."
Wampler said he hopes the center will be around for years to come to help victims.
"It's insane that we live in a world that needs these places, but as long as people are going to be victims, hopefully we'll have a center there to help them," he said.