BRISTOL, Va. — Artist Claudia Collins walked into Blackbird Bakery on Tuesday morning toting a vintage suitcase filled with treasures and trinkets to take home to a different Bristol — one that's over 3,800 miles away in southwest England.
"A lot of my work is about connections and making journeys and meeting people," said Collins, who is participating in a residency this month at Yellow Bird Artscape in Woodbury, Tennessee, about an hour outside Nashville. She said her eyes "went straight to Bristol" when she saw a map of the state.
Collins, 33, visited Bristol, Tennessee/Virginia for a five-day trip to explore the Twin City, exchange gifts with American Bristolians as part of an art project and find similarities with Bristol in the United Kingdom. She documented her travels on Instagram under the handle @bristoltobristol and hopes to exhibit her findings when she returns to England.
Loosely describing her work as performance art, Collins focuses on themes of "making connections, sharing, exchange and gift giving," as she wrote in a blog post before the trip.
"I'm really interested in souvenir[s] and what people take as a trinket to a place," she said over coffee at Blackbird. "We are all connected, and the souvenir is the thing in between that allows the conversation to take place."
She also wants to challenge what people think of as "art" and how we create it. "The art of connection is an art, and we are all artists," she said.
In anticipation of her journey, she brought souvenirs from across the Atlantic, like coffee, beer and a Bristol-themed Monopoly, as well as mementos from the M Shed museum, which is home to exhibits sharing the history of Bristol, England.
The British Bristol is a large city of over 460,000 people on a different continent, but Collins heard of its American counterpart before her trip even started. She works at the M Shed museum and previously met a visitor there with a daughter in the Tri-Cities area, who became a pen pal with Collins. Collins exchanged letters with her and eventually met her on the recent trip.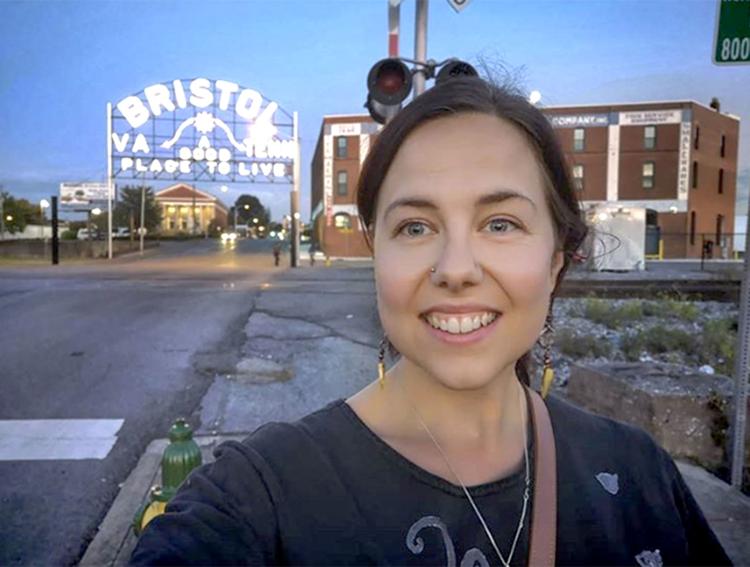 Using Instagram to follow accounts and connect with people here, Collins arranged several meetings and "switcharoos" to swap gifts, like a British Bristol edition of Monopoly for an American Bristol-opoly, although some trades were more subtle.
"When I talk about exchange, I'm happy to just be swapping a postcard for a conversation," she said.
She collected goodies — like a Bristol hat, stickers, postcards and a keychain — in a suitcase, which she said sparked conversations during her trip when she opened it up.
"The conversations that have been attached to the items have been really lovely because people here really love their Bristol, and I love my Bristol," Collins said.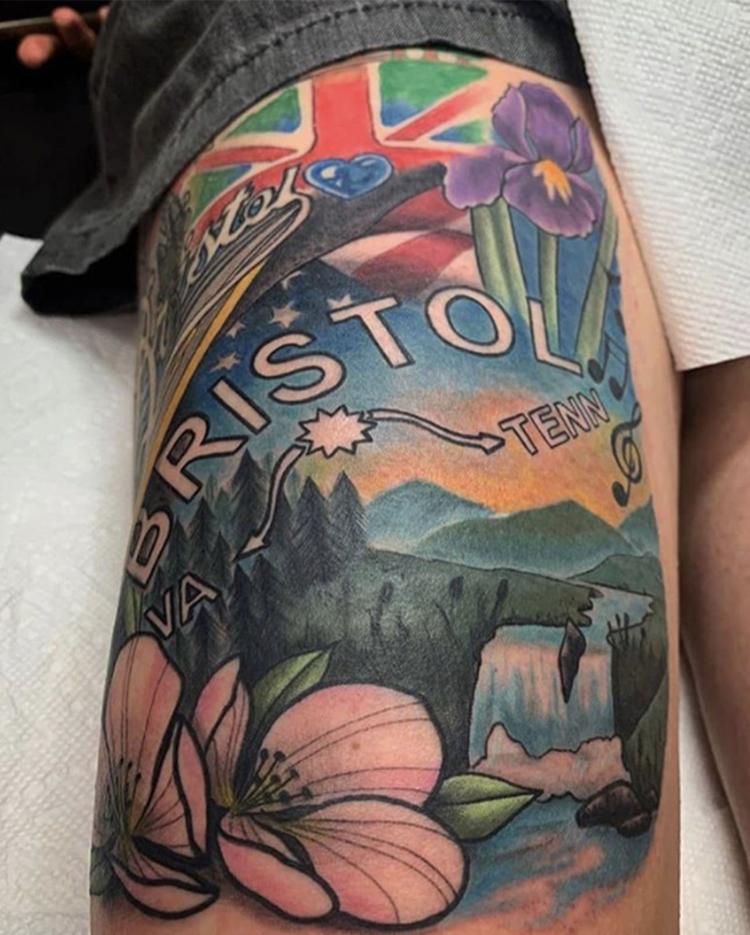 But not all of the mementos fit inside her suitcase. She left the Twin City with a tattoo on her right leg with symbols from the U.K. and American Bristols, which she started in England and completed at the Bristol Tattoo Co. on State Street.
She rolled up her Bristol-themed pants — the leg featured a graphic of a guitar and the phrase "Birthplace of Country Music" — to show the colorful tattoo in Blackbird on Tuesday morning.
The "ultimate souvenir," as she called it on Instagram, has mountains, music notes, stars and stripes and the iconic State Street sign on the American side of the tattoo. The British half includes imagery of a Union Jack flag, the Clifton Suspension Bridge and hot air balloons.
Collins also visited the Bristol Motor Speedway, Studio Brew, Bloom Café and Listening Room and the Birthplace of Country Music Museum and stayed in an Airbnb during her trip.
As she prepared to drive back to Woodbury on Tuesday, she said she was interested in developing stronger bonds between the British and American cities, like exchange programs where people could visit the U.K. and volunteer in her museum.
But she also has a larger dream of visiting the world's other Bristols — she said she's been in touch with a woman in Bristol, Maine, for example.
"I'd like to make it my lifetime goal to visit every single Bristol and maybe keep the things in the suitcase and just keep trading what's in there until I've visited every Bristol," she said.