ABINGDON, Va. — It's taken a couple of decades to save White's Mill from ruin along the banks of Toole Creek.
"That mill was about to fall down," said Jennifer Kling, operations manager of the nonprofit White's Mill Foundation. "And now? It's structurally sound."
Standing about four miles north of Abingdon, this grist mill dates to the 1790s and is listed on state and national historic landmark registers.
"White's Mill is history," Kling said.
The mill is a rarity among similar structures today.
In 1950, Washington County boasted 35 mills, according to Kling, but that number dwindled to about 17 in 1975.
Today, only a handful of mills are still standing in Washington County, Kling said.
"And White's Mill is the only mill left operating and open for visitors."
The White's Mill Foundation was formed in 1999. Two years later, the foundation had enough money to buy the mill.
New beams were installed to repair the mill's foundation in 2005, Kling said.
Later, in 2013, construction was completed on a project to replace the roof, windows, chimney and siding. But, all that also required rebuilding an entire side of the mill to make it structurally sound.
"The mill had not been restored since 1866, so it was about time," she said.
In 2015, a third phase of construction was completed — the flume was rebuilt, the raceway was cleaned out and the millwheel secured at a proper elevation.
More recently, Kling said, a fourth phase of construction got the gearing going again.
"And it was just completed this fall," she added.
Now, having all this completed, according to Kling, "will be a game changer, I believe, for White's Mill and for tourism."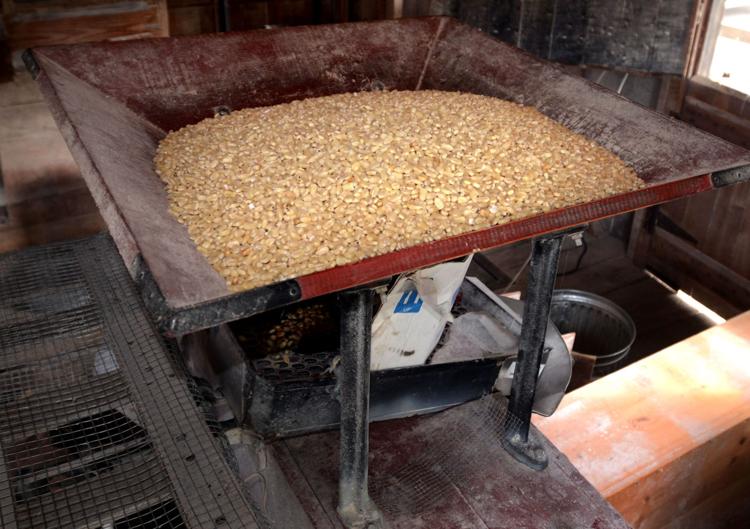 This time of year, with cold weather, not many visitors have journeyed to the mill, Kling said. "But the ones who have come are astonished. They see the water come out. They feel the gears. They come down, and they're just mesmerized by this."
Even so, members of the White's Mill Foundation are looking for ways to raise money to sustain operations indefinitely.
"We have a long-term plan to make it self-sustaining," Kling said. "But we need partners to make it happen."
Music events have been held as fundraisers during warm months. The next BBQ & Music event is scheduled for April 26, featuring the Virginia Highlands Community College Old Time String Band.
Milling products are also sold, said Joe Mitchell of the White's Mill Foundation.
But, Mitchell said, "We can't possibly sell enough grits and flour to sustain us forever. We're going to have to do some other things."
So, now, the foundation is welcoming field trips for schoolchildren.
The foundation is partnering with Virginia Highlands Community College to install a trout pond at the mill.
"We're trying to figure out what to do over the next 15 to 20 years to sustain us," Mitchell said.
"White's Mill is really a treasure," he added. "And I know we've spent a lot of money, and I know we've got to spend more. But we've come too far to turn back. And, what we want to do is have sustained funding."
In all, the mill will need about $200,000, Mitchell said.
Some minor renovations are also slated for the White's Mill Mercantile, Mitchell said.
"I think we have to spend as much effort on keeping what we have," Kling said. "And what makes us what we are."