ABINGDON, Va. — Mike Rush toured the cramped and narrow hallways of the Washington County Courthouse on a recent Tuesday afternoon in downtown Abingdon, talking about what might happen after Election Day on Tuesday.
Voters of Washington County will decide via a referendum whether to spend $30 million to relocate the county court functions to Abingdon's old Kmart building at 300 Towne Centre Drive, just off Interstate 81's Exit 17.
Do you think Washington County should renovate its current 150-year-old courthouse in downtown Abingdon or move court functions to the former Kmart building off Exit 17?
Washington County voters will decide the courthouse question in a referendum Tuesday.
You voted:
"If this gets defeated in the referendum, then what will happen is the courthouse renovation all of a sudden zooms to the top," said Rush, 70, a member of the Washington County Board of Supervisors who represents Damascus and Green Cove.
"The supervisors have nothing to gain for either solution to prevail," Rush said. "So it's not weighted — move the courthouse; don't move the courthouse."
The Kmart building, according to county officials, is a site with about 89,000 square feet plus 350 parking spaces. As proposed, that building is just waiting to be renovated into a courthouse.
County Administrator Jason Berry has called repurposing the building "adaptive reuse" and says moving into that location would require no disruption of the courts.
It would be just a simple "moving day" to relocate, according to Berry.
The current courthouse, built over several stages since 1868, has about 48,000 square feet — far less than what's required by Virginia Supreme Court standards.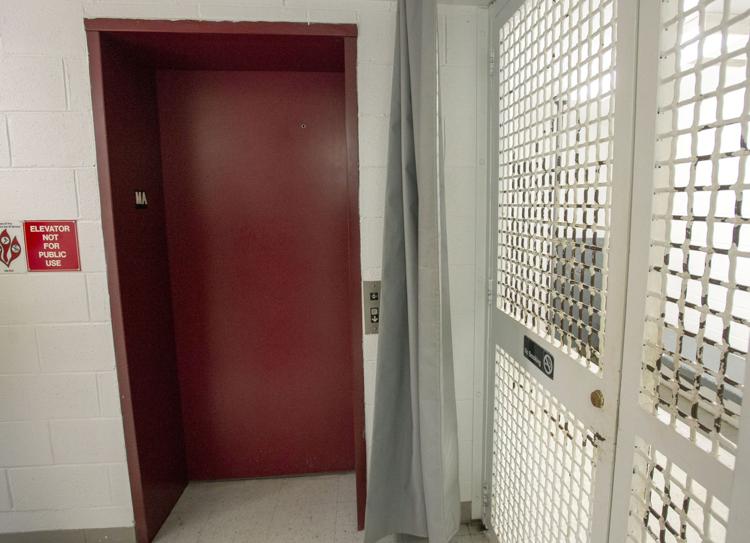 If the referendum fails, the interior of the existing county courthouse could be ripped apart as county leaders seek to find solutions to the 150-year-old courthouse's security issues and cramped conditions.
Inside that old courthouse is a maze of hallways and too-close-for-comfort zones where judges and prisoners come in close proximity.
County officials also have concerns over the lack of a large parking area near the courthouse.
That's why, if the referendum fails, work must commence on the aging structure, Rush said.
"We'll go to work immediately on the courthouse — the courthouse renovation — that will meet the courthouse needs," Rush said. "It can't wait, because we're under some moral obligation at this point to not waste the six years of planning that's happened so far. And we're not without solutions. It's not like, 'Oh, gee. We don't know what to do.' The voters just have to decide, 'We're going to go do this or do that.' And once they decide that, we'll have a plan."
By state law, if the circuit court moves, it has to be decided by voters.
"The state law comes in when you decide you might move it, and then you have to have somewhere to move it," Rush said.
Still, if the referendum fails, another vote could not be held in Washington County for another 10 years, according to county attorney Lucy Phillips.
That means county residents wouldn't have another chance to vote — or even build a new courthouse — until 2029.
That year would also bear a historical significance: 2029 will mark 250 years since the first courthouse, a wooden structure, was built on Courthouse Hill in Abingdon in 1779.
Well, that could create other problems: Leaders in the town of Abingdon oppose the move and have even suggested that county leaders have not been forthcoming and open with their plans to move the courthouse to the former Kmart.
In recent weeks, Abingdon Mayor Wayne Craig, 79, has been critical of the plan.
"Everybody that's talked to me and all of the people, from what I hear from other council members, they're being told the same thing — that our citizens want the courthouse to remain where it is," Craig said. "I hope, at some point down the line, the county and town can get together and provide our county with a courthouse facility that we can all be proud of."
All summer and into autumn, town and county officials have waged debates on what could happen next, passing letters back and forth, with county officials seeking proper zoning for the Kmart to become a courthouse.
The town's zoning administrator, Jason Boswell, has said a courthouse is only allowed in Abingdon's Old and Historic District, and it cannot be allowed in the B-2 general business district, where the Kmart building is located.
At present, county officials are seeking zoning approval through the town's Board of Zoning Appeals. But that board may not meet again until Nov. 12 — a week after the election.
Still, if that board turns down the county's request, an appeal could be filed in circuit court, Phillips said.
All this means that the vote to move the courthouse — if approved — could spark a court fight between county and town officials.
And what would happen to the old courthouse if the referendum is approved?
On Aug. 27, county officials approved a resolution promising to take care of that property.
"It's a county building," said Rush. "So the county is responsible for finding a use for it. And I believe, specifically, the Board of Supervisors has to examine what county needs can be met in this building."
At this point, just hours before the election, the referendum is no longer supported by all seven county supervisors.
Allison Mays and Phillip McCall — both representing Abingdon — now oppose the referendum. Mays has even said she didn't want the referendum to be held.
Opposition to the move has also come from a unanimous vote by the Washington County Bar Association, representing local lawyers, many of whom have offices within walking distance of the county courthouse.
One attorney, Byrum Geisler, has spoken at several county and town meetings, as well as at the county library in Abingdon. He has strongly suggested that county officials have ignored a plan to rebuild the courthouse and meet Virginia Supreme Court requirements.
Specifically, Geisler has pointed to a 2016 engineering study, which notes that the courthouse could be renovated and expanded at a cost of $24 million — a fix that's cheaper than the $30 million move to the Kmart building.
Moving the courthouse off Courthouse Hill in the downtown district would "start creating big dead zones," Geisler said. "It's not the kind of place people like to come to anymore. It's not a living, thriving, interesting place."
Another attorney, Emmitt Yeary, owns property near the county courthouse and has also publicly criticized the proposed move, saying that putting a courthouse in that building would make Abingdon and Washington County a "laughingstock."
Additionally, Yeary called the Board of Supervisors' resolution to protect and preserve the old courthouse "mere window dressing to further what appears to be this scheme to try to locate this courthouse at Kmart."
The attorney called that "wrong."
"Just call it, 'courthouse moving to the shopping center,'" Yeary said. "That's what it should be. You should tell it like it is."
Questions on relocating the courthouse have also been raised by the Economic Development Authority (EDA) of Abingdon in a Sept. 4 letter addressed to Berry, the county administrator, from the board's representative, Kenneth S. Shuman.
"Moving the courthouse will leave an abandoned property in the heart of Abingdon, while occupying a viable commercial space which will no longer generate tax revenue," Shuman wrote. "Has the county accounted for this forgone tax revenue in their calculus?"