ABINGDON, Va. — Washington County's Board of Supervisors says they want the community to be engaged in planning the future of the Washington County Courthouse.
"We've got a lot of challenges with our historic courthouse," Board Chairman Saul Hernandez said at a Tuesday morning news conference.
The county courthouse at the center of Abingdon has been standing on Main Street for 150 years. But, Hernandez said, "We feel it's kind of reached its end of life."
Currently, the courthouse has 47,000 square feet. But a 2016 engineering study by Thompson & Litton, of Wise, Virginia, says the county requires an 88,000-square-foot courthouse to reach Virginia Supreme Court standards, Hernandez said.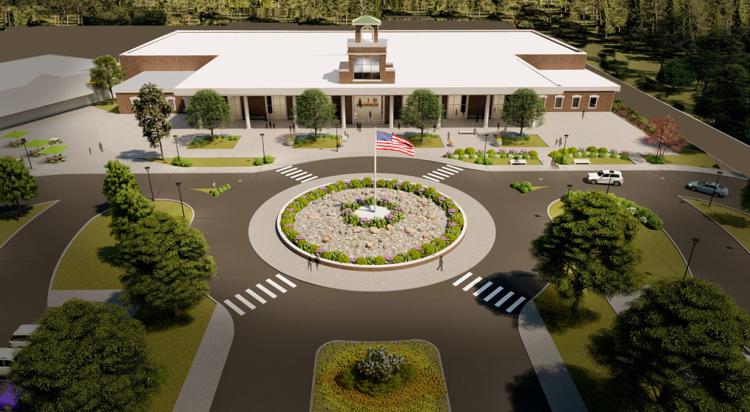 The courthouse serves 56,000 residents in Washington County with an average of 420 visitors a day. And while it has 77 employees, it has only 75 parking spaces, Hernandez said.
"This courthouse was completed nearly 20 years before cars were even invented," said County Administrator Jason Berry. "The architects and builders never thought about needing a parking lot."
The current courthouse is actually four separate buildings that have been pieced together over several years, said Kevin Hill, the county's director of general services.
Inmates, judges and some of the staff have to use some of the same entrances, Hill said.
The courthouse is so crowded that "some of our employees are working out of the hallways," Hernandez said. "Suffice it to say, we have got an obvious space problem."
That's why the supervisors are now looking at three options:
» Expanding the Elliott Building of the courthouse at a cost of $15 million, followed by the construction of a new courthouse at a cost of $42 million. This option would require a tax increase, according to a release distributed at Tuesday morning's news conference.
» Constructing a new building at an undesignated location with a $57 million total cost, including $33 million for construction and $24 million for financing. This option might "necessitate a tax increase," Hernandez said.
» Acquiring the vacant Kmart building near I-81's Exit 17 and renovating it into a new courthouse at a $25 million cost for construction plus $18 million for financing. This option may not require a tax increase, according to a release.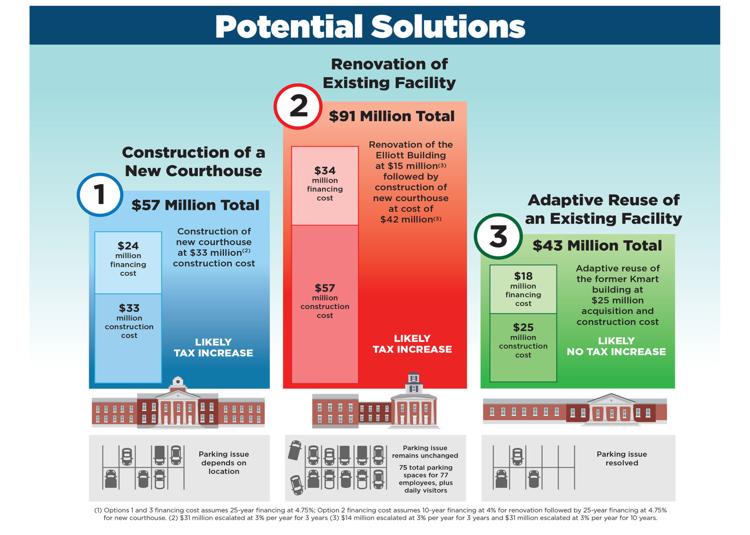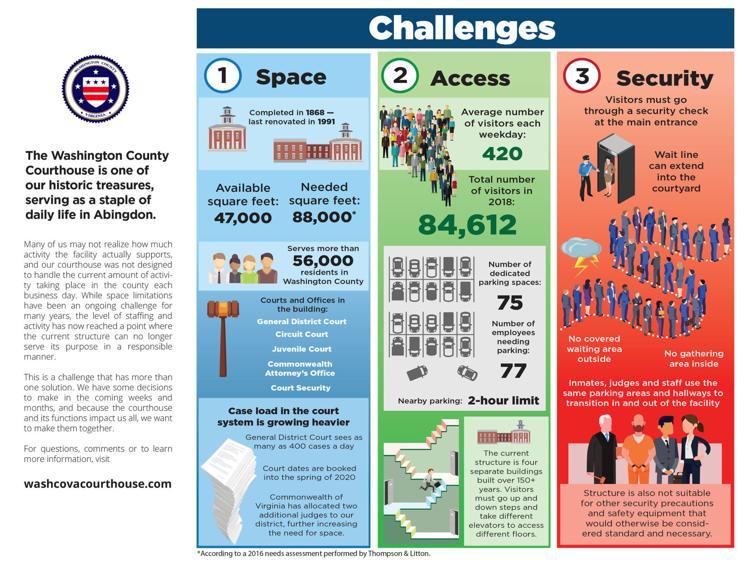 Officials have been studying the need for more room at the courthouse for eight years, Berry said.
Doing nothing is not an option, Circuit Court Judge Sage B. Johnson said Tuesday evening at a Board of Supervisors meeting in Abingdon.
"The space is not adequate," Johnson said. "We have no place for the public to park."
And the first option — adding to the courthouse — "does nothing to address the secure facilities and nothing to address parking," Johnson said.
Over the next few weeks, the supervisors plan to hold a series of town hall meetings to gather public input and to educate the public on the need for more courthouse space, Hernandez said.
"We want to get as much citizen engagement, as much stakeholder engagement, as possible," Hernandez said. "This is about involving the community."