BRISTOL, Tenn. — Music, and plenty of it, will be on the buffet for the final weekend of summer as the 19th annual Bristol Rhythm & Roots Reunion returns to the Twin City next weekend.
More than 125 bands and individual artists are tuning up to perform more than 200 scheduled sets of music on 19 outdoor and indoor stages, scattered from one end of State Street to the other. Performances are slated to begin Friday around 5 p.m. and continue until past midnight.
On Saturday, stages will crank up between noon and 1 p.m. and will close around midnight. The Sunday lineup goes from noon until about 7 p.m.
Headliners will again anchor the major outdoor stages on State Street, Piedmont Avenue, the country music mural stage at the downtown center and Cumberland Square Park. Additional outdoor stages will be in parking lots off Sixth and Seventh streets, plus Machiavelli's outdoor stage off Fifth Street in Tennessee plus the "near Moore" stage in the parking lot of the former Wells Fargo bank on the Virginia side.
Indoor venues include the Paramount Center for the Arts, Cameo Theatre and local businesses Bloom, Borderline Billiards, Machiavelli's, O'Mainnin's Pub, Shanghai Restaurant, State Line, Studio Brew and Theatre Bristol. Acts are also set to perform Friday and Saturday in the performance theater of the Birthplace of Country Music Museum.
This year's headlining acts include Wynonna and the Big Noise; St. Paul and the Broken Bones; Patty Griffin; Marty Stuart; Sam Bush; Ray Wylie Hubbard; Jim Lauderdale; Steep Canyon Rangers; Matt Maeson; Darrell Scott; Scythian; Acoustic Syndicate; Black Lillies; Dustbowl Revival; Folk Soul Revival and The Gibson Brothers.

"I think [fans] should be excited about the lineup," said Leah Ross, president and CEO of the Birthplace of Country Music. "I know we bring artists that people have heard of like Wynonna or Marty Stuart, Sam Bush or Steep Canyon Rangers. But it's all those [acts] they're going to be exposed to that they've never heard of."
Groups like the Avett Brothers and Old Crow Medicine Show played the festival early in their careers — shortly before exploding on the music scene and becoming headlining acts.
"Old Crow was probably the first artist we had that their next year was big and look where they are today," Ross said. "You think about Saint Paul and the Broken Bones who is back here this year. They're headliners now."
Who might some of the rising stars in this year's lineup be?
Ross identifies Matt Maeson, The Lil Smokies, CAAMP and Lauren Morrow — the bombshell former lead vocalist for The Whiskey Gentry — as among those expected to wow festival-goers.
Also appearing this year are two radically different acts from Great Britain. Danni Nicholls is a solo country-Americana singer who relocated to Nashville and is getting considerable attention in Music City. UK-based Curse of Lono — which takes its name from the title of a Hunter S. Thompson book — describes itself as a "cinematic Southern Gothic rock" band. Both are performing at AmericanaFest in Nashville this week before heading to Bristol.
Wynonna — known for her monstrous voice and flaming red locks — was the most oft-repeated name back in the spring when organizers announced the lineup, and she's one of the most recognized artists to ever play the Twin City.
A fixture on the music scene for more than a quarter of a century, she and her mother had 14 No. 1 chart singles performing as The Judds during the 1980s. Wynonna has six No. 1 singles as a solo act. She is a former Academy of Country Music Top Female Artist. The Judds were recently featured in a special exhibit at the Country Music Hall of Fame in Nashville.
Ross said she ranks among the top names the festival has landed in its 19-year history.
"If you think about The Judds and her [Wynonna's] longevity in the music industry, I think Wynonna is right there with any of them," Ross said. "She has an amazing voice, and she is bringing a show with her whole band. They're arriving early to set up, and its going to be a production."
Wynonna closes out the Piedmont stage Saturday at 9:30 p.m. Among some of the other headliners, Patty Griffin takes the State Street stage Saturday at 10:30 p.m. and Steep Canyon Rangers perform Saturday's nightcap at the country mural stage at 10 p.m.
Friday headliners include Marty Stuart on Piedmont at 8 p.m., The Gibson Brothers close down country mural stage with their 9 p.m. show, Sam Bush is the final act on State Street, with a 9:30 p.m. start and St. Paul and the Broken Bones will rock out in Cumberland Square Park, starting at 10 p.m.
Sunday favorites Folk Soul Revival hit State Street at 5 p.m., Ray Wylie Hubbard plays Piedmont at 4 p.m., Russell Moore and IIIrd Tyme Out will be on the mural stage at 5:15 p.m. and The Black Lillies close out the festival with a 6 p.m. show at Cumberland Square Park.
The complete schedule is available on the Birthplace of Country Music website or by downloading the festival smart phone app.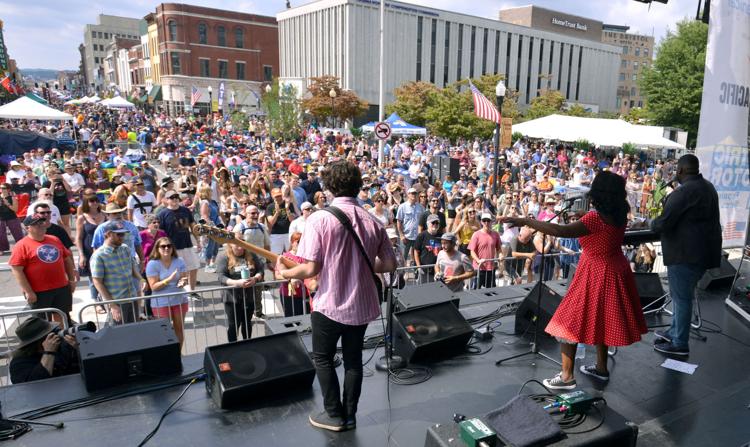 Last year, about 42,000 people jammed into the downtown area over the festival's three days and nights — nearly equaling the combined population of both Bristols. Police say each year there are typically a few arrests for public intoxication but, for the most part, attendees are there to have a good time.
With a number of mass shootings and other terrorist-type attacks in crowded settings around the world in recent months, festival organizers say they work diligently to ensure the safety of patrons.
"Anyone that puts on an event like this really looks at their emergency preparedness and the safety of those attending. We definitely do that," Ross said. "We're just on guard all the time. We have an emergency preparedness plan that we will follow. If something were to happen, we know the steps we're going to take. We work very closely with both city police departments. I believe you're as prepared as you can be for something like that. I do believe that we take all those necessary steps to try to cover things that could happen."
Both city police departments have officers on the streets throughout the festival and are supplemented by deputies from the Bristol Virginia Sheriff's Office. Firefighters and emergency medical personnel from both cities are also on hand for the entire festival.
"We start by making sure we have a visible police presence in the area during the event, as well as plenty of EMS personnel from the fire departments on both sides of town since the majority of issues we have are related to folks being overcome by the heat," Capt. Charlie Thomas of the Bristol Tennessee Police Department said.
In recent years, large city trucks are used to block main and side streets to eliminate vehicle access.
"Hard-armoring the entry/exit points is one of the biggest changes we have made over the years. This is in response to incidents that have occurred at similar events around the world," Thomas said.
Festival organizers, members of the public safety community and representatives from public works, traffic engineering and parks and recreation meet several times during the year to discuss issues that arose during the previous events and to plan for the upcoming event, Thomas said.
Access to the ticketed downtown festival is through a series of temporary gates. Ticket booths are set up on the west end of State Street, in the 800 block, on Eighth, Sixth, Cumberland and Goode streets.
"We are making some changes in our entrance and exit points," Ross said. "Not every street is going to be an entrance. We'll have exits only in some areas, and that will be well defined. You'll know that before you get to it that it's one you won't be able to walk through."
Those changes are done to improve foot traffic flow, Ross said.
Exit-only points are on Piedmont Avenue behind the stage, across from the country mural stage, on Seventh and Fifth streets. Gates that allow both exit and re-entry are at three points on Winston Alley, the parking lot near Home Trust Bank and Lee Street, near Cumberland Square Park.
To accommodate the setup, teardown and the weekend festival activities, residents and motorists should be aware of some disruptions to downtown access and parking.
The city of Bristol, Tennessee, has released details of the planned closings. Once closed, all impacted areas will remain closed until the early morning hours of Monday.
The L.C. King parking lot on the northeastern corner of Seventh Street and Shelby Street will close at 5 p.m. Wednesday. The library parking lot on Piedmont Avenue and the parking lot at 11 Eighth St. will close at 6 a.m. Thursday.
The portion of the Downtown Center accessible from State Street will close at 2 p.m. Thursday and Piedmont Avenue from Goode to Cumberland streets will close at 4 p.m. Thursday. The western parking lot at 601 State St. will close at 6 p.m. Thursday.
State Street between Volunteer Parkway and Martin Luther King Jr. Boulevard — and portions of side streets on both sides of the state line are slated to close at 3 a.m. on Friday. The median opening at Volunteer Parkway and Shelby Street will also close at this time.
Southbound Martin Luther King Jr. Boulevard motorists in Virginia will be urged to turn at West Mary Street and required to turn at Scott Street; access south of there to the jail parking lot and WCYB will be maintained to those locations with the appropriate permissions only.
The Cumberland Square Park parking lot and the municipal parking lot on the west side of Stoneman Family Drive will close during this period.
The last closing will be the Regions Bank westernmost parking lot, which will close at 5 p.m. Friday.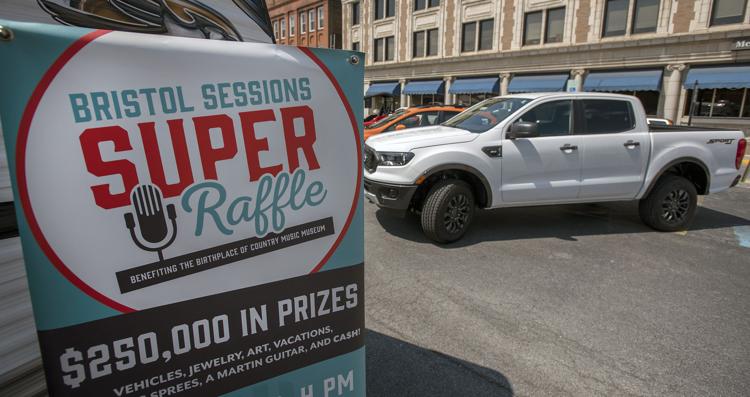 A special event is slated outside the Birthplace of Country Music Museum on Sunday as organizers draw the winners in the Bristol Sessions Super Raffle. The event is a fundraiser for the museum, and tickets have been on sale all summer.
About $250,000 in prizes are to be awarded, including a 2019 Ford Ranger 4x4 pickup truck; 2019 Chevy Trax; 2019 Subaru Crosstrek SUV; 2019 Harley Davidson motorcycle; a Jayco 29-foot camper; a Polaris ATV; vacations to Disney World and Jamaica; a Martin D28 guitar; jewelry; shopping sprees; artwork; a mountain bike; and 33 cash prizes totaling $72,000, including individual prizes of $10,000 and $25,000.
BCM expects to sell 5,000 tickets at $100 apiece with prize drawings to be conducted from 11 a.m. until 4 p.m. Sunday, Sept. 22. Each ticket contains two chances to win, and winners need not be present.
"It's a creative way to raise funds for the museum and have a lot of people participate in that in a fun way. With $250,000 worth of prizes and only 5,000 tickets, your chances get pretty great, with two numbers per ticket," Ross said. "We still have tickets to sell."
If tickets remain during the festival, they will be sold at the museum and at a tent outside the BCM office at the corner of State and Fifth streets.
Parking in the crowded downtown is likely the greatest challenge facing attendees and the festival will again operate shuttle bus service throughout the event. Shuttle stops in Virginia include the former Bristol Mall, Exit 7 area hotels including the Courtyard by Marriott, Days Inn, Hilton Garden Inn, Holiday Inn, Motel 6 and Quality Inn. Buses will also stop at the Econo Lodge on Commonwealth Avenue. On the Tennessee side, shuttles will serve the Fairfield Inn, Hampton Inn at Interstate 81's Exit 74 and Thunder Mountain Campground off Volunteer Parkway, near Bristol Motor Speedway.
The cost of the festival shuttle is $15 for the weekend for adults with children 12 and under riding for free.
The service is to run Friday from 1 p.m. until 1 a.m., Saturday from 10 a.m. until 1 a.m. and Sunday from 10 a.m. until 8 p.m.
The city of Bristol, Virginia, is operating a separate shuttle service from Sugar Hollow Park campground — with pickup at the softball and soccer fields — to and from the festival site. The cost is $5 per trip.
Ross said advance ticket sales are "good" for this year's event.
Procrastinators who failed to buy tickets when discount pricing was available can still purchase tickets for either the entire festival or individual days.
Advance tickets for all three days purchased this week are $110 plus taxes and fees, while those same tickets at the gate will be $125, including taxes and fees. Friday-only adult tickets are $50, Saturday tickets are $70 and Sunday tickets are $45.
Children ages 12 and under are admitted free.