BRISTOL, Va. — A heinous shooting in Washington County is being described as a domestic situation because the man arrested and the man shot and killed were dating sisters, according to Washington County Sheriff Blake Andis.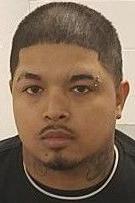 Angelo Aviles, 27, of Johnson City, Tennessee, was charged Monday with first-degree murder in the shooting death of Anthony James "AJ" Pickle, 34, of Bristol, Tennessee.
The sheriff said detectives do not know whether there was an argument that led to the shooting. Pickle was shot multiple times along Campground Road, just outside of Bristol city limits. A passerby discovered Pickle's body in the middle of the road around 3:30 a.m.
Andis said Pickle was shot in the back and chest. It appears Aviles intended to kill Pickle due to the number of shots fired, he added.
Aviles and Pickle were likely in Washington County to either use or purchase drugs, the sheriff said.
"Good police work" led to Aviles' quick arrest in Bristol, Andis said.
The sheriff said detectives followed up several leads and conducted interviews Monday. Detectives also viewed surveillance videos from local businesses, he added.
The shooting occurred in a remote section of Campground Road near Cowan Drive.
Andis said search warrants have been conducted in Tennessee.
Aviles, who has a criminal history in New Jersey, has also been charged with use of a firearm in the commission of a felony and possession of a firearm after being a convicted felon. Andis said his criminal record includes robberies.
Pickle, who attended Sullivan East High School, has a few traffic violation convictions in Bristol and Washington County in Virginia. He also has a theft conviction related to a stolen rifle in Bristol, Tennessee, according to court records.
Pickle's body has been sent to Roanoke for an autopsy.
Aviles, who was captured by Bristol Tennessee police during a traffic stop Monday, is being held without bail at the Sullivan County jail and is expected to be extradited back to Virginia. Police said Aviles also has a Bristol address.