Pretrial inmates — who comprise a significant percentage of the population in this area's most overcrowded jails — those with mental illness and those unable to afford their assigned bail are the focus of a May 2019 national report urging localities to explore alternatives to building or expanding jails.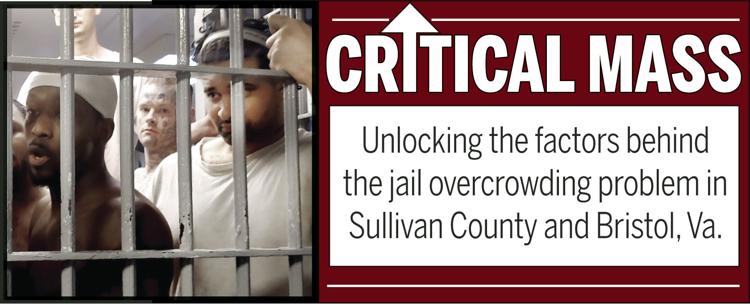 The 19-page report was issued by Prison Policy Initiatives, a Massachusetts-based nonprofit public policy think tank focused on criminal justice issues.
"It's very common today for jails to be overcrowded, because the number of people in jails nationwide has tripled in the last 30 years," report author Alexi Jones said in a written statement. "But in too many counties, jail growth is rooted in known policy failures like an overreliance on money bail. Local policymakers owe it to their constituents to find out if there is a better fix to overcrowding than just building a new or bigger jail."
The report looks at the growing number of people being held who have not been to trial, not been convicted, been convicted but not yet sentenced or who are incarcerated because they cannot afford to pay bail, fines or fees. It also explores whether localities offer treatment options for substance abuse or mental illness for those charged with crimes.
The report advocates releasing more pretrial defendants on their own recognizance and having a system to help them make court dates, requiring judges to set fines and fees based on a defendant's ability to pay and investing in specialized courts for mental health or substance issues as alternatives to jail time.
What do you think is the answer to local jail overcrowding?
"Nationally, 76% of people held by local jails are not convicted of a crime and are legally presumed innocent. While some people are incarcerated because they pose a significant safety or non-appearance risk, many are there simply because they cannot afford to pay cash bail," according to the report. "This creates a two-tiered justice system in which people who have enough money to pay cash bail are released, while poor Americans are forced to remain in jail as their case moves through the system."
Those who come into contact with the criminal justice system are disproportionately poor but often charged fines and fees that are impossible for them to pay, according to the PPI report.
Fines can accompany everything from municipal or traffic violations up to felony charges.
In addition to fines, people are often charged a number of fees as they move through the court and criminal justice system, including fees for a presentencing report, public defender, electronic monitoring, pay-to-stay and supervision, it states.
Many, according to the report, simply cannot afford to pay them and, as a result, face additional fines and fees, suspension of their driver's licenses, extended supervision and incarceration.
"In some jurisdictions, as many as 20% of people in local jails are incarcerated because they could not afford to pay court-imposed fines and fees," the report states.
Mental health, substance abuse
The PPI report also claims that 2 million people with mental illness are booked into jails each year.
"Nationally, about 15% of men and 31% of women in jails have a serious mental illness compared to 3% and 5% in the general population. And about 68% of the jail population meets medical standards for having a diagnosable substance use disorder."
The report also addresses the growing number of jail inmates who are dealing with some type of substance abuse issue.
"Research has demonstrated that access to substance use treatment can reduce both violent and financially motivated crimes in a community," according to the PPI report. "Moreover, investing in substance use treatment is estimated to yield a $12 return for every $1 spent, as it reduces future crime, costly incarceration, and lowers health care expenses."