KINGSPORT, Tenn. — Standing in front of a room filled with fourth graders, Robert Johnson lit a small red balloon filled with flammable gas, which then burst into flames, evoking "oohs" and "whoas" from the crowd.
Johnson, with the Eastman Fire Department, led one of several demonstrations Tuesday morning as part of the American Chemical Society's National Chemistry Week celebration at Eastman's Toy F. Reid Employee Center in Kingsport. Hundreds of fourth graders from across Northeast Tennessee and Southwest Virginia were invited to take part in the program, which started Tuesday and continues today.
"It was cool," Briley Bolling, a fourth grade student at Stonewall Jackson Elementary School in Bristol, Virginia said as she walked out of the fire exhibit. She said she's not sure she wants to be a scientist, but she enjoys experiments. She was part of a cohort of classmates that rotated to different exhibits exploring topics like florescent materials, electromagnets and batteries.
As the children moved through the stations, scientists and volunteers presented a mix of demonstrations and hands-on activities. In one of the sessions, for example, Eastman scientist Tom Markley shined a special flashlight on sneakers, shirts, plastics, rocks and a highlighter marker drawing of a pumpkin to demonstrate the different ways fluorescent materials surround daily life.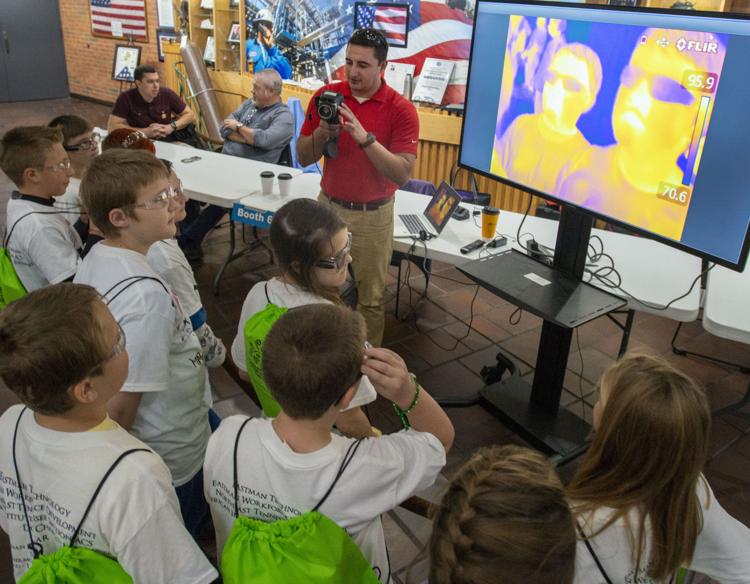 Exhibit leaders also took time to tell students about the importance of safe experimental conditions. Each student wore safety goggles at the event, and during the fire demonstration, Johnson even jokingly asked the kids to raise their hands and promise not to repeat what he showed them with their friends or at home.
And there were some lighthearted moments — at one point, Johnson asked students, "What do we get from a fire?" He appeared to be looking for an answer like heat, although one student shouted "s'mores," causing some laughs from teachers and parent chaperones in the back of the room.
"It's wonderful that they set this up to make it so interesting for the kids … to give them a 'wow factor,'" said Tabatha Dingus, a mother of a Stonewall Jackson Elementary student who volunteered to supervise a group on Tuesday's field trip.
"This is one of the big science trips we've done," she added.
Bella Branson, a fourth grader at Stonewall Jackson, said she looked forward to a static electricity demonstration later on in the morning. She said her class recently learned about it in school, and she wanted to see if static would cause her hair to stick up.
Organizers invited 27 schools to the two-day celebration, which also featured a show on both days by magician Dave Vaught, who owns Top Hat Magic Supply in Bristol, Tennessee.
This is the 32nd year that the American Chemical Society has sponsored National Chemistry Week and Eastman's 29th year hosting this event, according to a news release.