BRISTOL, Va. — Initiating further changes to Virginia's Standards of Learning exams was one of the primary topics Thursday when state education leaders and lawmakers visited Highland View Elementary in Bristol.
Teachers expressed some concerns about the pressures associated with SOL testing during a sit-down with Dan Gecker, president of the Virginia Board of Education, state Superintendent of Public Instruction James Lane and members of the Southwest Virginia legislative delegation.
School divisions statewide must administer 29 total SOLs to students between the third and 12th grades. The General Assembly previously reduced that number from 33, but there are varying opinions on the right number of tests and their impact on divisional accreditation.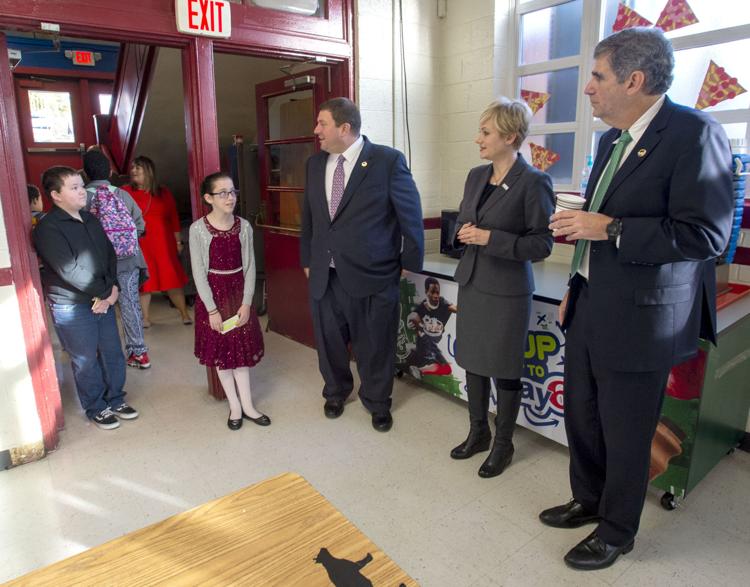 "The federal government mandates 17 assessments, essentially one in reading and math in every grade level and once in high school and once in science by level," Lane said after the visit. "Ultimately, the SOLs should be used to help us diagnose where we can support students the most, and we should have the number of SOLs that allow us to do that. But, at the same time, we should make sure we're freeing up teachers to teach. Finding the right balance will be the positive challenge for the next couple years as we work through this."
Retiring state Sen. Bill Carrico, R-Galax, said this was an annual debate during his tenure on the Education Committee.
"Everything that you see in government, the pendulum swings so far one way. We try to balance that pendulum back to where it's actually equal — and SOLs have swung so far a certain way," Carrico said. "We're trying to make that an equal area in which we do find out what the children need; we do know what is working and not working and are able to do something in a positive manner for them. That's why we worked to take so many SOLs off the table."
Carrico's Senate replacement, Del. Todd Pillion, R-Abingdon, favors reducing the number to 17 to match the federal standard, which he said would save the state millions of dollars that it pays the testing company, which could be reinvested in the classroom.
"Israel [Del. O'Quinn] and I have made that our mission every single session. There was not the appetite with some members to do that," Pillion said.
O'Quinn, R-Bristol, said lawmakers are often playing "offense and defense" when it comes to making such changes.
"We're trying to move the ball to get to the magic number of 17 all the while we've got colleagues who are piling bills to add more SOLs every year — every single year," O'Quinn said.
The state Board of Education plans to look at the standardized tests from a different angle, Gecker said after meeting with teachers.
"Coming into next year what we will focus on is what is the impact of using testing for accreditation. The Standards of Learning assessments themselves are not bad if used for an appropriate purpose," Gecker said. "But over the last 20 years, because they've been used for accreditation, they've become high stakes. And you have that criticism, which is — we believe — accurate, of people teaching to the test as opposed to allowing teachers to teach."
Virginia public schools receive annual state and federal accountability ratings based on student performance on SOL tests in English, mathematics and science and on other measures of quality and performance.
"If all you did was remove SOL results from Standards of Accreditation, you would not have the same push, as they would have a different purpose," Gecker said. "We want to look at what impact the SOL assessments have had, particularly the inclusion in the Standards of Accreditation, and see what changes we need to make overall to better the outcomes for our children."
Highland View Principal Pam Davis-Vaught said the tests are needed but don't reflect the whole story.
"From an administrative and teacher perspective, there needs to be some kind of yellow brick road to follow, and the SOLs are that path to making sure the children have a minimum level of knowledge to go onto the next grade level. But that's just a minimum," Davis-Vaught said.
Teachers, she said, face multiple challenges that have little to do with academics just to prepare children to learn the material.
"You have a full range of social and emotional needs in that classroom, physical needs in that classroom and unmet mental health needs that need to be addressed before the teachers can teach the curriculum," Davis-Vaught said. "The teachers have to be creative in a high-poverty school; they have to be able to reach out and meet the needs of the children before the academic day starts."