BLOUNTVILLE, Tenn. — Drug problems, pretrial inmates, mental health issues, a lack of funding and space, domestic violence and a multitude of other issues have resulted in overcrowded jails in the Mountain Empire, officials said Wednesday evening during a town hall meeting in Blountville.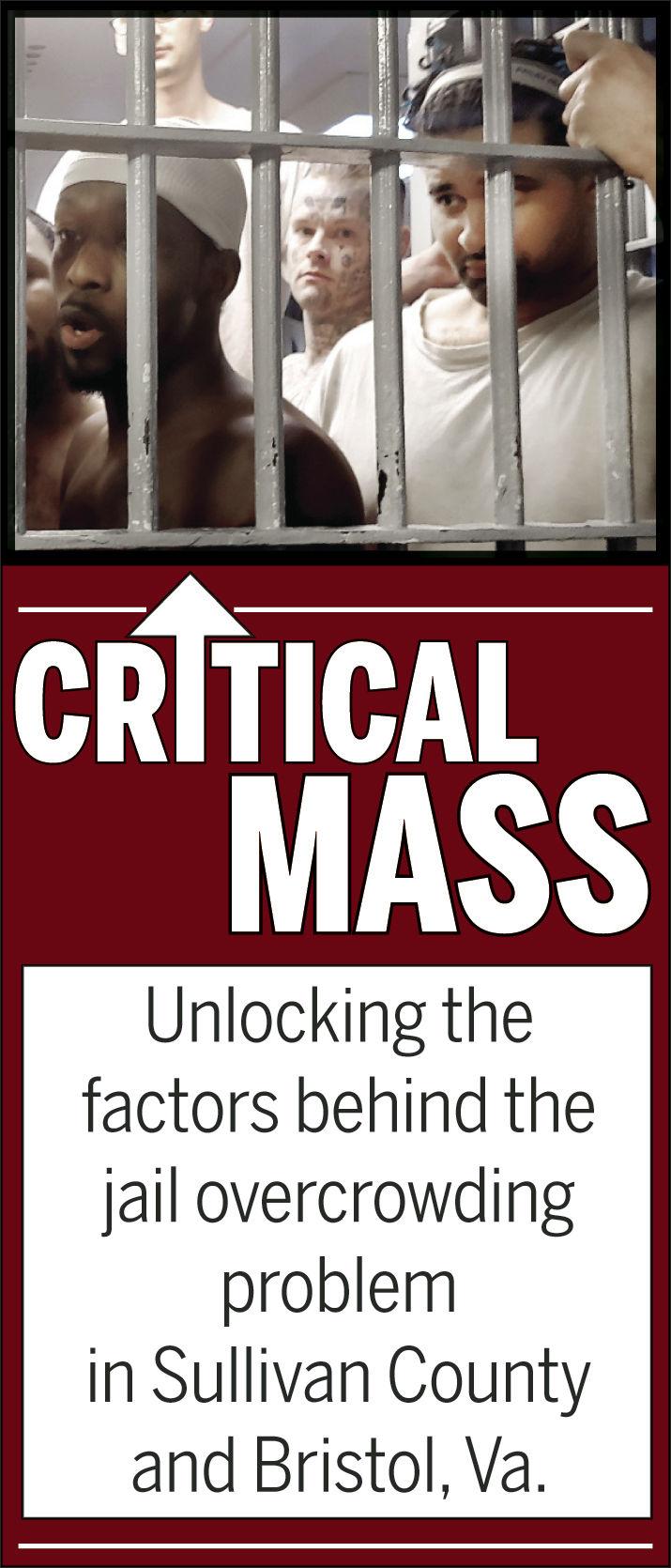 The Bristol Herald Courier hosted its "Critical Mass" town hall discussion on overcrowded jails in Bristol, Virginia and Sullivan County, Tennessee. As officials from both sides of the state line gathered at the Sullivan County courthouse, jails in both locations were overcrowded.
On Wednesday, 1,062 inmates were housed at the Sullivan County jail, where the capacity is 619 at the main facility and its extension, according to Chief Administrator Lee Carswell. In Bristol, Virginia, there were 167 inmates on Wednesday, and the capacity is 67, said city Sheriff David Maples.
"That puts quite a few on the floor," said Maples, adding that the jail often has to deal with a number of mental health patients.
Both localities have options to try to fix the overcrowding issue, but costs make it difficult, officials said.
Sullivan County Mayor Richard Venable said options to fix the jail range from $40 million to $160 million, which include renovating the existing jail, expanding the jail or building a new jail.
In Bristol, City Manager Randy Eads said the city can't handle the debt burden of building a new jail, so it is looking at various programs. He also said there is a need for criminal justice reform.
Town hall moderator David McGee, a Bristol Herald Courier reporter, noted that some residents seem unconcerned with jail overcrowding conditions.
Carswell said the county must deal with liability issues and lawsuits due to overcrowding.
"We don't want courts coming to make decisions for us," Carswell said.
An overcrowded jail can also cause dangers for jail staff, officials noted.
"We all feel they [corrections staff] have been in harm's way due to overcrowding," Venable said.
Sullivan County District Attorney General Barry Staubus said the county must ensure the public's safety. He said crimes must be prosecuted, and he would not apologize for doing so.
The solution for the overcrowded jail is to build a new facility and develop rehabilitation programs, Staubus said.
The prosecutor said he is working with David Stanley, a former inmate, on developing programs designed to reduce inmate recidivism, the rate of returning inmates.
In Bristol, where some programs are in place to help inmates, Maples said there is limited space. He said some inmates are currently housed in program space at the city jail. Mental health services and drug rehab programs are needed, he said.
Eads said he believes better jobs are needed in the Tri-Cities in order to correct the area's "cultural problem." He said many people are unable to find work, so they're selling drugs.
The former defense attorney added that law enforcement needs to focus on stopping overprescribing opioids.
Carswell said that, due to the lack of space, the Sullivan County jail has become more reactive than proactive when it comes to drug issues. He noted that the county has a drug court, which provides rehabilitation services for nonviolent felons who have substance use disorders.
One reader asked whether nonviolent offenders could be released from jails, according to a question from McGee.
Carswell said the jail does not decide who is imprisoned; the decision is made solely by the court. Both Sullivan County and Bristol have pretrial programs, such as ankle monitoring, so the jails are not overcrowded by people who have yet to be sentenced.
But Staubus said that when considering pretrial programs, officials have to think about the public's safety.
"We have to look at it on an individual basis," said Staubus, adding that some people need to remain in jail. He said there have been incidents of people being released from jail who go on to commit more serious crimes.
In addition, Staubus said judges have lowered some bonds in order to allow for the release of inmates, but statistics show about 20% of people who make bond don't return to court.
Another question involved whether officials could convert an old vacant school into a jail. Carswell said the costs to renovate a school would be "astronomical." He added that the facility must meet standards.
In closing statements, Venable said the Sullivan County jail is the largest mental health institute in Northeast Tennessee, since facilities have closed elsewhere. The state and federal governments need to recognize the issue, he said.
Carswell said the county jail has inmates with mental health issues that jail staff cannot handle.
Staubus said it's important to think about the victims of crimes when considering how to fix the region's overcrowded jails.
"Ask: How can I help?" said Stanley, adding that people should volunteer. "They can't do this by themselves."