BRISTOL, Va. — Substantial gray metal doors in the city's five-decade-old jail are locked and unlocked around the clock, seven days a week, 52 weeks a year, as inmates shuffle back and forth to court, to the exercise area, to meet with visitors or attorneys or — on their best days — to be released.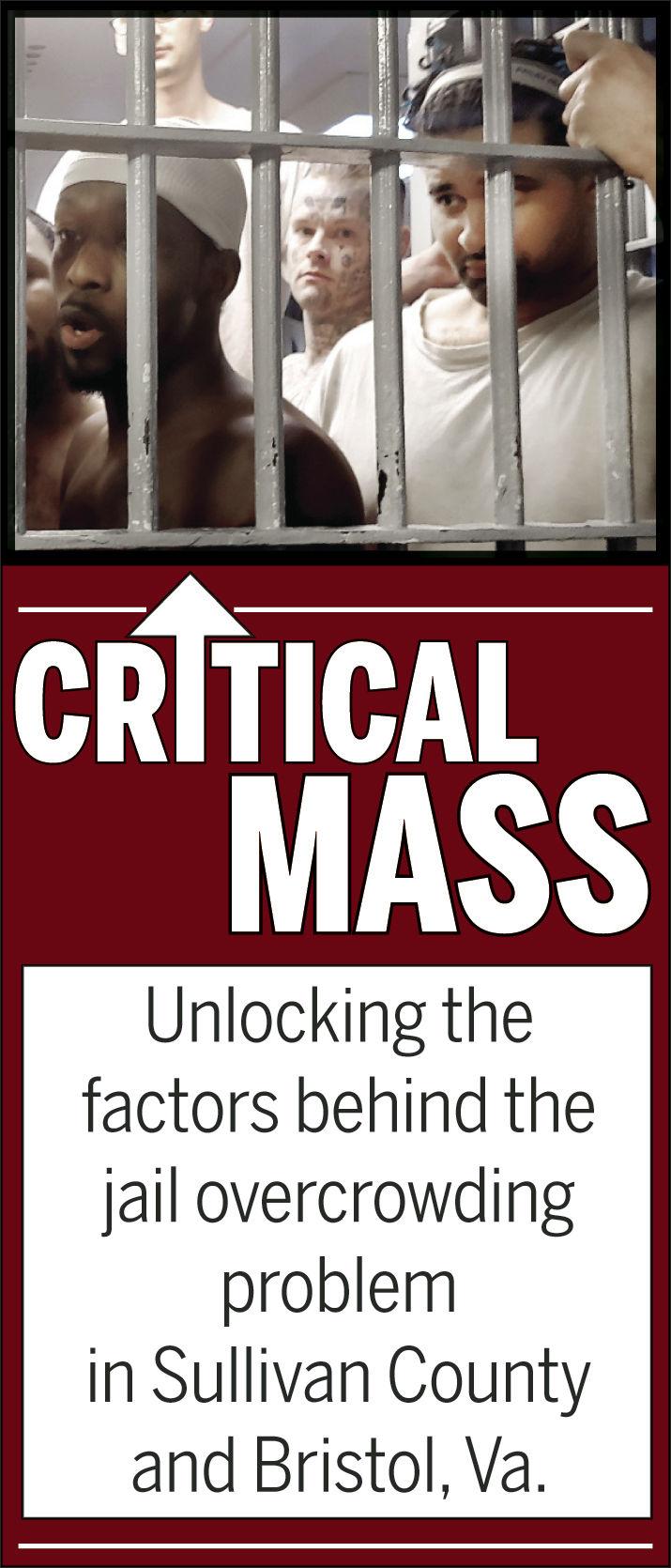 But as prisoner intake continues to exceed releases, the 50-year-old locks on those 50-year-old doors must function every time. Sometimes, they don't — just one of myriad challenges inherent in operating a facility in constant use. No weekends or nights off. If one lock fails, the routine is disrupted, people are inconvenienced, repairs must be made or — in a worst-case scenario — a prisoner could escape.
Sheriff David Maples and his staff deal with such challenges every day.
"Most of our doors are mechanical. We do have some electrical locks in the cellblocks and several electronic doors. It is difficult to get those worked on. We have a company that works on those, but they're not local," Maples said. "The company that originally built the doors — Roanoke Power and Bridge Works — is out of business. It is harder to get parts for what we have. The company from Georgia we work with has done a good job."
Nobody would mistake this aging lockup for a country club.
It is grossly overcrowded, typically running at more than 230% capacity. Certified by the state to house 67 prisoners, it can accommodate 134 with two bunk beds per cell, but its average daily census of between 150 and 160 means upwards of 30 typically sleep on the tile floor.
And those totals don't count the 50 to 60 additional prisoners the city pays to house at other facilities.
There is no air conditioning in cellblock areas, and the building's aging infrastructure requires regular repairs.
City officials estimate the building has about 10 years of viable use remaining.
"Structurally, the building is sound, but wear and tear on things like the electrical parts, the heat, plumbing — we have issues with 50-year-old water pipes. The city did an energy upgrade a couple years ago with new lighting and water-saving devices, and those helped to some degree, with some modifications from us," Maples said.
Old water lines develop "pinhole" leaks, and many have been repaired or replaced, Maples said.
Talk of air conditioning, Maples said, is about better working conditions — not comfort — when dealing with a large, confined population managed by a fraction of that number.
A portion of the building has cooling, but the jail control center, kitchen and medical areas, as well as hallways and cells, are not air-conditioned.
A series of large fans circulated air through the cellblocks during the Herald Courier's late August visit, keeping the interior temperature similar to the unseasonably mild 77 degrees recorded outside that day.
Preliminary estimates of $500,000 to air-condition the entire facility and $150,000 to replace aging water lines are beyond the means of cash-strapped Bristol, Virginia.
Those new water-saving toilets, sinks and water fountains installed three years ago? Some are already failing from perpetual use.
Five years ago, consultants determined a new jail housing 230 prisoners could cost $40 million. Based on the July 2019 census, it would have been at 95% capacity today.
City leaders also considered converting the adjoining former police department offices into space for prisoners but determined it wouldn't be a worthwhile investment.
But there is no major expansion or new jail on the horizon. This is Bristol, in 2017 judged the most fiscally distressed city in Virginia by the state Comptroller's Office. Bristol, which maxed out its fiscal borrowing capacity to build a half-vacant shopping center and a landfill. Bristol, where the only apparent alternative is closing the current jail and transferring all its prisoners elsewhere, except it would cost more to house them in the Southwest Virginia Regional Jail facility than continue operating the aging jail.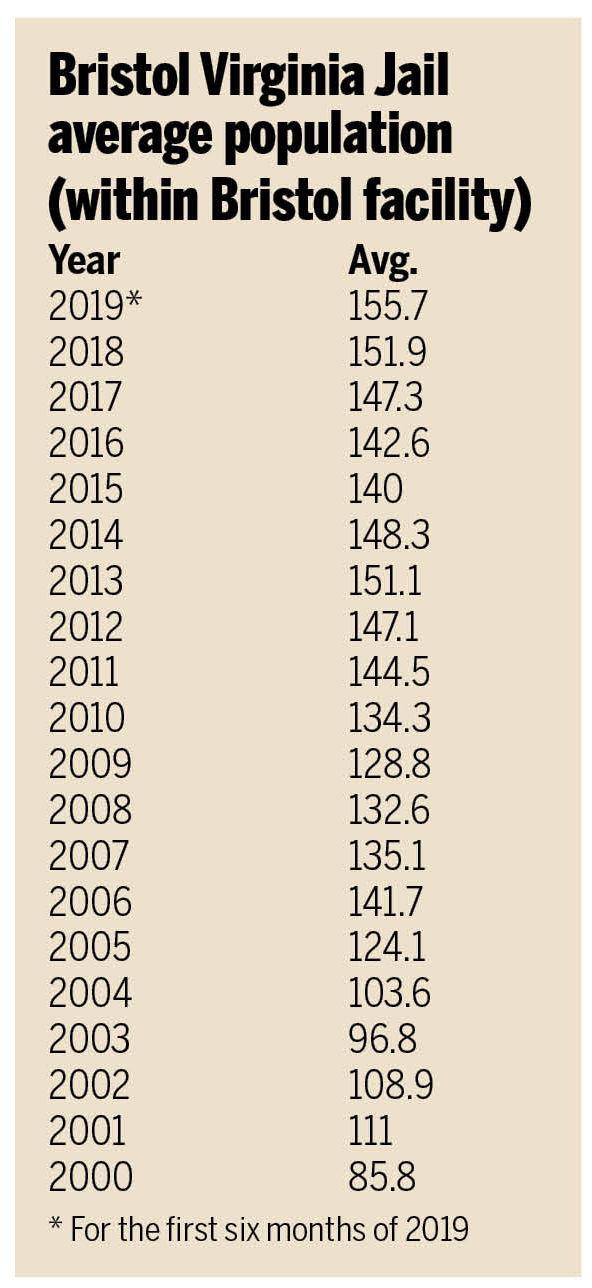 On July 19, 2019, the city jail built for 67 held 152 inmates. Sixty-two were in the Southwest Virginia Regional Jail at Abingdon, and another three were at the New River Valley Regional Jail in Dublin — a total of 217 prisoners.
"We just started using the New River Jail two weeks ago. We're told the regional jail is full," Maples said in July. A follow-up check in August revealed six were at the New River Jail, and 54 at Abingdon — but those numbers ebb and flow regularly.
Of the 152 in Bristol in July, only 43 had been sentenced. Sixty-one were classified as pretrial, meaning they're charged, but their case isn't finalized, and 28 were held on probation violation charges — meaning they were released from a prior conviction but then did something to get rearrested.
Prisoners are first brought in through the jail's front door and taken straight to a booking area, where they are handcuffed to one of three metal benches bolted to the floor. After being processed, they are given an orange jumpsuit, surrender their clothing and are led down a two-tone blue hallway toward the cellblock areas.
A substantial white dry-erase board attached to a wall just past the booking desk is filled with inmate names and cellblock information — another way to help jailers keep track of everyone.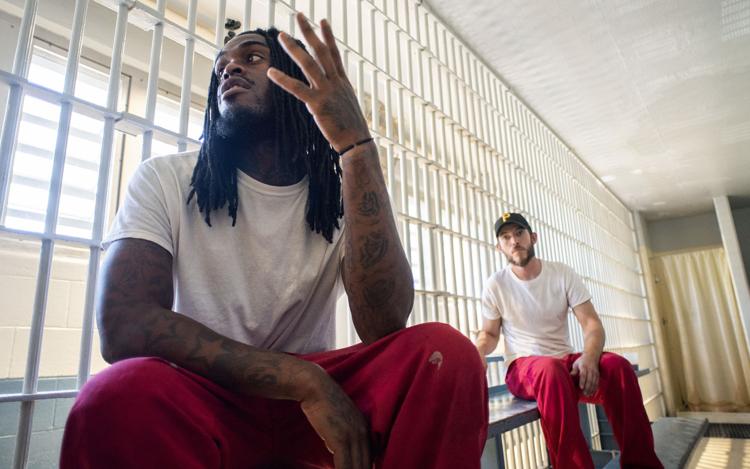 Melvin Davis, a 25-year-old inmate originally from Birmingham, Alabama, is serving an 11-month sentence for violating the terms of his probation after serving 3.5 years of his original four-year sentence.
"It's not very spacious," Davis said. "Most every block has at least 19 in it. You never really get in a block with less than 15 people. If there's 15 people in a block, that's the low ball."
Davis is currently housed with other trusties — offenders with nonviolent convictions whose behavior allows them to perform supervised labor inside and outside the jail. Davis much prefers the trusty cellblock.
"This block [trusties], everybody gets along," Davis said. "When you go to other blocks, and it's not trusties, and they are not working and don't get to do anything, people get aggravated. Some people wake up on the wrong side of the bed, have certain issues. … Nobody wants to be overcrowded. They really give dogs more space than this."
Of the 65 city inmates held at facilities other than the city jail in July, 18 were pretrial and seven were held on probation violation. One inmate was being held for the federal government.
Overcrowded jails are common across Virginia and the nation. But each presents a unique financial juggling act for the locality. Bristol's inmate rise occurred steadily over the past 20 years.
In 1998, the city jail's average daily population was a "very manageable" 76, slightly above its Department of Corrections rating of 67, Maples said. Two years later, in 2000, the average climbed to 85, and in 2001, it was 111.
The average daily census remained between 90 and 110 through the early 2000s but shot up to 124 for the year in 2005 and exploded to 141.7 for the year in 2006. It crept north of 150 during four months that year before dipping back into the 130s for the next three years.
"Once we reached the 145 average daily, that's not a true picture because we had inmates outside of the jail. Had they been here, it would have been 200," Maples said. "We might go 220 or 230, but they were in three other facilities. It's been a steady rise. Here of late, we haven't seen much dip."
Of that total, the jail typically has about 26 female inmates with an official capacity for 21, but that total also fluctuates. On an Aug. 29 visit, there were 31 female inmates. Sixteen were sandwiched into cellblock five. During the day, they sit on metal benches or on their bunks and sometimes play cards seated on the floor. With bunk space for 10, six must sleep on mattresses on the tile floor.
"It's hard sometimes missing my family. I want to go home, but the female deputies, they help us. They're there for us. … They talk to us, and sometimes they're all we have to bring us up when we're really down," inmate Betty Graham of Bristol, Virginia said.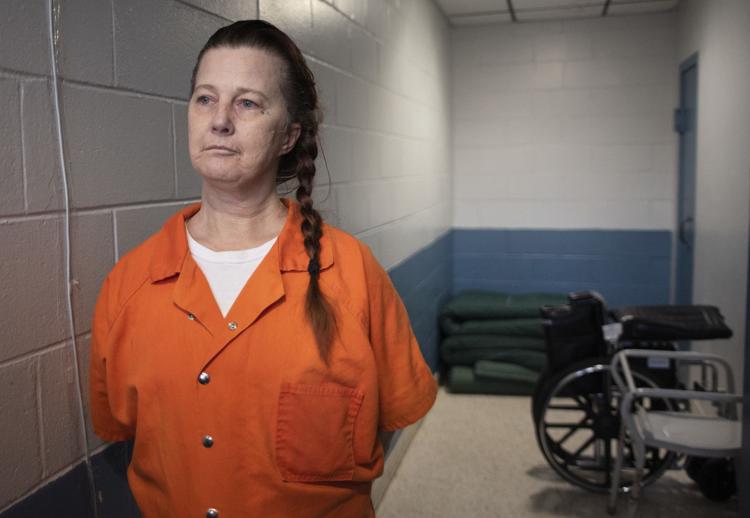 Graham, 52, has been inside for four months due to a violation of probation charge. She said it's sometimes hard to get along with everyone when inmates are packed so tightly.
"We basically get along great, but it depends on the type of person you put in here. If you live a rough life on the street … you've got your troublemakers, and you've got your good people," Graham said. "It could be a lot worse. I could be in Blountville [Sullivan County jail], and I don't want to be there."
City records show the jail first sent inmates to the Southwest Virginia Regional Jail in Abingdon in 2007, but not in 2008 and 2009. After another two-year break in 2012 and 2013, the city has continually sent inmates there since May 2014.
Some city prisoners were also sent to the Western Regional Jail in Salem between 2011 and early 2018 and the Charlotte County Virginia Jail from 2012 through 2018. Both facilities charged $35 per inmate per day, compared to the $38 fee previously charged by the Abingdon jail, which now charges $39 per inmate per day. The Dublin jail is charging $30 per inmate per day.
A portion of the city's inmates "belong" to the Virginia Department of Corrections. On one day back in July, that total exceeded 50.
"We have 53 DOC-sentenced inmates today," the sheriff said during the July 19 interview, "20 of which are DOC-eligible, meaning they have enough time in to be taken to DOC. A state-responsible inmate, we receive $12 a day. A local inmate is $4. It's not a great amount of money."
The state department considers an inmate with state charges eligible for intake into their facilities after being held locally for 60 days.
"At that point, DOC should be picking up the inmates. What we've been told is there is not enough bed space in DOC, so it's been shifted to the locality," City Manager Randy Eads said.
Despite all of its challenges, the city jail was recertified in March 2019 by the Virginia Department of Corrections.
The state inspects the jail annually for "life, health and safety" issues. Every three years, it undergoes a much more detailed review of the entire facility.
"The inspectors come and go through the standards and see if we meet the standards," Maj. Ron Hutton said. "They go into the jail and make sure we're compliant on lighting, water, cleanliness. They inspect the kitchen to make sure it's clean and adequate."
In recent years, the jail has met every standard "100%" except for one item this past year — failing to complete an annual review of the mission statement by the inspection date.
"It's harder to comply when you're overcrowded and have 25 people on the floor," Hutton said. However, the jail is "grandfathered in" under prior state standards for space for inmates.
"We are an almost 50-year-old facility, and if we had to meet the standards of today required for space, we couldn't do it," Maples said.
The review is detailed. Officials must account for every hypodermic needle, jug of bleach and kitchen utensil, as well as time in the recreation yard and visitation time each inmate receives.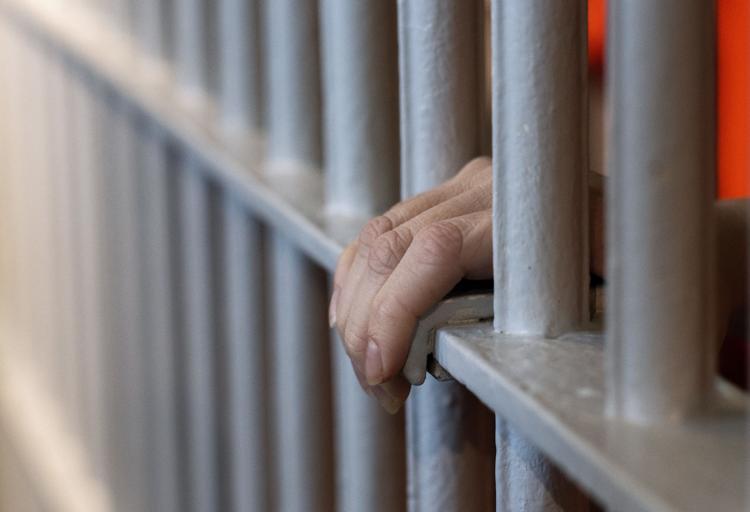 In separate reviews, no violations were found in the jail's kitchen during two of its last four inspections by the Mount Rogers Health District, part of the Virginia Department of Health. Records show no issues were found during inspections in February 2019 and November 2017. One issue was found during inspections in June 2018 and April 2017. The 2018 issue was an improper temperature control for a device holding cold food items, while the 2017 violation was prepared food in a storage unit was not properly dated. Both were corrected during the inspection.
The city's jail is among the least expensive to operate statewide, according to a 2018 report by the Virginia Compensation Board.
The board calculated Bristol's daily operating costs at $62.39 per inmate per day for fiscal 2017-18, ranking it among the lower third of the state's 60 local jails. It showed a $3.45 million operating budget, with 56.09% of funding coming from the state, 43.05% from the city and less than 1% from other sources.
Those figures don't include the locally borne cost of housing inmates in other jails, nor does it include the city-paid employee benefits and expenses associated with other portions of the Sheriff's Office operations, specifically the six deputies assigned to courthouse security.
The calculation includes jail personnel salaries, food and medical services for inmates, programs, transportation and other support, along with 53 Compensation Board-funded positions.
The Bristol jail ran at 226% of its operating capacity for fiscal 2017-18, with an average of 152 inmates, the state report shows.
Housing so many people in a space designed for less than half that presents issues for those both inside and outside the cells.
"We have our share of issues among inmates. It's always in the shower. Every time we have an incident, law enforcement is called, police come and investigate," Maples said. "There is a code among inmates. A guy will say he slipped in the shower or fell out of his bunk. We wish they would report it; we encourage them to report it."
The Sheriff's Office did provide the number of times a prisoner or jail employee sustained physical harm, but that could include anything from a fight among inmates to a twisted ankle or a minor injury sustained by a kitchen employee.
From 2014 to 2018, there were 345 such incidents reported — an average of 69 per year — although the 111 reported in 2015 skew that average. An average of 60 incidents per year have been reported over the past 10 years. In addition, if multiple people are involved in a single incident, a separate report is filed for each one.
Five inmates have died while in city custody since 2010, the most recent in April. Jeremiah Wilson, 33, suffered a medical emergency while inside the jail and was transported to Bristol Regional Medical Center, where he died. Foul play was not suspected, Maples said.
In 2018, 36-year-old Tony Authenreath of Bristol, Tennessee attempted to commit suicide while in custody. He was taken to Bristol Regional Medical Center, where he later died.
In April 2016, 60-year-old Larry Douglas Tinker of Erwin was found unresponsive in his cell after being charged with public intoxication and trespassing. He died within one day of being booked into the facility.
In 2014 inmate Terry Hudson, 56, died due to health-related issues. In 2010, 59-year-old inmate William Clark of Bristol, Virginia died of health-related issues.
There have been four escapes from the city jail since 2008 but none since 2017. In the most recent, Steven Andrew Thompson, 30, wasn't handcuffed when he fled from the jail's booking area as someone who was leaving the building opened the front door, a day after first being arrested. He was recaptured about 30 hours later.
"As a rule, most of them [inmates] behave pretty well. I give credit to the staff we have. They're professional. They deal with the inmates with respect," Maples said. "Inmates can be challenging. We deal with a lot of folks who have mental health issues, and that is challenging. As a whole, most do what they're supposed to. Behavior is unpredictable, but you have to keep safety and security in mind no matter what you do."
The jail has a small recreation yard that was added in 1991, city records show, and it helps relieve the stress of confinement, the sheriff said.
"We try to get everybody out once or twice a week. Depending on weather, we try to get them an hour per [cellblock]," Maples said. "We'll start early in the morning; typically they don't want to get out of bed. Early in [the] morning it may be two or three, but later in the day, more will come out."
While inmates are outside, staff will clean the cellblocks and search for drugs, weapons or other contraband.
"We do a daily cleanup, housekeeping — sweep, mop and take out trash," Maples said. "A couple trusties or guys on the block assist with cleaning top to bottom. Cellblocks are mopped and cleaned every day, seven days a week. As old as it is, I think we do a pretty good job of it."
Sleeping arrangements are first-come, first-served. If there are 14 mattresses and 17 inmates in a cellblock, the last three arrivals sleep on the floor.
Prisoners also eat in their cells, and, as simple as it sounds, staff must always count to make the same number of cups and trays come out as went in, since either could be converted into weapons.
"We don't have a lot of rehabilitative programs," Maples said. "We offer GED classes if a prisoner doesn't have a high school diploma. We do a program through Highlands Community Services that's a parenting class called a Moms and Dads class for men and women. That helps."
During 2018, 15 men and eight women participated in GED attainment classes and testing. In addition, 18 men and 59 women participated in the parenting classes.
The jail also offers regular religious services and logged more than 1,400 programs during 2018.
With a number of inmates arrested on drug or drug-related charges, the jail reported 38 inmates participated in drug rehabilitation programming through Bristol, Virginia-based Tri-Cities Recovery during 2018.
The city jail offers supervised work opportunities for inmates who want to get out of their cells for a time, including cleaning up highway rights-of-way. During 2018 inmates picked up 10,000 pounds of trash, serviced 27 private properties and mowed five rights-of-way, according to the sheriff's annual report.
Inmates also provided labor at the jail farm, raising and cutting hay to feed cattle, which will provide beef for the jail kitchen.
In total, inmates provided over 35,000 man hours assisting nonprofit agencies, performing courthouse maintenance, working around city property, landscaping, painting and working in the jail kitchen, laundry and farm.
Davis, one of the trusties, said working outside is welcome relief.
"We clean around the city, do brush work and cut trees. … I enjoy that, just to get out and work a little bit," Davis said. "We went to beside the Boys and Girls Club to Bristol apartments and cleaned out the apartments. Basically we just do stuff around the community, and it's better than sitting around — way better than sitting around."
Inmate Allen Foran of Blountville is serving an 18-month sentence for violation of probation. As a trusty, he cooks every day in the jail kitchen.
This marks his third or fourth stint in the city jail, but he says even then it's a better situation than in Sullivan County.
"If you get 19 people in a block, it gets aggravating because you don't have room to move. But compared to other jails, I would rather be here," Foran said. "I hate that jail [Sullivan]. It's horrible."
Foran said he was briefly held in Sullivan County's jail before being extradited to Bristol.
"It's a lot different. Everybody is aggravated all the time because it's so overcrowded," Foran said of the Sullivan jail. Asked if it's more dangerous than Bristol, Foran said yes. "Nobody is in a good mood over there, hatin' life. It's like a dungeon. You can hardly see out if you're up at the [extension]."
The city Sheriff's Office has 53 funded full-time positions, including six in court security and four administrative spots. Certified officer positions are funded by the Virginia State Compensation Board, meaning the state pays about $2.26 million for salaries, but localities pick up about $1.1 million for employee health insurance and benefits.
Jail staffing levels are prescribed by the Compensation Board based on inmate population.
Food service for inmates cost more than $241,000 in fiscal 2017-18, slightly less than the $246,000 bill for inmate medical care.
Deputies are also responsible for transporting prisoners — whether it's a short walk to local courts, an hourslong ride for a mental evaluation or delivering a state inmate to a prison in some far corner of the commonwealth. Transports can occur 24 hours a day and every day of the week.
The Sheriff's Office staff completed 1,249 inmate transports during 2018, or an average of 3.4 per day. Transportation costs exceeded $47,500 for the year.
During 2018, the city's Circuit Court was in session 211 days, Juvenile and Domestic Relations Court was in session 229 days and General District Court was in session 128 days, according to jail records.
Staff turnover is also a problem.
"One of our biggest challenges is keeping staff," Maples said. "The last few years we've had a lot that have left for more money. Our starting pay is $31,629. It's hard. A lot of our folks do other jobs to make ends meet. We're constantly hiring. … Deputies go to the police department or to the Tennessee side or the federal government."
Health insurance costs in recent years have exceeded pay increases, Maples said.
"I can't think of a time in recent years we've been fully staffed. We'll get close, and someone will come in and resign," Maples said. "It's a hard job. People have left to do other things because it is not easy."