ABINGDON, Va. — State agencies have taken numerous steps to improve emergency response during snowstorms, in the wake of last December's hourslong, miles-long backup on Interstate 81 between Bristol and Abingdon.
The Virginia Department of Transportation, Department of Emergency Management and Virginia State Police discussed those measures Thursday during a news conference at the VDOT office in Abingdon. Last year, hundreds were trapped on the interstate for hours as vehicles stuck in snow and ice blocked the roadway for miles.
"Whenever there is a significant event, we come back after that event is over and look at what went well and what did not go so well," said Tim Estes, chief
regional coordinator of the Department of Emergency Management. "All of our state agencies and all of our localities look to make changes to make things better."
Estes said "sometimes Mother Nature wins," but the agencies are better prepared now to fight that fight, should similar conditions reoccur.
Among the steps taken to bolster response are improved communications between agencies, deploying additional equipment and putting additional video cameras in place — as part of the Interstate 81 corridor improvement program — to give emergency officials and the public a better look at areas along the interstate, according to VDOT spokeswoman Michelle Earl.
"The one big change is a more formal incident command plan that will be used, depending on the size of the storm. We aren't going to respond the same to an inch of snow as we would to a foot of snow," Earl said. "We have different levels, different staffing needs and different equipment needs that all change depending on the nature of the storm."
For example, in the event of another major storm, VDOT intends to mobilize more than 33 plows, graders, tractors and other vehicles between the state line and Exit 29 north of Abingdon. That would include three contract supervisors employed by the contractor paid to clear the interstate.
"Mobilization level five would be all hands on deck," said Matthew Lewis, interstate manager for VDOT's Abingdon residency.
"We'll be adding about 15 to 20 snow plows and salt treatment vehicles that will focus on inclines along the interstates, including I-77," Earl said. "We'll also stage four-wheel drive tractors and motor graders so, if we have a stuck vehicle out there, that will help us expedite moving those vehicles out of the way."
Another addition to VDOT's lineup is the plan to install 28 new traffic cameras at key locations between Exits 1 and 86, which will supplement existing cameras.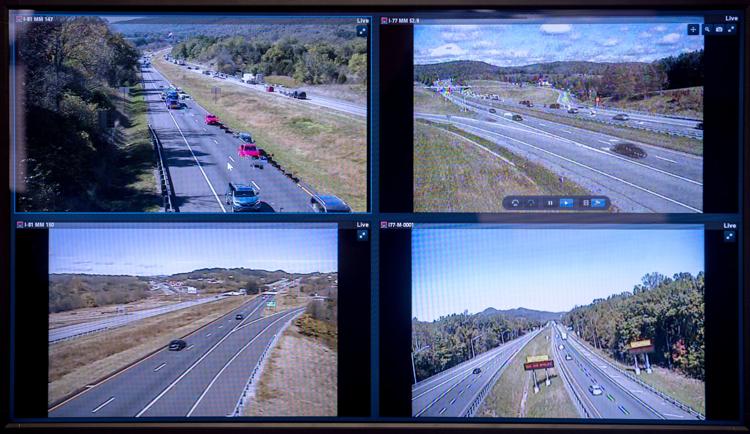 "This is part of the I-81 corridor improvement plan that the General Assembly passed in 2019. That will be a great benefit to us internally, so we can see what's going on along the corridor," Earl said. "They started in September putting in the electrical work and places for the poles to be mounted; they'll be installed and put online incrementally."
VDOT contracts with Iteris, a California-based provider for its weather forecasts, Earl said.
"They give the forecast with VDOT in mind. Once that snow event opens, we are monitoring the conditions through local weather, AccuWeather, the Weather Channel. We're looking everywhere available to look at the forecast and what kind of weather is coming in. Every storm we're looking at those same things," she said.