ABINGDON, Va. — During a checkup last week, 4-year-old Cameron Ellis not only received a clean bill of health, he also got a new book, handed to him by his pediatrician, Dr. Sarah Seeley-Dick, one of four doctors at Highlands Pediatrics in Abingdon.
It's not the first book the youth has received at the doctor's office. His mother, Sarah Ellis, of Meadowview, said her son has received at least two free books to take home through the program, Reach Out and Read, a national nonprofit organization designed to be implemented by medical professionals who provide primary care to children.
"Cameron loves to be read to. We've read the book he recently received every night at home," said the mother.
Since becoming members of Reach Out and Read, the local pediatricians prescribe reading time for all their young patients.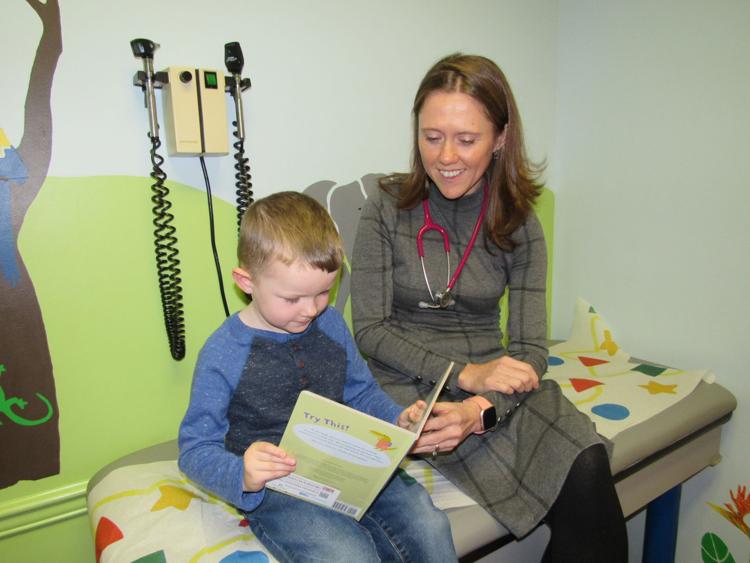 The program highlights the importance of reading to both kids and parents, and then it gives them the tools to get started.
According to Seeley-Dick, she and her colleagues gave away 1,900 books in the first six months of 2019.
The intervention program provides children with books during pediatric checkups, putting books in the hands of children from 5 months to 5 years.
According to its website, Reach Out and Read is the only national pediatric literacy model endorsed by the American Academy of Pediatrics. The organization serves 4.8 million children each year, half from low-income families.
Highlands Pediatrics is among more than 6,400 program sites across the country that are participating in the model, including Primary Care Center of Abingdon.
A new book, a bright smile
Seeley-Dick became familiar with the program while completing her residency in Chattanooga nearly 10 years ago and wanted to adopt the program once she moved to the Abingdon practice.
"It's such a nice experience to see kids' faces light up when they receive a new book that becomes their own," said the doctor. "The nice thing about this program is I get to hand the book to the child, talk about the pictures and have fun interaction with the child.
"The kids love them. They love the distraction of having a book handed to them during a well-check [checkup]. I like to remind parents to read, sing and talk to their children. I also try to model how to read to children. Just talking about the pictures is beneficial, too."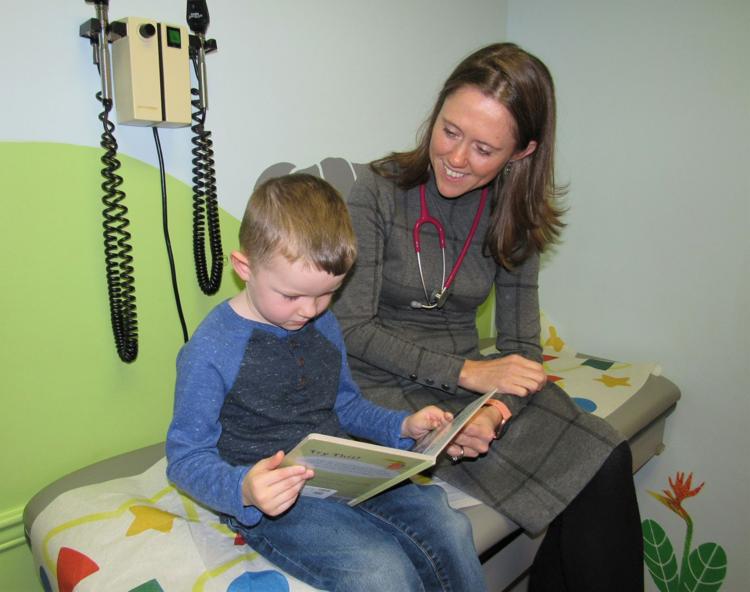 Reading to your children, she said, not only helps parents and children bond, but it gives kids a strong sense of well-being.
"Feeling warm and snuggly on the lap of a parent or grandparents helps children feel loved," said the pediatrician.
"There are so many benefits to reading a book that you do not get from a child watching TV. Pages are turning slower than images on a TV screen, so the child has a chance to absorb the images better."
"A young family recently told me they didn't have books at home to read to their young child, and they lacked transportation to get to a local library. It feels good to be able to supply books to families in need."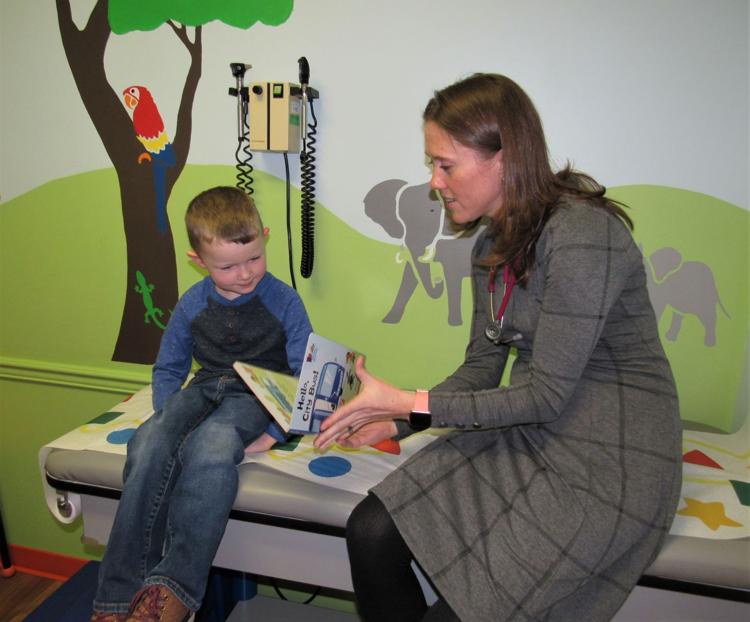 Raising funds
Reach Out and Read affiliate sites in Virginia are responsible for raising their own book funds.
The program was implemented at Highlands Pediatrics in July 2018 after it received initial funding from a grant through Niswonger Children's Hospital in Johnson City.
According to Seeley-Dick, Niswonger and East Tennessee State University's book program, funded through the First Tennessee Foundation, supported them with 1,720 books. United Way of Southwest Virginia also donated 500 books as part of their third grade reading level initiative.
"East Tennessee State University has graciously funded our program again this year with an 800-book donation, but we are running short on those books. I wasn't sure we would be able to continue the program without continued financial support," said Seeley-Dick, who recently approached community organizations for help to keep the program going.
Rotary clubs donate
As a result, the Abingdon clinic has received donations of $1,500 from local groups to purchase more books for children.
The Washington County Rotary Club donated $1,000; the Abingdon Rotary Club donated $250; and the Washington County Public Library Foundation matched the $250 donation.
"I'm hoping we will be able to purchase 800 to as many as 1,500 of books with this money," she said.
"We are so pleased that we will be able to continue giving out books at our well-checks through the funding provided by our local Rotary clubs this fall.
"My vision for our program is that every child who visits our practice will sit and read with their parents or caregivers every single night for at least 20 minutes," she said. "It will help stimulate their brains and increase their vocabularies so that they will do better in school and develop a love of learning and reading."