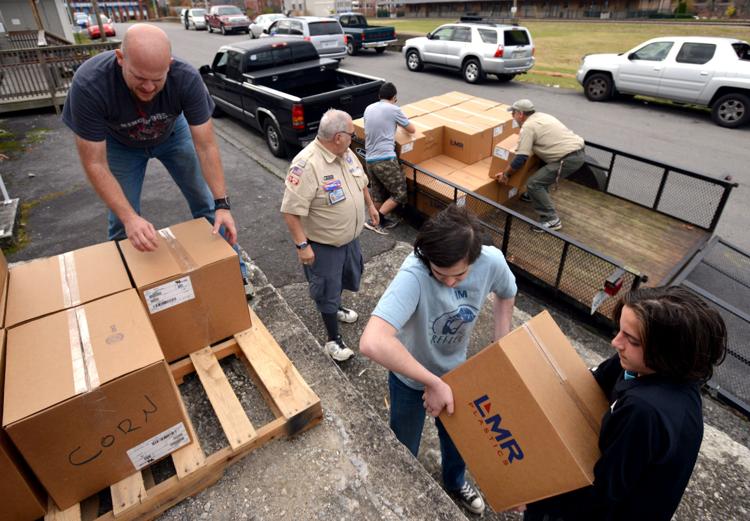 BRISTOL, Va. — The Bristol Emergency Food Pantry was bustling with activity Saturday as local Boy Scouts dropped off and sorted food from donors.
Jim White, the food pantry's director, estimated that the Scouting for Food Good Turn project provides the organization with about a quarter of the food needed during the year. The food pantry, located on Washington Street near the Bristol sign, assists about 14,000 people every year.
"It's very helpful," said White. "We're really glad because this came just in time."
Before Saturday, the pantry had been low on supplies to help feed local residents, White added.
Members of the Sequoyah Council Boy Scouts picked up bags early Saturday during the 30th annual Scouting for Food event. The week before, thousands of local Scouts and volunteer leaders canvassed neighborhoods throughout Southwest Virginia and Northeast Tennessee and left bags on doors. The bags, supplied by Food City, contained instructions and suggested food items to be donated.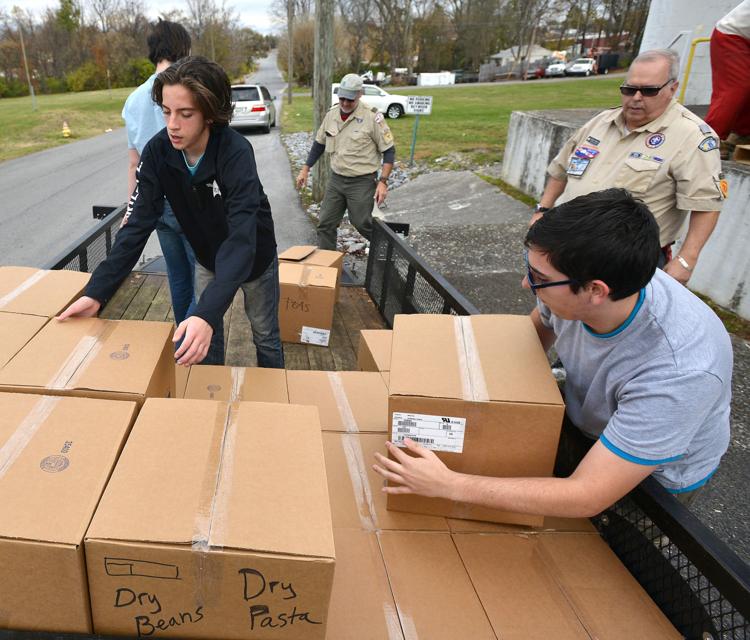 The donated food was collected Saturday and taken to collection centers, where it was sorted, boxed and turned over to the local food distribution agencies.
The Bristol Emergency Food Pantry was just one of the agencies in the Mountain Empire to receive assistance as a result of the annual drive.
A group of Scouts from Troop 113 said they picked up about nine bags from a neighborhood in Bristol, Tennessee. The entire troop picked up 189 bags in the Avoca and Haynesfield areas, according to Scout leader Donny Ankers, who said the event allows the Scouts to help the community.
Scouts Christian Bolick, 14, Jeremiah Coleman, 14, and Zach Stiltner, 15, said they've participated in Scouting for Food for several years
The Scouts get to feed families, get some exercise and receive service hours, the three Scouts said.
"It helps me sleep at night knowing I helped feed families," Bolick said.
Coleman added, "It's fun — plus, it helps people."
The three said they enjoy working together during the project as they travel through the various neighborhoods to drop off or collect bags of food.
Food City supplied more than 150,000 bags as well as physical and financial support, according to a news release from the Sequoyah Council. Food City has sponsored the project since its inception in 1988. During that time, more than 5.7 million cans of food have been collected.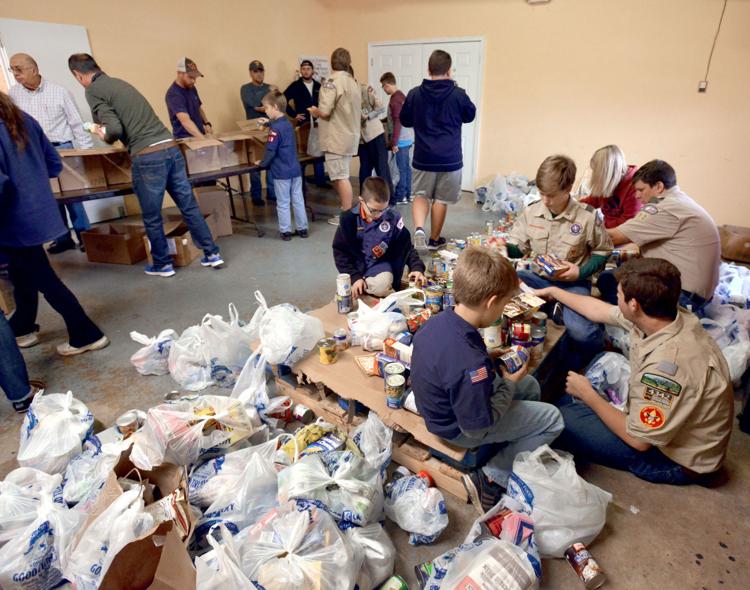 Each year, about 200,000 cans of food are collected, the release states.
"This project works because it is people helping people," said Ronald Cameron, program director for the Sequoyah Council. "Our ability to go door to door asking for help is what makes it so successful. We would not be able to canvass neighborhoods like this without Food City's sponsorship. What makes this food drive special is that the food donated by a community goes back to help people in that community. What a tribute to our Scouts and all of the people this program has helped."
Anyone who still has food and would like to donate can drop off items at any local Food City store.