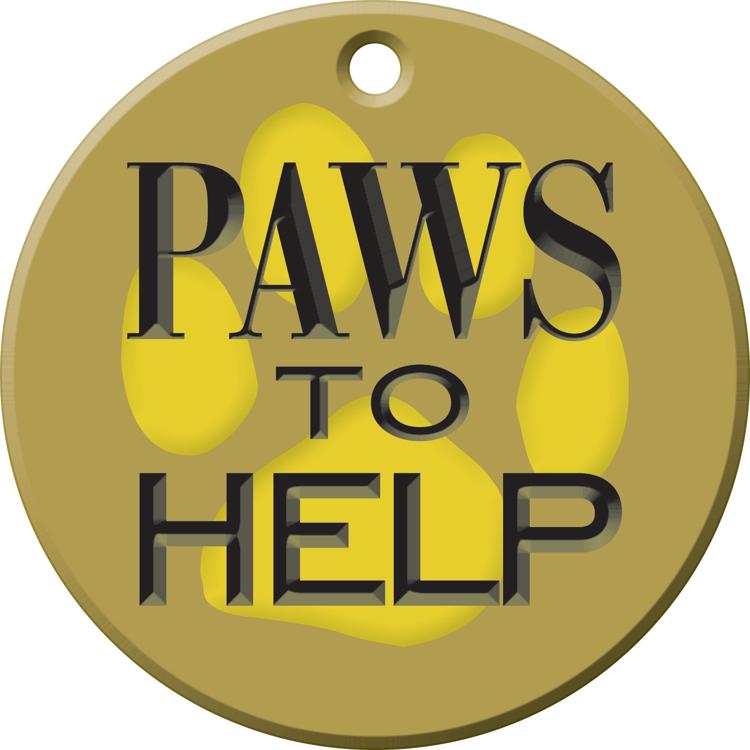 ABINGDON, Va. — A six-year-old German Shepherd-Belgian Malinois mix named Bane is a whirlwind of movement who whines with excitement when working; 4-year-old Belgian Malinois Trey is so laid back that most people don't know he's in the patrol car; and it's hard to get the newcomer of the team, 14-month-old Bloodhound Webster, to sit still long enough to get his picture taken.
Each of the single-purpose dogs is highly trained, and, according to the dog's handlers, their diverse personalities and skills are what make the Washington County Sheriff's Department K-9 unit successful.
Bane's human counterpart, Officer Eric Hinchey, said his dog has a very high play drive.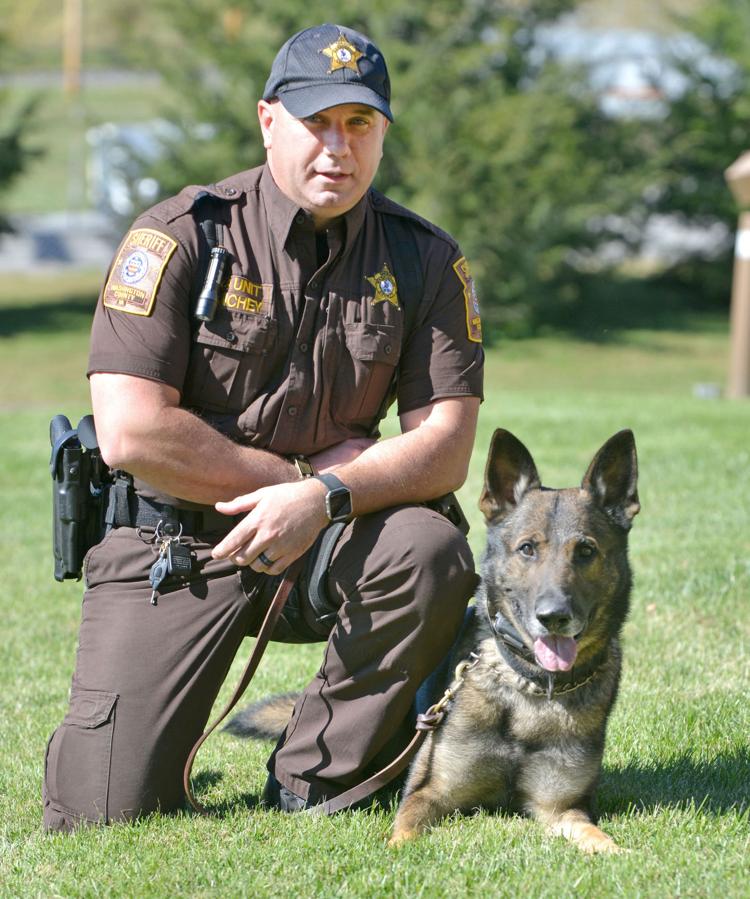 "Bane's got a neat personality. He is up and spinning in circles all of the time, and he has a high-pitched whine that sounds like a whistle — it's unique — and it's something he only does when we're working."
He also said Bane alerts differently to weak and strong smells.
"If he hits on a strong odor, he sits hard," Hinchey said. "And if he hits on a slight odor, he squats. But he's really good at what he does."
Hinchey and Bane became a team in May 2015, and since that time, they have been deployed 320 times and have made 283 arrests.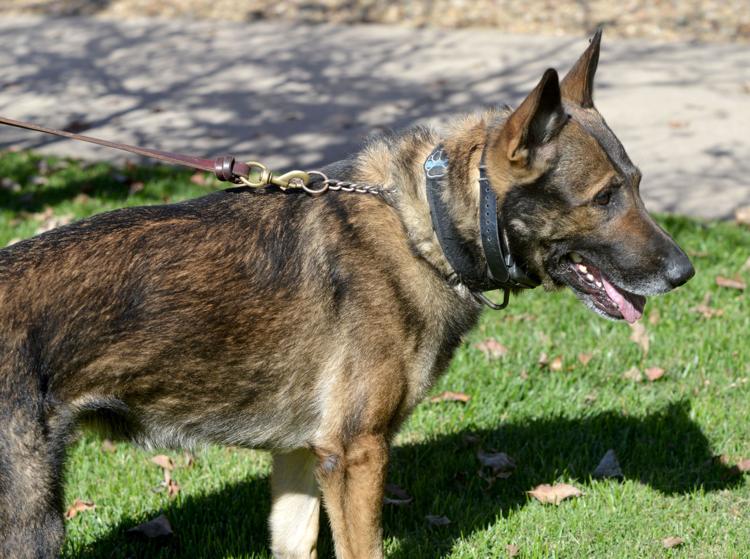 "Bane is a narcotics and article detection dog," Hinchey said. "Recently he found $64,000 in cocaine and methamphetamine. And from that seizure, we were able to get two search warrants and an additional $10,000 and more narcotics were seized."
And earlier this month the team was called to the William King Museum of Art in Abingdon, Virginia, where Bane located a bag of methamphetamine.
Methamphetamine is a highly addictive stimulant that affects the central nervous system.
"A guy was running from police, and he threw a bag of meth," Hinchey said. "They called and asked us to check the area because a group of children were at the art center, and if they would have found the meth, they could be poisoned by it. That day we were able to keep a group of completely innocent children from finding the narcotics and being poisoned. It was a win-win for everybody."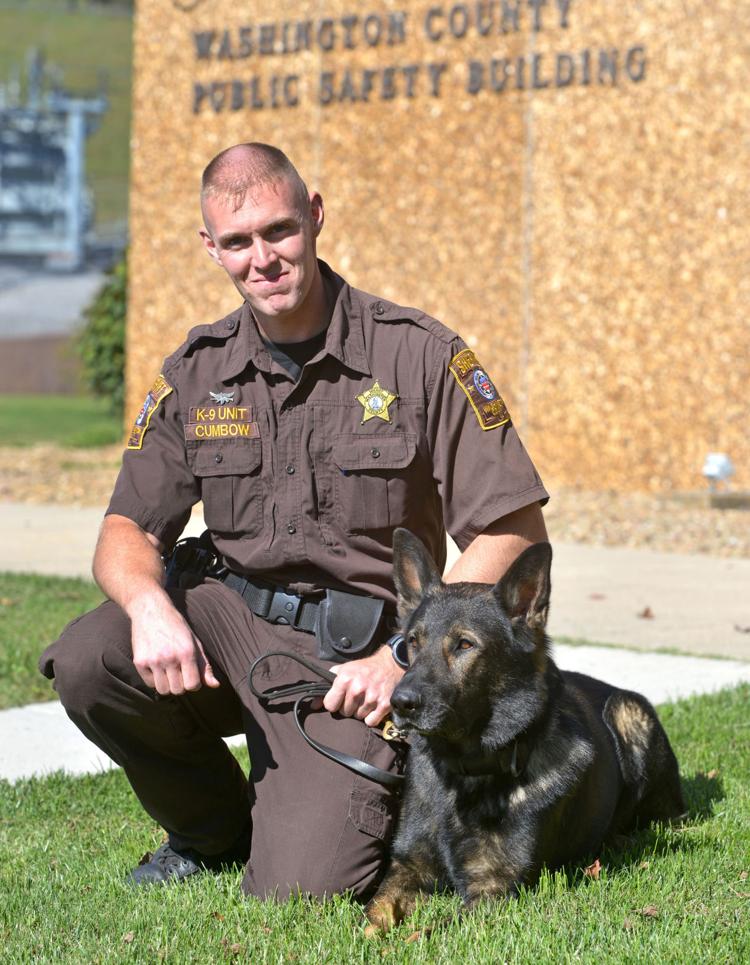 Officer Chris Cumbow said his partner, Trey, is as laidback as Bane is wound.
"But when it's time to work, a switch flips. He gets excited," Cumbow said. "When he hears sirens or knows we're going on a call, he gets vocal, jumps up and down or turns circles."
Trey's main duty is criminal apprehension.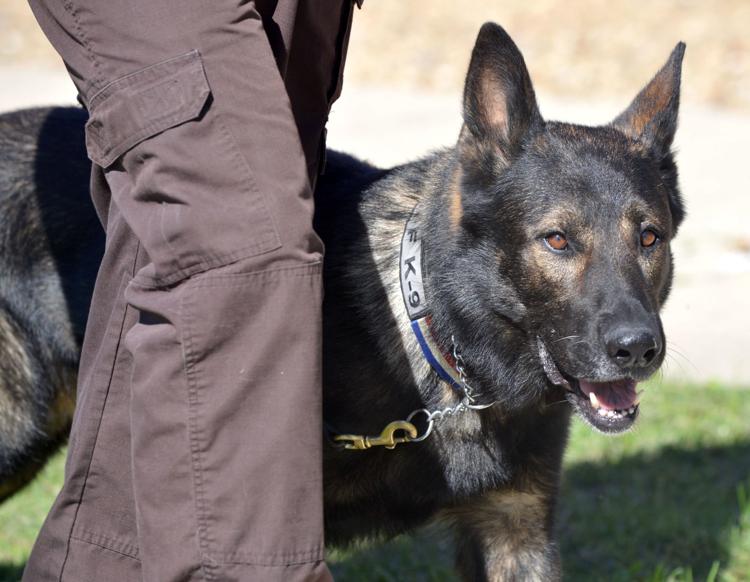 "He's the dog we can send into a house to look for bad guys," Cumbow said. "He's the dog that can help me if I'm in a fight, and he can also do article searches for evidence."
Because of his duties, Trey hasn't really solved a case, but Cumbow said he usually finds who he's looking for.
"They last time Trey tracked someone was in Bristol, Virginia, when a guy bailed from a traffic stop," Cumbow said. "The guy was a drug dealer from North Carolina who was armed. He took off running after a drug deal had gone bad and was hiding in the woods. We tracked him and found him hiding in the bushes — he gave up as soon as he saw the dog."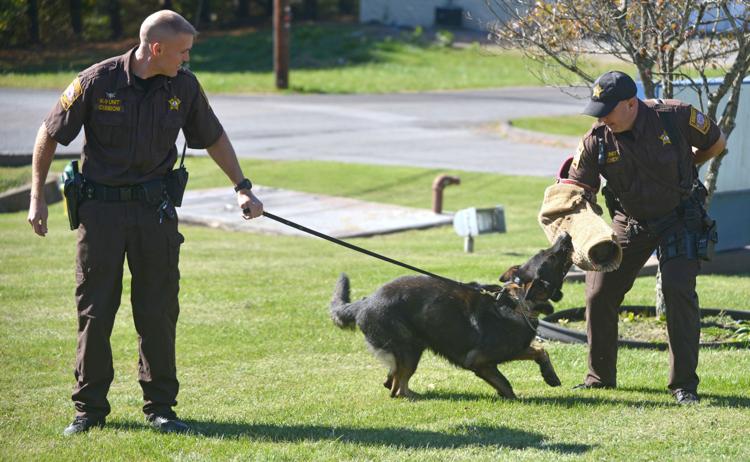 Cumbow added that Trey has only had to bite someone they were searching for a couple of times.
"Usually that happens when the person is intoxicated," he said. "Most people see the dog and give up, or if we let them know we have him, they come out. If they don't give up, they get bit. But [Trey's] big, and I think when they see him coming at them, they're afraid, so they surrender."
Officer Wes Wright said Webster doesn't have an aggressive bone in his body.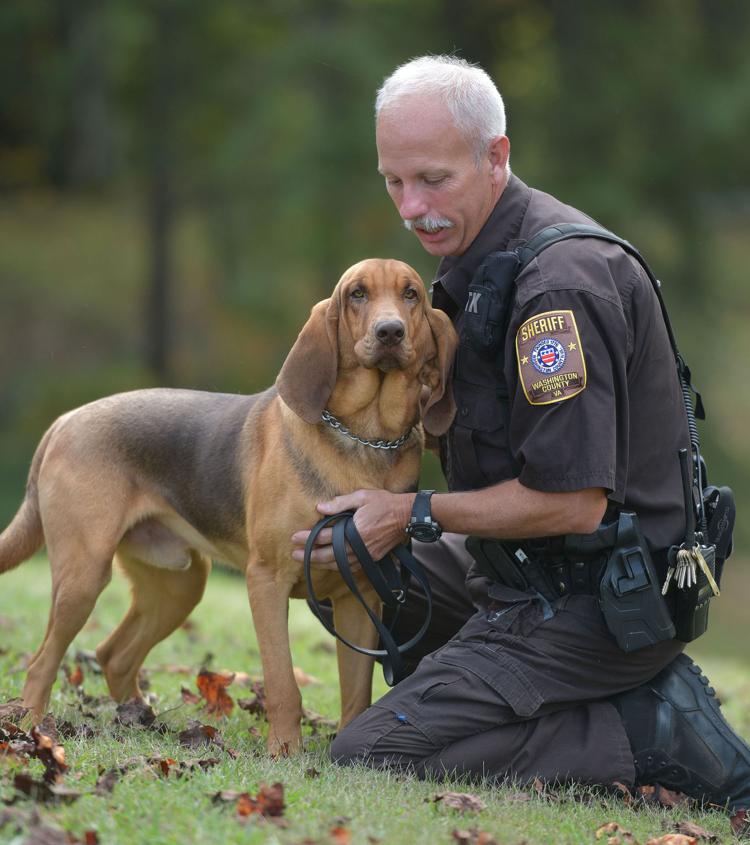 "He's friendly, rambunctious and gets along well with other dogs," he said. "Some of that is because he's still a puppy, and some of it is just his personality."
Wright also said Webster, who has been on the force since March, loves everybody, so he's trained to track lost children, Alzheimer's patients and criminals.
"It was a little challenging for him at first," Wright said. "He came from Florida and had never seen the mountains. So when we first started training, he didn't know how to act when he came across the scent of bears. That's normal, and once he got past that, we found out what a great nose he has."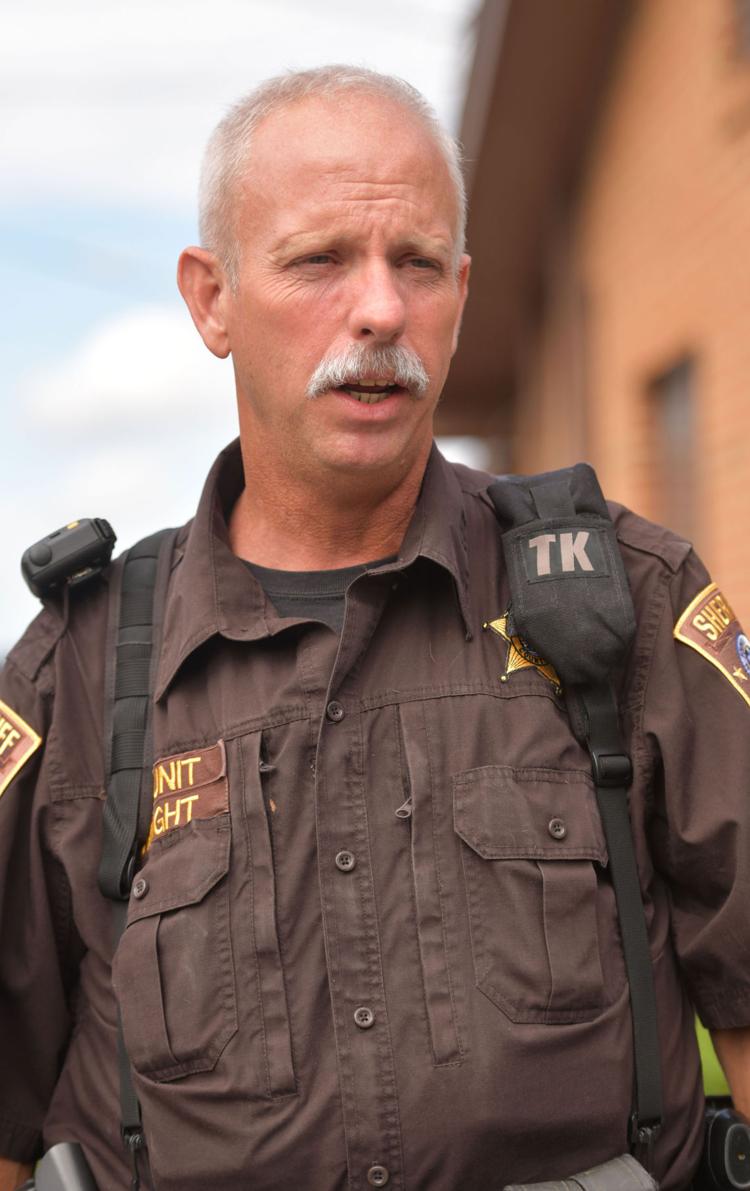 After 12 weeks of school with the Virginia Department of Corrections, the hound came on duty, and within two weeks, he tracked down a man who had been accused of car arson.
"It was about 4 o'clock in the morning, and a car had been set on fire off Exit 26," Wright said. "The man took off on foot, and the patrol officers on duty lost him. They called me to bring Webster to the scene, and he tracked the guy right to his front door — about two miles from where the car was. That's pretty impressive for a dog just out of training in a new state."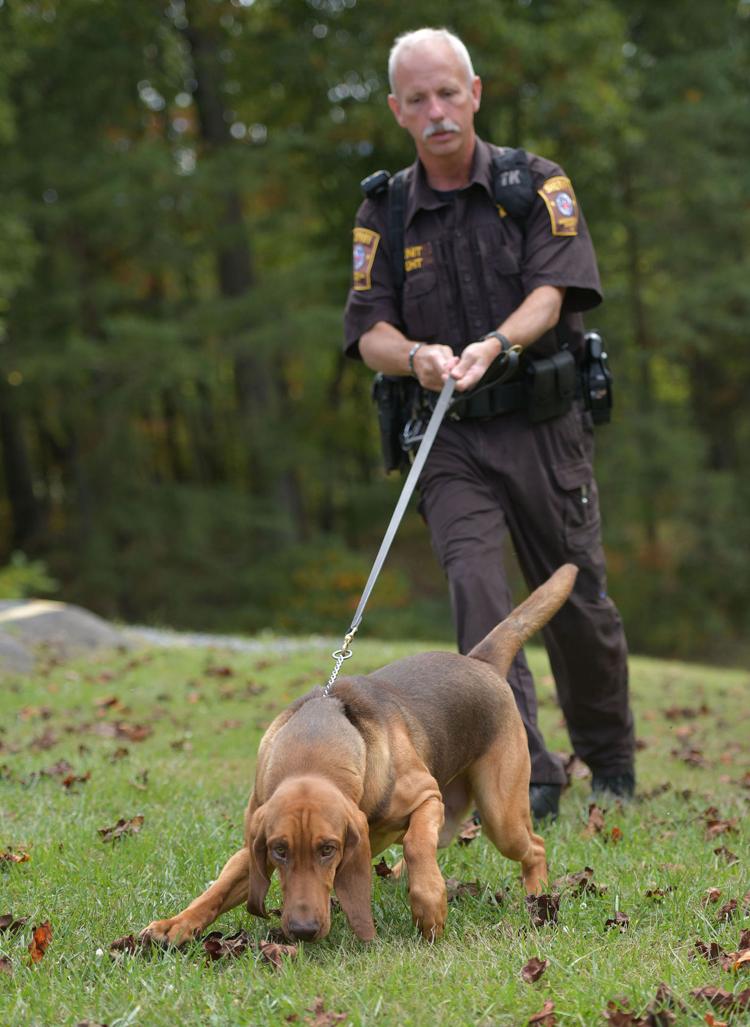 Wright added that even though each dog is trained for a specific task, the handlers have to be able to read their dog's behavior.
"Handlers have to read their dog — the dog's demeanor changes when they get on a scent. We're a team," he said. "We can't do it without them, and they can't do it without us."