ABINGDON, Va. — Gun rights advocates, some wearing National Rifle Association hats and patches, left little doubt Tuesday that they oppose proposed new laws to restrict gun access, which they said would "erode" their rights under the Second Amendment.
About 100 people jammed into a classroom at the Southwest Virginia Higher Education Center in Abingdon with nearly all voicing displeasure over laws proposed by Virginia Gov. Ralph Northam. At the center of the room, Virginia Secretary of Public Safety and Homeland Security Brian Moran listened to comments and fielded dozens of questions and concerns about the recently proposed regulations during the 90-minute session — one of six such events statewide.
Northam is proposing a series of what he terms "common-sense" laws and called for a July 9 special session of the Virginia General Assembly, following a May 31 mass shooting in Virginia Beach, where a city employee killed 12 people.
The governor proposes universal background checks; banning "assault weapons;" limiting the capacity of gun magazines; banning suppressors and bump stocks for assault weapons; establishing an extreme risk protective order initiated by law enforcement that would temporarily deny an individual's access to guns; reinstating a law to limit handgun purchases to one per month; preventing children's access to firearms until age 18; requiring people to report lost and stolen firearms; and expanding local authority to regulate firearms, including inside government buildings.
Virginia experienced 1,028 deaths due to firearms in 2018, with more than 600 by suicide, Moran said, adding that the extreme protection order has been approved by 16 other states.
"It allows law enforcement with evidence a person poses a danger to others or himself [to] extract the firearm up to 14 days from an individual who was exhibiting as a danger to himself or others," Moran said. "So a 14-day deprivation then a petition before a Circuit Court judge who could order a protective order for up to six months."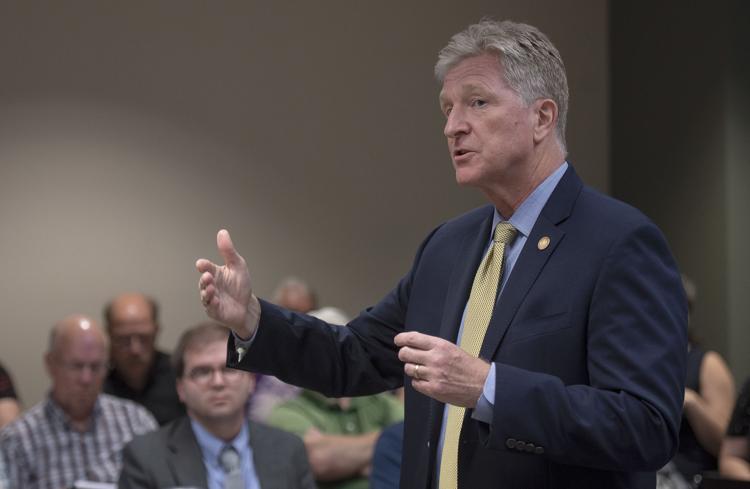 In response to questions, Moran said the individual would not have legal representation at the initial removal of the firearm. Several people said that would put police officers in greater danger by forcing them to attempt to take the weapon away from someone already exhibiting issues.
Attendee Rex Carter of Abingdon said he doesn't agree with any of the proposals.
"I disagree with limiting a handgun purchase to one a month, and that didn't come out a lot today in the secretary's comments," Carter said. "The magazine capacity issue is another. Firearms are tools that can be used to protect or destroy, depending on how the person uses it. Cain killed Abel with a rock, but we're not outlawing rocks. … Anytime you're dealing with the Second Amendment and restricting, that starts eroding your fundamental rights."
Carter, who formerly served with the Virginia State Police and as an auxiliary deputy in Washington County, said states and localities need to work together to improve information on background checks because offenses in one state may never show up or may not show up for some time in another state.
Attendee Tommy Hess of Russell County said he also dislikes the proposals.
"Some of the laws he's proposing is you can't have a firearm until you're 18 years old — well, that takes away our hunting rights for our kids," Hess said. "As far as background checks, we've already got a background check in Virginia. We don't need another background check. We don't need the one gun a month. If I want to buy 15 guns a month, that's none of their business; I'm a law-abiding citizen."
Hess said the governor is missing the real issue.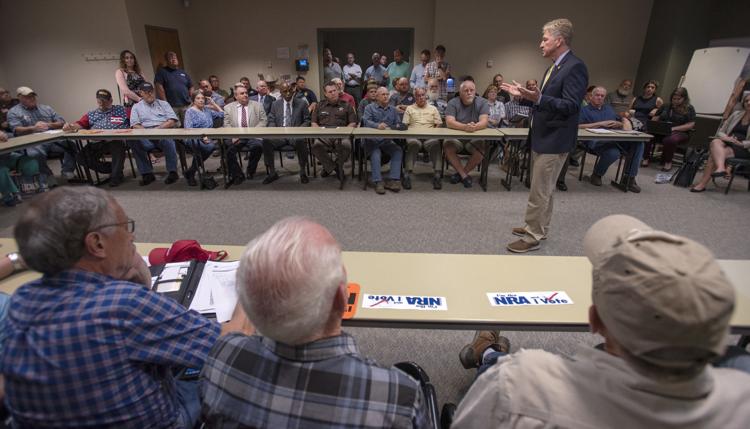 "We don't need government governing us any more than they are. They need to go to the source of the problem, which is mental health. They need to address that first," Hess said.
Abingdon Police Chief Tony Sullivan said his concern is that none of the legislation addresses the mental issues or the psychotropic medication that had been prescribed to many mass shooters.
"Report after report after report says it's the psychotropic medication that is causing this action [killing]," the chief said. "At some point, we've got to realize the enormity. It's the people we're medicating. We've got to solve that."
Not everyone in attendance opposed the effort. Kristina Morris of Abingdon said she's lost family and friends to gun violence, and she wants lawmakers to make changes.
"In 1992, my cousin was murdered in Jackson, Mississippi, but the gun was purchased in Virginia. This is personal to me," Morris said. "I don't want people who are smart and educated about their weapons to not have their weapons, but there are people out here who are going to harm us. … People's lives are impacted every day by gun violence. That's not guns in the hands of smart people."
Morris said she wants to know that her family and friends will be safe when they go into a public building.
State Sen. Ben Chafin, R-Lebanon, told Moran that the governor is in for a fight.
"I will oppose every single thing you've got," Chafin said. "This is designed as a political stunt. It's designed to change the dialogue, the conversation that's been coming out of Richmond."
Chafin was referring to the firestorm that surrounded the Northam administration earlier this year amid a scandal about a picture on his medical school yearbook page of a man in blackface and another wearing a Ku Klux Klan outfit and for the governor's comments about abortion and infanticide.
"If you want to talk about beefing up security and making these targets harder to hit, I'll talk to you about it," Chafin said. "If you want to talk about getting rid of gun-free zones where people are like fish in a tank, I'll talk to you about that. … There is nothing in Virginia Beach, nothing in our law, nothing in our toolbox, nothing you're offering now that would have saved those people in Virginia Beach. What you're talking about is taking away the gun rights of law-abiding citizens, and I can't abide it."
Chafin characterized people who work in gun-free zones as "sitting ducks," if someone intends them harm.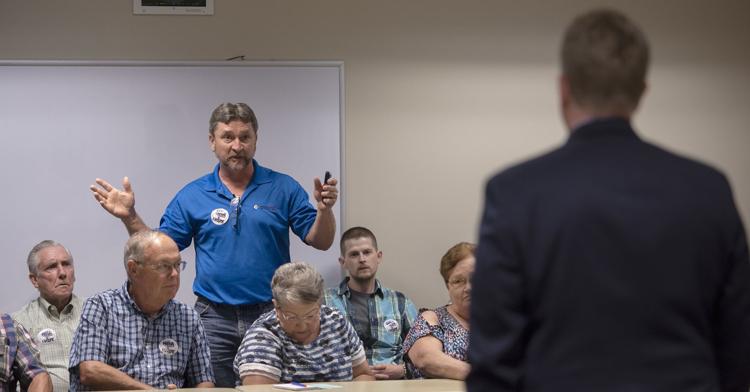 Moran called the meeting a "good back-and-forth" conversation.
"People feel as though these laws will erode their Second Amendment rights. We heard that loud and clear," Moran said afterward. "We do not believe they erode Second Amendment rights, and the Supreme Court has held all of these laws constitutional. That's a big disagreement and one we may not be able to agree on."
Moran said the proposed laws are designed to take guns away from people who "should not possess them because they're experiencing some sort of mental health episode or they have a felony conviction."
Asked if he thought any or all of the measure might pass, Moran said it's important to have the debate.
"I think we'll have a robust discussion," Moran said. "During the legislative session, they have hundreds if not thousands of issues to deal with. I think a session solely focused on gun violence is an important opportunity for legislators to discuss these issues, debate and vote on them."