A Bristol, Tennessee, man faces misdemeanor charges after authorities on the Virginia-West Virginia state line said he failed to move his vehicle over — injuring a Virginia Department of Transportation worker who ultimately lost both his legs.
All 50 states have some form of move-over law that directs drivers to change lanes to move away from emergency vehicles with visual signals such as flashing lights. Drivers are to slow down if there is no other lane available, according to the National Highway Transportation Safety Administration.
The first move-over law originated in South Carolina in 1996 after a paramedic was struck and killed while responding to a crash. Since then, every state, including Tennessee, Virginia and West Virginia, where the VDOT worker was injured, has enacted such laws. In 2012, Hawaii became the final state to enact a move-over law.
Although every state has the law, not everyone is familiar with them.
In West Virginia, Justin Dawson, 24, continues to recover from the Oct. 30 crash, which occurred in the northbound lanes of Interstate 77 at the East River Mountain Tunnel.
West Virginia State Police spokesman Reginald Patterson said Mark Musselman, of Bristol, was traveling northbound, and, instead of moving over into the left lane, drove onto the shoulder and crashed into Dawson and a VDOT truck.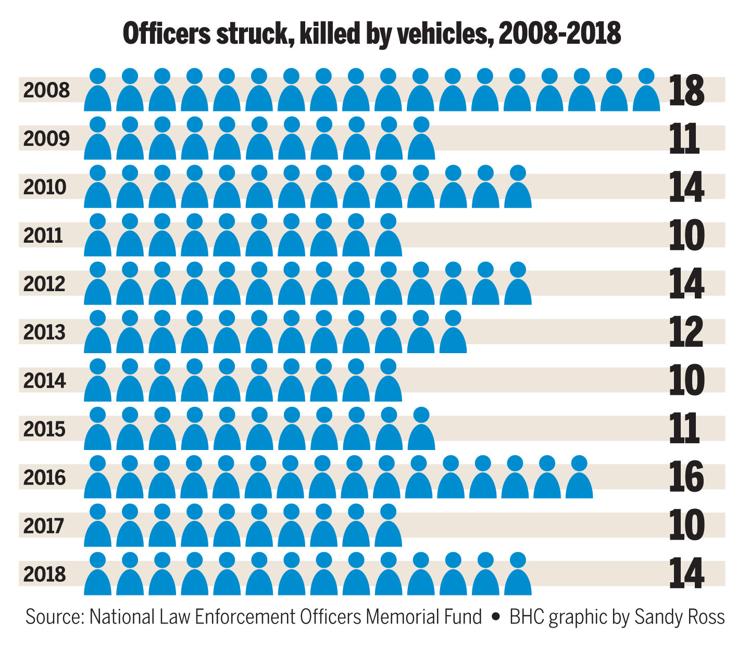 Dawson, who also serves as a volunteer firefighter in Summers County, West Virginia, had been assisting a disabled motorist on the shoulder.
Musselman was later charged with reckless driving, failure to obey traffic control lights and improper approach of an emergency vehicle causing injury, more commonly known as the move-over law. He has been granted a jury trial, which has not yet been scheduled in Mercer County, West Virginia.
Dawson, whose legs were amputated following the crash, continues to receive treatment in Charleston.
Local, state and federal law enforcement agencies often host campaigns to educate the public about the move-over law. But violations still occur, and injuries and deaths are still reported.
"Although regular efforts are made to inform motorists that the move-over law applies to VDOT vehicles and other emergency response vehicles with amber lights, our workers see many instances of motorists not obeying the law," said Michelle Earl, a spokeswoman with the Bristol District office of the Virginia Department of Transportation.
Earl added, "VDOT's first priority is always safety, and VDOT's workers receive regular training on safety in work zones and roadway incidents near live traffic."
The main goals of the training are to reinforce attentiveness to traffic, teach them to avoid turning backs to traffic and avoid complacency in work zones, Earl said. VDOT crews have safety talks each morning and are regularly reminded of the dangers of their jobs and ways to stay as safe as possible while working to improve area highways.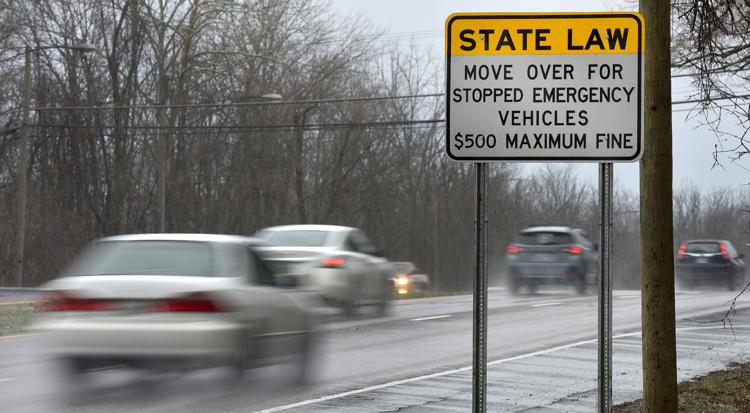 "With the education campaign that has been ongoing for the past several years, I believe it has had a positive effect on driver behaviors," said Capt. Charlie Thomas, who oversees the patrol division at the Bristol Tennessee Police Department. "When I am in my personal vehicle, I see people obeying the law and either moving over or slowing down. Same for when I do the occasional traffic stop."
But Thomas added that there are still people who, for whatever reason, fail to comply.
"Sometimes, we do go after them," Thomas said. "In other cases, officers cannot leave the traffic stop, and the person goes on, maybe even oblivious to the fact they were thought to be in violation of the law."
Police are always concerned about the safety of the officers, and officers are taught to park their vehicles in a manner that will protect them should someone not be paying attention. 
"We would much rather lose a vehicle than an officer," Thomas said.
Senior Bristol Police Officer Adam Dye, an accident reconstructionist and field training officer, has seen drivers fail to move over.
On the afternoon of Nov. 23, a Friday, Dye stopped a vehicle for a traffic violation in the southbound lanes of the Volunteer Parkway near the Food City shopping center.
"I was finishing up a traffic stop at the time and returning to my vehicle," Dye said. "I was able to go after the move-over violation since I was finished with the other vehicle I had stopped. Whenever possible, I go after these violations that occur on my own traffic stops. This is not always the case, and sometimes there is nothing we can do."
Like Thomas, while on and off duty, Dye said he has noticed a reduction in the number of move-over violations.
"Enforcement of this law is something that I take very seriously, because it only takes one incident to cause a tragedy," Dye said.
The Tennessee law now applies to all vehicles on the roadside with flashing lights.
"Whenever possible, I watch for these violations when utility/road crews are working," Dye said. "I also watch for these violations when other officers are conducting traffic stops."
Sometimes, Dye said he is told by the violating driver that they were not aware of the law. He added that he believes most people are aware of the law because all states have a move-over law, and Tennessee has even posted such signs on the Volunteer Parkway and state Route 394.
"The most common question I get asked when I teach defensive driving or on traffic stops is what to do if the adjacent lane is occupied," Dye said. "The driver is supposed to slow way down and move over as far as they can safely."
Dye, who has issued multiple move-over violations as an officer, said it is a safety issue for him, his fellow officers and anyone working or stranded on the side of the highway.
"I have felt the wind off of vehicles on several occasions as they passed by," Dye said.
He has also been tapped by side mirrors while on traffic stops.
The Bristol Tennessee Police Department had four move-over violations in 2018, according to a records request.
In Tennessee, the legislature passed the move-over law in 2006, which requires motorists to move over into the adjacent lane of traffic, when safe to do so. In 2011, the Tennessee law was expanded to add utility service equipment to the list of vehicles for which motorists are required to either slow down or move over.
Tennessee was the 30th state to establish a law. The penalty for violating the law in the Volunteer State is a maximum fine of up to $500 and possibly up to 30 days in jail.
In Virginia, the legislature passed the law in 2002, and it also requires motorists to move over into the adjacent lane of traffic, when safe to do so. A first-offense violation carries a maximum $250 fine. Unlike Tennessee, a first-offense violation in Virginia is simply a citation. A second and all subsequent violations in Virginia, however, become misdemeanors.
Over a 12-month period in 2018, the Washington County Sheriff's Office in Virginia, which monitors several four-lane highways, issued 18 move-over violations. All of the citations were issued on Interstate 81, according to information supplied through a Freedom of Information Act request.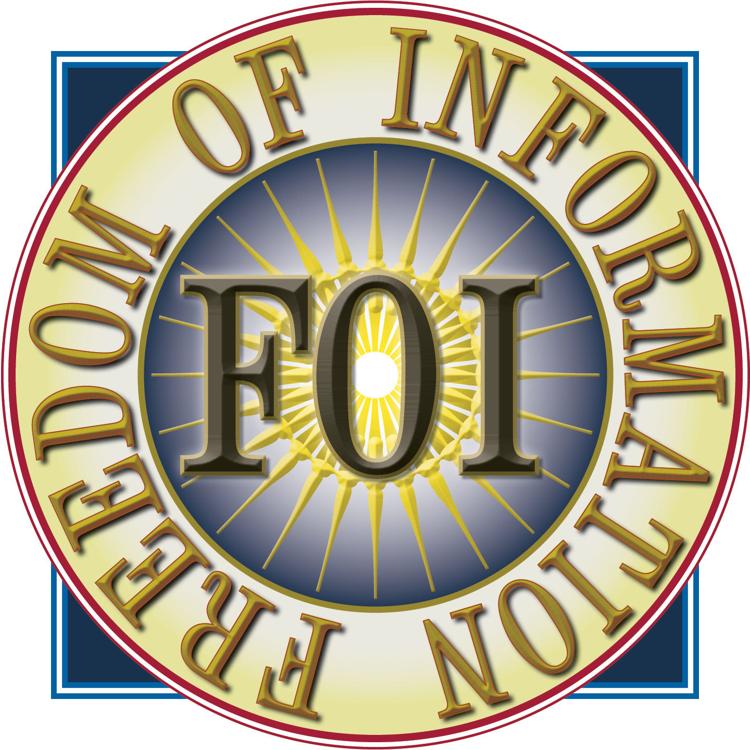 In one case, on March 27, 2018, a deputy said he was stopped on I-81 with a roll-back wrecker truck that was loading another vehicle.
The deputy cited another driver with a move-over violation after their vehicle failed to move over into the left lane.
"And the accused stated that she did not see either of us," the deputy wrote about the driver from Abingdon.
A Maryland driver was charged on April 14, 2018.
"Fail to move over," the deputy wrote. "Approximately half mile visibility of my vehicle. No other vehicles to prevent him from moving over."
Another Maryland driver was stopped on I-81 on April 28, 2018.
"Driver stated that he didn't know that law and his passenger schooled him on it as I stood there," the deputy wrote.
"The move-over law for any first-responders on the roadways, especially the interstate, is set for the responders' safety," said Sheriff's Office spokesman Darrell Dickenson. "I can personally tell you it's a little uneasy when you are standing beside a vehicle on the interstate, and a car or truck does not get over and comes by you running at 70 miles per hour without slowing down."
Dickenson admitted that there are times when people may not be able to move over because of traffic in the adjacent lane, but if drivers slow down, they at least can try to pass safely.
"That lets us know they are aware of us standing on the side of the road, and they are using caution and being vigilant while passing us," Dickenson said.
Washington County deputies are trained to offset their patrol vehicles at an angle during a traffic stop in case the back of the vehicle is struck by oncoming traffic. Patrol vehicles on I-81 can often be seen parked at an angle on the shoulder.
"The reasoning for this is so their vehicle would hopefully travel to the left of where they may be standing at a driver's side door on the stopped vehicle," Dickenson said.
The Bristol Virginia Police Department issued 17 move-over violations in 2018. Citations were issued on I-81, Interstate 381, Euclid Avenue and Old Abingdon Highway, records show.
In Sullivan County, Tennessee, the Sheriff's Office stopped 28 vehicles for possibly violating the move-over law, but only three citations were issued — two on the same day by the same deputy, according to records.
In 2018, Sullivan County deputies stopped vehicles for possible violations of the move-over law on U.S. Highway 11E, U.S. Highway 11W, state Route 394, Moreland Drive, John B. Dennis Highway, Eastman Road, Interstate 26 and Wilcox Drive, records state.
In small towns, where four-lane traffic doesn't exist, the move-over law is obsolete.
Police Chief Mike Hounshell in Damascus, Virginia, said he's concerned about passing vehicles while conducting traffic stops.
"Usually, it's either in a parking space or in a parking lot," Hounshell said. "I think most motorists are unaware if it's not a two-lane highway they should get over. We are fortunate in the fact that most do slow down. Streets are tight in our small town."
Damascus officers don't issue move-over violation citations because there are no four-lane roads in town, he added.
Abingdon, another Washington County town that has four-lane highways, has issued citations. In 2018, however, Police Department spokeswoman Tenille Montgomery said an officer issued only one citation on the interstate.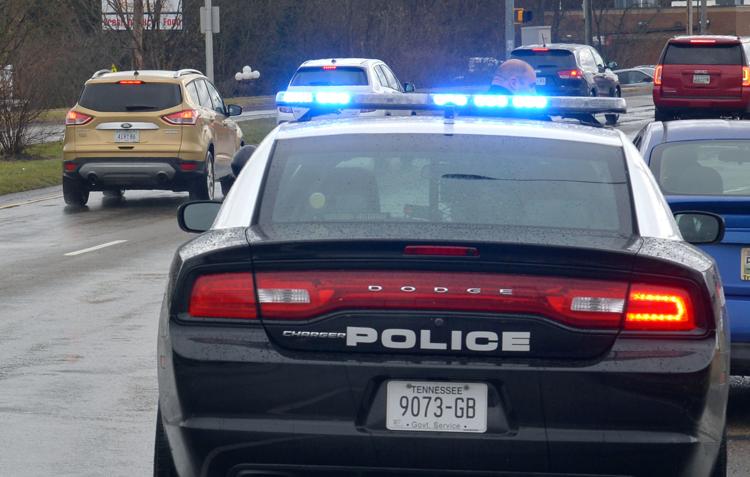 In Virginia, where a first move-over violation is only a citation, the General Assembly is considering a bill that would increase penalties.
Del. Chris Peace, R-Hanover, said he's working on legislation to elevate a first offense to a misdemeanor reckless driving charge, which would carry a potential fine of up to $2,500 and up to a year in jail if convicted.
"I think we need to make it important enough for people to not do it," Peace said. "It is certainly reckless if you're not moving over or slowing down."
Melanie Clark, the widow of Lt. Brad Clark, a member of the Hanover Fire-EMS who was killed along Interstate 295 last year, said that beyond changes to the law and greater awareness about the statute, she'd like to see greater enforcement of its provisions.
"That also means allocating resources to our police departments more specifically for this cause," Clark told the Richmond Times-Dispatch.
Lt. Clark, 43, was struck and killed by a tractor-trailer on Oct. 11 while he was outside his fire truck after responding to a crash during Tropical Storm Michael, according to authorities.
"I talk to firefighters every single day, and their greatest fear is what happened to my husband," Melanie Clark said. "That was my greatest fear. Brad and I talked about it often."
Clark said she plans to push for greater penalties for people who violate the state's move-over law.
Peace's bill has passed the House of Delegates and is being considered by the Senate.
Other wrecks in recent months in Virginia involving emergency personnel working on the roadside have put fire personnel on edge.
The Virginia State Police said one of its troopers, J.R. Ward, suffered minor injuries on Nov. 5, when his patrol vehicle was rear-ended by an SUV after Ward stopped at a crash scene on I-295 near Exit 38. The trooper was sitting in his cruiser parked on the left shoulder with his emergency lights on waiting for a wrecker when the vehicle was struck, the VSP said.
There were 877 convictions under the move-over law in 2010, the earliest year the Virginia Department of Motor Vehicles has conviction figures, according to spokeswoman Brandy Brubaker. The conviction tallies went up and down in subsequent years, hitting a peak with 3,167 convictions in 2015, before falling off. In 2017, there were 2,419 convictions, DMV figures show.
Statistics for the Wytheville Division, which covers all of Southwest Virginia, were not available, State Police said.
The Tennessee Highway Patrol Fall Branch District issued a total of 251 move-over citations from November 2017 to November 2018, according to spokesman Bill Miller.
Clark, the widow, said she also would like to see more signs on the roads alerting drivers to the law and what it calls for. She also said she wants to see questions about the law included in written DMV tests that new drivers take before getting their license.
Both Tennessee and Virginia departments of transportation currently install signs warning drivers about the move-over law.