ABINGDON, Va. — Fire and smoke destroyed a longtime Abingdon barbershop on Thursday evening.
Authorities were called at 7:53 p.m. to Anderson's Barbershop in the 1100 block of West Main Street, just west of the light at Jonesboro Road. A passerby appears to have called 911 after observing the building on fire, according to town spokeswoman Tenille Montgomery.
An Abingdon Police Department officer arrived within one minute of the call and saw flames shooting out the front of the building and smoke billowing from the structure.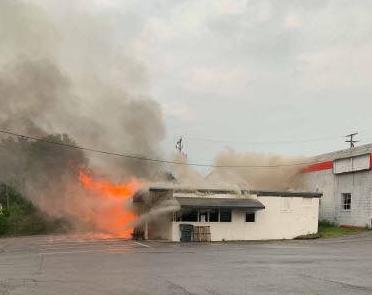 The Abingdon Fire Department, Meadowview Fire Department and Washington County Fire and Rescue crews responded and immediately began fighting the flames.
Despite the efforts, the fully involved fire appears to have destroyed the building and its contents.
A cause remained under investigation late Thursday as firefighters continued to extinguish the flames and watch for any rekindling.
The owner, Rhonda Anderson Morris, was on scene and watched as crews fought the fire.
The barbershop had been in the building for about 25 years, she said, and was a local restaurant, known as Statzer's, before then.
"There was no room in the seats," said Morris, noting that the barbershop was often full of customers waiting to get a haircut.
Morris said many of those customers and employees contacted her Thursday night as news spread about the fire. Other businesses in town offered her a place to work until she decides how to move on from the blaze.
She said many people were scheduled to get a haircut today, which is typically the busiest day of the week at the barbershop, but she would have to call customers to make new arrangements.
In addition to barbershop chairs and equipment, including an antique chair, Morris said she lost some of her personal artwork. Many sketches and paintings were inside when the fire broke out and were likely lost Thursday night, she said.
Although the cause remains under investigation, Morris said electricity had been off earlier in the day. Due to an alert from Appalachian Power, Morris said the business decided to close early, so everything had been shut off.
Montgomery confirmed sporadic power outages were reported in Abingdon on Thursday.
Power appears to have returned to the barbershop before the fire, Morris said.
No injuries were reported, and no other buildings were damaged as a result of the fire.