BRISTOL, Va. — In a year marked by budget issues, school funding concerns and higher landfill costs, city leaders will tackle a different kind of challenge tonight — waterfowl waste.
At its meeting tonight, City Council will hold the first of two readings of an ordinance that would make it illegal to feed ducks and geese. The ordinance would cover "migratory and non-migratory waterfowl" defined as "native, non-native and domestic ducks and geese and any crossbreeds or hybrids of these birds."
The ordinance is in response to health concerns at Cumberland Square Park and other facilities, City Manager Randy Eads said Monday.
"What we're seeing throughout the city at our parks and ballparks is a lot of waterfowl excrement. We don't have the problem in areas where people aren't feeding the waterfowl," Eads said. "We're going to try to discourage people from feeding waterfowl in hopes they'll find other sources of food."
If approved, violators would be subject to a $50 fine, but only if signs prohibiting feeding are posted in the immediate area and a law enforcement officer has "provided a prior warning that continued feeding of wildlife will result in a violation."
Eads said Cumberland Square Park, which is adjacent to Beaver Creek, is the most affected, followed by Eastern Little League.
"We've got to do something. Cumberland Square Park is really bad — it's almost unusable," Eads said.
The park is used for an array of public activities, including the upcoming Fourth of July celebration.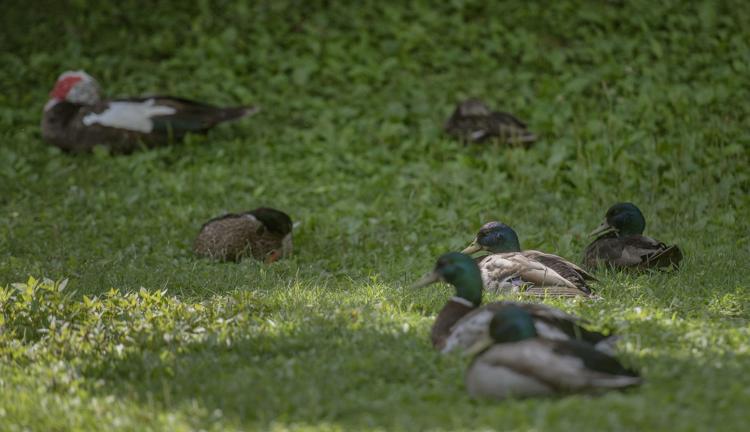 The prohibition is permitted under regulations established by the Virginia Department of Game and Inland Fisheries.
"Any locality may prohibit by ordinance the feeding of migratory and non-migratory waterfowl in any subdivision or other area of such locality which, in the opinion of the governing body, is so heavily populated as to make the feeding of such waterfowl a threat to public health or the environment," according to the state department, which also prescribes the maximum fine at $50.
Other Virginia localities, including Virginia Beach, Fairfax, Bedford County, Campbell County and the area around Smith Mountain Lake, enacted similar measures.
Humans feeding waterfowl can cause a myriad of issues, according to Dave McRuer, the former director of wildlife medicine at the Wildlife Center of Virginia in Waynesboro.
"Supplemental feeding of wild waterfowl has several negative consequences that might not be readily apparent to the average citizen," McRuer wrote in a paper published on the Wildlife Center's website. "These repercussions may impact not only the ducks and geese but also the regional environment and public health."
Potential impacts of feeding waterfowl include overcrowding in areas where humans typically provide food, habitat degradation due to the unusually large numbers — including more feces and declining water quality — disease among waterfowl, dietary and nutrition problems and altered migration patterns.
"The best solution for waterfowl problems situated around public parks is to stop all forms of supplemental feeding," McRuer wrote.
The meeting begins at 6 p.m. at City Hall, 300 Lee St.