BRISTOL, Va. — Payments for debt and a revenue-sharing agreement drained away any trace of black ink from a better-than-forecast year at The Falls commercial center in Bristol, Virginia.
The second and third phases of the city-funded development lost a combined $1.3 million during fiscal 2018-19, which ended June 30. Details about The Falls performance were included in a year-end review presented to City Council last week.
The city received more than $577,000 from an array of taxes in 2018-19, a 52% increase over the nearly $380,000 generated during fiscal 2017-18.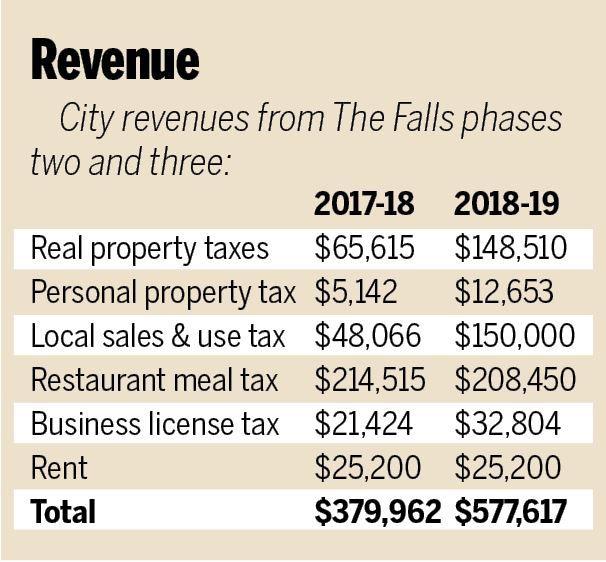 However, the city allocated $1.8 million for debt service during fiscal 2018-19. In addition, the city made its third of seven $350,000 revenue-sharing payments to Washington County, Virginia, to compensate the county for losses after Lowe's closed its location near I-81's Exit 7 and built a new home improvement warehouse at The Falls.
"We're still $1.3 million short, and the only way to make up that $1.3 million is to have new construction and have businesses making sales. It's not rocket science," City Manager Randy Eads said Friday.
He added that revenues are stable but not increasing.
Starting in 2012, the city borrowed more than $50 million in general obligation bond debt to acquire the 140-acre property, do extensive site preparation and incentivize some phase one tenants. All revenues generated from the first phase go into escrow and are dedicated to repay $30 million in revenue bond debt linked to completing the development's initial phase.
Phase one includes Cabela's, Lowe's, Sheetz and Zaxby's. Phases two and three include Hobby Lobby, Aldi, Buffalo Wild Wings, Freddy's Frozen Custard and Steakburgers, Sport Clips and Noire nail salon.
The Falls phases two and three generated more than $577,600 for city coffers and nearly $215,500 in state sales tax revenues during the previous fiscal year. The city realized funds through a combination of real and personal property taxes, local sales and use taxes, restaurant meal and business license taxes.
The city received $150,000 in local sales and use tax, well above the $36,000 budget forecast. It received $208,450 in restaurant meals tax, which was below the budget forecast and $148,510 in real property taxes for phases two and three, which was well above the $66,000 expected.
"A lot of things were way above projection because, when I was doing the 2018-19 budget, I was not willing to put numbers in my budget until those businesses were there. A lot of those projections were low because of that," Eads said.
Phase one of The Falls generated more than $385,700 in real property taxes in 2017-18 and was expected to generate just under $300,000 for 2018-19. Phase one generated more than $450,000 in sales and use taxes, $146,000 in restaurant meal taxes and $121,000 in business license taxes in fiscal 2017-18 with all amounts forecast to decline both in the previous and current fiscal years. Final figures were not available.
For fiscal 2019-20, the first phase is forecast to generate $900,000 for the state in sales tax revenue and $425,000 in local sales tax revenue while phases two and three are expected to generate $300,000 for the state and $110,000 for the city, according to the city's 2019-20 operating budget.