BHC Crime roundup: Nov. 18-29
Online threat led to heightened security at Bristol schools
An online threat by a student led to heightened security Monday at schools in both Bristol divisions, and some parents kept their kids at home for the day.
Authorities identified the student, whose name was not released, and the Bristol Virginia Police Department questioned him Monday morning. Sgt. Steve Crawford said the boy is a middle school student who threatened to take a gun to school on the social media app Snapchat.
The student will be charged under a threats-related statute through the juvenile court system, Crawford said.
Bristol Virginia School Superintendent Keith Perrigan said Monday afternoon that he will recommend that the School Board expel the student. No other students were believed to have been involved, he said.
In a Facebook post Sunday night, the school system alerted the community that it received a report from a middle school student of a "generic threat" that a weapon would be brought to school Monday.
"The information did not include the name of a school, the name of the student, or even mention that the school is in our division," the Facebook post states.
Bristol, Virginia schools remained open Monday but parents were told there would be an increased police presence. School officials also said they didn't believe anyone was in danger but they wanted to "err on the side of safety."
In Bristol, Tennessee, school officials released a similar statement on social media Sunday evening, saying they did not believe the threat was related to their district, but there would also be an increased police presence Monday.
The situation appeared to be resolved by mid-morning, but by then, parents commented on both school divisions' social media that they would keep their students out of school in light of the threat and asked about attendance policies.
"Parents always have the authority to write an excuse for an absence," Perrigan wrote in an email response to a question about attendance policies.
In Bristol, Tennessee, the school division wrote on Facebook: "We completely respect your right as a parent to make decisions on behalf of your child. Therefore, our policy states that a total of five absences will be excused based on parent/guardian notification via call-in, email, or note. After five parent/guardian excuses, the student will be marked as an unexcused absence unless a doctor's excuse is turned in to the office."
Karina Barrera kept her son home from kindergarten in Bristol, Tennessee.
"We're not taking the risk of sending him," she said Monday morning.
She said she wonders about the threat's impact on students. The mother added that she hadn't yet discussed the threat with her son, but she wants him to understand how to be safe at school.
"I really don't want to make him scared of going to school," Barrera said.
Some parents also asked why Bristol Tennessee schools did not send out an automated call to parents about the threat. Decisions about whether to issue calls are made on a case-by-case basis and when parents need to know information immediately, according to Rebecca Craddock, a spokeswoman for the school division.
"We had absolutely no reason to believe this case had ties to BTCS or that parents needed to take any action at all," she wrote in an email to the Bristol Herald Courier. "With the close proximity of our two school districts and the way information travels, we simply wanted to put a message out that we were aware of the situation and working with our own police department to stay informed and be extra vigilant. If we'd had any reason to believe the threat had ties to one of our schools, we would likely have placed a call to parents."
Last week's shooting at a high school in Santa Clarita, California, in which a shooter killed two classmates and injured three others, also weighed on some parents' minds Monday in Bristol.
"You see school shootings all the time," said Shiri Schrecker, the mother of two girls at Van Pelt Elementary School in Bristol, Virginia. "If it were to happen to you, you don't know how you would react."
She said she kept her daughters at home Monday due, in part, to the limited information parents initially received about the threat, and she added that she wasn't sure if the school would be adequately prepared to respond to a potential shooting.
Monday's threat led to an honest conversation with her kids about gun threats in schools, Schrecker said.
"I didn't sugarcoat it," she said. "We have to educate our kids as well and let them know what's going on."
Emory & Henry College to join national vigils against gun violence
EMORY, Va. — Emory & Henry College will join nationwide vigils and remembrance events in December as part of the #EndGunViolence movement.
The college's event will be held Dec. 6 from 4-5:30 p.m. in the Memorial Chapel Sanctuary.
It will focus on remembering victims of gun violence and facilitating a community dialogue about the issue, according to a news release.
The event will be hosted in remembrance of the seventh anniversary of the Sandy Hook Elementary school shooting and of the 700,000 American victims and survivors of gun violence since December 2012, the release states.
Those who attend can share their thoughts on gun violence and talk to officials from the offices of Virginia members of Congress, according to the release.
Kingsport woman charged with murder in overdose death of Bristol woman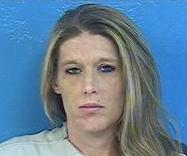 BLOUNTVILLE, Tenn. -- A Kingsport woman has been indicted on a murder charge in connection to the drug overdose death of a Bristol woman, police announced this afternoon.
Tonya Gray, 38, was indicted Nov. 6 by a Sullivan County grand jury on charges of one count of second-degree murder, three counts of the sale of heroin, one count of the delivery of heroin, one count of the sale of fentanyl and one count of delivery of fentanyl. She was arrested Thursday.
The charges stem from an investigation by the Tennessee Bureau of Investigation and the Bristol Tennessee Police Department, which held a news conference today in Blountville.
In July, TBI special agents, detectives with the Bristol Tennessee Police Department and investigators with the 2nd Judicial Drug Task Force, working jointly as part of the Sullivan County Drug Related Death Task Force, began investigating the circumstances leading to the death of the woman, whose name was not released. During the course of the investigation, authorities learned that the victim purchased heroin laced with fentanyl shortly before she overdosed from Gray, according to a TBI news release.
An indictment names the victim as Lyndsey Keesee, 28, of Bristol.
Gray is being held on $100,000 bail at the Sullivan County jail.
Virginia Highlands Community College seeks new police chief
ABINGDON, Va. — Virginia Highlands Community College is seeking a new law enforcement leader after its current chief was elected sheriff in Washington County early this month.
On Nov. 5, current VHCC Police Chief Blake Andis received the most votes in a four-way race to become the new sheriff. He had led the college's police department since 2012.
Tuesday, the college posted a job opening for a new chief, which has a starting salary of $46,087. The chief will be a leader, who is energetic, focused on community engagement, understands 21st Century policing strategies and committed to providing a safe environment where students, faculty and staff have a maximum opportunity to be successful in meeting their academic and professional goals, the listing states.
More information about the position can be found at www.vhcc.edu.
Washington County Sheriff's Office investigating dog's death
ABINGDON, Va.—The Washington County Sheriff's Office is investigating the death of a bluetick dog.
According to Sheriff Fred Newman, the animal was transported to Virginia Tech Animal Services Laboratory for an autopsy. The Washington County Sheriff's Office Criminal Investigation Division is assisting Animal Control with conducting interviews into the incident. The investigation is ongoing, Newman said.
The sheriff told the Bristol Herald Courier that the dog was taken to the veterinarian on Monday and died early Tuesday of what appeared to be a stab wound.
No arrests have been made, he said.
Washington County deputies get new handguns
ABINGDON, Va. — The Washington County Sheriff's Office has purchased 100 new service handguns to be carried by deputies.
Sheriff Fred Newman said using asset seizure money from drug dealers that have been charged and convicted, the agency used $28,150 to make purchase new weapons. Newman said current weapons were almost 10 years old.
"The new Smith & Wesson 2.0 40 caliber handguns are some of the newest models available," Newman said. "The weapons are extremely reliable and should provide years of service to the members of our Sheriff's Office."
Each deputy will undergo familiarization and training with the new weapons before being issued.
Threat at Virginia High may result in charges
BRISTOL, Va. — Charges are pending after administration at Virginia High School was advised Thursday of a document that made a threat.
Superintendent Keith Perrigan said the perpetrator was quickly identified and the threat was determined to be a hoax. He added that at no time were students in danger.
Perrigan said charges are pending with the court system, and the student will be recommended for expulsion.
The superintendent noted that he understands the anxiety and fear that students, parents and staff feel when threats are made. The school board is currently putting finishing touches on a website that explains the process of how the system deals with threats.
Man wanted in connection with death captured
BLOUNTVILE, Tenn. — A man authorities say is a "person of interest" in connection with a suspicious death in Sullivan County has been taken into custody.
Jeffry Caldwell, 31, was arrested Thursday afternoon on warrants for vehicle theft and assault, according to the Sullivan County Sheriff's Office. No additional details were available about the arrest Thursday.
The department began looking for Caldwell on Wednesday during the investigation of a death on Gravely Road in Kingsport. No more information has been released about the death, including the person's identity or cause of death.
Man sentenced in SWVa. drug conspiracy case
ABINGDON, Va. — A Georgia man was sentenced to 10 years in federal prison for his role in a conspiracy that trafficked methamphetamine and other drugs from Georgia into Southwest Virginia, according to a news release from the U.S. Attorney's Office for the Western District of Virginia.
James Lee Cleghorne, 39, pleaded guilty to one count of conspiracy to distribute meth, heroin, oxycodone, cocaine and alprazolam.
Authorities previously charged him and 10 others as part of a trafficking conspiracy. Overall, authorities successfully prosecuted 22 defendants and removed "a conservative estimate" of 3.5 pounds of crystal ice meth from the Southwest Virginia supply chain, the release states.
Defendants in the case were accused of trafficking controlled substances from Watkinsville, Georgia, into Virginia, with an operation in Lee and Wise counties from November 2016 to March 2018, according to the U.S. Attorney's Office.
Letter from Sullivan County Director of Schools seeks to reassure parents on threats
BLOUNTVILLE, Tenn. — Sullivan County Director of Schools David Cox sent a letter to parents and local media Thursday stating that social media threats of school violence have been investigated and were not credible.
"The past few days have been filled with comments regarding potential threats in our region, and even in some of our own schools," Cox wrote in the letter.
He told the Bristol Herald Courier the Sheriff's Office investigated comments made by students from Sullivan East, Sullivan Central and Sullivan South high schools.
He went on to state in the letter that reported information is always taken seriously and is investigated by the Sullivan County Sheriff's Office and other law enforcement agencies.
"We want to take this opportunity to inform, educate and empower you to help keep our schools safe," Cox wrote.
He included tips about what to do if you read or hear of a threat:
» Report any concerning information immediately to a trusted adult, like a school resource officer, teacher or principal, and if it's after school hours call 423-279-7500;
» Capture a screenshot to document the threat and show it to the person you report the threat to;
» Don't comment on social media posts because it's not helpful and can cause complications for investigators.
» Call the Sullivan County Sheriff's Office at 423-279-7500 to report any concerns.
Judge sets trial date, orders woman to pay costs in clown murder case
About 30 years after a woman in Palm Beach County, Florida was gunned down by a person wearing a clown costume, the Abingdon, Virginia, woman charged with murder will go to trial.
Shelia Keen-Warren, 56, appeared in court Friday on a first-degree murder charge. After learning defense needed a bit more time to prepare for court, the judge set a trial date for May 29.
Three decades ago, on May 26, 1990, Marlene Warren, 40, answered her front door to find a person wearing a clown costume and holding flowers. The clown opened fire, fatally wounding Warren.
Authorities arrested Keen-Warren in 2017 near her home in Southwest Virginia, where she had been living with her husband, Michael Warren, who had been married to Marlene Warren at the time of the shooting.
The judge also ordered Keen-Warren to pay back hundreds of dollars to the state of Florida regarding attorney costs. Earlier this year, Keen-Warren was declared an indigent and the judge permitted her to have some attorney costs paid by the state.
But the state objected after learning Keen-Warren falsified documents and noted that she had more than $1 million in assets, including homes in Abingdon and Kingsport.
Callahan, who killed his mother and sister, denied parole at Monday hearing
JOHNSON CITY, Tenn. — An Indian Springs man that killed his mother and sister 25 years ago was denied parole Monday.
Nathan Callahan was 15 years old in March 1994 when he used a shotgun to murder his mother and sister as they entered the garage of their home. Callahan told police he also planned to murder his father and grandparents but was arrested before he could carry that out. He was convicted of one count of first-degree murder and one count of second-degree murder.
Callahan attended his first parole hearing via video Monday. Tennessee Board of Parole Chairman Richard Montgomery reviewed Callahan's case and heard testimony from law enforcement against his release. He also heard statements from Callahan's uncle and a friend in favor of his release.
Montgomery denied Callahan's parole, but the other board members still have to vote for the decision to be finalized, which will be done in the next seven to 10 days. Montgomery set Callahan's next parole hearing for Dec. 20, 2023.
Callahan said he regretted the murders and wishes he could take it back.
"All I can do is ask for mercy," Callahan said. "I can't justify nothing I did. I sure don't deserve it."
There had been a lot of tension in the family because he was smoking marijuana and behaving badly, Callahan said. His father also was regularly upset by Callahan's grandfather buying him things. The day before the murders, he and his mother had argued, he said.
"I laid in wait on the side of the garage, and when they came in, I came up behind them, and I shot each of them once in the back, walked up to my sister, and I shot her in the head," Callahan said.
His mother lunged at him, causing him to almost drop the shotgun. During the scuffle, he shot her in the chest, he said.
"I was mad and full of rage at that point," Callahan said. "I couldn't believe what I had did. I guess reality set in on what I had just sat there and done, but I just felt like it was too late. It's sad to say. I guess the right reaction would've been to get on the phone and call 911, but I didn't want her to suffer, so I chambered one more round, and I shot her in the head."
Sullivan County District Attorney General Barry Staubus, former District Attorney General Greeley Wells, who was the chief prosecutor of the case and retired Sullivan County Sheriff's Office Maj. Reece Christian, who was the lead investigator of the case, testified against Callahan being paroled.
Based on the case files, Callahan committed the murders because his parents grounded him, and he would have killed his father if he had been home at the time, Staubus said.
"This was probably one of the three or four most heinous crimes that I had to prosecute during my 35 years in the district attorney's office, and I have yet to hear one word of remorse from Nathan Callahan," Wells said. "I am concerned greatly with the safety of people in the public if he is released out on the street."
A psychological evaluation report states Callahan would be capable of killing again if he is released, Wells said. He disagreed with the Department of Corrections determining that Callahan is at low risk to reoffend.
Christian said the murders were "cold-blooded."
"He showed no remorse when I interviewed him," he said. "He didn't cry. He didn't say, 'I'm sorry. I don't know why I did this.' … It was a tragic scene."
Callahan's uncle, Stan Callahan, said he doesn't think more time in prison will make a difference because Nathan Callahan is already a "changed man," he said.
"Nothing justifies what he did," he said. "… I believe he could go back in society and be a productive member of society. … I never did see him as a mean man to start with. He never had any run-ins with the law. It was just an incident that happened. Nothing will ever justify what happened. I hate what he did; I love him."
Joretta Sutphin, a friend of Callahan's, said he's a "wonderful guy."
"I know he loves the Lord, and I just want him to get out and make it on his own and have a family and just be happy," she said. "If God can forgive him, why can't everybody else and give him a chance? Because that's all we have — a chance in life — and no one's perfect."
Montgomery suggested that Callahan think about how he can express remorse and sorrow for his actions.
Pizza Inn reports hit-and-run damage early Tuesday
ABINGDON, Va. — Hit-and-run damage was reported Tuesday morning at Pizza Inn on West Main Street in Abingdon, and police are seeking the public's assistance in locating whoever damaged the building.
The Abingdon Police Department was dispatched to Pizza Inn around 8 a.m. Tuesday for reported damage to windows near the building's front entrance, according to a news release. Based on video camera footage, the owner said the incident occurred around 12:30 a.m. Tuesday.
Nearby businesses did not have any other surveillance footage of the incident, according to the release.
Anyone with information about damage can contact the Abingdon Police Department at 276-628-3111 or Washington County, Virginia, dispatch at 276-676-6277.
Lebanon woman sentenced for harboring fugitive
ABINGDON, Va. – A Lebanon, Va., woman, who was previously convicted of harboring a fugitive, was sentenced Tuesday to four years in federal prison, U.S. Attorney Thomas T. Cullen said Wednesday.
Desari Marie Schossig, 33, pleaded guilty in July 2019 to one count of harboring a fugitive, according to a release from Cullen's office.
"Assisting a fugitive to evade capture is a serious federal crime and one that can result in a lengthy prison sentence," Cullen said. "We will continue to assist the U.S. Marshals Service with these important cases and hold those responsible for harboring fugitives accountable under federal law."
According to court documents, in October 2018 the U.S. Marshals informed Schossig that a federal arrest warrant had been issued for Brandon Whitt, who the defendant was known to have been in a relationship with. Whitt was wanted on federal drug charges.
From approximately December 2018 through early 2019, Schossig began staying overnight at a room being rented by Whitt. During this time, Schossig cooked meals for Whitt, drove him places, bought him groceries and brought him food from local restaurants, the release states.
In March 2019, while Schossig was incarcerated on state charges, she communicated with Whitt, and others, via phone and email in order to help Whitt obtain account passwords, a phone, credit or debit cards, money, and to help him re-title a vehicle, the release states.
One killed, three hurt in Sullivan County crash
BRISTOL, Tenn.—A Bluff City woman was killed Wednesday night in a crash in Sullivan County, according to the Tennessee Highway Patrol.
A Mini Cooper was traveling north on state Route 44 when it ran off the right side of the road, and then flipped multiple times striking several trees, the THP said in a report. The vehicle came to a final rest up against a tree.
The vehicle was driven by Sophie Gourley, 18, who died as a result of the crash, the THP said. Three passengers, Nathan Gifford, 30, of Rocky Top, Tennessee; William Brown, 17, of Bristol, Virginia; and Isaiah Ellis, 18, of Bristol, Virginia, were all injured at taken to local hospital.