Concerned drivers who were stuck on Interstate 81 during last week's snowstorm in Southwest Virginia and Northeast Tennessee called 911 looking for answers — but the dispatchers they called were looking for answers themselves.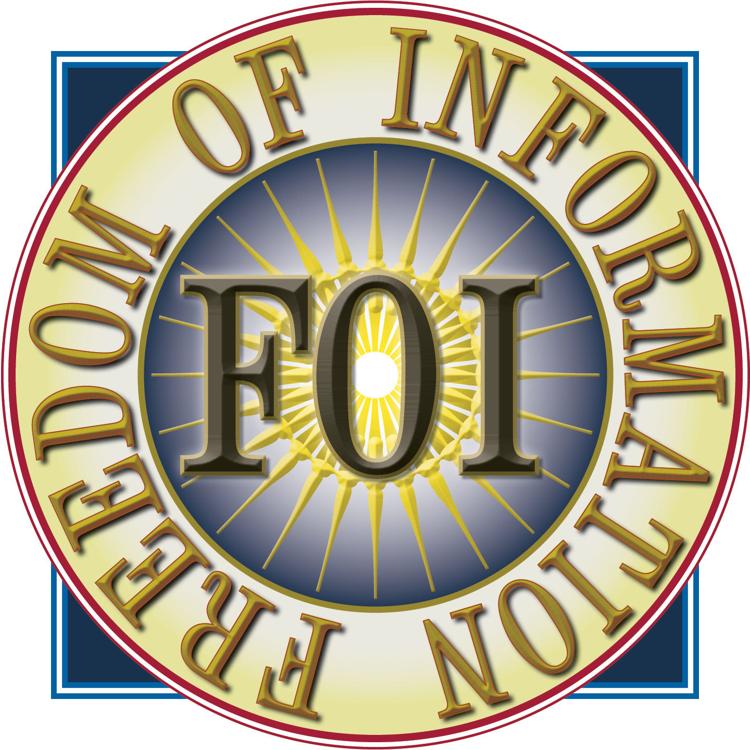 A powerful snowstorm swept through the region on Dec. 9-10, dumping about a foot of snow around Bristol. Despite a weeklong forecast warning people of snowfall, the storm appears to have caught many off guard, including those traveling through the area.
The interstate near Abingdon was hit especially hard as snow and ice covered the roadway. Travel conditions became treacherous, causing passenger vehicles and tractor-trailers to lose control, blocking the highway.
As a result, traffic in the northbound lanes backed up for about 18 hours from the Exit 19 area in Abingdon all the way to at least Exit 69 in Tennessee, according to reports. Hundreds, if not thousands, of travelers were stranded as authorities worked to clear the roadway.
Many of those stranded drivers called 911 for help, trying to find out how long they might have to wait. Others were hungry or just had to use the bathroom. A few people had medical emergencies.
The Bristol Herald Courier filed Freedom of Information Act requests with 911 dispatch offices in Bristol, Virginia, Washington County, Virginia, and Sullivan County, Tennessee, for calls made regarding the interstate standstill. Out of the nearly 3 1/2 hours worth of 911 calls, there were a few takeaways:
» Dispatchers in Bristol, Virginia, were unable to contact Virginia State Police in Wytheville at times because the phone lines were overloaded with calls.
» Bristol, Virginia, received calls from people as far away as Knoxville to check on roads before they left to travel toward Bristol. Dispatchers advised them to stay put.
» Nothing seemed to start moving in Bristol, Virginia, until the city went out on ATVs to divert traffic.
» Most of the callers were calm and understanding, but there were a few medical-related calls. One was a pregnant woman in her second trimester, and one was an older woman with knee problems.
» Tractor-trailers that were able to exit the interstate were blocking city streets, but police couldn't send them into residential areas to free up traffic.
» Wrecks in Wytheville also contributed to the issue later in the night.
» One Washington County resident reported that someone cut a fence along the interstate near Abingdon so vehicles could exit.
» A charter bus filled with eighth-graders was stranded on the interstate for several hours.
» Several tractor-trailers reportedly were driving southbound in the northbound lanes around the 13-mile marker.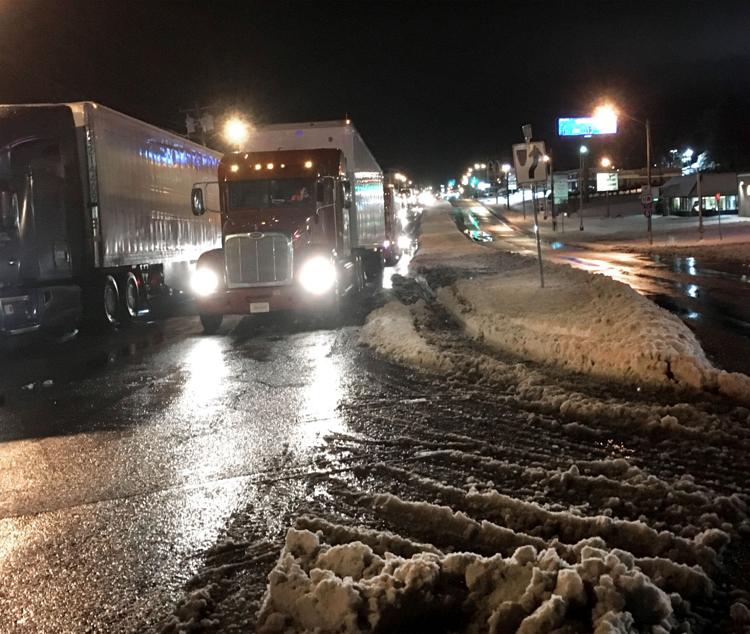 As snow fell Sunday, Dec. 9, travel conditions in Northeast Tennessee and Southwest Virginia quickly became treacherous. Dispatchers throughout the region began receiving calls from drivers who were sliding off roadways, including on I-81.
Traffic issues were first reported early Sunday near Exit 29 at Glade Spring, and between Exits 10 and 19 between Bristol and Abingdon.
By the afternoon, local dispatchers were inundated with calls.
"Please be advised Interstate 81 northbound side is at a standstill from Tennessee line to exit 19 in Abingdon due to vehicle accidents," the Washington County Sheriff's Office said in a Facebook post. "Our dispatch has received over 100 911 calls in regards to the traffic being at a standstill. Virginia State Police are working to get the traffic back moving again but we have not heard a timeline on this.
"Please do not call 911 about traffic not flowing unless you visually see a accident happen or have an emergency."
Virginia State Police spokeswoman Corinne Geller later said there was no single vehicle to blame for the backup.
"Multiple tractor-trailers and passenger vehicles became stuck in the northbound lanes of I-81 and were unable to move," Geller said. "There may have been a jackknifed tractor-trailer — but any time a cab turns at an angle from the trailer, it's called a jackknifed tractor-trailer."
Bristol, Virginia, dispatcher Missie Cullop started working that Sunday at 6:30 a.m.
By noon, dispatch began receiving calls from stranded drivers.
"By that time, people had been sitting there for about an hour," Cullop said. "They were just being mainly curious. 'What's going on?'"
Cullop said she never expected the traffic jam to last until around 6 a.m. on Monday.
Throughout the day, Cullop said she and other dispatchers answered calls from frustrated drivers and kept in contact with State Police. She noted that most people were nice and friendly.
"We're telling people it's going to be a few more hours, 'Try to hang tight,'" she said.
Dispatchers worked extra time that day, and some dispatchers were unable to work due to travel conditions. Only two Bristol dispatchers worked Cullop's shift, she said.
"That evening, people still weren't moving," she recalled. "People were running out of gas, they're hungry, they have kids in their cars. It became a really tense situation. I have no way of helping them."
Cullop noted that there were a few medical-related calls during the hours-long ordeal.
"We had to send one of our crew trucks up where a driver was having a diabetic problem," she said. "They got out on foot. It was a dangerous situation for everybody."
The truck driver got on his radio and asked for help. Another driver, who had been stuck nearby, called 911 for help, Cullop said.
In many calls provided to the newspaper, callers quickly noted that they did not have an emergency, but they knew of no other way to get information.
Although Cullop said she did not have a problem with answering the calls, she noted that people can visit 511virginia.org or call 511 for travel information.
"That's a situation where, yes, it's frustrating because it's technically not an emergency, but that was their only option to call 911," Cullop said. "That was perfectly fine. You're scared, you don't know what's going on, you're going to run out of gas. By all means, if you're scared, call 911."
Several truck drivers were stranded on the interstate.
"We're all just going to be sleeping here," a driver told Cullop in one call. "There ain't no sense [to just sit in vehicles]."
Cullop said many truck drivers called to ask if they could sleep in their vehicles.
"You're not going anywhere," she said. "By all means. I'm sure they'll come through and wake you all up. They did have to come through and wake people up. But you don't want sleepy truck drivers on slick roads. By all means, take a nap."
Cullop said she felt especially sorry for elderly drivers. It would have been difficult for some elderly drivers to use the bathroom as they were stranded for hours.
"They were at their wit's end," Cullop said.
State Police dispatchers were inundated with calls.
All 911 calls in Virginia go directly to the local jurisdiction. If someone calls 911 in Bristol, dispatchers in Bristol answer the call.
"So local 911 centers across the commonwealth are always transferring 911 calls to VSP, when the calls are relevant to VSP," Geller said Friday.
The Wytheville Division had three dispatchers working on the day shift, three working the evening shift and two working the midnight shift at the time of the backup, according to information provided by Geller. The dispatchers fielded 743 total calls for service from 12:01 a.m. Sunday to 3 p.m. Monday. The Wytheville Division encompasses 15 counties, five cities and 171 miles of interstate, including I-81.
"They got us, Washington County, Smyth County and Wythe County," Cullop said. "They got overwhelmed. If it wasn't a wreck and they just wanted information, we tried to keep it local."
But some calls would not go through to Wytheville.
"I've only seen it happen once before when I worked in Washington County," Cullop said, referring to a time when calls would not transfer to State Police. "It was a huge pileup."
State Police kept local dispatchers up to date as much as possible.
"State Police did the best as they could," Cullop said. "I stayed up to date with a dispatcher all day in Wytheville."
A total of eight troopers, a sergeant and a first sergeant worked day shift on Sunday, Dec. 9. Four additional troopers came out for evening shift Sunday, Geller said. By midnight, Area 27 requested two additional troopers from Area 26 to respond and assist. A total of 14 troopers and two supervisors responded to calls Sunday through Monday morning in Washington County, she said.
Day shift personnel worked at least 16 hours Sunday responding to calls off and on the interstate, and coordinated with the Virginia Department of Transportation and tow truck operators to remove disabled/stuck vehicles, Geller said.
One state trooper ended up working a 20-hour shift.
Geller said no troopers in Area 27 were involved in crashes.
Most issues along I-81 appear to have occurred around noon Sunday, which led to the backup into Tennessee. The first instance of a backup came during a call to Washington County Central Dispatch at about 12:13 p.m.
"Um, this is not really an emergency," the caller said. "I just don't know who to call. I'm stuck on 81."
"You're stuck on 81?" the dispatcher responded.
"Is this going to clear up?" the caller asks.
Another caller said, "We've been stuck here for two hours and nobody knew what was going on."
The woman was stranded on the interstate near Exit 14.
In both calls, like others, the dispatchers simply did not have an answer.
"We don't have anything current right now," a Bristol dispatcher said in one call. "Last we knew, they did not have a timeline."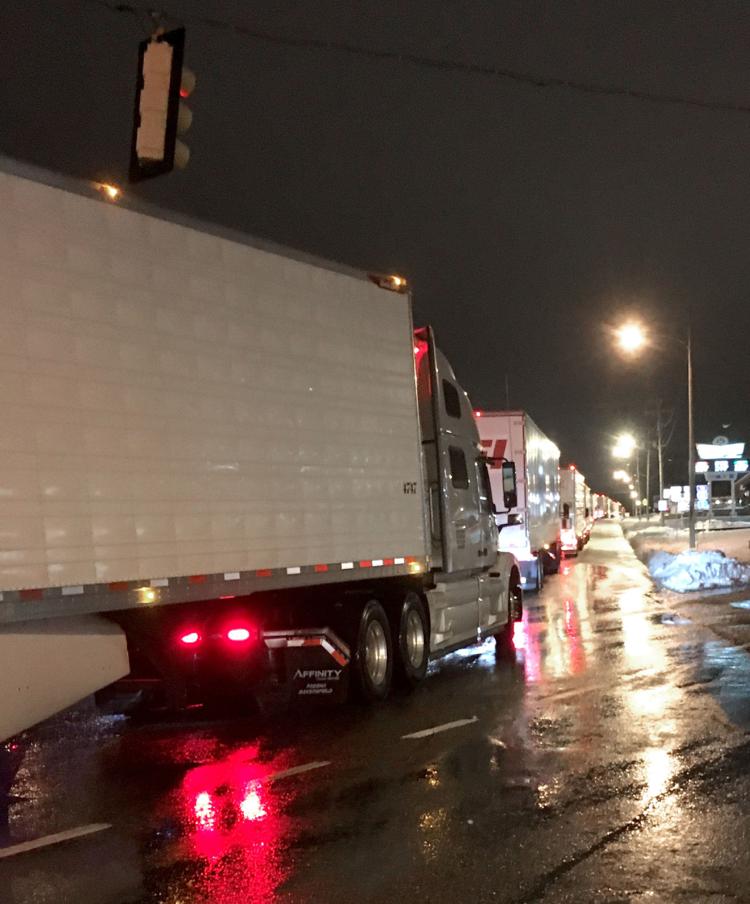 "I don't have an emergency," a Bristol caller said. "I'm out here stuck in traffic on I-81 Exit 5."
The dispatcher informed the caller that it would be several hours before the road is open.
"Ok. So what is a person supposed to do if they have to go to the bathroom?" the caller asked.
"Honestly, I've had several people ask me that and I don't know," the dispatcher said. "I'm sure there are people out there with children and stuff. … I honestly do not know."
The man responded, "Can they getcha for indecent exposure if you're out here peeing beside of the road?"
"In this circumstance, they would not do that," the dispatcher said. "When you gotta go you gotta go."
Sullivan County 911 dispatch also received a call from a woman stuck in traffic.
"Ma'am do you have an emergency?" the dispatcher first asked.
"Yes, I have to go to the bathroom, and I'm stuck in traffic, and I don't know what to do."
"Ma'am I'm not able to do anything if you have to use a restroom," the dispatcher said. "Did you have a wreck?"
"No, we're in a trap," the woman said. "I guess there's an accident."
The dispatcher then informed the woman that 911 is for emergencies only.
"Ok, well this is an emergency," the woman said. "I have to go to the bathroom."
"But you don't have a life-or- death situation. I understand you have to use the bathroom, but it's not a 911 purpose."
Another caller told a Sullivan County dispatcher that a person driving in front of her had already had an "accident with her urine."
"Can you possibly ask the police to expedite?" the woman asks.
"Ma'am, we cannot do that. 911 is for emergencies only."
In Bristol, Virginia, one driver asked if any exits were open to traffic.
"Not that I'm aware of at this moment," the dispatcher said.
He added, "There's bad crashes between exits 10 and 19. They are trying to get those cleaned up."
"We're going on four hours right now," the driver said.
The driver then asked what should be done if there is an emergency.
"If there's an emergency, call 911," the dispatcher responds.
"'Cuz I'm sure people are going to start running out of gas," the driver said.
The driver then asked if people should prepare to spend the night on the interstate.
"I would hope not, but at this time I cannot tell you, but I would hope not," the dispatcher said. "I know they're working on it."
During a few calls, dispatchers suggested that drivers who were able to exit the interstate to seek lodging.
Many callers simply called 911 on Sunday and Monday morning seeking information.
"This is not an emergency," one man said. "I'm probably one of the thousands of people stranded on I-81 right now."
"I think everybody finally decided to stay home," one Bristol dispatcher said. "Once they got out here and got ignorant and tore everything up."
Dispatchers tried their best to explain to drivers what was happening.
"Tractor-trailers can't stop on a dime like people think they can," one dispatcher said. "And they were trying to avoid some cars that had wrecked and they ended up in the median and wrecked. It's just a huge mess up between Exit 10 and 19."
"We're all going to be sleeping," a truck driver said. "There ain't no sense in sitting here."
Dispatchers in Bristol and Washington County tried to spread the word that traffic in the area was at a standstill.
"Sir, is there any way that you can delay your trip?" a Bristol dispatcher asked a driver near Knoxville, Tennessee.
"Yeah, I can delay it," he said.
"Because I'm going to tell you when you get to our area you're going to find a gigantic parking lot."
The dispatcher suggested that the driver pull off the road and spend the night.
"Yep, stay there and tell your friends to stay there, too," the dispatcher said.
The driver then asked whether southbound traffic was an issue between Staunton, Virginia, and Bristol.
"Tell them to stay put, too," the dispatcher said. "Because everything is a mess. It's a mess."
There were a few medical issues in the city.
"Several more hours?" one concerned driver can be heard saying in a call.
"Yes ma'am," the dispatcher confirmed.
"I am five months pregnant and I need to get off the highway," the woman said.
Like dozens of other calls, the dispatcher then transferred the woman to State Police.
Drivers also were hungry.
"I don't know who else to call," a stranded driver near Exit 7 said.
He then proceeded to ask if he could exit his vehicle and go to a nearby restaurant to get food.
"Sir, there's not really much you can do," the dispatcher said. "People have been doing that. People have been walking and getting to restaurants and stuff."
Dispatchers often told drivers that they had recently spoken with State Police. On a few occasions, Bristol dispatchers tried to transfer calls to State Police, but they failed to transmit.
"They told us that they have no idea when it's going to get clear," a Bristol dispatcher said. "It's that bad."
In one call, City Manager Randy Eads called from Exit 5 and said city officials were trying to clear the interstate. City officials eventually began maneuvering drivers off the interstate, sending them to U.S. Highway 11.
A caller to Washington County 911 reported driving a full bus.
"I have a coach bus full of eighth-graders on Interstate 81 north, and I was just wondering — is there an alternate route to take? Have they closed 81 north?"
"They are working a wreck at the 19 and the 29 right now. As far as a time frame, I can't give you that," the dispatcher responds. "There's no really good solution right now. It's pretty bad everywhere."
The bus driver called a few hours later, still stuck at the same location.
One call provided by Washington County indicated that a tow service was used at 2:22 p.m. to help a deputy. The dispatcher said a deputy at Wyndale Road and Astor Road had been stuck and needed help.
By late afternoon, some drivers were given good news.
"The traffic is starting to flow from what we've been told," one Washington County dispatcher is heard in one call.
"Not where I am," the driver responds.
"Just hang in there. It will start. There's nothing we can do about it."
A caller at 2:50 p.m. was told traffic was starting to move at Exit 19.
"There's light at the end of the tunnel now," the dispatcher said. "As long as we don't have another accident they should have you moving before long."
A few callers near the 13-mile marker reported seeing vehicles traveling southbound in the northbound lanes. Those calls were transferred to State Police.
State Police were alerted to at least two tractor-trailers that tried to exit the I-81 rest area near the 13-mile marker with the intention of traveling south on the northbound shoulder to reach Exit 13, Geller said.
"However, the tractor-trailers got stuck on the shoulder and were not able to proceed any further towards the exit, until VDOT and the troopers could clear a path for them to get moving again," Geller said.
A truck driver called Washington County dispatch a number of times to report his truck was stuck on the shoulder at Exit 19.
"The State Police said they had somebody coming to you sir, you just have to be patient, they have several other things they have to get," a dispatcher said after several calls from the driver. "They're taking them in order."
"Maybe I die here, sir?" the frustrated driver said.
"Maybe I die here?" he said a second time.
"Sir, they're coming," the dispatcher said. "They'll get you sooner or later. They have several others they're dealing with."
A Washington County resident who lives along I-81 between Exits 10 and 13 called 911 to report that a fence had been cut to let vehicles through. He was advised to report it to State Police.
Cullop, who ended her shift before traffic had cleared up, said she made it home safely Sunday night.
Geller noted that no traffic fatalities or injuries resulted from the backup on I-81. There were also no traffic crashes where vehicles slid into or rear-ended one another, she added.