BLOUNTVILLE, Tenn. — A Bristol man could face trial in September for vehicular homicide and DUI charges in the 2017 death of a pedestrian on U.S. Highway 421.
Charles Callahan, 55, was in Sullivan County Criminal Court Monday for a motions hearing after his attorneys Lesley Tiller and Gene Scott filed several motions to suppress evidence from the case that they said should be invalid because proper procedure wasn't followed.
After hearing nearly four hours of witness testimony and arguments from the defense and prosecution, Sullivan County Circuit Court Judge Jim Goodwin said he'll issue a ruling on the motions on July 12.
Callahan was indicted by a Sullivan County grand jury nearly two years ago after allegedly killing 58-year-old Jeffery Rouse on Jan. 9, 2017. Callahan was traveling south on Highway 421 shortly after 11 a.m., when the pickup truck he was driving drifted off the right side of the road and hit Rouse, who was walking with his back to traffic. Rouse died at the scene.
Callahan pleaded not guilty to the charges and is out of jail on $50,000 bail.
On Monday, Tennessee Highway Patrol Trooper Jesse Kittle testified Callahan told him he crashed because he had dropped his cigarette lighter on the floor of his truck.
The attorneys challenged the validity of the field sobriety tests Kittle administered, saying Callahan couldn't do as well as others due to prior leg injuries. They also argued Callahan didn't give consent for a blood test or for his vehicle to be searched.
Kittle testified that he had Callahan perform one of the standard tests on the leg that was stronger and had him do alternate tests because of his disability, giving him the "benefit of the doubt" along the way and not making assumptions, but described his performance on most of the tests as poor. He said Callahan's eyes were red and bloodshot, but he didn't smell alcohol on him.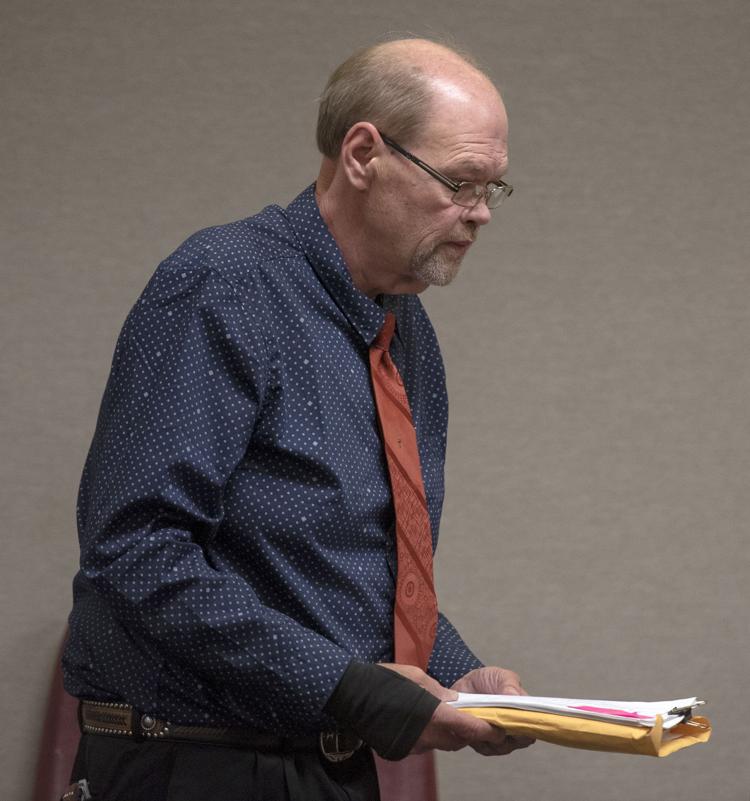 Callahan said he hadn't been drinking but does take prescribed oxycodone, gabapentin and Xanax at night, according to Kittle.
THP Criminal Investigation Division Sgt. Rocky Johnson, who assisted Kittle with the investigation, said Callahan told him he didn't know medicine prescribed by a doctor could impair him and that he didn't want to say anything without an attorney present.
Kittle testified that he told Callahan it's mandatory when a vehicle crash results in a fatality for a blood sample to be taken from the driver, and the prosecution entered as evidence a signed consent form for the test.
Kittle also testified the road was dry at the time of the crash and there was no evidence that Callahan had attempted to brake before hitting Rouse.
Tiller and Scott argued the search warrants used to collect data from the truck's crash data recorder was improperly collected. In Feb. 2017, Kittle testified he applied for a search warrant so THP could pull the data, but he failed to leave a copy of the approved search warrant with the truck and to serve it to Callahan so — at the request of the Sullivan County district attorney's office — he applied for another in December 2018 so the evidence could be collected again to use in court.
Tiller and Scott requested copies of all written correspondence, such as emails, between employees of the district attorney general's office and Kittle to prove whether Kittle's actions were gross negligence, simple inadvertence or a good faith mistake.
Kittle also testified he interviewed two female witnesses who said they saw Callahan's truck drifting and thought the pedestrian was going to be hit.
Video from cameras inside Kittle's cruiser were also shown during the hearing. Callahan, while sitting handcuffed in the backseat, can be seen looking toward the window and trying to ask someone if he looks drunk then he said, "I'm not drunk." After that, he appeared to drift in and out of sleep.
Also on Monday, court records were introduced as evidence to show Callahan has prior convictions. He was charged in 1984 with a DUI and in 1985 for driving on a revoked license.
A five-day jury trial is set for Sept. 30, but that could change based on Goodwin's ruling.