Dinner was finished and the adults were cleaning up. The children, all wearing matching yellow shirts, watched TV while waiting for it to get dark enough to go crab hunting.
It was an annual tradition for the Hughes family, of Blountville, Tennessee, to gather every year with the same group of friends and go on vacation. There were five families, 12 adults and 17 kids, staying in a beach house with a gated pool in Fort Morgan, Alabama.
On June 10, the trip ended in tragedy.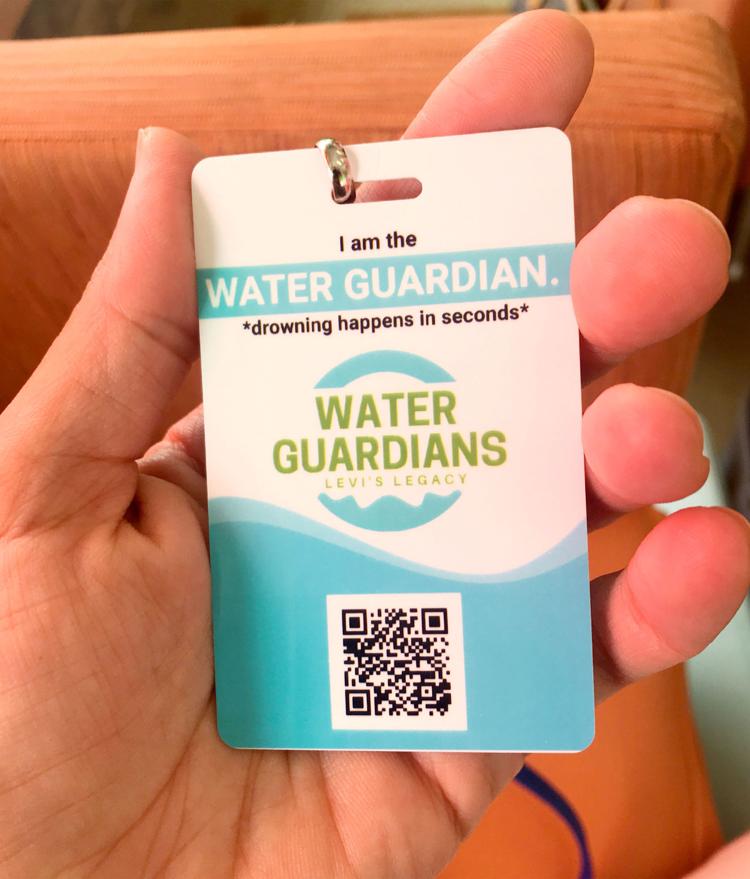 After dinner, Nicole Hughes broke a small brownie in half. She put half in a bowl of Cheetos as a treat for her 3-year-old son, Levi. As she put the other half of the brownie in her mouth, Levi somehow slipped out the door and walked down the stairs toward the pool.
"I didn't realize he was gone," Hughes said. "It was so quick."
Hughes was going to speak with her 5-year-old daughter, Reese, when she stepped out on a balcony. Instinct pulled her attention to the pool.
At the bottom of the deep end, she spotted a neon yellow crab hunting shirt.
She turned around, swallowed the brownie and screamed as she rushed downstairs. A friend jumped from the second floor balcony into the pool at the same time Hughes dived in to save him. They reached Levi at the same time.
All six men in the house were physicians who completed their residencies together. They had a complete kit to intubate him, which is inserting a tube through the mouth and into the airway for ventilation.
Levi was given epinephrine and his heart was shocked, all before the paramedics arrived. They tried their best to save him.
"They were able to get a pulse back, but I knew he was dead," Hughes said. "He technically died on June 11 at 4 a.m. It's horrible."
Levi loved to constantly run, jump, move, squeal and yell. He was described as a silly child who jumped in during his sister's dance recitals and wore his Cookie Monster costume or pink fairy wings over his pajamas. He always wanted to read the book "Colossal Squid."
He left behind a grieving family struggling with how his death could have happened. There were layers of protections in place to prevent such a tragedy, but they all failed.
Hughes said she and her husband are productive people and she soon realized that sitting in bed crying all day would not bring back her child. And the couple's two other children needed their parents. So she started researching a way to find a purpose in Levi's death.
"I was so angry," she said. "We are attentive, educated parents. I don't know how I did not realize in everything I've read about parenting over the last nine-and-a-half years that drowning is the No. 1 cause of death for children."
According to the Centers for Disease Control and Prevention, children ages of 1-4 have the highest drowning rates. In 2014, a third of children between those ages who died of an unintentional injury died from drowning. Drowning is responsible for more deaths among children between 1-4 than any other cause except birth defects.
Nearly 80 percent of those who drown are boys. And the majority of children who drown do so during non-designated swimming times.
Children take a shorter time to drown than adults, Hughes said. It takes less than a minute for a child to drown while it takes the average adult three to five minutes.
Hughes knew protections were in place that day. The doors were heavy and the pool was gated. Levi had worn a life jacket earlier in the day, even when not going in the water. The only real weakness she could find was in his supervision.
That's why she started Levi's Legacy, a soon-to-be nonprofit organization that creates tags to provide a tangible reminder that someone needs to be designated the supervisor when children are around water.
Each tag is the size of a credit card and comes with a lanyard. The front of the tag says "I am the water guardian. *drowning happens in seconds*," and the back says "Constant supervision is the most effective way to prevent drowning. Designate a 'Water Guardian' at all times when swimming with small children. Continue to wear the tag/supervise children any time they have access to water, even when not swimming [i.e. unloading the car, preparing dinner, etc…] In loving memory of Levi Hughes [2015-2018] and Jeffrey Baker [1970-1973]."
Hughes said the tag is a reminder that there has to be intentional supervision. Thought it was only an idea, it became reality when the tag received a full endorsement by the American Lifeguard Association. Founded in 1990, the ALA has become a nationally recognized association, which has trained more than 250,000 individuals. ALA adheres to a code of ethics and shares a commitment to deliver quality health and safety testing and training.
"We feel the idea is an excellent one, for most people do not understand that drowning can happen in a matter of a few seconds," said B.J. Fisher, director of health and safety for ALA. "We have always advised parents to keep an arm's reach supervision when children are around the water. We strongly believe that someone needs to be designated to be the one watching the kids, and when they are they should not be talking on the phone, reading or text messaging but instead attentively watching them."
The tags cost $9.90, including shipping, and can be purchased at www.levislegacy.com. Hughes said selling the tags is not a fundraiser and the family is not making any money. Any donations made to the family will go toward purchasing more tags to place in beach houses, lake houses and providing tags to children who may not be able to afford them.
Hughes hopes the effort will prevent another tragedy like the one that hit her family less than a month ago.
"It is summer right now and even now there are so many stories I'm seeing of kids drowning," she said. "I just keep thinking how am I going to sit here and keep reading this in the news and not do anything to try to stop it. … I hate I have a story to share, but not sharing doesn't bring him back either."