ALVARADO, Va. — One thing's for sure, this ain't California.
That's where Loren Gardner grew up learning to grow grapes.
But, now he's in Southwest Virginia as the new owner and operator of the Abingdon Vineyards in Alvarado, a Washington County community along the Virginia Creeper Trail.
"And I've never grown grapes in a region that had so much humidity," said Gardner, 37.
Gardner's newly purchased property — what was called the Abingdon Vineyard and Winery — stretches across 45 acres, spanning along the banks of the South Fork of the Holston River on the headwaters of South Holston Lake.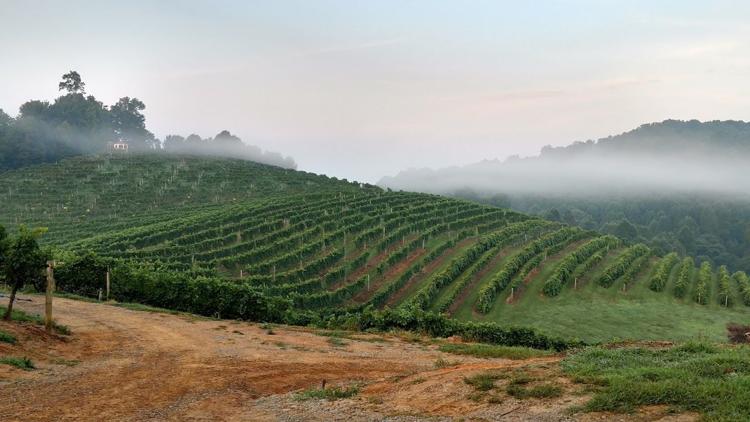 Presently, grapevines cover 10 acres of the property.
"And there are three acres that we lease across the river that's planted," said Gardner. "But, hopefully, within the next 10 years, I plan to triple that number — at least."
Gardner wants growth — not only in grapes but output.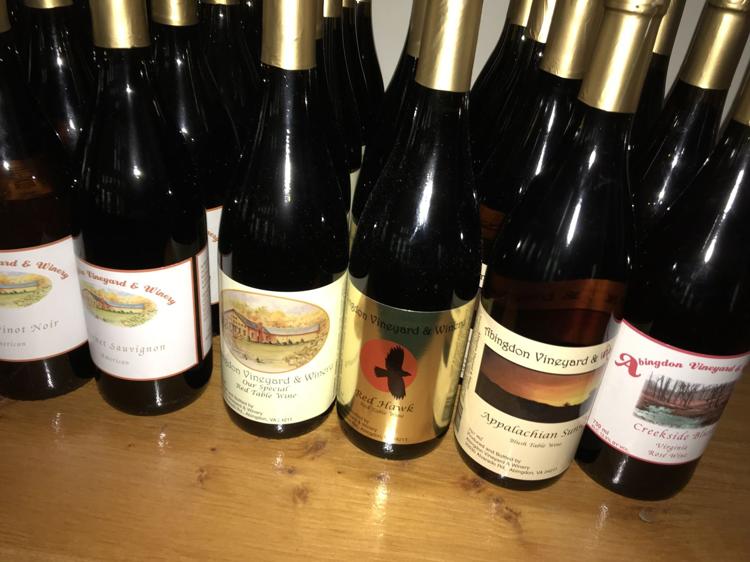 Currently, the winery produces about 1,800 cases of wine each year.
"It's small," said Gardner, who studied winemaking and viticulture at the University of California in Davis.
His plan? Produce about 6,000 cases of wine each year by 2025.
Striking a balance
Gardner says "balance" differentiates wines made in California with what's produced in Virginia.
And it all starts with the fruit of the vines.
"Wines here tend to be a little acidic, because you don't get the full development of the skins ... in some of the European varieties," Gardner said. "What I learned and what I'm going to apply here is trying to achieve that balance — lowering the acidity levels."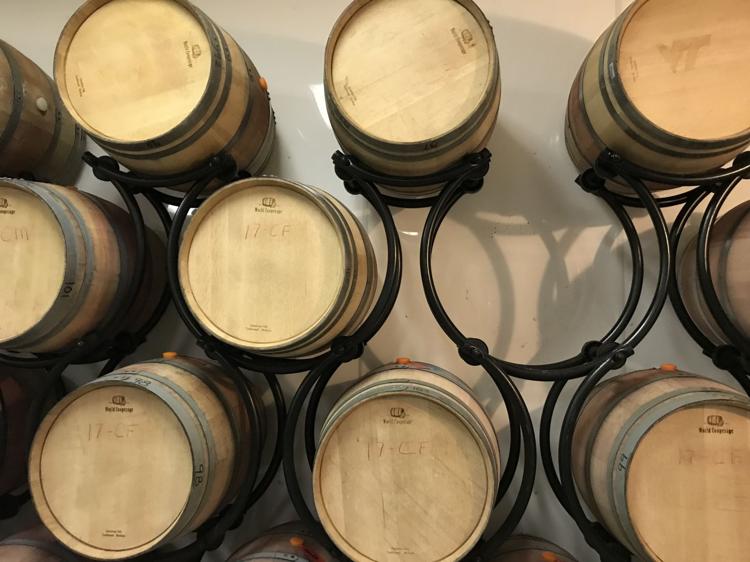 He also wants to introduce some oaks in the barrel-aging process. "And give the wine the time to develop, as opposed to try to push wine before it is ready," he said.
Gardner knows he has a tough row to hoe.
"The first couple of years are going to be a bit of a struggle," he said, matter-of-factly.
"We got hit with a pretty big frost this year. We got hit with a late frost that took about 40 percent of the crop. Luckily, it didn't destroy any of the vines, but it just hit the fruit really hard."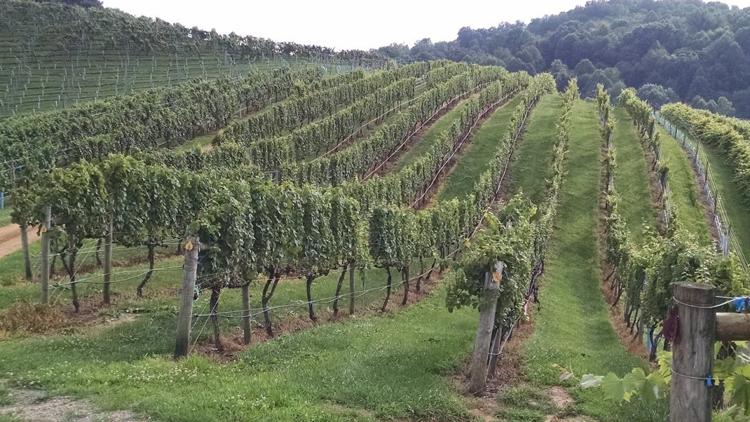 That means the winery must seek grapes from others when it comes to this fall's winemaking production. "And, hopefully, this is the last time," Gardner said.
"We're going to incorporate some frost-control protections into the vineyard this winter, so we're ready for spring."
'As organic as possible'
There are nine different varieties of grapes grown in the vineyards, Gardner said.
"But some of them [are] not on the level of production. Like, there's a row of Niagara back here that we don't really use. It kind of gets blended into something else."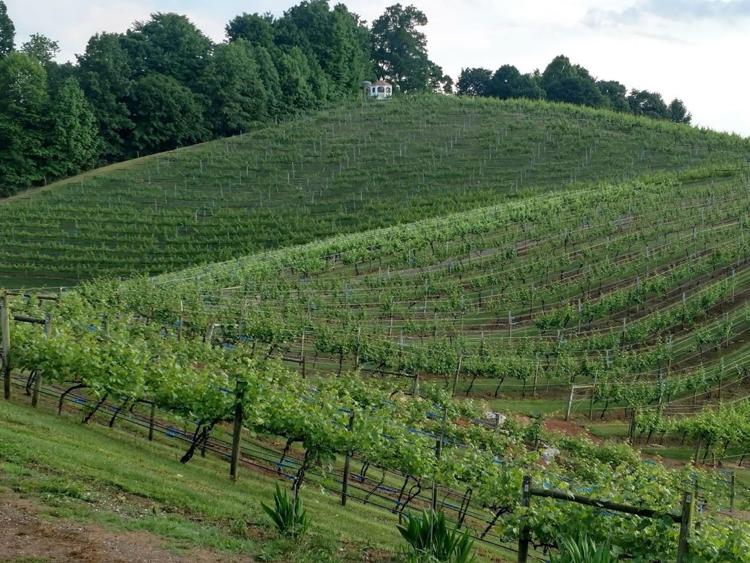 Grape varieties include Pinot Noir, Chardonel, Norton and Vidal blanc.
"A few of them are experimental varietals," Gardner said. "They're doing all right. They're not where I'd like them to be, and we probably won't be going in that direction."
Going forward, since purchasing the winery on July 31, Gardner wants to make some cuts.
"I want to pick five or six that are really well adapted and work for our wine program," he said. "Norton is the direction that I think we're going to go."
Norton takes its name from Dr. Daniel Norton, who first cultivated the grape in Virginia in the early 1800s.
"He realized that this varietal was more adaptable to this region," said Gardner. "It was disease-tolerant and didn't get the mold and mildew pressure. It was more tolerant to the temperature fluctuations that we get out here — the extreme heat and the extreme cold."
Having the Norton grape withstand mold and mildew is important, Gardner said, "because I want to take the winery as organic as possible."
That's a challenge, he said.
Still, that's why Gardner and his wife, Elizabeth, rely so heavily on longtime winemaker Kevin Sutherland, who's managed the vineyard since 2005.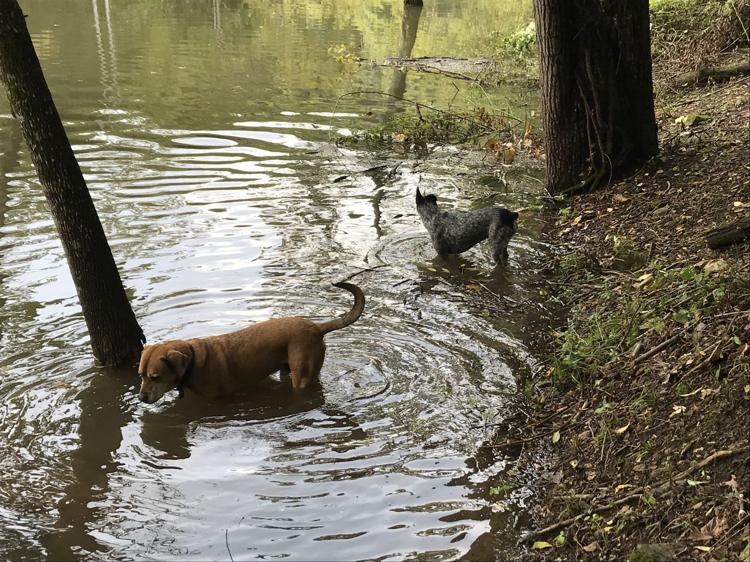 "He knows the vineyards inside out and backwards," Loren Gardner said. "And, if it wasn't for him, this wouldn't be possible."
Having fewer kinds of grapes may also mean less kinds of wine. The former owner, Bob Carlson, had been producing 25 kinds.
"That's unsustainable for me," Gardner said with a grin. "I'd like to see eight or nine different wines on our wine list and concentrate on making those as best as we possibly can."