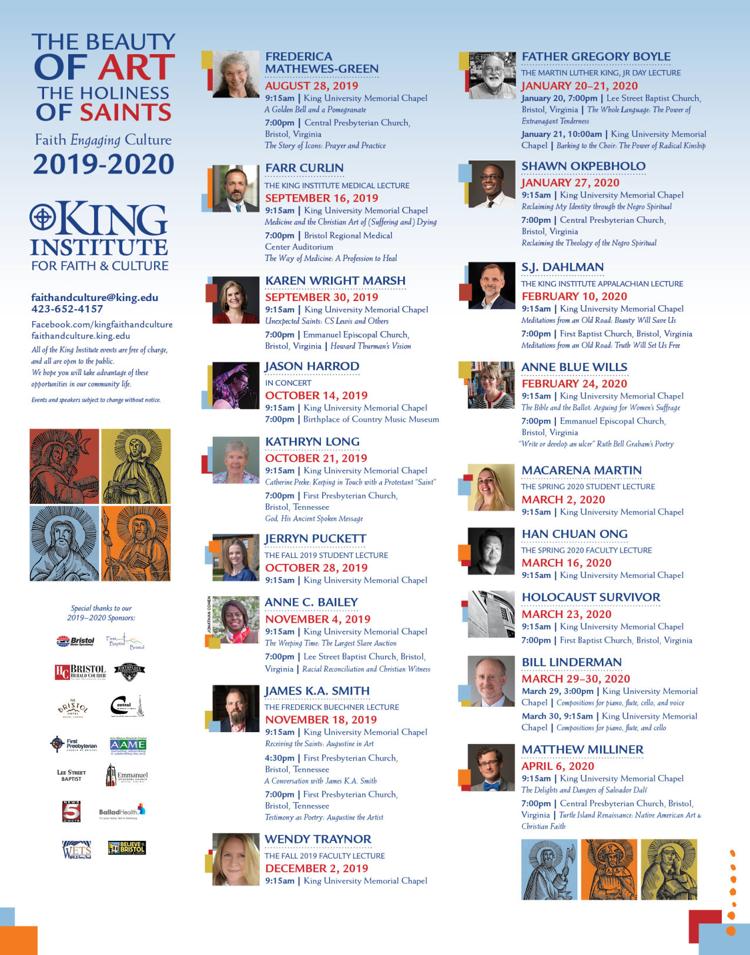 BRISTOL, Va. — Bright arrays of communication thrust forth to touch humanity from throughout the King University Institute for Faith & Culture 2019-2020 speaker series.
"In a way," said Martin Dotterweich, director of the King Institute for Faith & Culture, "it's our gift to Bristol."
"The Beauty of Art, The Holiness of Saints" brands this year's theme for the speaker series, which runs through Monday, April 6. It's faith engaging culture.
Karen Wright Marsh, author of "Vintage Saints and Sinners," appears as part of the series on Monday, Sept. 30. At 9:15 a.m., she speaks on King's Bristol, Tennessee, campus at King Memorial Chapel, At 7 p.m., she appears at Emmanuel Episcopal Church in Bristol, Tennessee.
On Monday, Oct. 14, folk musician Jason Harrod turns up at King Memorial Chapel at 9:15 a.m. At 7 p.m., he ventures to the Birthplace of Country Music Museum in Bristol, Virginia.
"A certain number of his songs address questions of faith," Dotterweich, an associate professor of history at King, said. "Thoughtful and faithful, you can chew on them a bit."
Dale Brown founded King's Institute for Faith & Culture in 2007. Its series inaugurated a year later. Through the years wide expanses of speakers from worlds including academia, theology, art, politics, sports, and general society spoke on campus and off.
"Dale said that it seeks a place between what he called abject secularism and shrill sectarianism," Dotterweich said.
Robert Johnson sang of selling his soul at the crossroads. Where faith and culture intersect stands the heart of the King Institute for Faith & Culture.
Seeds of contemplation should implant as a result of attending any one of the series' installments. Ideally, personal growth as stemmed from broadened intellectual thought, may take root en route to better understanding of one another.
This year's series includes music popular to classical. There will be a holocaust survivor (March 23), a person to speak on Martin Luther King Jr. Day (Father Gregory Boyle, Jan. 20-21), several authors and academics. Touchstones all within the woven fabric where God meets society, their appearances appeal to all to attend.
"He's done tremendous work for gangs in Los Angeles," Dotterweich said. "He asked for the poorest parish in Los Angeles. It was the worst gang-infested. He reached out to them. He treated them like human beings. He started Homeboy Industries in Los Angeles, which is going strong today."
Homeboy Industries serves as an intervention, rehabilitation and reentry program that helps to normalize the lives of former gang members. They even provide tattoo removal services.
"He's remarkable," Dotterweich said of Father Boyle. "He's kind of a working saint."
Consider its forthcoming appearance from a holocaust survivor. For several years running, the Institute for Faith & Culture hosted a member of the United States Holocaust Memorial Museum Survivors' Speakers Bureau. So it will be again on Monday, March 23. A name has yet to be announced.
"It's phenomenal," Dotterweich said. "It's a unique opportunity. They're real. They went through something unspeakable and survived. We're going to hold on to them for as long as we can."
More than memories imparted, the series provides profound chapters of substance in an oft-fast food world. They're for Bristol, constructed for the community at large.
"These are not geared for just an academic audience," Dotterweich said. "These are people who are talking for all of us as people of faith and people in general. We want everybody to come."