BRISTOL, Va. — Kris Aaron stood atop the portico outside First Baptist Church late Thursday morning. He saw mountains in the background, Bristol in the foreground.
"Bristol's a nice community," said Aaron. "This is a place where you can stay."
Come Sunday, June 16, at First Baptist Church in Bristol, Virginia, Aaron earns installment as the new senior pastor of the longtime church. It's a ceremonial event. Hired and in the pulpit since Jan. 13, palpable eagerness exudes from the native Georgian as to his new job and city.
"I wanted to go to a church that's healthy," Aaron, 36, said. "I wanted to go to a place that's a decidedly moderate church, where people get together and go to church even though they may not agree on everything. I wanted to go to a community where there's something there — good schools, good people."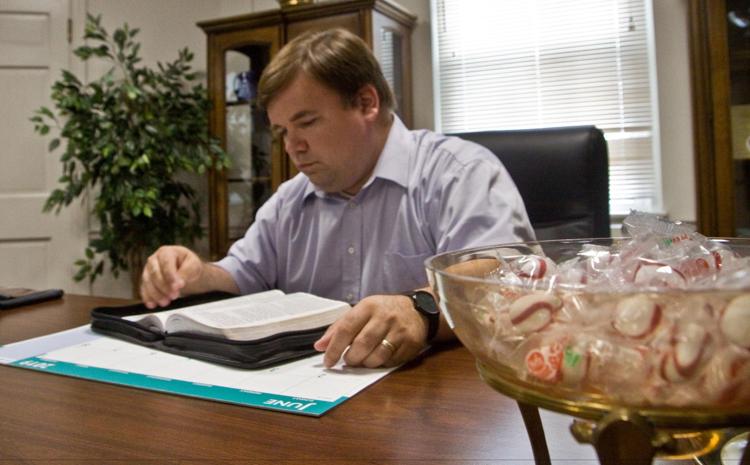 The married father of two young children came to Bristol from Orangeburg, South Carolina. He served as the associate pastor of First Baptist Church Orangeburg.
In Bristol's First Baptist Church, Aaron discovered a house of prayer that dates to 1859. Listed on the National Register of Historic Places since 2015, the church began as Goodson Baptist Church. A change in name to Bristol Baptist Church occurred on 1888. Seven years later, in 1895, the church became First Baptist Church.
"My job is to provide opportunities for people to grow spiritually, for people to be affirmed, for people to be challenged, for people to be encouraged," Aaron, who grew up in Hawkinsville, Georgia, said. "Jesus challenged people. He affirmed people and he encouraged people, but he also challenged people. We're creating space for the spirit to move."
Framed art inside Aaron's office depicts Christ as for all people. Glass encased shelves to the right brim with books in neat categories relevant to the Old Testament, New Testament, Greek, Hebrew, and so forth.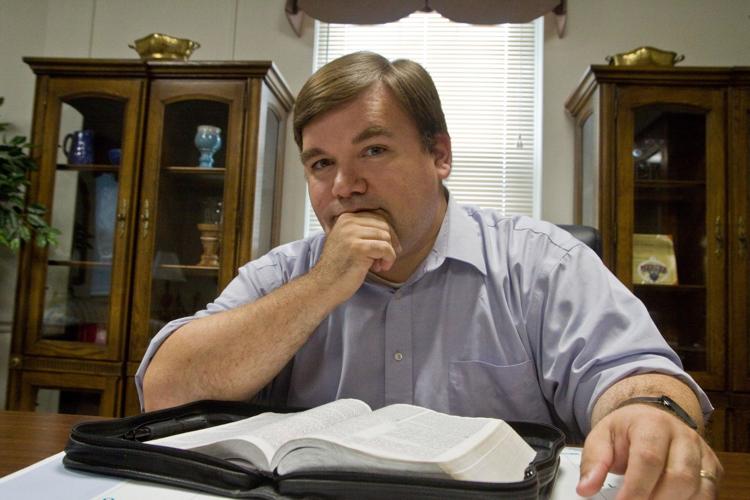 Family photos occupy a corner of his tidy desk. An arm's length away, a tiny presentation case draws the eye to a set of shelves along a back wall.
"It's a portable communion set," Aaron said. "My great uncle owned it. My parents gave it to me as an ordination gift."
Aaron's degrees from Mercer University in Atlanta and Brite Divinity School at Texas Christian University in Fort Worth, Texas, hang on a wall just above his Apple laptop.
"I planned to go to medical school; I wanted to be a doctor," he said. "Midway through college, I realized I didn't want to go to medical school. I majored in biology and minored in chemistry. Then I went to divinity school in Texas. That's where I met my wife."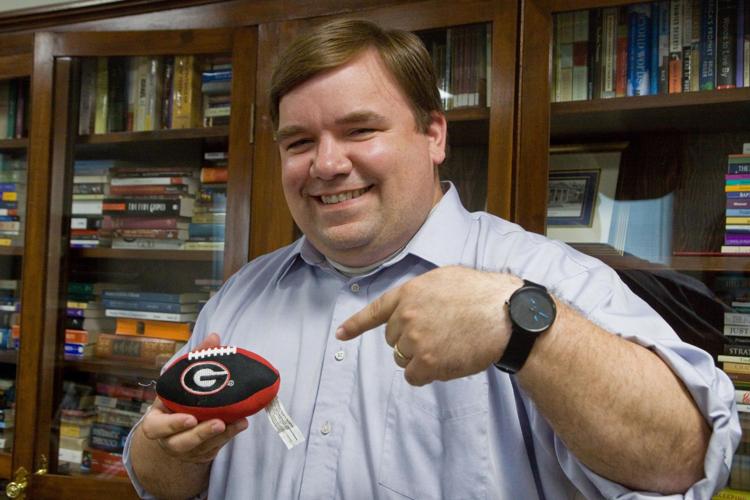 There, in the state that gave America The Alamo and President Lyndon Johnson, Aaron found his way. To the pulpit he went, though not quite as the result of some eureka moment.
"Over time, I grew to enjoy preaching," he said. "It grew on me. I did have a clear call to go to seminary."
He had been working for a beverage company in Columbus, Georgia.
"I had been praying for wisdom and discernment for a while," Aaron said. "I had a moment of uncommon clarity. All of a sudden, (I felt that) this is what you're supposed to do."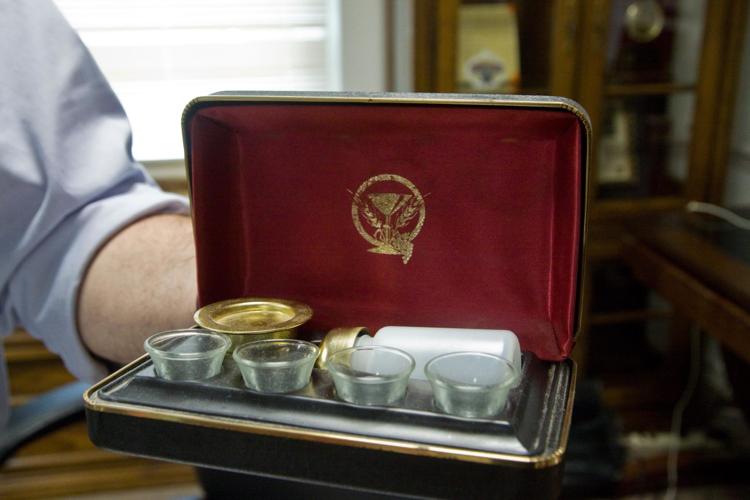 Know this: Aaron does not bear resemblance to Walter Brennan's portrayal of a hellfire and brimstone preacher in the film classic, "Sergeant York." Neither in style nor in appearance, he's no Brennan and he's no Jimmy Swaggart.
"I'm more of a storyteller, a narrative-style preacher," Aaron said. "Preachers need to be like baseball pitchers. You have to change up your pitches. In my first sermon as pastor here, I had a line that said 'If you're expecting me to be a hellfire and brimstone preacher, you've hired the wrong guy.'"
Speak with Aaron in his office. Encounter him at Food City. Witness him in the pulpit. He bears an easygoing manner, neighborly in speech and approachability.
"I feel that people get enough hell throughout their week," he said. "People need an escape from that. We need to give people heaven."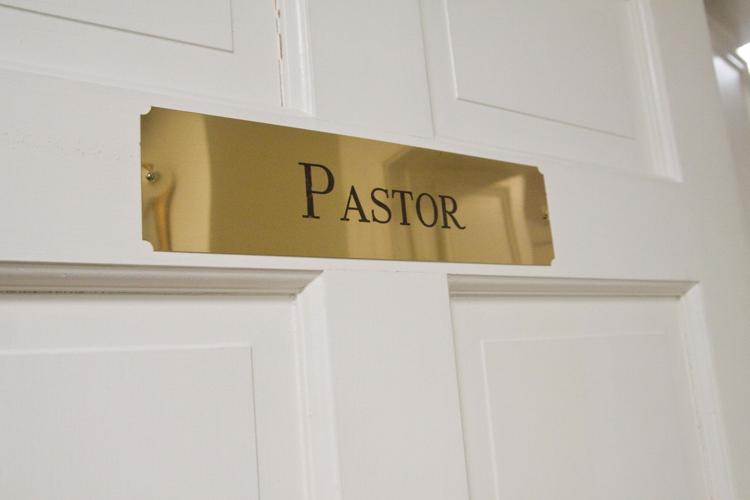 Go ahead, seek an encounter with Aaron. He enjoys Major League Baseball's Atlanta Braves, the National Football League's Atlanta Falcons, the University of Georgia Bulldogs football team, and superhero movies from the vast Marvel Universe.
There's more. Aaron enjoys music that spans rock's grunge era from Pearl Jam to its classic bedrock of Eric Clapton. He enjoys Dawes and the Eagles, Led Zeppelin and Mumford & Sons.
"One of my hobbies," Aaron said, "my wife and I love to cook. I'll smoke pork shoulders, beef briskets. I make my own barbecue sauce."
Oh, and then there's this morsel.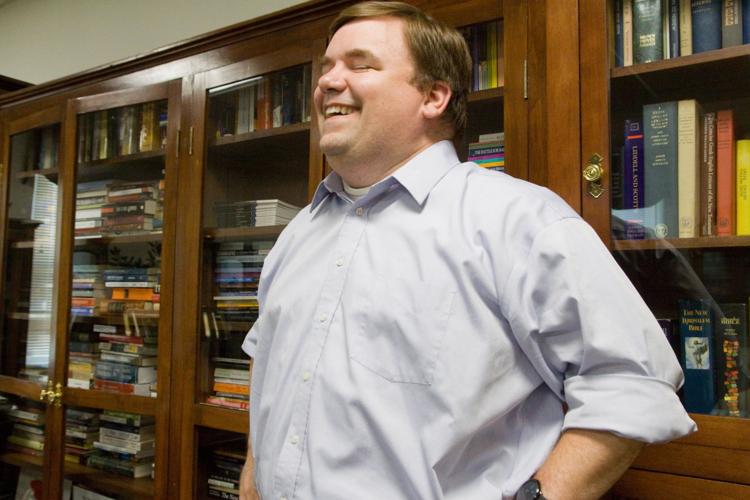 "I make my own bacon, too," he said.
Congenial while cooking at home in Bristol, Tennessee, Aaron's similarly at ease and certainly at peace when facing his new congregation at First Baptist on Sunday mornings. Drop by for a look-see.
Like an old friend returned home, Aaron found himself in the Christian fold. Bible in hand, he speaks the gospel such that adults and children alike may understand. It's for everyone who wishes to hear, you know. Aaron's the latest to deliver the good word to them.
"Humbling. It's humbling," Aaron said. "It feels holy. To get up in front of people every week is an honor and a privilege.