Popping out from the forest ground, the bunny-eared, green leaves of "ramps" are one of nature's first signs of spring.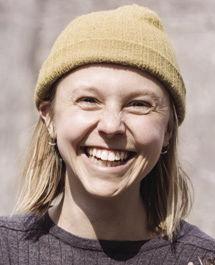 "Ramps" (as they are commonly known) are a species of wild leek (Allium tricoccum) native to the mountains of Appalachia. The mountain leek is distinct in its appearance, aroma and flavor. Emerging in early spring, ramps typically have 2-3 vibrant green leaves with richly purple-tinted stems that meet at the base in a small bulb. The leaves and bulbs have a distinctly sweet garlicky flavor and a pungent scent.
Ramps have been incorporated into traditional cooking and medicinal practices of Appalachia for generations. Cherokee, Ojibwa, Iroquois and other tribes of the eastern mountains consume the springy green for its high nutritional content and medicinal cleansing effects. The wild leek has been incorporated into traditional Appalachian folk cuisine and medicine in much the same way. The appearance of the ramp signals the end of winter and beginning of warmer months. Ramps festivals and cook-offs have become a common celebration. Furthermore, the humble ramp has gained the attention of gourmet chefs and is a highly desirable foraged food source.
With the increased notoriety and fame of this sweetly odored wild vegetable, there comes a cost. Ramps are a slow-growing species that grow naturally at high elevations. Native populations are found in moist, well-drained sites under the shade of deciduous hardwood trees. From seed, it takes several years for a plant to reach full maturity. With more people harvesting wild ramp populations, the survival of the species is under threat. Provinces in Canada and a number of states in America have listed Allium triccocum as threatened and require specific permitting for harvest. Increasing pressures from festivals, high cuisine and individual foragers are likely to further diminish populations.
However, for those desiring to enjoy the garlicky deliciousness of these wild spring bulbs, fear not! There are many ways one can still enjoy the seasonal harvest and taste of the ramp with sustainability and plant conservation in mind. The most conservative manner of foraging ramps is to pick one or two leaves from mature plants (ideally those with three leaves). The plant will then still be able to flower and seed later in the season and will re-emerge the following spring. One can also harvest a greater portion of the bulb, but make sure cut the plant at the soil line leaving the roots and a half inch. The plant will then be able to sprout again next year. The most encouraged (and convenient!) practice is planting ramps either in the forest or in a home garden under partial shade. In this way, one is promoting the growth of ramp populations and will know where exactly to return to for a spring harvest.
Ramps are a diverse forest vegetable. They can be incorporated in salads, stir-fries, pestos, butters, soups and more. Take a walk in the woods this spring and keep your eye out for these pungent spring leaves. If you are lucky and stumble upon a patch, harvest consciously and conservatively so that these stinky greens can be enjoyed by generations to come.