Rocks symbolize strength. Stones suggest a human touch.
Together, they can signify struggle and eventual victory. Such symbolism emerges throughout the Bible, particularly upon the crucifixion and resurrection of Christ. Likewise, in the telling of World War II, images of rocks and stones flourish.
So it goes in "The Victory Stone: Marking a Hero's Journey." Presented live in April during Easter at Celebration Church in Blountville, Tennessee, a DVD of the drama-drenched show released to the public last week.
"We had 4,200 people see the show," said Michelle Russell, producer of "The Victory Stone."
Celebration staged the drama-musical four times. It sold out all four shows.
"Standing ovations," said Angie Grigsby, the play's writer and director. "I had a love story in mind. As I did research on post-World War II history in East Tennessee, I came across one in the Elizabethton area."
Members of Worship Arts Ministry of Celebration comprised the show on stage and off. In all, 263 people participated in making the show breathe to life. Most acted, many danced, a few sang.
"They are from the ages of 2 to 75," Russell said on Tuesday afternoon at Celebration Church.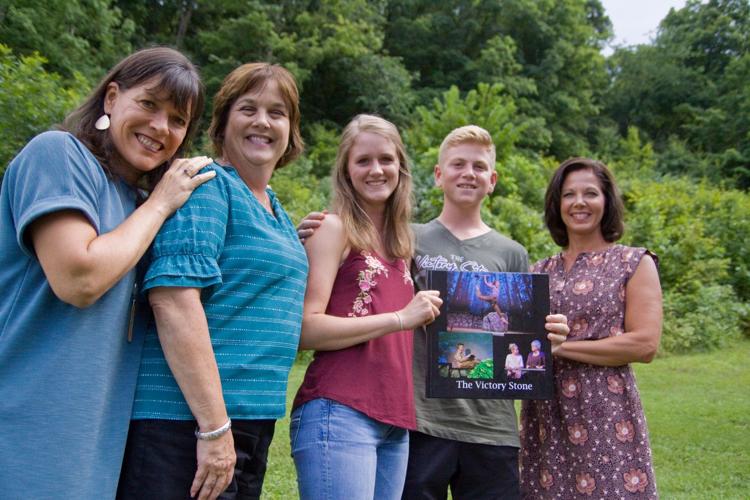 Pumped, as if helium into a balloon, the story of Elizabethton's James Wiley Smith and his wife Dorothy Ruth Smith soars skyward in "The Victory Stone." As related in the play, they married before Pearl Harbor and America's entry into the war.
He joined the United States Army in 1942 and then served in the 82nd Airborne Division. To Normandy, France, he went as a participant in Operation Overlord, better known as D-Day. The date: June 6, 1944.
"He was a paratrooper, landed in a tree, and had to cut himself down," Grigsby said.
One of but 33 from his outfit to survive D-Day, Smith earned a Presidential Unit Citation and the first of his eventual three bronze stars. Reflected in "The Victory Stone," his story and that of his wife amid World War II pertains to a larger picture.
Ultimately, they and the story turn to God. Like rocks molded smooth into stones through strife and eventual triumph, humanity exist as works in progress.
"This story is a picture of life. We all have storms and tragedies," said Linda Tagert, who narrates as the grandmother Dorothy Smith. "My uncle was in World War II. He was shot down in Italy in 1945 and was missing in action until 2008. God carried us through our storms."
Like life itself, multiple stories weave throughout "The Victory Stone," each firm upon a bedrock of the Christian word.
The play begins with several ensemble song-and-dance pieces. One features a rendition of Glenn Miller's big band mantelpiece from 1939, "In the Mood." Miller's jubilant number serves as a backdrop for brief excursions into the Andrews Sisters' "Boogie Woogie Bugle Boy" and Miller's "Chattanooga Choo Choo."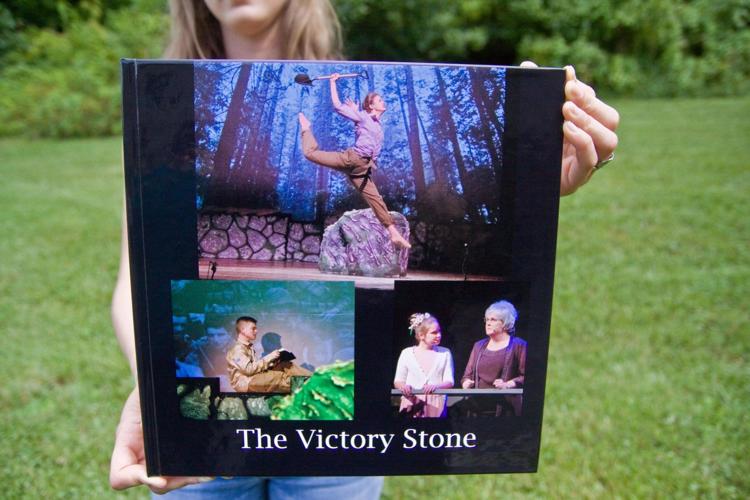 It's Easter. Alongside her granddaughter, Tagert as Grandmother Dorothy unfurls the story of her late husband James.
"To me," she said in the play, "he was a pillar of strength."
Per the play's story, they met on Easter in 1939. Few words spoken between the two, their courtship conveys in a brief though vivid dance that follows. They married in 1940.
Abram Moore, 15, portrayed James Wiley Smith. Hannah Voudrie, 22, filled the role of Dorothy Ruth Smith.
"There was a lot of pressure on Abram because he is so young," Grigsby said. "But he has a passion for the scripture. I could hear that in his audition."
Like a pair of starbursts in a darkened sky, ample synchronicity thrusts forth from performances by Moore and Voudrie. They act together, sing together, dance together in graceful harmony.
"There's a song called 'There's Something Between Us,'" Grigsby, who wrote four of the play's songs, said.
Even three months later, Moore expressed wonder relative to the song and his performance.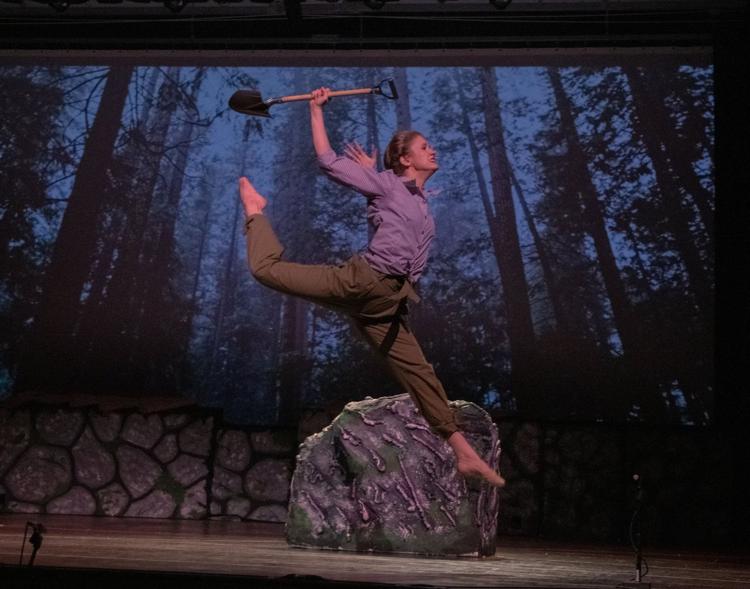 "I could tell that God gave me the voice to do that," said Moore, "because I don't think I could sing that high again."
A copy of the DVD lay on a table, around which sat Grigsby and Moore, Russell, Voudrie and Tagert on Tuesday. Upon discussion of that song, Russell raised her eyebrows. Tagert smiled. Grigsby bore a look of wonderment.
Of note, Moore and Voudrie recorded the soundtrack for "The Victory Stone" in a recording studio at Celebration. A 10-track collection, it's available for sale online at iTunes and streaming at Spotify.
"When they played his voice," Grigsby said, "I dropped to the floor. It was that good."
Joy expounds from love, hope from misery, salvation from prayer in "The Victory Stone." There's jubilation and there's gravitas.
"It's powerful," Tagert said.
Much of the play's muscularity evolved from Tagert's narration as Grandmother Dorothy. From her came references to family, Christ, and the importance of faith,
"She was the connecting point between James, scripture, and history," Grigsby said.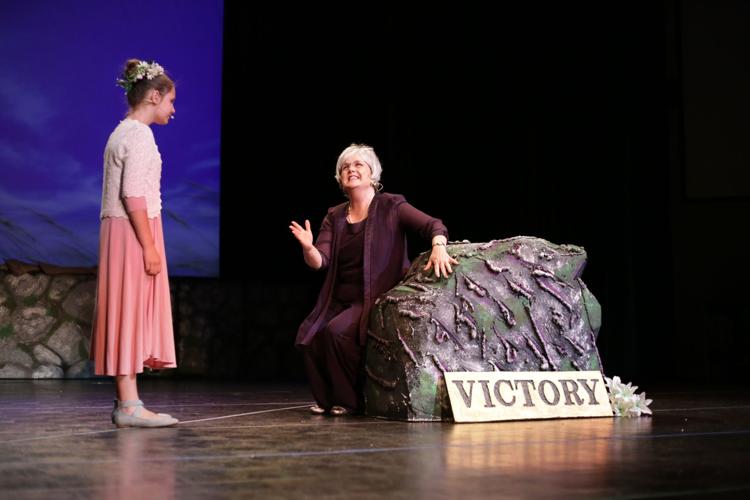 Neither blatantly didactic nor patronizing in substance or tone, "The Victory Stone" serves as an allegory. It's a spiritual journey. One route relates the story of James Wiley Smith and Dorothy Ruth Smith. Another, threaded through numerous needles in the story, relates that of Christ and salvation.
They connect upon the rock, smoothed over as the victory stone.
"It was relatable and tangible," Moore said. "You can see how God was weaving through it in a real way."
Sold out audiences responded in kind.
"At the end," Russell said, "a lot of people were teary and pensive."
In "The Victory Stone," art marries history as bound in the word of God.
"It was real," Voudrie said.