ABINGDON, Va. — A Washington County man has traded his farming career for beekeeping, opening one of the only bee supply retail stores in the county.
He goes by the name "Tater," but most everyone along Walden Road in Abingdon knows David Miller farms honeybees.
A few years ago, the beekeeper — or apiarist — began studying the winged honeymakers when he wasn't operating a greenhouse or growing tobacco.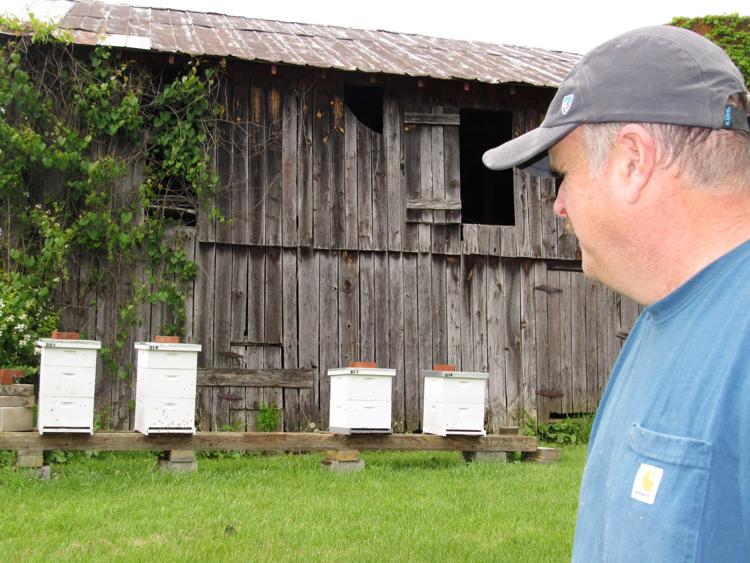 "Once I became a beekeeper, I immediately became fascinated. The learning curve will probably remain vertical. It will never plateau because there's so much to learn about bees," said Miller, standing in a building on his farm, where he keeps an abundance of bee woodworking supplies.
"The more I was drawn to bees, the more I realized this could turn into an enterprise," said Miller, who has spent the past few months preparing to open a retail business that will offer customers sweet deals on handmade wooden beehives.
Eventually, he will stock other bee supplies, including beekeeping jackets, veils, gloves, hive tools, queen-rearing supplies and more.
"My goal is to establish a bee-based business that sells pretty much everything bee-related, except the honey," he said.
Miller hopes more people will learn about his new business, Beekeepers Woodworking and Apiary Supply, through Highlands Beekeepers Association, of which he is a member.
He plans to open his new business June 1.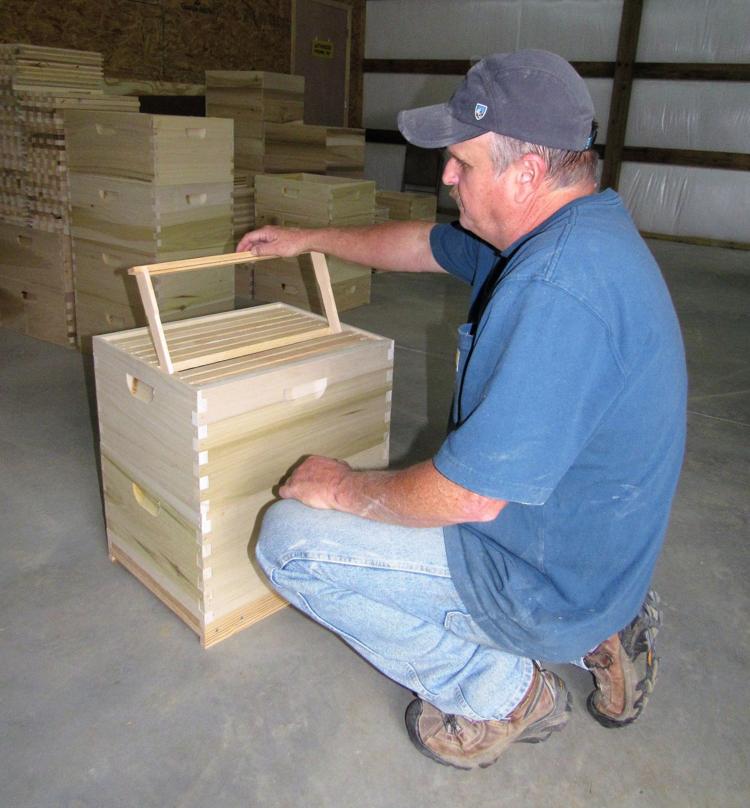 Even though Miller has 20 beehives on his farm, he's discovering that honey production is only part of the rewards of beekeeping.
"We're trying to raise more bees because in 2020 we want to launch a commercial queen-rearing operation."
Miller will sell the queen bees to customers for profit and as a way to help more people become successful beekeepers.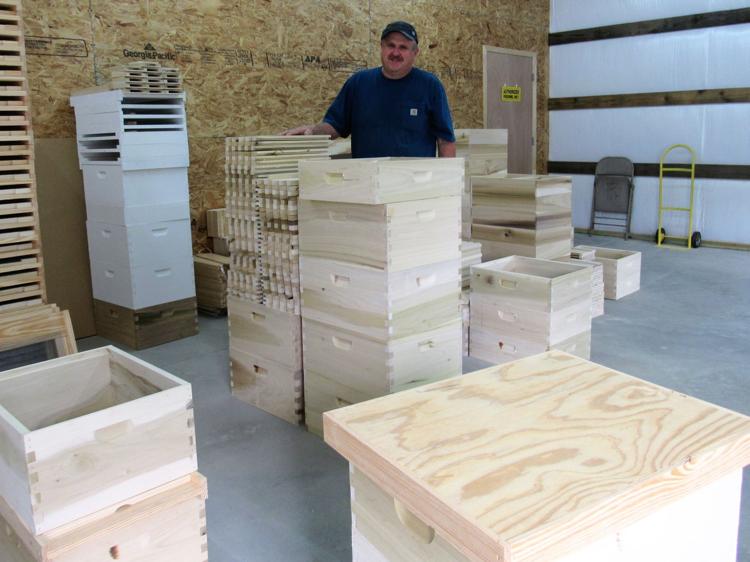 Miller is also using the hives for bee research and as way to collect data to help improve the health of honeybees.
"I want to help people get their hives started, make the prices of supplies more affordable and offer educational services. We want to become an education center that works closely with the Washington County Extension Service.
"I plan to provide a place where people can get bee equipment and become educated through research-based information," he said.
Miller constructed a 30-by-50-foot metal building for his new business venture.
"This is where the magic happens. We source local, sawmill lumber and process it into finished beekeeping woodenware."
He went through the process of building a beehive as he explained each layer and its purpose.
"This is a screened bottom board, which will be the bottom of the beehive, and everything else builds on this," said Miller from a room that will soon be his retail store. "I'm using poplar wood as opposed to pine because it's stronger and more durable, and it makes a classier-looking box.
"Next comes the hive body or brood chamber. These deeper boxes are primarily where they raise their young. The next parts are the frames, which is what holds a wax foundation, which encourages the bees to build straight comb for better organization," he explained.
"The super sits on top and is used by the bees to store a surplus of honey. A beekeeper can only rob the surplus of honey in the fall because the bees need the remaining honey to survive during the winter.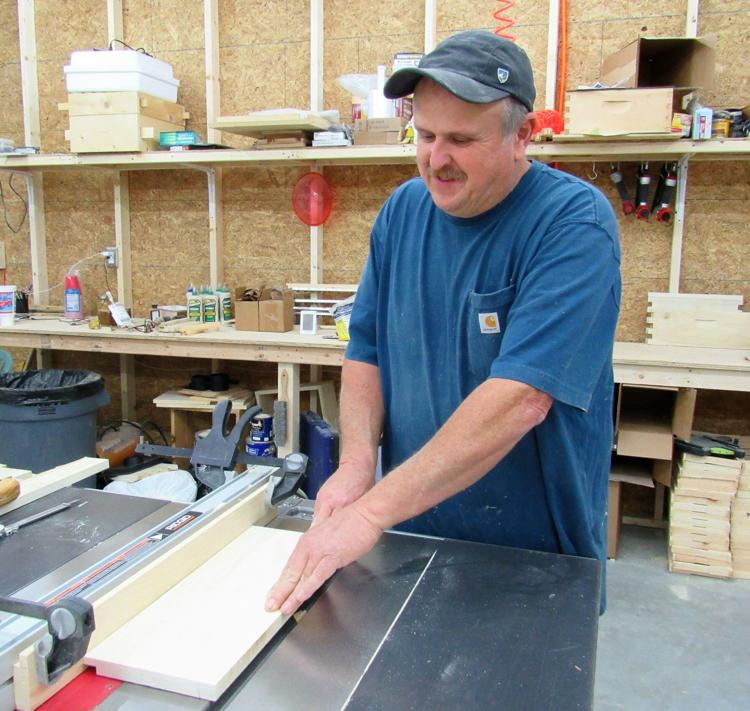 Next, is the inner cover, which provides the correct bee space on the top hive body and provides good air ventilation within the hive.
The outer cover functions like a roof on a house, protecting the hive from rain and wind.
Miller examined a honeycomb in his shop, a mass of wax cells built in the shape of hexagons. The cells contain their larvae and also serve as a place for honey and pollen.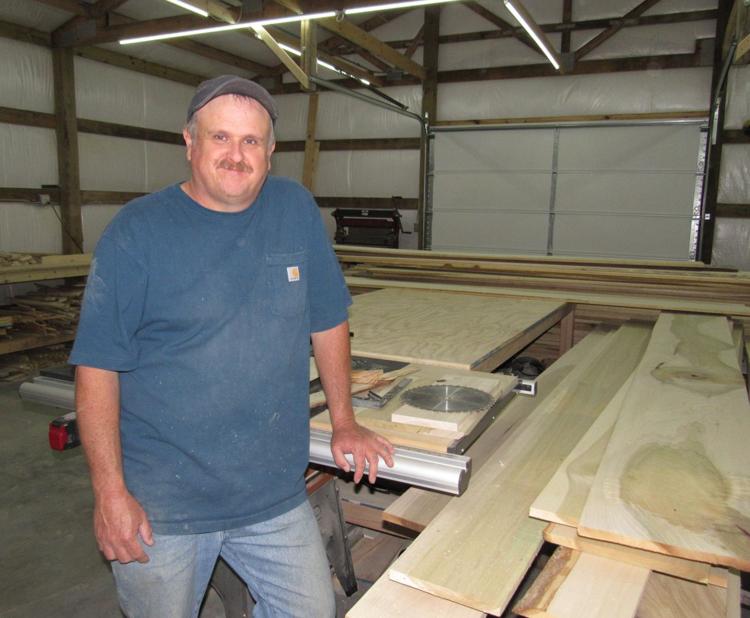 "The bees build a wax seal over the honey to protect it," he explained.
"Just for a tidbit of information, generally the cells are built at about a 13-degree angle so the nectar will not run out. The bees figured this out on their own. They are very smart. The cells are hexagon-shaped because it's the most amount of space with the least amount of material.
"This is why bees are so fascinating for me."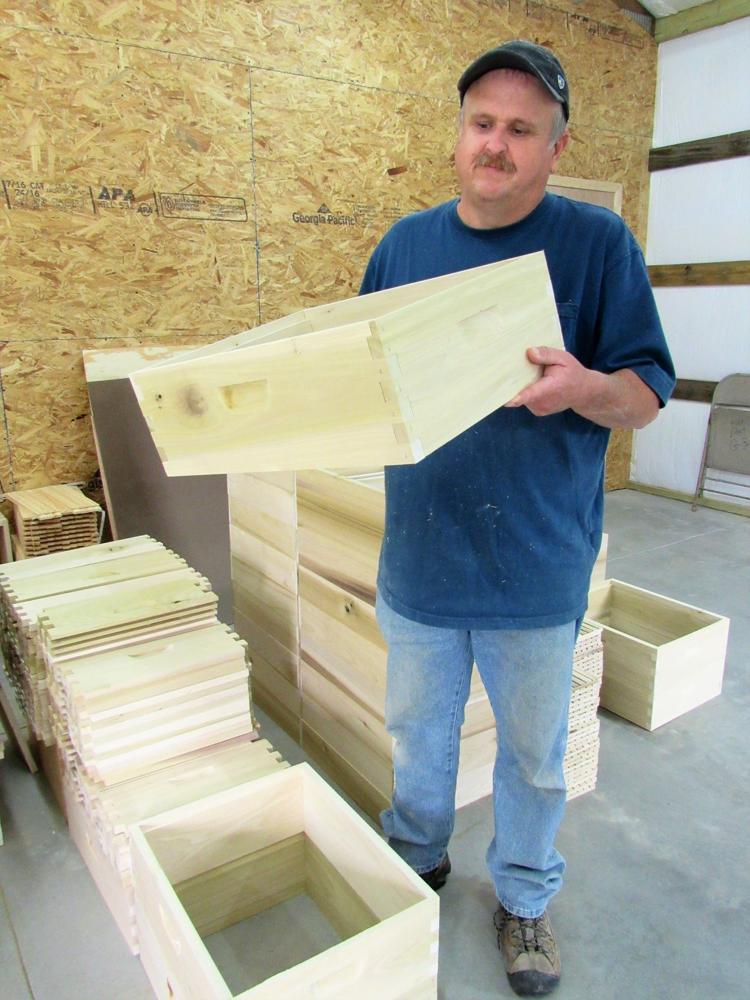 Miller said he's witnessed people from all walks of life interested in bees.
"I think some folks are motivated by wanting to help boost the bee population, but a lot of people are just interested in bees and the nutrition and medicinal benefits."
He's heard that because local, unprocessed honey contains pollen from the environment, some people eat local honey as a remedy for seasonal allergies.
"Honey is delicious. It's both a food and a medicine, I believe," said Miller. "For me, raising honeybees and making beekeeper supplies are profitable ways for me to stay on the farm and enjoy the land."