KINGSPORT, Tenn. — Teen Billy sat near college-aged Billy while current Billy called from Pennsylvania.
That's one way to describe the youth of Billy Wayne Arrington. Learn more when LampLight Theatre in Kingsport stages the evangelist's story, "And God Was Watching." Based on Wayne's autobiography of the same name, the melodrama will run from Friday, Aug. 9 through Sunday, Aug. 18.
"It's gut-wrenching," said Celeste Rogers, who portrays Wayne's grandmother.
Rogers as Granny appears in and narrates a portion of the music-rich play.
"From what I'm told," Rogers said, "his grandmother was a sweet, Godly, faith-filled woman. She was one of the most influential people in his life. She was his comfort in the chaos from his home life."
Wayne, who leads Billy Wayne Ministries as a pastor and singer, wrote and directed the play. Three actors play him, each of whom depict various stages in his life.
"I play Billy from age 12 to 18," said Jarred Harrell, 18. "It's chaotic. It hurts me when my dad calls me stupid. I can't imagine being called trash, which his dad called Billy."
Scott County, Virginia, was home to Wayne as a child in the 1960s and '70s. His beloved grandmother lived nearby. Though his parents met in church, his home life proved anything but Christian in how he was treated by his mother, Bethel, and his father, Cecil.
"He said, 'You're no son of mine. You'll never amount to anything,'" said Wayne, 56. "He was watching wrestling on television one time, and I knocked over his beer, and he beat me."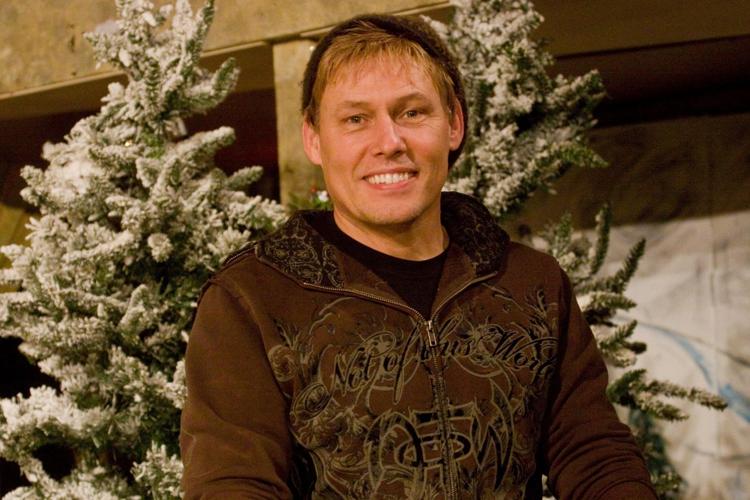 "That really happened," Wayne said. "He was a massive giant to me. We also have the scene about the night he tried to kill our family. He had a pistol."
Wayne turned to church at an early age. Seeds of his work in the ministry took root in childhood, when he started a puppetry show in his church.
"Even as a child, I remember God talking to me," Wayne said. "At 7, it was all about hell at church, and I didn't want to go. We had a preacher, which is in the play, who preached about hell. Since age 12, it's been a discipleship. I started working in the church ministry, doing puppetry for the kids. So, I've been in a ministry position now for 44 years."
Snippets of humor intersperses a palpably emotional story. His father's alcoholism binds with his mother's implied infidelity to formulate a narrative of struggle at home for Wayne during his formative years of childhood. At school, he became the victim of bullies.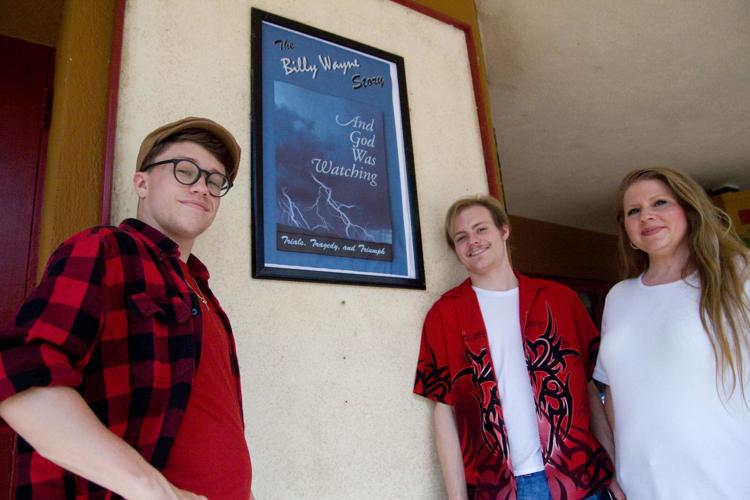 "In telling the story, it touches my heart," Harrell said. "The scene where Bethel turns to hit Billy, he has a long prayer afterward. He's supposed to cry. That wasn't just acting for me. They were real tears."
When turned away by those who should have embraced him, Wayne looked upward.
"He gave himself to God," Harrell said. "It touches me, the way that Billy let God work in his life."
Faith undeterred, Wayne persevered through physical and mental abuse. Featured in unvarnished fashion throughout the production, after altercations at home he turns to his grandmother for an earthly perspective and to God for guidance.
Eventually, his divorced parents come around. For example, a scene highlights the day that Wayne's father came to the altar to seek Christ.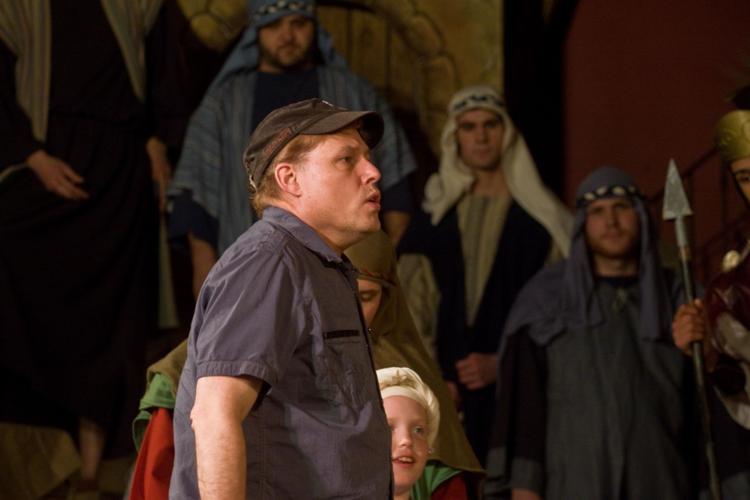 "It touched me when his dad stands up and gives his life to God," said Jeremiah Rogers, 20, who plays the college-aged Wayne. "He said 'You prayed long enough. I need Jesus.' I'm thinking, 'Man, if that was my dad, I'd be right there with him, too, crying, saying thank you, Lord.'"
At times, rehearsals reached Wayne. By the time the actors were well ensconced in their roles, he and his family gradually came into view on stage. As the life he led focused ever clearer, old wounds and memories returned to Wayne.
"When I die in the show, Billy had been out on the road a lot," Celeste Rogers said. "When he comes in, she hadn't spoken with anybody. Well, she does speak to him. She tells him she loves him, then there's a song, 'Sacred Mountain.'"
Each actor said that the scene and story packs wallops worthy of a full box of Kleenex.
"I have seen Billy put his head down in rehearsal," Celeste Rogers said.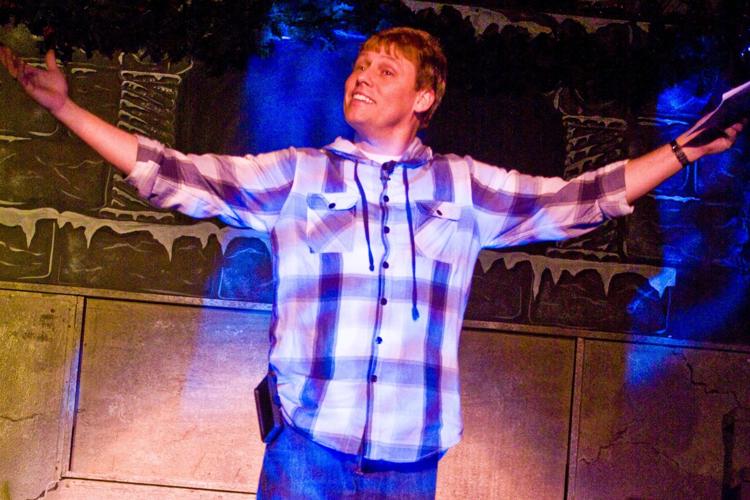 It's his story. As actors reign their roles in, as they draw close to becoming their character on stage, they return Wayne's family to life. That would move even the most reserved of people.
"It's not a fairy tale," Harrell said.
Nope. When young Billy absorbs a blow from his father on stage, it's going to look and sound authentic. When bullies at school call him a sissy and worse, the hurt will feel real.
And when Wayne's parents find salvation? Well, that's a triumph.
"It's trials, tragedy, and triumph," Wayne said. "The trials were as a believer. The tragedy is losing those you love who gave you strength, which was my grandmother. The triumphs are mom and dad finding salvation."