Tim O'Brien Band
If Joaquin Phoenix is Hollywood's latest Joker, then surely Tim O'Brien rates as music's chameleon.
No blood, but look for the Tim O'Brien Band to spill its bluegrass guts at the Down Home in Johnson City on Friday, Oct. 18.
Sometimes he's a folk singer, other times he's country. Whatever music made by O'Brien, he climbs a high rung of quality. So it goes with his bluegrass collective, the Tim O'Brien Band. On the road with their latest album, "Where the River Meets the Road," each song directs to his home state of West Virginia. Originals jibe with covers. From O'Brien, they route as new roads taken.
If You Go
When: Friday, Oct. 18, at 8 p.m.
Where: Down Home, 300 W. Main St., Johnson City
Admission: $30
Info: 423-929-9822
Web, audio and video: https://timobrien.net
Joanne Shaw Taylor
At the wee age of 16 Joanne Shaw Taylor caught the ear of The Eurythmics' Dave Stewart.
She's a guitar slinger. Have six strings, will travel, Taylor makes her Bristol debut on Friday, Oct. 18 at the Paramount Center for the Arts. Bristol's Matt Smile opens. An aggressive guitarist on stage and on record, Shaw owes a nod toward Mavis Staples for her voice and Jeff Beck for her guitar.
Shaw adheres to a long line of British rockers steeped in American blues. Her latest album, "Reckless Heart," reverberates as raw. Recorded mostly live, the album establishes a groove along a boulevard of soulful treks into rock ("In the Mood") and R&B ("I'm Only Lonely"). At the wheel, Shaw drives a style brimmed in showmanship and unforgettable musicianship.
If You Go
When: Friday, Oct. 18, at 8 p.m.
Where: Paramount Center for the Arts, 518 State St., Bristol, Tenn.
Admission: $15-$20
Info: 423-274-8920
Web, audio and video: www.joanneshawtaylor.com
Natalie Grant
From schoolteacher to Grammy-nominated singer, Natalie Grant's transformation came within the realm of contemporary Christian music.
Experience the seven-time Grammy nominee when Grant appears at the Niswonger Performing Arts Center in Greeneville, Tennessee, on Saturday, Oct. 19.
Grant broke through in a big way with 2005's "Awaken," which tallied more than a half-million sales. Her pop-infused manner spun five straight Dove Awards for Female Vocalist of the Year. Dramatic in approach, singles including "King of the World" garnered millions of Spotify spins and fans alike.
If You Go
When: Saturday, Oct. 19, at 7:30 p.m.
Where: Niswonger Performing Arts Center, 212 Tusculum Blvd., Greeneville, Tenn.
Admission: $25-$35
Info: 423-638-1679
Web, audio and video: www.nataliegrant.com
Music Notes
Tickets are on sale now for Mike Farris Sings! The Soul of Christmas. Slated to jingle the bells at the Paramount Center for the Arts in Bristol, Tennessee, on Friday, Dec. 6, tickets start at $22 and culminate at $97.
Bristol knows Mike Farris well. The former lead singer of alt-rock's Screamin' Cheetah Wheelies struck out on a solo career that's yielded scintillating explorations into gospel as well as rhythm and blues. He won a Grammy in 2015 for his LP, "Shine for all the People," which also nabbed a Grammy for Bristol's Chad Brown, who engineered the album.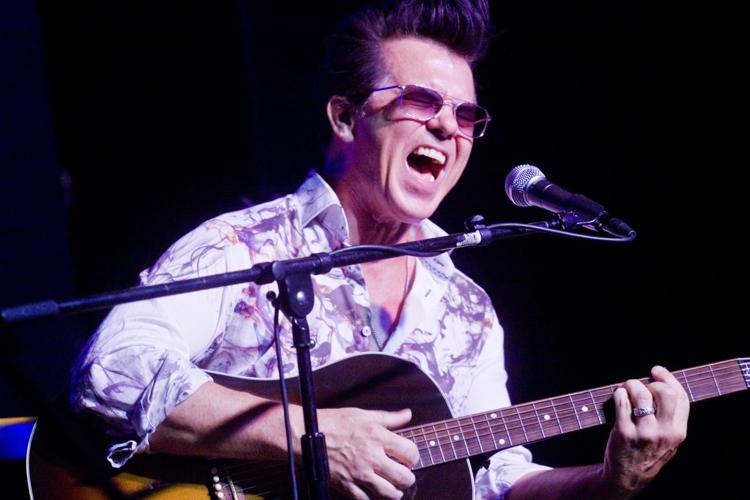 Just before his Grammy win, Farris appeared in Bristol at the Birthplace of Country Music Museum. Sold out show. With but a guitar and his world-beating voice, he rendered all who heard speechless. Memories yet linger as strong from that night's for-the-ages performance.
Bristol Rhythm & Roots Reunion welcomed Farris several times, including during last month's volume. In early August, the voluminous-voiced singer appeared at Theatre Bristol for a fundraiser, during which time he swept a capacity crowd as if into the clutches of his gift to serenade as if for the last time. That's Farris. He sings as if he'll never sing again, an all-out performer whose voice reaches into otherworldly terrain.
So now Farris brings Christmas to Bristol. Gifted with a voice that recalls 1960s duo Sam and Dave, Farris ensconces such classics of Christmas as "Santa Claus is Comin' to Town" and "Winter Wonderland" in burnished hugs of grit and soul.
For tickets and information, call 423-274-8920 or visit the Paramount box office at 518 State Street in Bristol, Tennessee. Tickets can also be purchased online at www.paramountbristol.org.
Darrell Scott entertained a sold-out audience at Johnson City's Willow Tree Coffeehouse and Music Room last Thursday. No band. Scott alternated from acoustic to electric guitar, country to blues to folk and rock songs.
"I might do a few requests," said Scott backstage, moments before the show's start. "I don't have a set list. I like to gauge the audience and tailor my songs to them."
So he did. He summoned George Jones country greatness with "Just One More," recalled his father Wayne Scott with "This Weary Way," and an elongated blues take on his own "You'll Never Leave Harlan Alive." Strong yet gentle, that's Darrell Scott.
Bristol's Tim Hudson shook his head at concert's end. He said, "Does it get any better than that?" Rarely.
Fourteen songs from 14 alternative music acts lead this week's free MP3 downloads. Visit https://www.pastemagazine.com/noisetrade/music/pastestudiosampler/4-september-2019 to find Paste Magazine's September sampler. Each recorded live in Paste Studios at the Manhattan Center in New York City, pristine examples of musicianship include Shawn Colvin's "Cry Like an Angel" and Beth Hart's ethereal "War in My Mind."